Uncle Jesse and Michelle Tanner were thick as thieves in the beloved '90s sitcom "Full House." But what was it like behind the scenes?
In his new memoir, John Stamos is providing insight on the show that launched him to stardom — including what it was like to share the spotlight with two toddlers, not to mention a host of other kids.
"Full House" follows a widower, Danny Tanner (Bob Saget), who enlists his best friend (Dave Coulier) and brother-in-law (Stamos) to help raise his three daughters.
Here's what Stamos shares about Mary-Kate and Ashley Olsen, who shared the role of Michelle Tanner between the years 1987 to 1995, and would go onto become "billionaire twins who will one day rule the fashion world," as Stamos writes in the memoir "If You Would Have Told Me."
He tried to get the Olsen twins fired on Day 1 of filming
Stamos, in his memoir, writes that he was hardly thrilled by the prospect of starring in "Full House." At the first table read, he felt "upstaged" by "pixie phenomenon" Jodie Sweetin, who played middle daughter Stephanie Tanner.
"I'm dying to pull the rip cord on this family-friendly hell, but I'll fulfill my contractual obligation to shoot the pilot. Keep it professional," he recalls thinking.
As for the "adorable munchkins" with the "big blue eyes wide with wonder," Mary-Kate and Ashley Olsen? Stamos had a problem with them, too. On day one of filming, they wouldn't stop crying.
"I'm trying to get through a scene, and the cutesy twins are crying their heads off. They'd rather be anywhere in the world other than that set, and I'm right there with them," Stamos writes.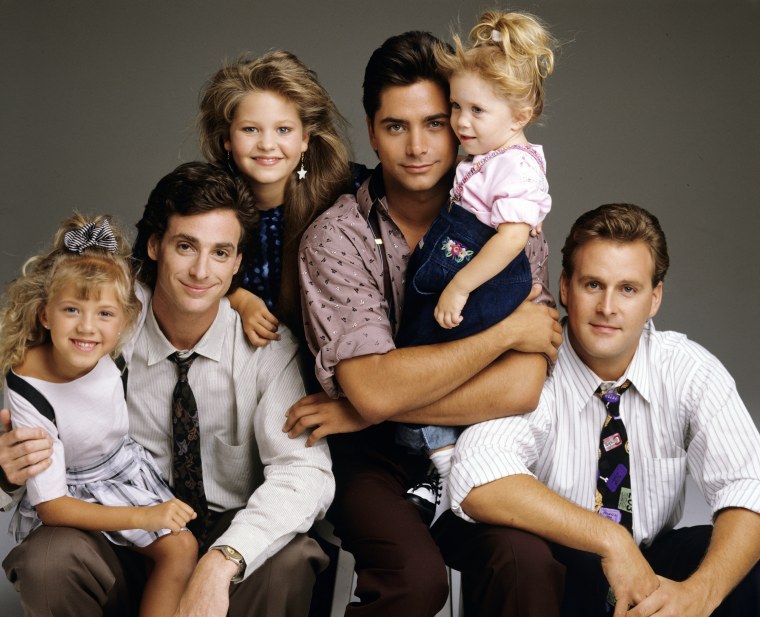 Stamos had an outburst while filming a scene in which he and other characters try to change Michelle's diaper.
"It's either me or them. They're not going to work out. They'll ruin this show and my career," he recalls telling "Full House" creator Jeff Franklin of the Olsens.
Stamos says Franklin heeded his request — but that didn't quite work out, either. The replacement twins were "quiet, calm, and homely as hell." Stamos writes that he "sheepishly" asked for the Olsen twins to return. Turns out they were waiting backstage all along.
"I can't help but wonder if Jeff deliberately chose the homely twins fully aware that I wouldn't like them and would beg to get Mary-Kate and Ashley back," he writes.
'I adore them and they adore me': Working with the Olsen twins
Stamos says he and the twins' relationship improved following that first stumble.
"I adore them, and they adore me," Stamos writes of his relationship with the two girls.
He spent time with the Olsens off set, and even took them to Disneyland. Writers began "developing more Jesse and Michelle storylines" as a result of their chemistry, Stamos says, "which become a highlight of the show.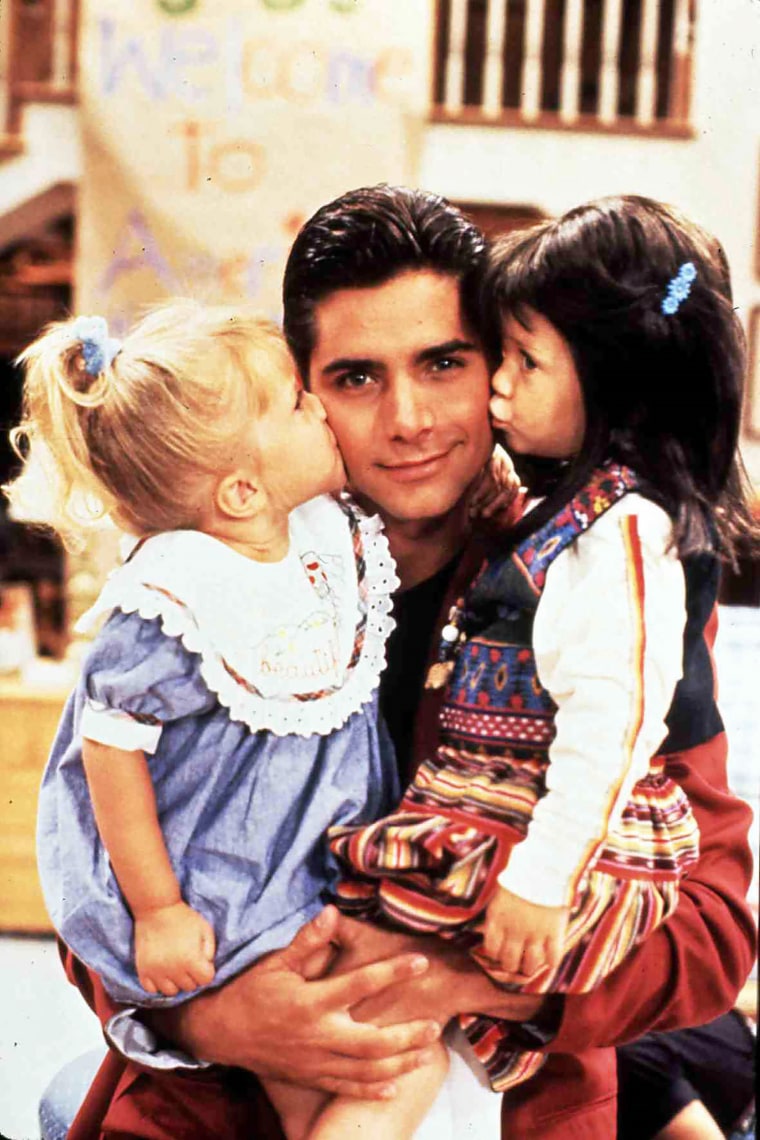 Stamos shared his 'favorite Olsen'
Stamos says the Olsens' little sister, Elizabeth Olsen, visited set, and became his "new favorite Olsen."
Eventually, she would become an acclaimed actor. He jokingly compared their IMDB credits: "One day in the future the two of us would both have places in the Marvel Universe (her Scarlet Witch being a little more prominent than the Iron Man voice I do on Disney Plus's 'Spidey and His Amazing Friends')." 
Jesse vs. Danny?
Stamos and the Olsens bonded to the point that Bob Saget, their on-screen dad, seemed bothered. Stamos recalls him saying, "I'm the father of these babies; why is Stamos getting all the good scenes with them?"
Stamos writes that he and Saget would fight over who would be the one to hold Mary-Kate or Ashley Olsen during photoshoots and promos.
In one photoshoot with photographer Annie Leibovitz, Stamos says she "had enough and kicks everyone off the set" with the exception of him and Mary-Kate Olsen.
"She captures a sweet shot of Jesse and Michelle wrapped in a blanket, both somehow looking equally innocent. It tells the story of the show in a single frame," she says.
The Olsens inspire him to have kids of his own
Stamos writes that being with Mary-Kate and Ashley Olsen inspired him to think about his future family.
"I'm young, but I want kids someday, and these lovely little girls, so bouncy and bright, represent the best versions of future dreams. They allow me to consider fatherhood like a benched baseball catcher in a dugout, watching from afar without having to catch any curveballs," he writes.
Stamos and his wife, Caitlin McHugh, welcomed son Billy in 2018.
He kept in touch with the twins after 'Full House' ended
Though "Full House" came to a close in 1995, he didn't lose touch with the Olsen twins. In fact, they came to see Stamos on Broadway in "Cabaret" in New York City.
"It's pretty weird having adult Michelles sitting there in stereo watching me play someone so different from their beloved Uncle Jesse, but they get it," he writes. "We share a mutual pride for how far we've all come."
They also were in the audience to his first wedding to Rebecca Romijn, along with other members of the "Full House" cast.
He shared a tribute to them in 2023
When Ashley Olsen and husband Louis Eisner welcomed their first child, a son, in August, her TV uncle shared a tribute on Instagram.
"Watching Mary-Kate and Ashley grow into the incredibly bright and remarkable women they are today has been one of the greatest joys of my life. If you would have told me those blue-eyed babies I met on set nearly 40 years ago would still be in my life at 60 years old, I wouldn't have believed you. I am blessed," he said.