The 75th Emmy Awards show that had been slated for this September has been rescheduled to January 2024 amid the concurrent Hollywood strikes.
The awarding body, the Television Academy, and the host network, Fox, announced in a joint press release Aug. 10 that the ceremony will now air on Monday, Jan. 15, 2024, which is Martin Luther King Jr. Day.
The decision comes as Hollywood actors and writers strike over the use of AI in the industry, residual pay, healthcare benefits and other sticking points that they have yet to agree on with the Alliance of Motion Picture and Television Producers, which represents major Hollywood studios and production companies. (NBCUniversal, the parent company of TODAY.com, is part of the alliance.)
The strike prohibits members of SAG-AFTRA, the union that includes actors, and Writers Guild of America members from working on shows or movies and promoting projects.
Here's where the Emmys stand now amid the strikes.
Are the 75th Emmy Awards still happening?
Yes, but later than originally scheduled. It was initially scheduled to be held Sept. 18.
When is the 75th Emmy Awards now?
The 75th Emmy Awards are scheduled for Jan. 15, 2024.
Which network will air the 75th Emmy Awards on TV?
The Emmys will air on Fox from 8 p.m.-11 p.m. ET/5 p.m.-8 p.m. PT.
Where will the 75th Emmy Awards be held?
"As the Emmy Awards celebrates its 75th Anniversary, the show will broadcast Live coast-to-coast from the Peacock Theater at LA Live and will honor the talented performers, writers, directors and craftspeople whose work has entertained, inspired and connected viewers across the globe throughout the past year," the joint press release said.
Why were the 75th Emmy Awards postponed?
The official Aug. 10 announcement did not directly state why the awards show date was pushed back, but it comes amid the concurrent Hollywood strikes.
When will the Hollywood strikes end?
There is no current timetable on when the strikes will end. Actors and writers have been picketing in Los Angeles and New York daily.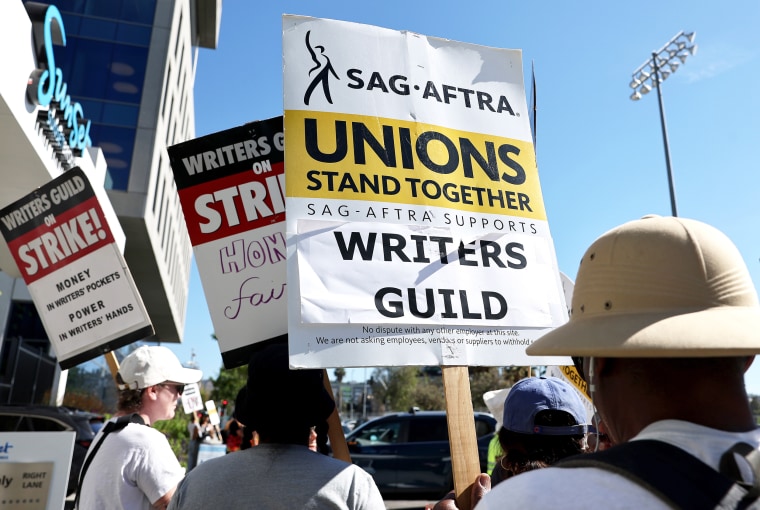 When did the Hollywood strikes start?
The WGA launched its strike on May 2 and SAG-AFTRA launched one on July 13.
SAG-AFTRA president Fran Drescher told TODAY at the beginning of the month that she does not "have a crystal ball" on when the strike may end.
"We have financially prepared ourselves for the next six months," she said. "And we're really in it to win it."
Six months from their strike's start date of July 13 is Jan. 13, two days before the Emmys are scheduled to air.