The 75th Primetime Emmy Awards will be postponed due to the ongoing  writers' and actors' strikes, according to officials familiar with the production plans.
The ceremony was scheduled to take place Sept. 18 at 8 p.m. ET on Fox. No new date has been announced and Fox Entertainment and the Television Academy declined to comment on the matter.
The Writers Guild of America went on strike in May, with the union seeking higher pay, particularly in the streaming market. The work stoppage has brought the entertainment industry to a crawl, with everything from movies to soap operas to game shows ceasing production.
"Our wages have been falling in the last few years as the streamers' profits have been skyrocketing," writer Amanda Mercedes told TODAY.com.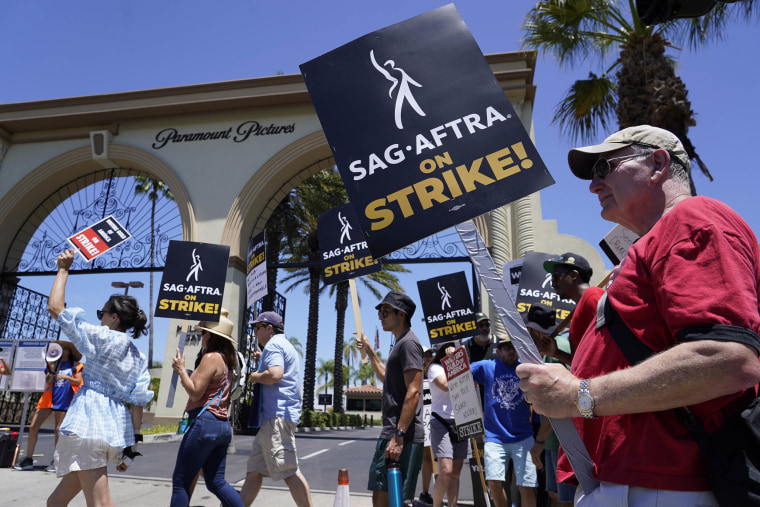 SAG-AFTRA, the union representing actors, followed suit with its own strike earlier this month after it couldn't reach an agreement with the Alliance of Motion Picture and Television Producers (AMPTP), which represents film studios such as Paramount, Sony, Netflix, Walt Disney Studios and Warner Bros. (NBCUniversal, the parent company of TODAY.com, is also part of the alliance.)
"We stand in solidarity in unprecedented unity," SAG-AFTRA President Fran Drescher said July 13. "Our union and our sister unions and the unions around the world are standing by us, as well as other labor unions. Because at some point, the jig is up. You cannot keep being dwindled and marginalized, disrespected and dishonored." 
The concurrent strikes mark the first time since 1960 that actors and writers have been on strike at the same time.
The Emmys, meanwhile, have not been postponed since 2001, following the Sept. 11 terrorist attacks. "Succession" is this year's most nominated program, garnering 27 nominations, followed by "The Last of Us," with 24 nods.
While no new date for the ceremony has been set, Variety has reported Fox had been seeking to bump it to January 2024, while the Television Academy had its sights set on November. A host for this 2023 Emmys has yet to be announced.