Simone Biles and Jonathan Owens are married!
Biles, 26, and Owens, 27, confirmed their nuptials through a series of posts on Instagram April 22, more than one week after obtaining their marriage license. 
The four-time Olympic gold medalist shared that the couple had tied the knot in an Instagram post, containing a carousel of photos from their special day.
In the first photo, Biles looked up smiling at her husband as he pumped his fist in the air. More photos captured moments from their intimate ceremony, and the couple's gorgeous wedding ensembles.
Owens wore a light tan suit, a white shirt, black belt, and a pair of white loafers for the occasion while Biles donned a stunning white gown with a tiered column skirt and a pair of white sandals.
"I do," she captioned the post, adding, "officially owens." 
In another post from Biles, she shared a series of black and white photos of the newlyweds, including a snap of the couple signing their marriage license. In the caption, she wrote, "I never knew a love so deep."
Owens shared his own post documenting their wedding day, including several of the same snaps of the newlyweds and glimpses of their ceremony. 
He added in the caption, "My person, forever" alongside the hashtags "#TheOwens" and "#itsofficial."
After the ceremony, Biles and Owens shared a few snaps on their Instagram stories capturing a moment of pure bliss as newlyweds. 
Biles shared a video clinking glasses with Owens as he lounged on a chair poolside with a drink in his hand. The gymnast simply captioned the post, "cheers husband."
Owens posted a photo of Biles smiling with a pair of sunglasses on as she sat by the pool. On the table between the couple sat several half-finished beverages, as well as a fruit salad served in a massive martini glass. 
"My two favorite things," Owens captioned the photo, adding a laughing emoji and red heart.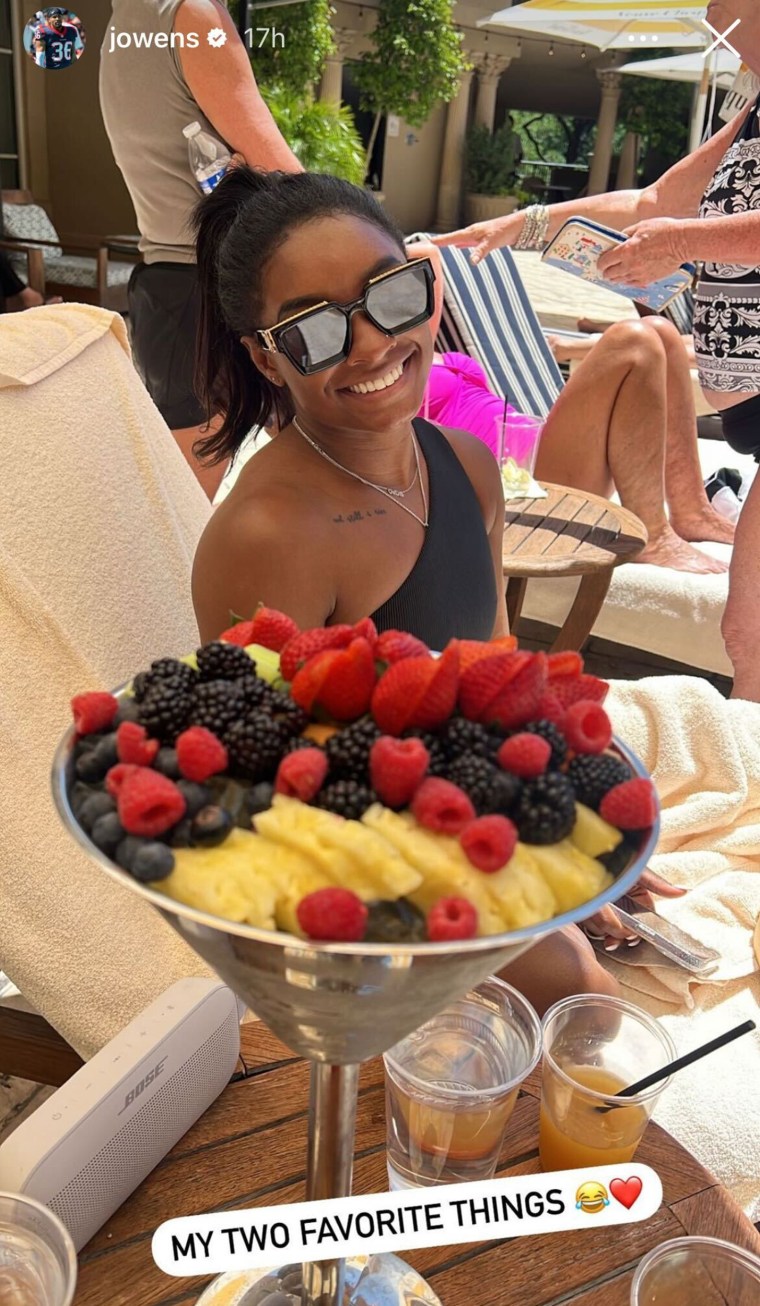 Biles and Owens announced their engagement in February 2022, nearly two years after the couple began dating in March 2020.
Opening up to TODAY in an interview after their Valentine's Day engagement, Biles and Owen reflected on the beginning on their relationship. The Olympic gymnast said the couple initially clicked because they are both athletes, as Owens is a safety in the NFL for the Houston Texans. She also said the COVID-19 pandemic played a role in their early romance.
"We're with each other 24/7, so I feel like now when we're not with each other it's almost weird," she explained. "We're always texting or calling each other. It's kind of gross in a way."
As time went on, the couple's relationship continued to grow stronger, with Owens adding, "We just kind of started hanging out more and more and you start to want to see a person … I started to want to see her more."
Biles has kept fans tuned into the couple's wedding process over the course of their engagement.
In a Q&A for fans on her Instagram stories after her engagement, Biles tackled several questions including how wedding planning was going, where the wedding would be held, and whether they want children in the future.
She went on to hold a second Q&A for fans the following month after she revealed on Instagram that she had found the dresses she'd be wearing for her big day. In her stories, she didn't reveal much about their wedding, but teased that they'd definitely be getting married in 2023.
Just two months into wedding planning, Biles got candid about the stress of the process during an April 2022 interview with PEOPLE.
Though wedding planning was ultimately going smoothly for Biles, she added, "I feel like I've only become stressed out within the last week, trying to choose a venue and stuff like that, because there are so many great places to get married, and I feel like that's a really big decision."