Larsa Pippen and Marcus Jordan are setting engagement rumors straight and speaking out about the ring Pippen has recently been seen wearing.
In the latest episode of their podcast "Separation Anxiety," the couple explains that engagement rumors started when paparazzi recently approached them as they were leaving dinner one night and asked them if they were planning a wedding.
"I think I responded in a cheeky way. I told them that, you know, we're looking for a location and that it's in the works," Jordan, the son of basketball legend Michael Jordan, said.
Afterwards, Pippen got a ton of calls and texts from loved ones congratulating her, but she cleared the air that they aren't engaged.
"I was like, 'It's cute but like we're not engaged,'" the "Real Housewives of Miami" star said. "But you did give me a promise ring."
"Yeah I definitely gave you a promise ring," Jordan replied.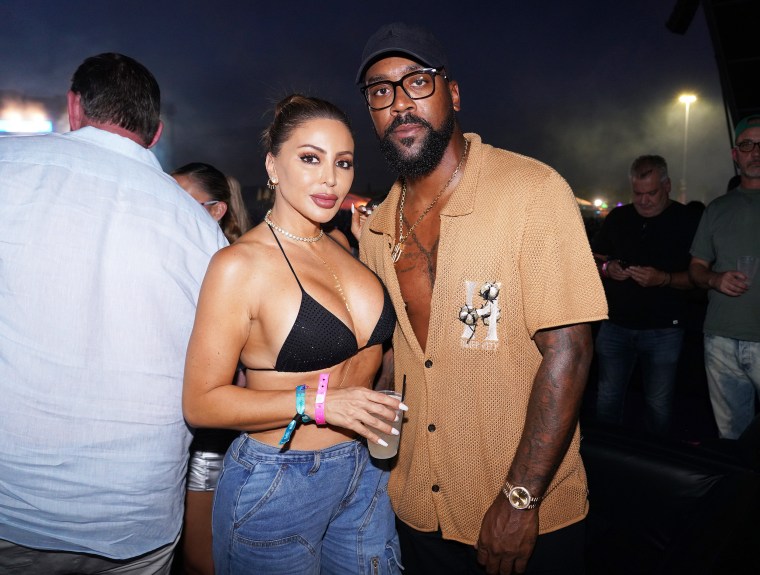 The 32-year-old went on to reveal that he and Pippen have been talking about marriage but haven't been putting too much "emphasis or priority on where or when" they'll have a wedding.
They have been publicly linked since last year. Pippen was previously married to Scottie Pippen, Michael Jordan's estranged former teammate.
"We've definitely been discussing locations and time of year and so I felt like that was a good response," Jordan said of his response to the paparazzi.
After engagement rumors began to spread, Jordan's family was curious to know what was going on. Jordan said he spoke with both of his parents and his sister.
"Obviously with the pictures of the (promise) ring going around, there was a little extra fuel on the fire. Speaking of the ring, I had so many jewelers reach out to me in terms of, 'Hey when you're ready, if you need a certain stone,' or, 'How big do you want to go?'" he said.
Jordan went on to say he is "researching some stones" and Pippen seemed pretty excited to hear that.
"Oh I love that. Do you know what I like?" she said. 
"I feel like I've got a good grasp on what you like," he replied.
Pippen then said, "I feel like you do, too."
"I feel like your taste changes from time to time," Jordan said.
"It does," Pippen acknowledged.
"I feel like you like high quality stuff, you know, clarity, and the shape might vary, but I think I've got a good idea," Jordan said. 
The conversation turned to the size of an engagement ring at this point and Pippen said she doesn't think she needs "a huge ring."
"I disagree with that," Jordan replied. "I feel like it's gonna be massive for sure."
"Oh OK, well I like that, too," she said. "Listen no pressure."
"I feel like I've got good taste, so let Marcus James drive this train," he said.
Pippen then asked her boyfriend if he'd ever consider getting married on reality TV since Bravo producers recently asked her if they'd be open to the idea.
"That's tough," he said. 
"I don't think your parents would come," she replied. 
Jordan laughed and said there would definitely have to be a mix of on-camera and off-camera moments.
"It could also be a multi-day thing. You know what I'm saying? Where alright, maybe there's cameras for the actual ceremony but we could do more private things on those other days," he said. "And so again, I think as we get closer, we'll start narrowing down all of the options. But I think anything is on the table."