Larsa Pippen and Marcus Jordan are sharing their love with the world.
On Valentine's Day, Pippen, the ex-wife of retired basketball star Scottie Pippen, shared a picture with Jordan and captioned it, "My forever Valentine ❤️."
In the photo, the pair stood side-by-side on the beach while Jordan, who is Michael Jordan's son, wrapped his arm around the "Real Housewives of Miami" star.
In the comments, he wrote, "4eva ❤️‍🔥."
Jordan appreciated her post so much that he shared it on his Instagram Stories and included some GIFs over it, including, "Happy Valentine's Day (every day the 14th)" and "love is in the air."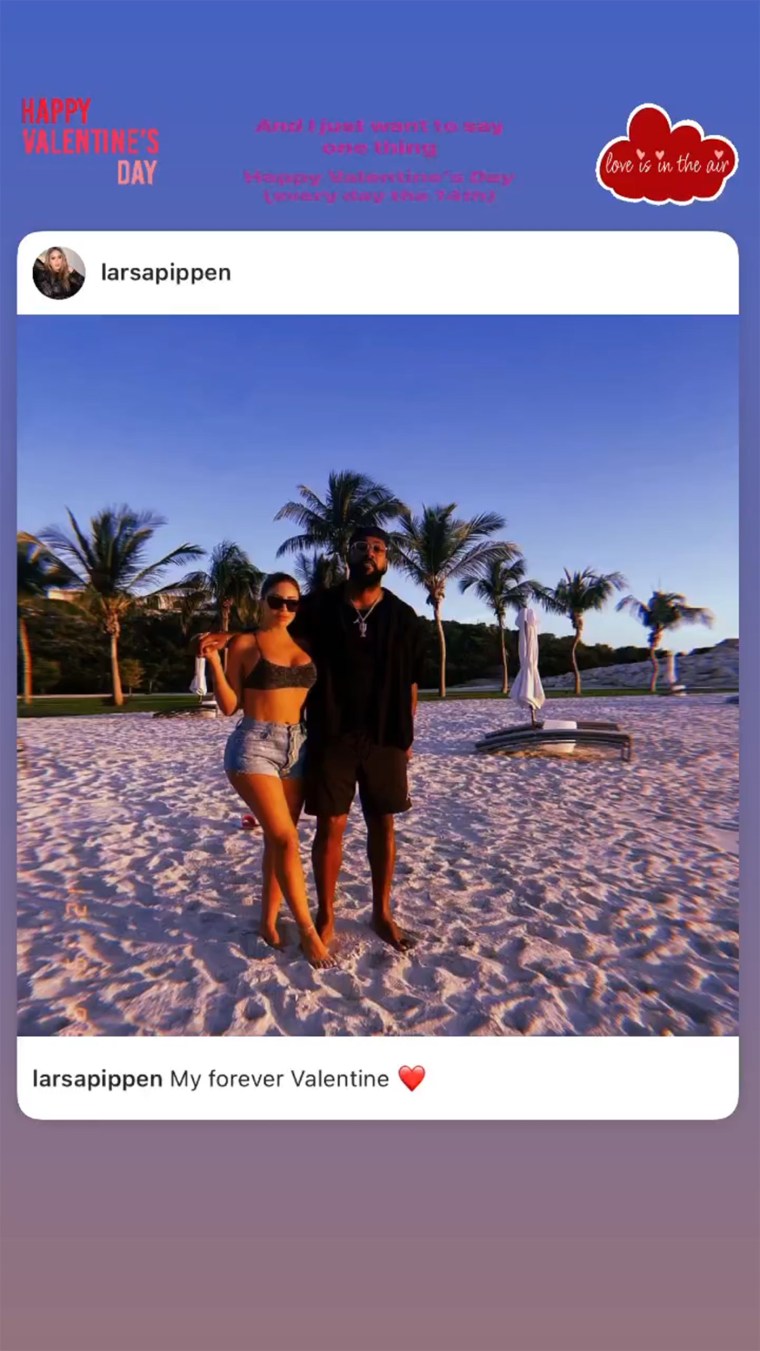 His affection didn't end there. Jordan also posted a photo of Pippen holding two bouquets of flowers on Valentine's Day, and he captioned it, "Three words, 8 letters💖✨."
In the comments section, Pippen shared two red-heart emojis.
After sparking dating rumors in 2022, Pippen, 48, and Jordan, 32, went Instagram official when she shared a photo of them standing in front of an art piece that depicted Michael Jordan's white Chicago Bulls jersey seemingly made out of flowers.
The photo, posted on Jan. 23, showed them with their arms wrapped around each other while posing in Trophy Room, Michael Jordan's sports-themed retail store in Orlando, Florida.
"✔️Checks over stripes🏆@trophyroomstore," Pippen captioned the pic.
Before sharing their love publicly on social media, the reality TV star talked about her relationship with Jordan during a December 2022 appearance on "Watch What Happens Live," where Jordan was in the studio audience.
When host Andy Cohen asked Pippen if she and Jordan were friends "with benefits," she retorted, "We're friends."
Pippen also acknowledged that she understands why fans might think her relationship with Jordan is a little "wild," seeing that he's the son of her ex-husband's former teammate on the Chicago Bulls.
"I mean, I guess, yeah," she replied. "But I think a lot of people think that our families were really close and intertwined, and they really weren't.
"Like I never really knew Marcus's mom or them," Pippen added. "I just recently met them a couple of years ago."