Reba McEntire and Rex Linn, or should we say the "Tots," are going strong.
The pair met in 1991 when they were both working on Kenny Rogers' movie "The Gambler Returns: The Luck of the Draw."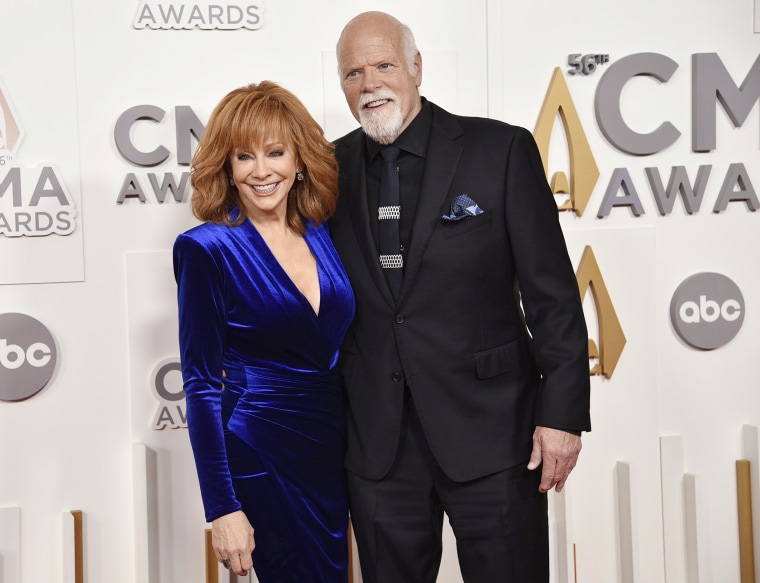 At the time, McEntire was married to her ex-husband Narvel Blackstock. But after 26 years of marriage, they went their separate ways and got divorced in 2015. McEntire was also married to Charlie Battles from 1976 to 1987.
McEntire decided to give Linn a chance when they again crossed paths in 2020. The two quickly struck up a romance and soon gave each other their adorable nicknames.
"He is 'Sugar Tot.' I'm 'Tater Tot,'" McEntire said on TODAY in April. "We're 'the Tots.'"
Read on to learn more about McEntire and Linn's relationship timeline.
McEntire and Linn meet
McEntire and Linn met when they were both working on Kenny Rogers' 1991 movie "The Gambler Returns: The Luck of the Draw."
They stayed in touch over the years, but it wasn't until nearly two decades later when they started spending quality time together.
McEntire said Linn called her when her mother got sick. McEntire's mom, Jacqueline, died in 2020 at the age of 93.
"So starting in March of 2020, we just kept talking and visiting and finally got together, see each other in June," McEntire said on TODAY in October 2021. "And we've been pretty much inseparable ever since."
McEntire reveals she is dating Linn
In October 2020, McEntire shared that she and Linn are together when she talked about her love life on her podcast, "Living & Learning." The "I'm a Survivor" singer said that at that time, they'd been dating for about six months.
"It's good to have a person to talk to, laugh with, get into subjects about what's going on. Discussions about our past, our family, funny stories, him being an actor, me being an actress. And he's very into my music. I'm very into his career," she said on the podcast.
"Whatever happens in the future, we're very stable. I look forward to having more things to look forward to," she added.
Later that month, McEntire shared her sweet nickname for Linn in an Instagram post of the pair spending time together in Montana.
"Fun in MT with my Sugar Tot!!! @rexlinn13" she wrote.
McEntire and Linn make their red carpet debut
In November 2020, McEntire brought Linn as her date to the Country Music Association Awards, which she co-hosted with Darius Rucker. For the outing, she wore a sparkling gown while Linn showed up in a black shirt, blue jacket and black pants.
"We're both excited that he's going to be there with me," she told People before the event.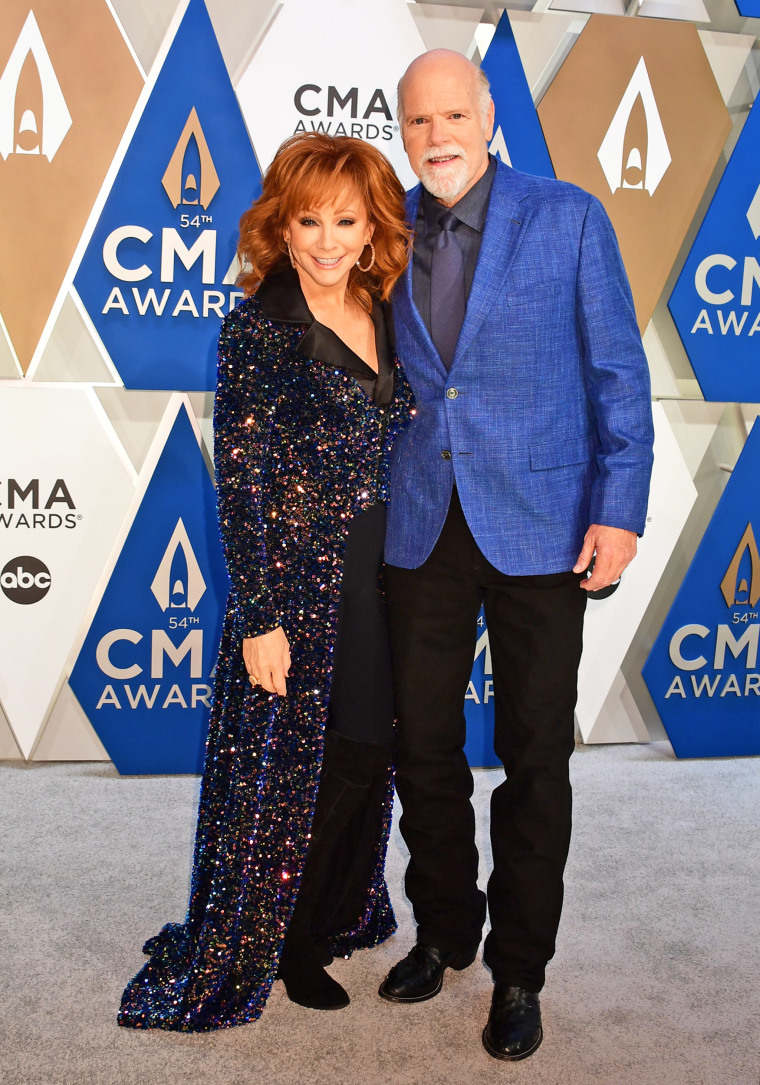 McEntire and Linn experience a COVID-19 scare
In August 2021, McEntire announced that she and Linn had contracted COVID-19 in a live stream on TikTok.
"It's not fun to get this. I did get it. Rex and I got it and it's not fun. You don't feel good," she said in the clip. "We were both vaccinated and we still got it, so stay safe, stay home and be protected the best you can."
However, a few days later, she appeared on "Talk Shop Live," and said it was a false alarm.
"It came up that I had not had COVID. I had my antibodies from my vaccine. So, I had all the symptoms. I did get tested, you know the test that I had. And it said that I had it, but then the nurse that came and tested me for my antibodies said that I probably had the RSV virus," she noted, referring to respiratory syncytial virus, a condition that is similar to the flu.
McEntire says she and Linn have talked about marriage
After more than a year of dating, McEntire told Extra in October 2021 that she and Linn have thought about getting married.
"We've talked about it and giggled about it," she said. "We thought, 'Man if we ever had a ceremony, we would have to have a 2 o'clock, 4 o'clock, 6 o'clock and an 8 o'clock 'cause we have so many friends, acquaintances, and family."
McEntire and Linn star together each other in "Big Sky"
In September 2022, Linn appeared on his girlfriend's hit show "Big Sky," where he played her spouse.
In the show, the couple portrayed a shady married couple who own a Montana company specializing in glamping experiences.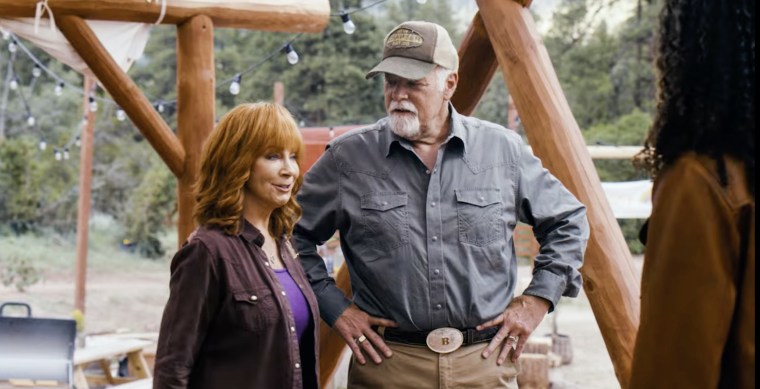 In an August 2022 interview with Deadline, McEntire revealed what it was like to work with her beau in the show.
"We're having a blast," she said at the time. "We're still in the middle of shooting. We were on set last night and there was a full moon. I think we broke around 12:54 a.m. Mountain time."
"It was a long night but so beautiful. We are really loving it," McEntire added.
McEntire says she's "in love" with Linn
In April 2023, McEntire said she had strong feelings for Linn when she filled in for Hoda Kotb on an episode of TODAY with Hoda & Jenna.
"I'm telling you, he's a great guy to be in love with," the "Does He Love You," singer said.
Linn, who joined his girlfriend on TODAY, added, "I like her," with a grin.