Miley Cyrus' single "Used To Be Young" debuted Aug. 25, 10 years after "Wrecking Ball" came out — and a decade after her controversial VMAs performance, which shocked people for its distance from her image on the Disney show "Hannah Montana." 
"People could think it was just, like, a hot mess. But it's a strategic hot mess. Right now, I'm in a point in my career where I can just be exactly who I want to be," Cyrus said in her 2013 MTV documentary, "Miley: The Movement." 
Now 30 years old, Cyrus is still being herself, even as that self changes.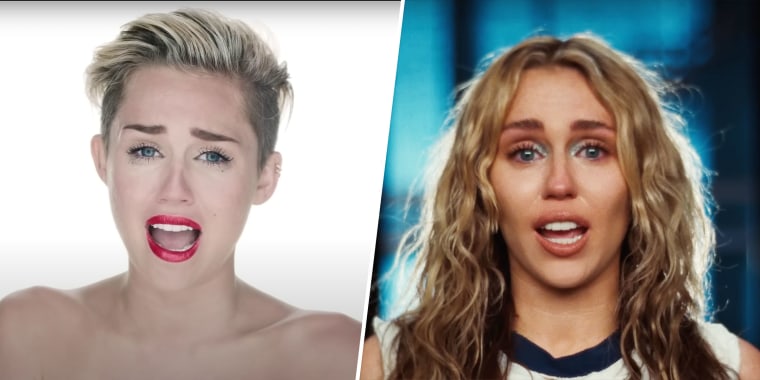 In "Used To Be Young," Cyrus acknowledges change while appreciating the full life she has lived so far. In the ballad, the singer reflects on the past by singing, "I know I used to be crazy / Messed up, but God, was it fun / I know I used to be wild / That's 'cause I used to be young."
Her fans have grown up with her, and many have taken those words to heart while creating TikTok videos using the audio to tell the story of their own evolution. 
Tia Magenheim, 29, has followed Cyrus since her "Hannah Montana" days, attending the Bangerz Tour in 2013 and putting on "Endless Summer Vacation's" "Flowers" and "Jaded" at home 10 years later.
Magenheim was an early adopter of an emotional "Used To Be Young" reaction trend. She posted a TikTok montage of eventful nights out with friends, paired with the following text as well as Cyrus' song: "This song really hits different for people who grew up with Miley. I'm no longer in this era of my life, but I'm not ashamed of it. I'm grateful for the lessons and memories as I enter a new era of my life."
Magenheim says her "priorities have completely shifted" over time. "Friday night was my favorite night to go out throughout the summers in my early twenties. Now I'm 29, and Friday nights consist of cooking pasta and going to bed early so I can run for my half marathon training Saturday mornings at 5 a.m.," she tells TODAY.com.
Cyrus has encouraged self-reflection among fans by doing some reflecting on her own in a TikTok series that shares a name with the song. She's spoken about her past with unprecedented candor, including the moment she knew her marriage to Liam Hemsworth was over, and how she didn't make money off of her "Bangerz" tour.
Some millennials who post about "Used To Be Young" are parents now, while others are preparing for the added responsibilities of each new chapter.
"I think for women in particular, there's so much pressure around turning 30," says Magenheim, referring to societal tendencies to attach a woman's worth to her youthfulness. "There's this huge moment of reflection, of, like, 'Oh my goodness. I'm entering a new decade very soon,'" which she says can feel "scary" but is also a cause for gratitude.
Dylan Horner, 27, posted a reaction video to "Used To Be Young" in which he sits, captivated with emotion, hand over his mouth, writing: "Miley casually dropping this bop and destroying me emotionally about getting older and appreciating the beauty that comes with the journey to self discovery in our chaotic youth…" 
"Miley casually dropping this bop and destroying me emotionally about getting older and appreciating the beauty that comes with the journey to self discovery in our chaotic youth…"
Cyrus reposted "Used To Be Young" creations like Magenheim's and Horner's.
Still other TikTokers are writing about more specific moments and mistakes from growing up, or even harmful and painful aspects of their childhood that were inflicted on them and were out of their control. Dancer Dayna Sinclair said the song "healed (her) inner child a bit."
Cyrus is paying attention. "It is inspiring to see all of you relating my story to your own lives. That is the best part of making music," she wrote, in part, on Instagram. 
The song has reached a younger audience of Gen-Z fans. JoJo Siwa was singing along to "Used To Be Young" in her car during a Sept. 3 TikTok. The same day, she participated in a trend to see which Miley era she belonged to.
Brooke Hyland, who appeared on the Lifetime show "Dance Moms," created two TikToks connecting "Used To Be Young" to her life now at age 25.
She tells TODAY.com that she watched "Hannah Montana" "religiously," attended the "Best of Both Worlds" tour and has felt a similarity to the life Cyrus' character lived.
She writes in the first TikTok that her high school and college self "would've never guessed I'd be waking up on a Saturday for a workout/wholesome morning." In the second video, Hyland ponders the sense of balance she has developed, writing to share that she wrapped up happy hour to go enjoy ice cream and a show with her boyfriend and her dog.
"I've had my fair share of 'crazy' and 'wild' and still occasionally do, and that is OK. We're all on different paths, but all have a past of some sort and it's not something we should regret or harp on. Instead, we should learn and celebrate that it got us to this point and who we are today," Hyland tells TODAY.com, encouraging an attitude of kindness.
The song has become an opportunity for reflection at any age. Cyrus shared an Instagram reel made by Nancy Sinatra, who uploaded photos of her younger self to celebrate the song and express her love for Miley Cyrus. Diane Keaton made a "Used To Be Young" slideshow featuring her own photos in black and white. She captioned it, "HERE'S TO MILEY." Cyrus was appreciative, telling the actress, "This is so moving and exactly why I made this song. I said throughout the journey of writing it over the last 18 months, 'All I want is Diane Keaton to dance to it' and this is even more magical. I love you. Thank you."
Music can be a bittersweet companion, as songs stay the same but people continue to get farther away from who they were when they first loved them.
"Used To Be Young" also seems to offer a sense of hope about the future. Before its release, Cyrus wrote,  "Although my work is done, this song will continue to write itself everyday. The fact it remains unfinished is a part of its beauty. That is my life at this moment ….. unfinished yet complete."