Beyoncé was serenaded on her birthday by none other than Diana Ross during her "Renaissance Tour" — and Tracee Ellis Ross was a "giggling daughter."
The "Renaissance" singer turned 42 on Sept. 4, which is also when she had her third and final concert in Inglewood, California.
Ross, the former lead singer of The Supremes, guided the crowd in singing "Happy Birthday" to the mother of three, a clip posted to X shows, and the two held hands for the duration of the song.
Days later, Ellis Ross posted a slideshow filled with photos and videos from the moment and backstage. In the post, her mother is seen getting all glammed up for the moment. It also features her brother, Evan Ross.
"What a MOMENT! Thank you to everyone who made this happen. I have deep gratitude for you all and to those few special players (you know who you are) just wow and thank you!" Ellis Ross wrote on the Sept. 6 Instagram post. "I played camera lady and supportive giggling daughter. @realevanross and mom I love you so much !!!"
During the concert, the "Crazy in Love" singer, who made history earlier this year when she became the artist with the most Grammys of all time, thanked Ross when the ballad ended.
"Thank you so much," Beyoncé beamed. "You are so amazing. This is the legendary Diana Ross."
The crowd roared.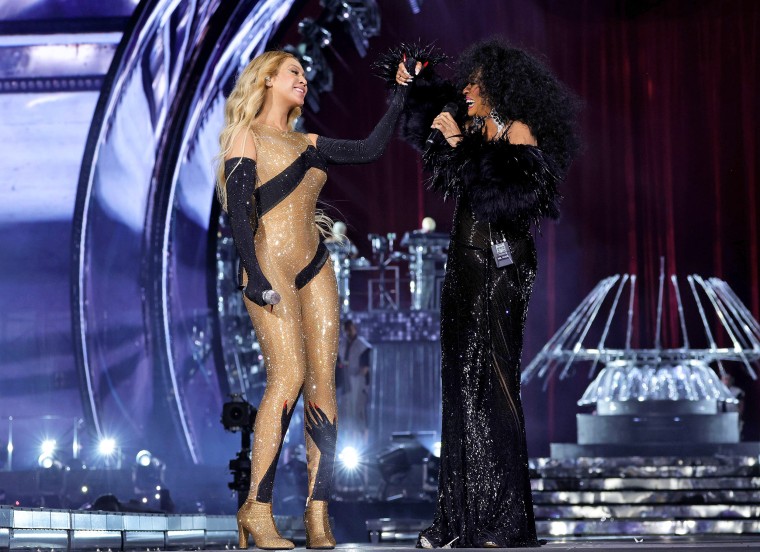 The three concerts in Inglewood, California, were star-studded events: Quinta Brunson, Gabrielle Union-Wade and her husband Dwyane Wade, Chiney and Nneka Ogwumike, Issa Rae, Pedro Pascal, Kris Jenner, Offset, Sofia Vergara, Brie Larson, Jesse Tyler Ferguson and others were all in attendance.
The majority of attendees wore silver, per Beyoncé's request.
"Virgo season is upon us," she posted on her website at the end of August. "This tour has been such a joy and as we approach the last month, my birthday wish is to celebrate with you wearing your most fabulous silver fashions to the shows 8.23 - 9.22!
"We'll surround ourselves in a shimmering human disco ball each night. Everybody mirroring each other's joy. Virgo season together in the house of chrome. See you there."
Beyoncé's tour kicked off on May 10 in Stockholm, Sweden and the last show is Oct. 1 in Kansas City, Missouri.
The "Renaissance Tour" has been celebrated as one of the most influential tours of modern music. Beyoncé first announced and promoted the tour in a February Instagram post and she has not done any interviews. Back in May, Forbes reported the tour could make up to $2.4 billion in revenue from ticket sales alone.