Beyoncé brought her "Renaissance World Tour" to Los Angeles for three nights and plenty of celebrities flocked to SoFi Stadium to see the superstar live.
The "Crazy In Love" singer had concert-goers donning head-to-toe chrome ensembles per the performer's request on her official website, which asked fans to wear their "most fabulous silver fashions" from Aug. 23 through Sept. 22 as her birthday wish and to mark Virgo season.
Among the array of celebrities in attendance was Pedro Pascal, who was spotted having a great time in Club Renaissance and caught on camera clapping along to the music by Sarah Paulson in an Instagram video.
For night two, Issa Rae, who was also in the audience the night before, returned with her crew and uploaded videos of her belting along to Beyoncé's biggest hits from the Club Renaissance section.
Night three on Sept. 4 brought out Diana Ross, who sang happy birthday to Beyoncé, and Tabitha Brown, who danced the night away in videos uploaded online.
Diana Ross
The former lead singer for "The Supremes" lead the crowd of 60,000 in singing "Happy Birthday" to Beyoncé, a video posted to X shows.
"Thank you so much," the "Renaissance" singer beamed. "You are amazing. This is the legendary Diana Ross."
The crowd roared.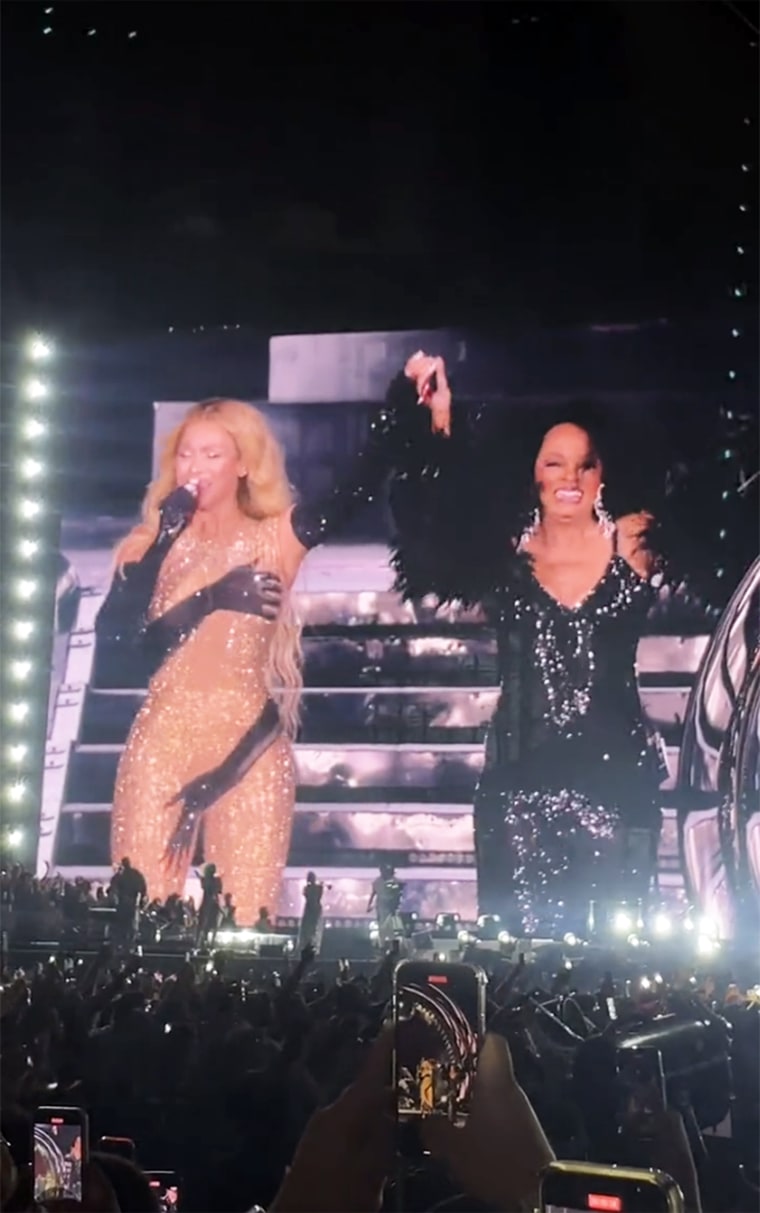 Leonardo DiCaprio
The "Titanic" star wore all black to the concert and a baseball cap, along with longtime friend Tobey Maguire.
Jeff Bezos
Jeff Bezos was seen walking into the concert with Jenner and the Kardashian sisters in attendance. He wore all black and a silver chain.
Vanessa Bryant
Vanessa Bryant posted a video of her with model Winnie Harlow. They both wore silver, of course. Her daughter Natalie Bryant was also in some of the videos posted.
SZA
SZA took a picture with Brandy while they were at the concert.
Vanessa Hudgens
Vanessa Hudgens posted pictures from the concert, holding the "Heated" fan that was available for purchase.
Tessa Thompson
Tessa Thompson captured some of Diana Ross performing her own song, (couldn't make out the words so don't know which song), in addition to her singing "Happy Birthday" to Beyoncé.
Yara Shahidi
Yara Shadhidi was there with her curls in a pineapple style.
"BEY-DAY was truly a #Renaissance of culture & pure joy," she said in her Instagram caption.
Halle Bailey
The "Little Mermaid" attended with DDG and they both wore black and silver.
Karamo
"Queer Eye" host Karamo went with a group of friends.
"First, LA finally went on Mute! 😂 Secondly we had the best time last night! Words can't express how much I love these humans! Happy Birthday Beyoncé!" he said in his Instagram post.
First, LA finally went on Mute! 😂 Secondly we had the best time last night! Words can't express how much I love these humans! Happy Birthday Beyoncé!
Uzo Aduba
Uzo Aduba said on Instagram she's so glad she and her bun in the oven had the opportunity to see Beyonce live.
"Bey-bee's first concert. It was incredible to step out with our Little One and my girl, @idaravictor to see the one and only 👑🐝🪩 @beyonce What a spectacular show. Happy Birthday, Beyonce. You truly are The Queen. Shout out also to the bestie, @iwildflower for the sisterly help bringing look to life. Love you lady. What NIGHT!" she captioned.
Tabitha Brown
Tabitha Brown, her daughter Choyce Brown and their loved ones also attended, but Choyce Brown was particularly moved. Her mom posted a video of her weeping while Beyoncé performed.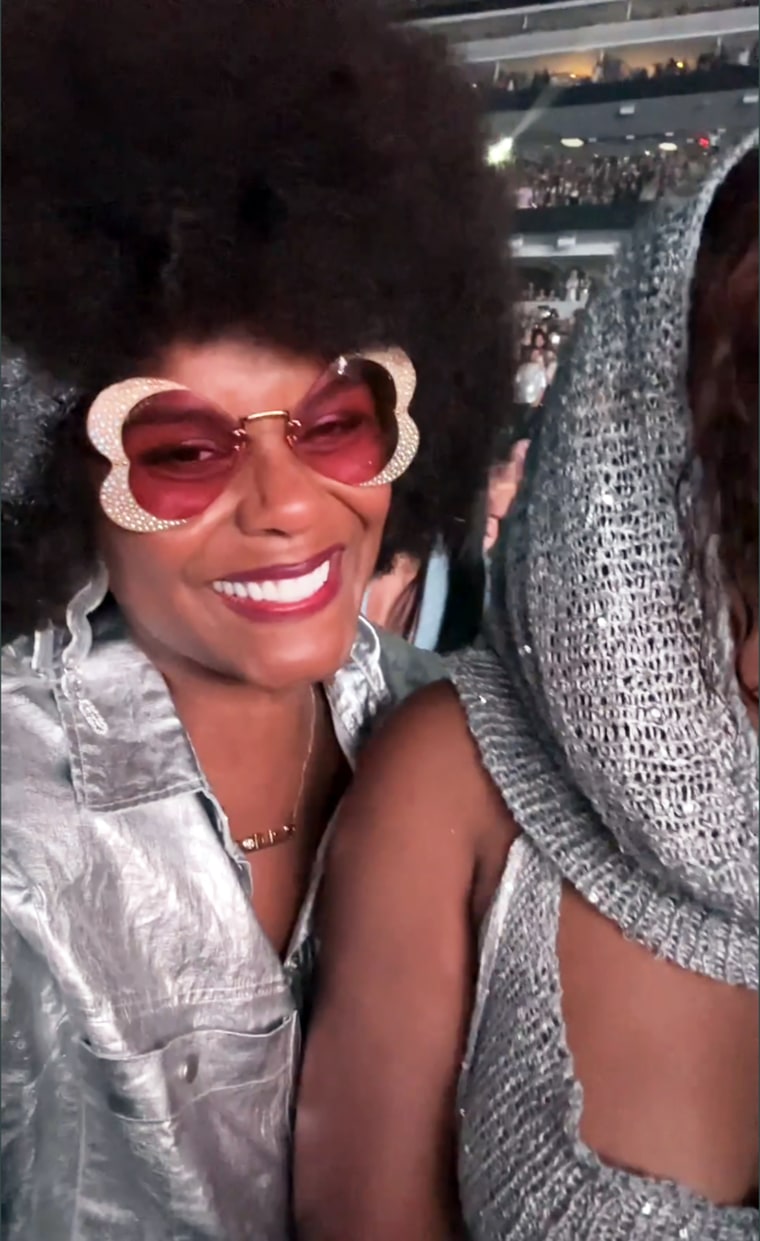 Prince Harry and Meghan Markle
A video on TikTok captured Prince Harry and Meghan Markle getting down to "Crazy In Love" — literally. Prince Harry hit a move in which he got lower and lower while swinging his arms and legs.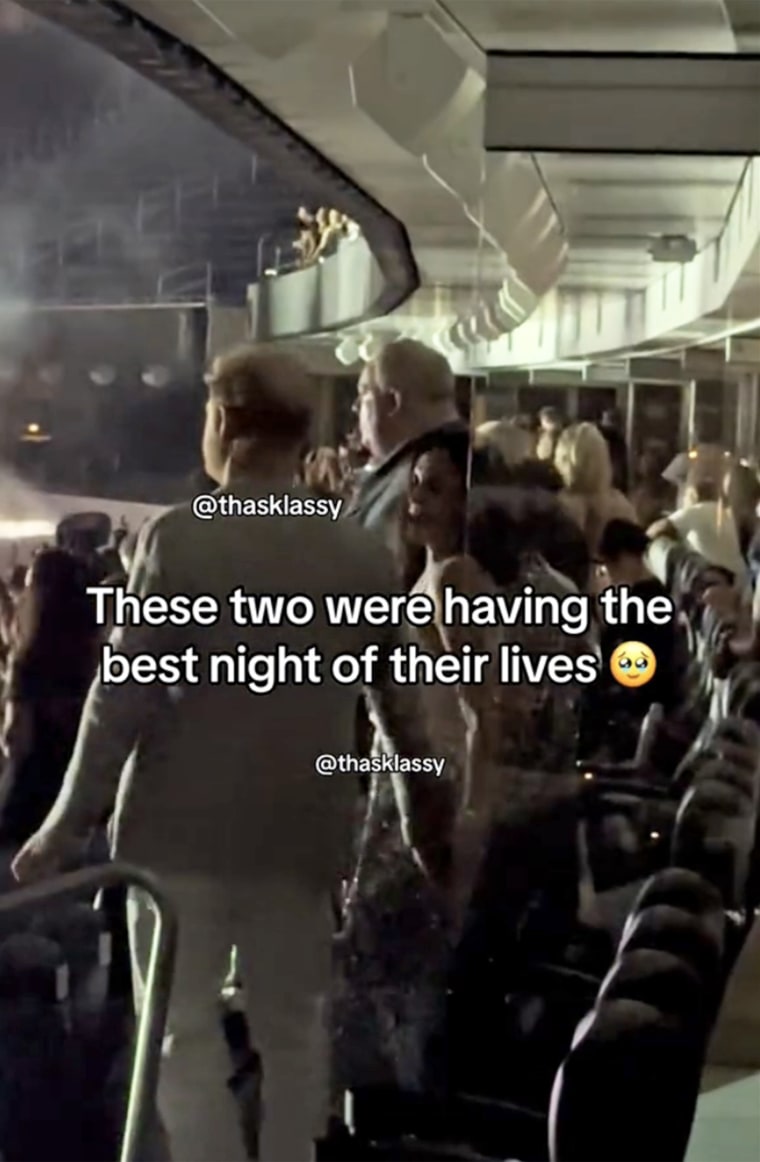 Khloe Kardashian
Khloe Kardashian posted videos of her jamming out to "Drunk In Love" with her nieces Penelope and North in the car ride. They wore white or silver. The 39-year-old later posted clips of Beyoncé singing "I Care" and of Kris Jenner singing in the car.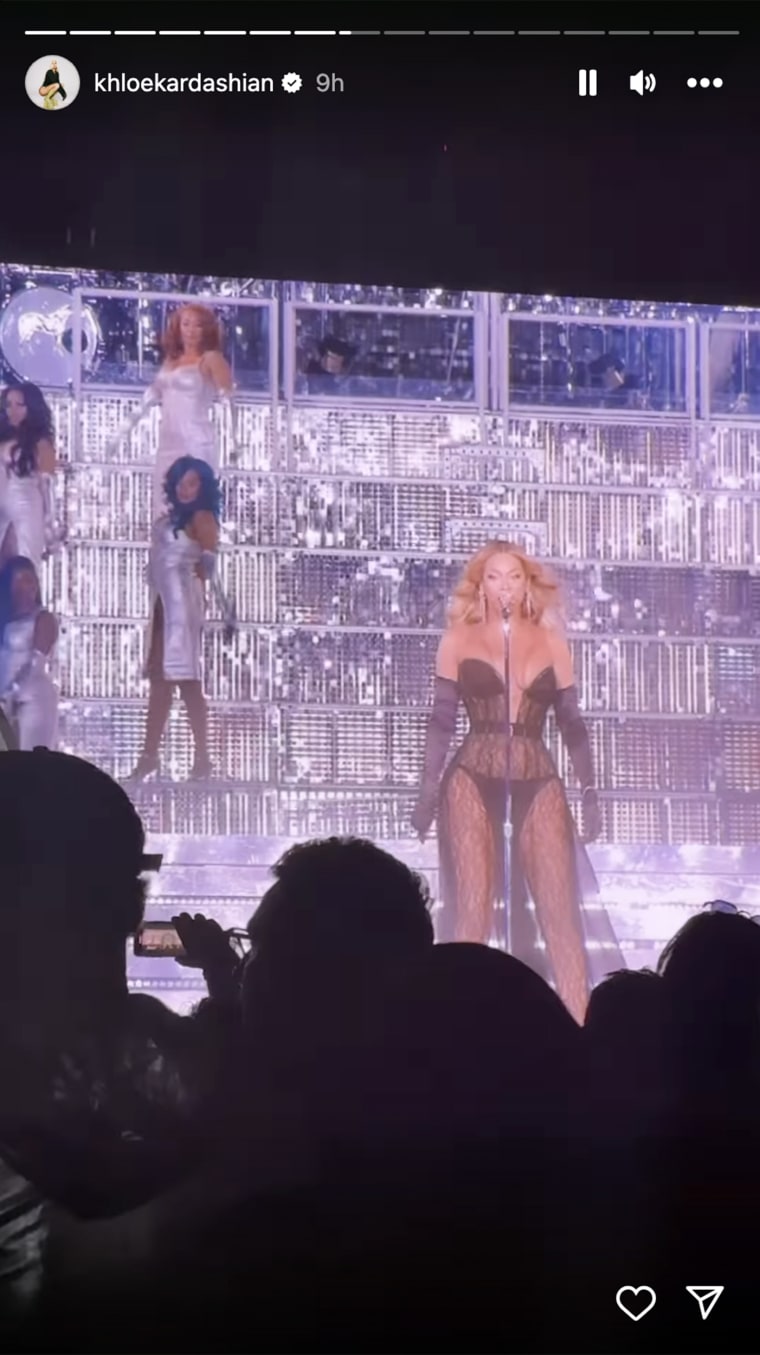 Kim Kardashian
Kim Kardashian was also in the car with her sister, her daughter and her niece, revealing it was actually a party van. She also posted a video of the four of them singing along as Beyoncé sang "Cuff It." The influencer posted a selfie of them and others enjoying themselves.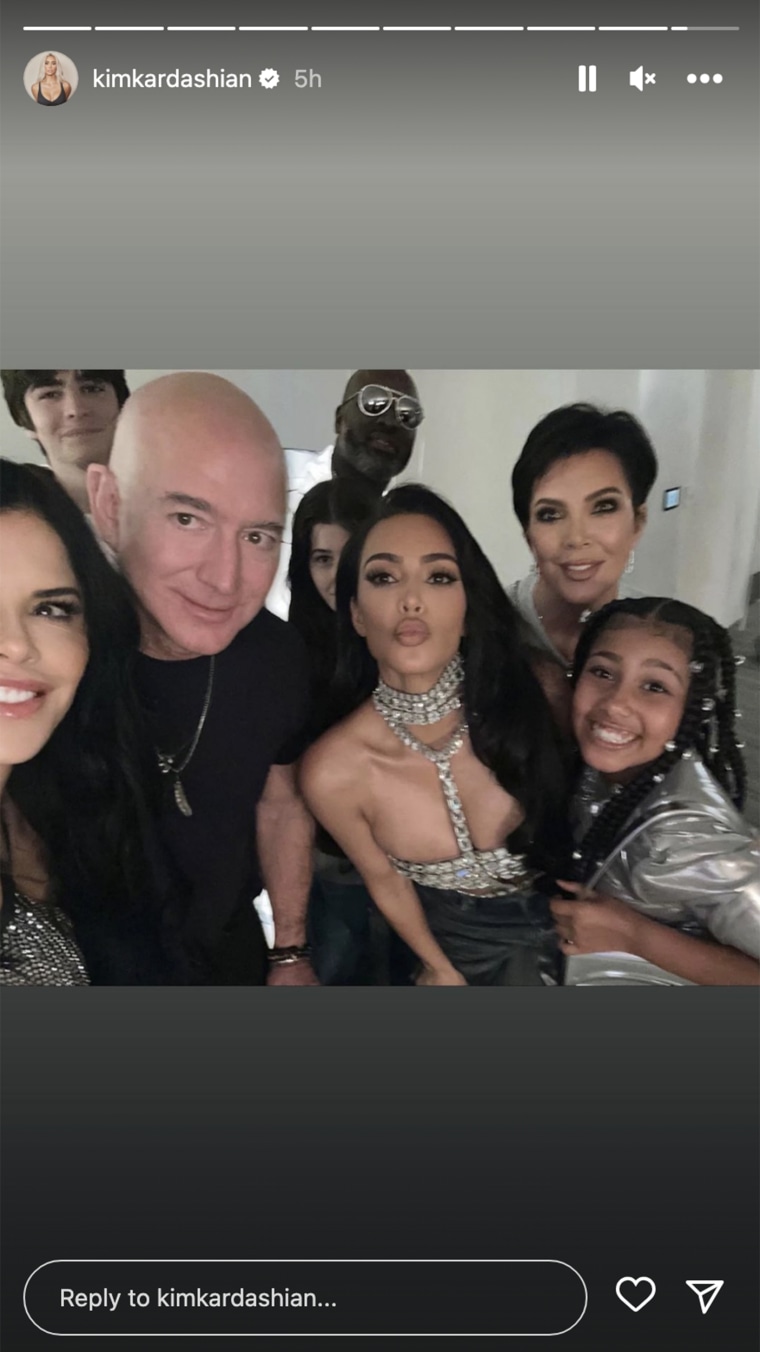 Chiney and Nneka Ogwumike
Sisters and WNBA stars Chiney and Nneka Ogyumike posted a video of the mute challenge, a moment in Beyoncé's "Energy" song in which she says, "Look around everybody on mute," and the crowd does just that.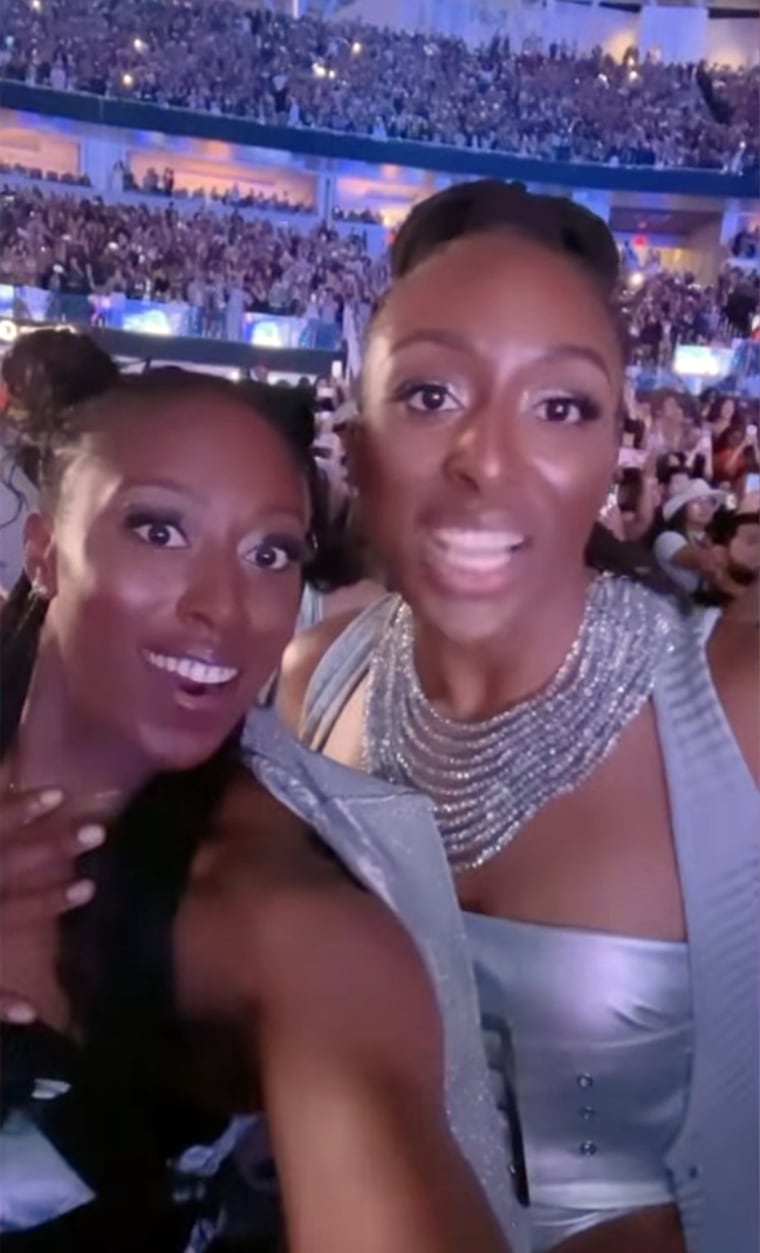 Quinta Brunson
"Abbott Elementary's" Quinta Brunson posted a video of her talking back to Beyoncé.
"I just want to say I'm feeling so full," Beyoncé said before starting a number.
"Yeah, we do too girl," the Emmy-winning writer says.
"My heart is full," Beyoncé continued.
"Yeah," Brunson agreed.
"My soul is full," Beyoncé closed in the video.
Tracee Ellis Ross
Ellis Ross followed Beyoncé's wardrobe request to a T for night one of her LA stops, donning a silver sequin halter minidress. She modeled her outfit in a series of photos on Instagram, showing the dress in action as she danced in several of the frames. In the caption, she cited the singer's birthday wish, writing, "she said wear silver."
In another video on Instagram, Ellis Ross shared her own moment of the mute challenge. She excelled at the challenge, writing, "I muted y'all!"
However, not everyone in the crowd followed the challenge, with many from the crowd screaming and cheering for the singer. Issa Rae, who was also in attendance, shared her disappointment with the crowd, writing in the comments, "We gotta do better night 2. I'm disgusted."
Kelly Rowland
Beyoncé's former Destiny's Child group-mate Kelly Rowland got the chrome memo for the Renaissance Tour. She showed off a series of photos on Instagram Sept. 1, posing in a pair of metallic silver pants, a corset and an off-the-shoulder puffer jacket. She simply captioned the post the hashtag "#renaissance."
In another Instagram post, she showed off the process of getting ready, including hair and makeup, which resulted in a smokey silver look.
Gabrielle Union-Wade
Gabrielle Union-Wade stunned at the Renaissance Tour in a silver mesh maxi dress, donning a silver bikini underneath. She showed off her look on Instagram, posting several videos and photos modeling for her followers. In the caption, she wrote, "This is a reminder, in case you needed it."
Dwyane Wade
While Dwyane Wade didn't follow Beyoncé's dress code for the evening, donning an orange baseball hat and matching shorts along with a white sweatshirt, he did share videos from the concert on his Instagram story, including another vantage point of her performance of "Energy."
He also shared a story of the crowd signing "Love On Top," writing on the story, "Queen (bee emoji) Night 1."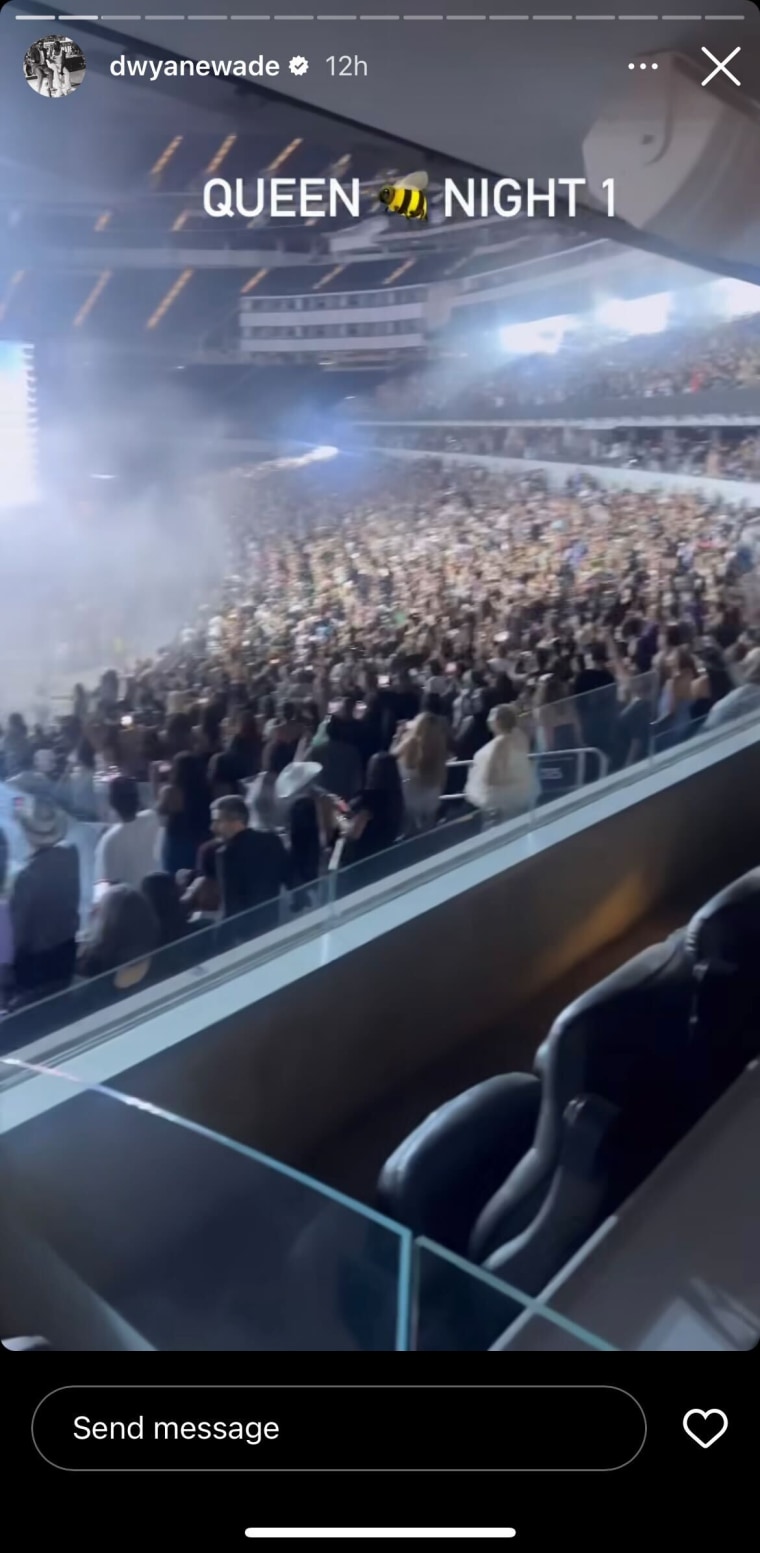 Issa Rae
For night one, the "Barbie" star rocked a metallic two-piece set, wearing a silver crop top and matching mini skirt along with a pair of coordinating heels. She modeled the look on her Instagram, shimmying for the camera to show off the metallic ensemble. In the caption, she wrote, "Yoncé Chrome" alongside the disco ball emoji.
Rae revealed she had plans to see the show twice, sharing her group's coordinating silver outfits on her Instagram story and writing "Night 1 of 2," above it.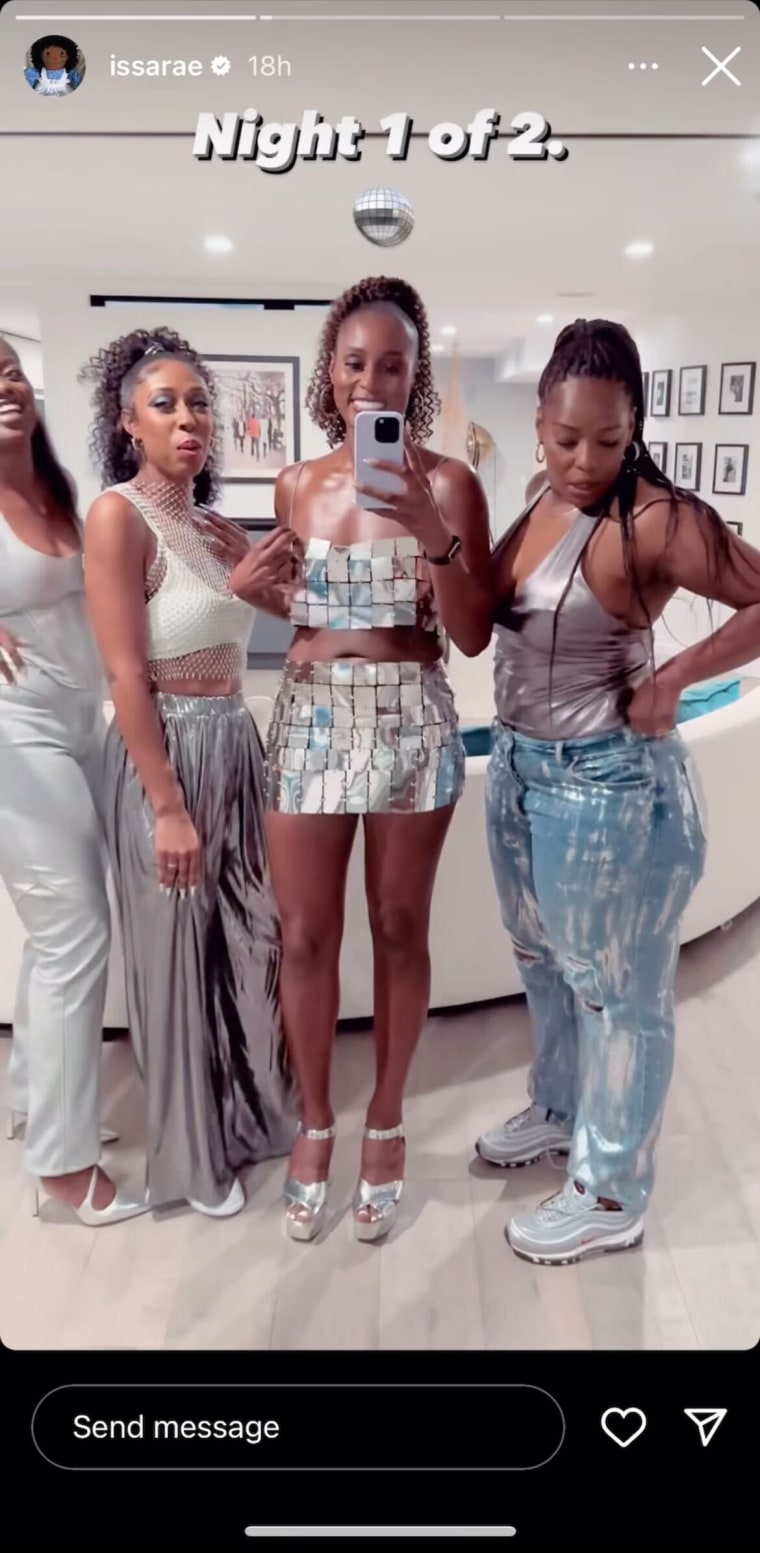 The "Insecure" star donned another two-piece silver outfit for her night two look. She posted a funny clip of a friend fanning herself as she quoted "Beyoncé's "Heated" to her Instagram story.
She showed off more of her sparkly ensemble in a few other posts as she posed next to her night two crew and sang the lyrics to "Virgo's Groove."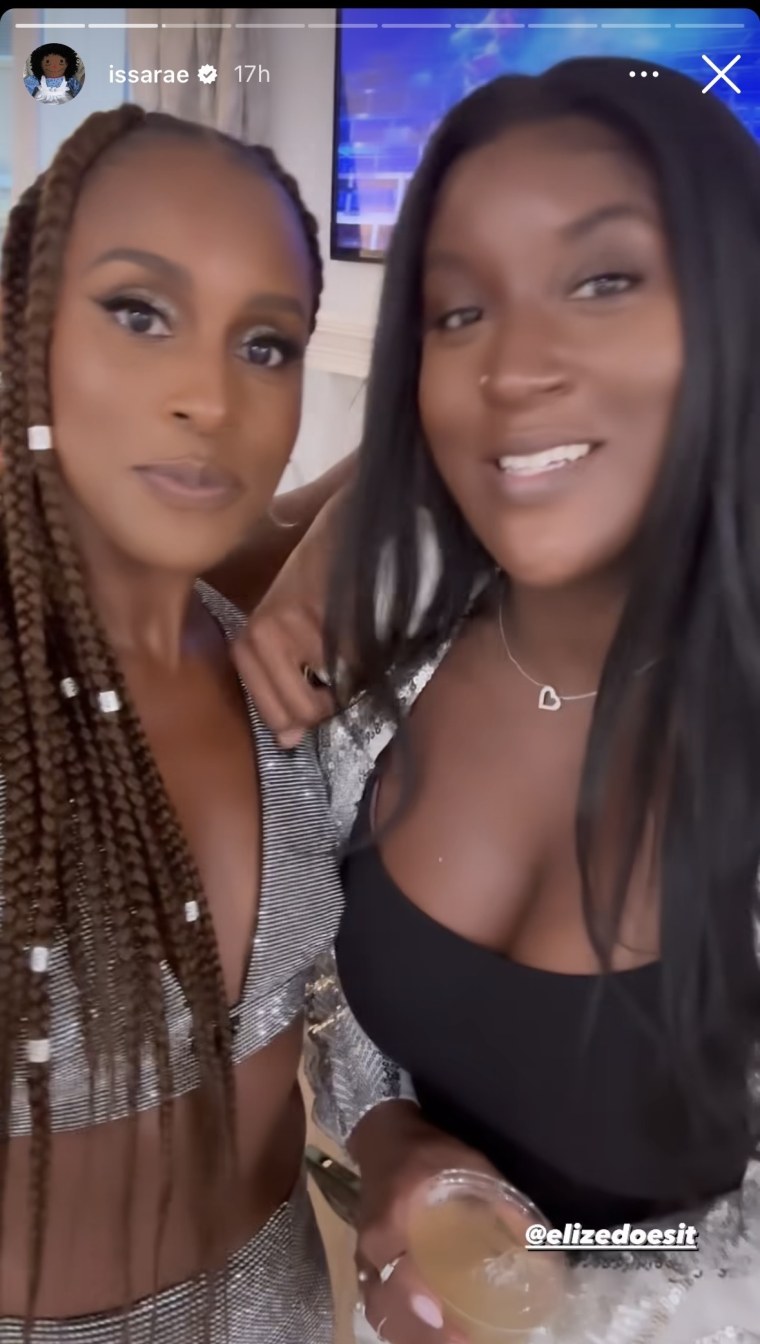 Although she looked happy backstage at the concert with her friends, she seemed disappointed that Beyoncé's mute challenge was not successful for the second LA performance. "Night 2 no. we still didn't," she captioned a clip of Beyoncé singing "Energy."
Keke Palmer
Keke Palmer made the Renaissance Tour a family affair! In an Instagram post, Keke reflected on her night at the concert, writing, "I had so much fun with my family at Beyoncé's concert. She's truly an icon and the performer of a millennium!! We left inspired and elated."
The "Nope" star showed off her ensemble in another post, posing in her black leather strapless minidress paired with a bedazzled denim jacket. She followed Beyoncé's dress code by donning a silver choker, silver nails and silver streaks in her hair, describing herself as a "Renaissance Woman" in the caption.
Kris Jenner
Though Kris Jenner didn't share any posts of her own from the Renaissance Tour, she was spotted in the back of a video shared on Offset's Instagram story. In the clip, Offset, Jenner and several other concert goers were following the moves to the "Electric Slide."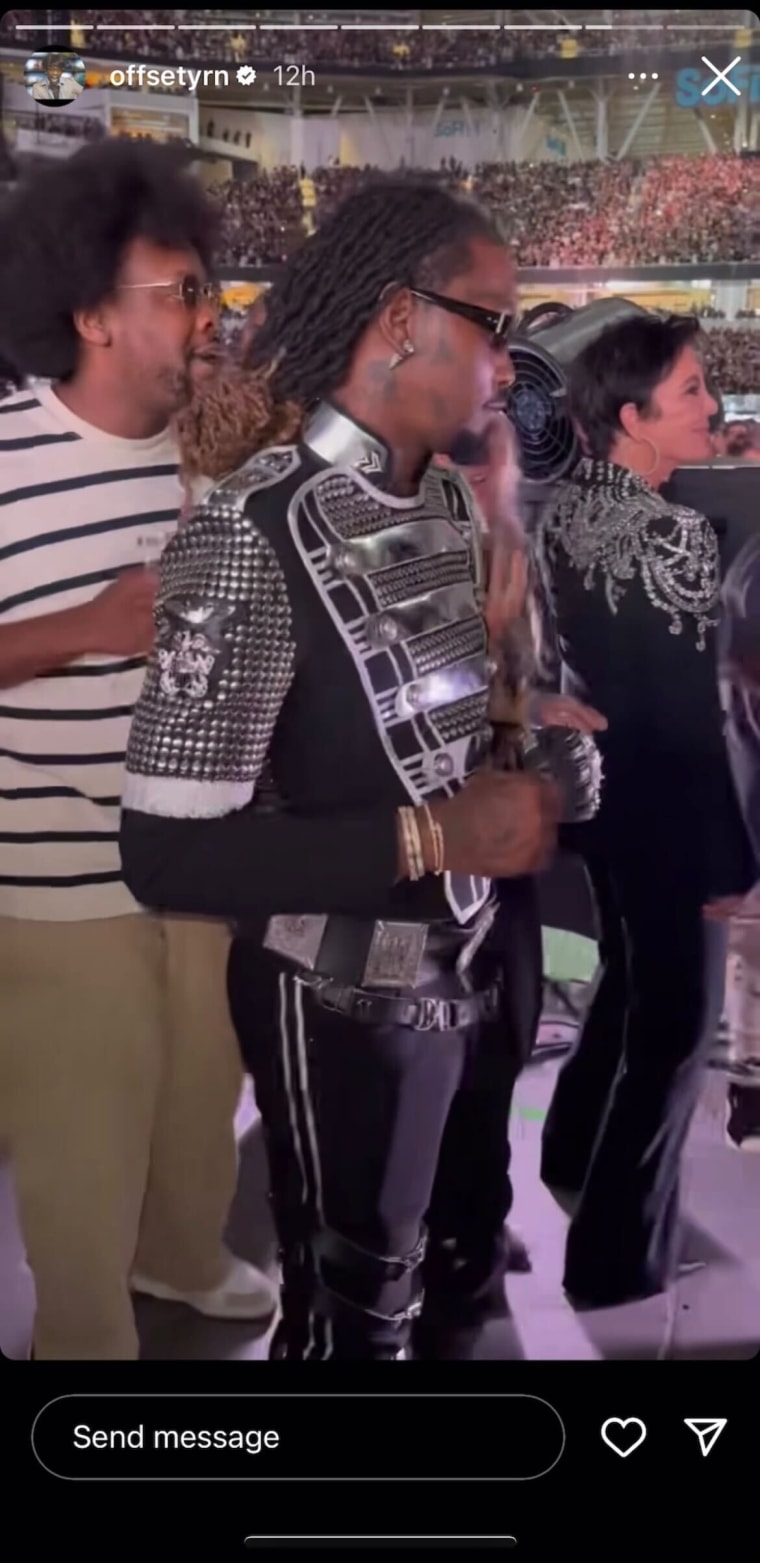 Sofia Vergara
The "Modern Family" star attended the Renaissance Tour with a group, which included her niece, Claudia Vergara, and Claudia Soare, also known as Norvina, and stylist Charlene Roxborough-Konsker.
She shared a series of posts on Instagram capturing moments from the spectacular evening, including a video of the actor dancing along to the song "Cuff It" and another video showing off her moves while she had a snack.
On her Instagram story, Vergara shared a photo with Norvina from their seats, each posing with one arm in the air as they showed off their ensembles.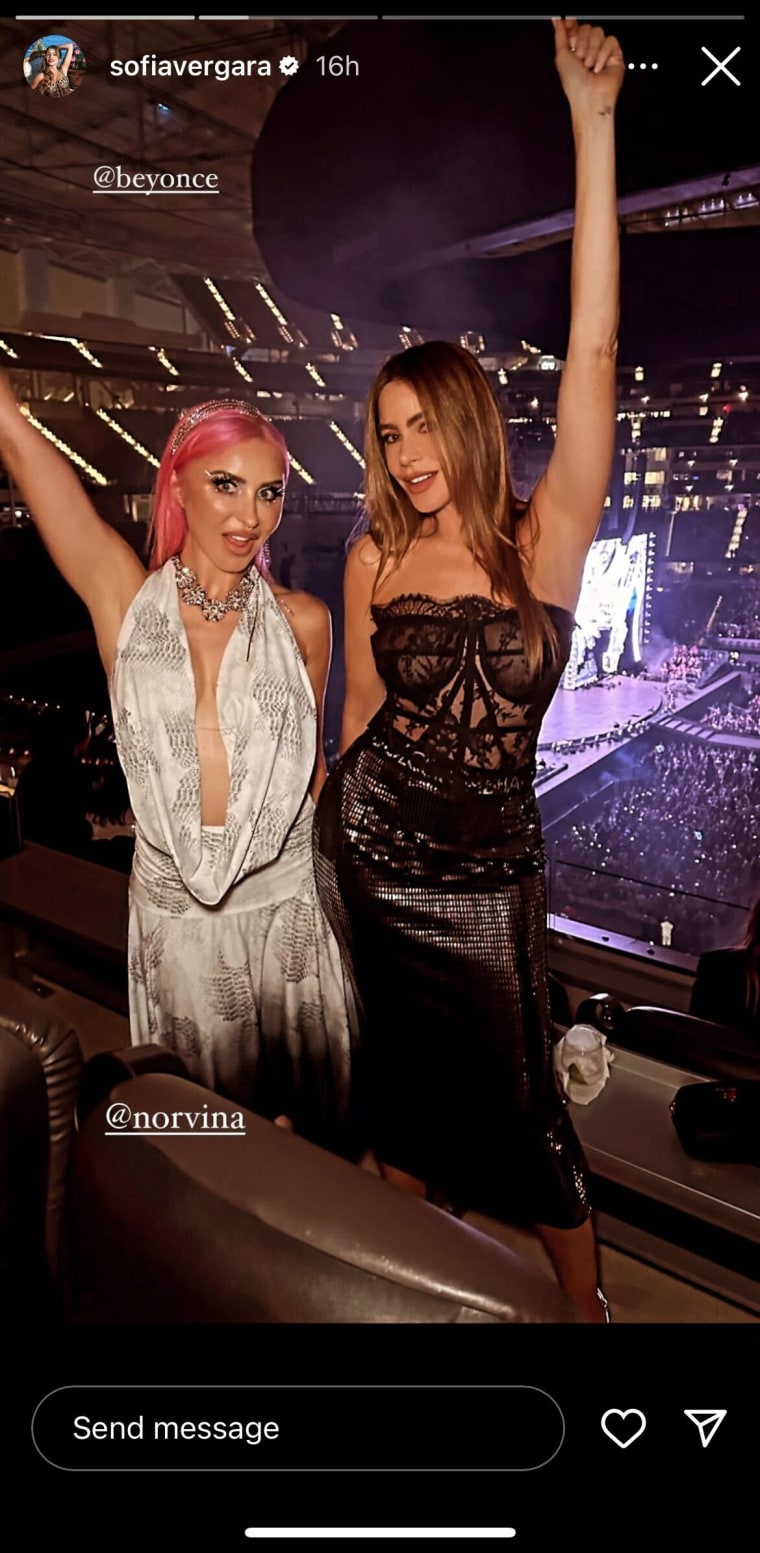 Jesse Tyler Ferguson
Vergara wasn't the only "Modern Family" star in the house at SoFi Stadium Friday night. Jesse Tyler Ferguson and his husband, Justin Mikita, were in the crowd at the Renaissance Tour. The actor shared a selfie of the couple on Instagram, along with a video of Beyoncé performing "Formation."
"@beyonce with my bey bey," he wrote in the caption.
Brie Larson
Captain Marvel herself had a blast at SoFi Stadium, wearing a disco cowboy hat to the concert, reminiscent of the hat Beyoncé wore in her tour announcement.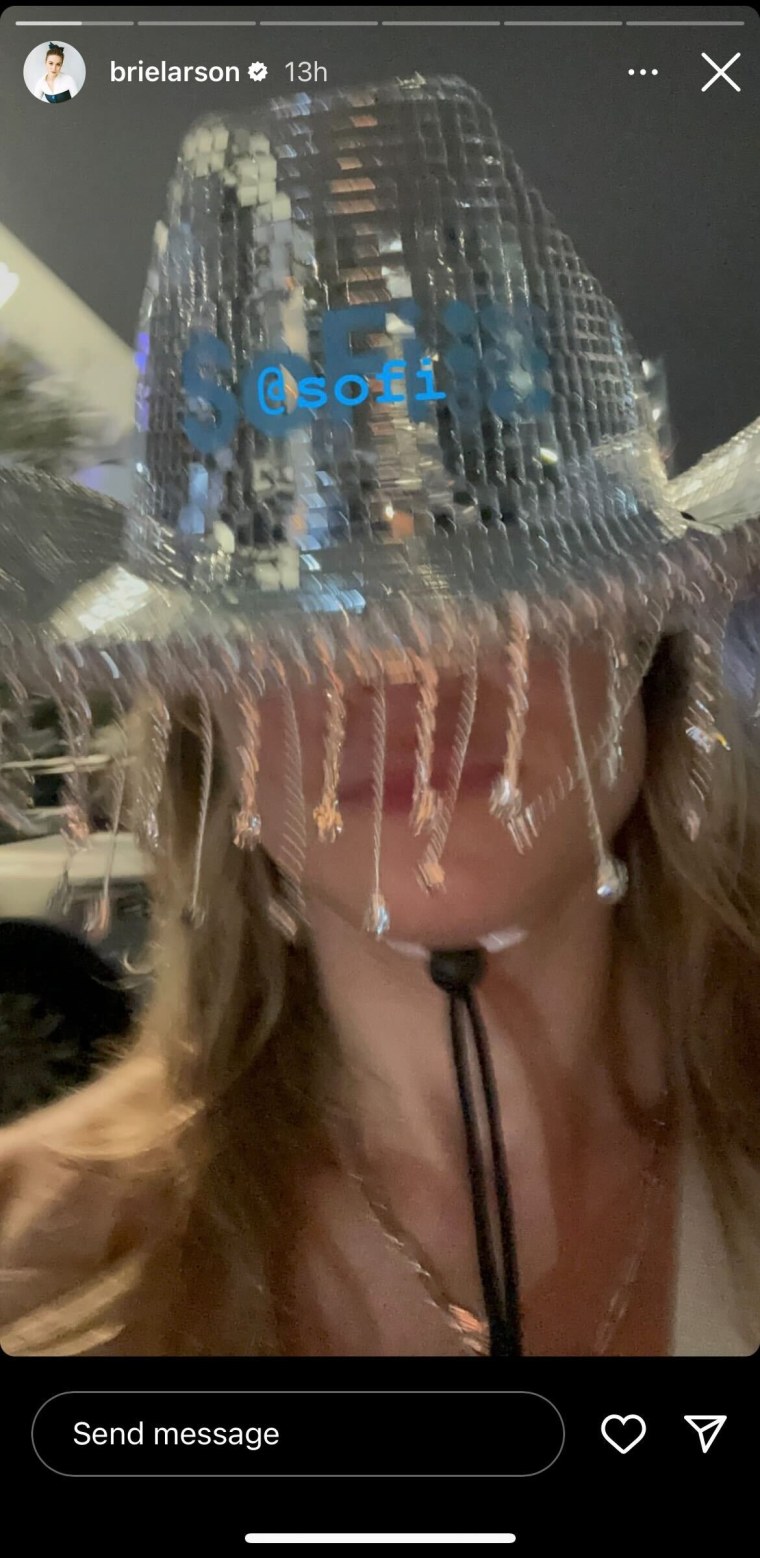 Brie Larson shared her excitement for the evening in another post, snapping a picture of Beyoncé on stage alongside the message, "@sofi you made my dreams come true."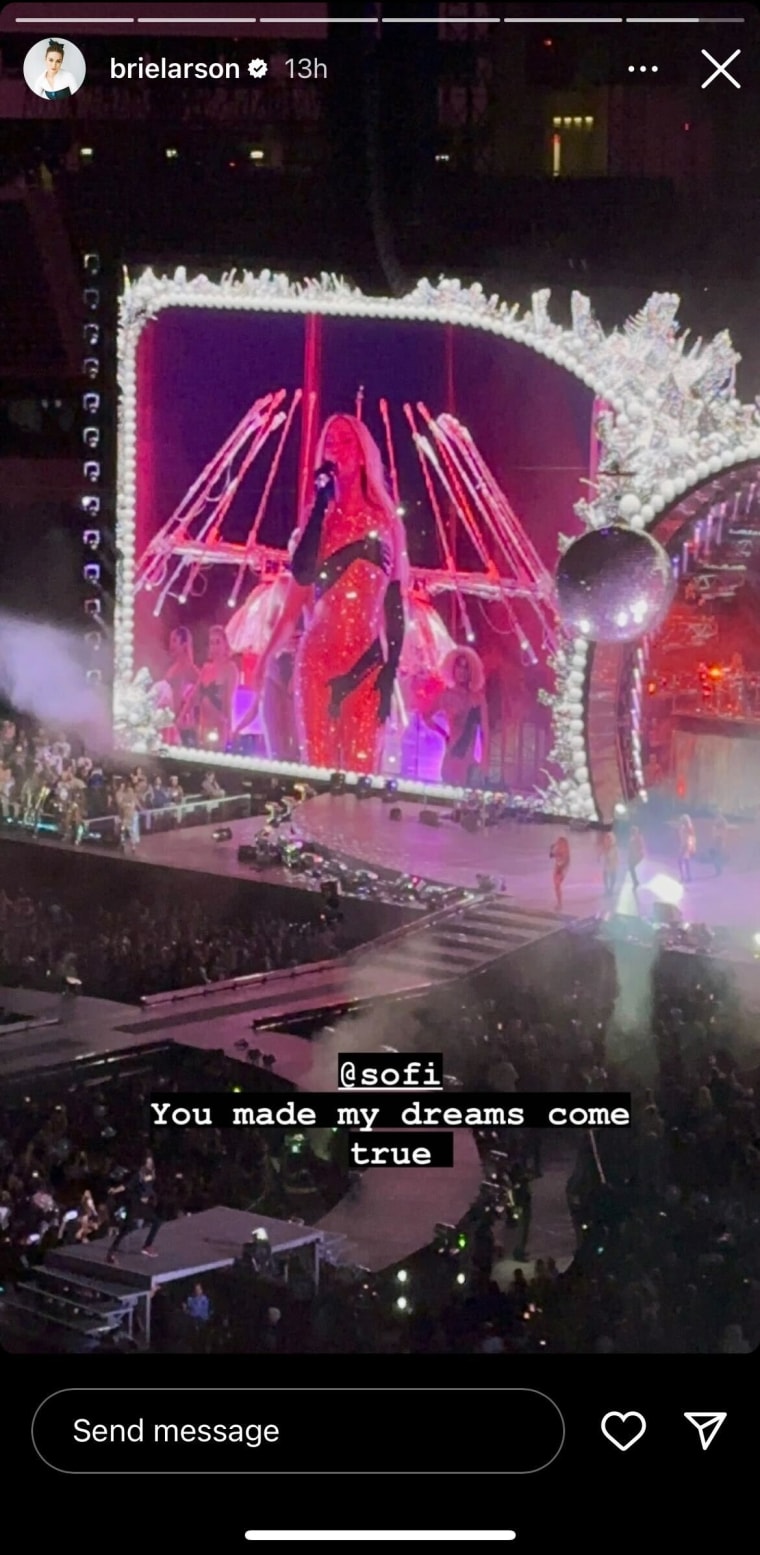 Jessica Alba
Jessica Alba's Instagram post was full of special moments from the Renaissance Tour. She shared a series of snaps and videos on Instagram from the evening, starting her post off with a selfie posing with her friend, Kelly Sawyer, the co-CEO of Baby2Baby, both wearing matching beaded cowboy hats.
Though Alba's videos had no sound, she captured multiple moments of Beyoncé's performance and her stunning ensembles, including her shimmering silver bodysuit paired with a floor length pink fur coat.
Selena Gomez
Selena Gomez enjoyed night two of the LA Renaissance Tour with her 10-year-old sister, Gracie, and friends Brooklyn Beckham and Nicola Peltz.
The "Only Murders in the Building" star shared a selfie to her Instagram story of Gracie sitting between her and Peltz at the concert.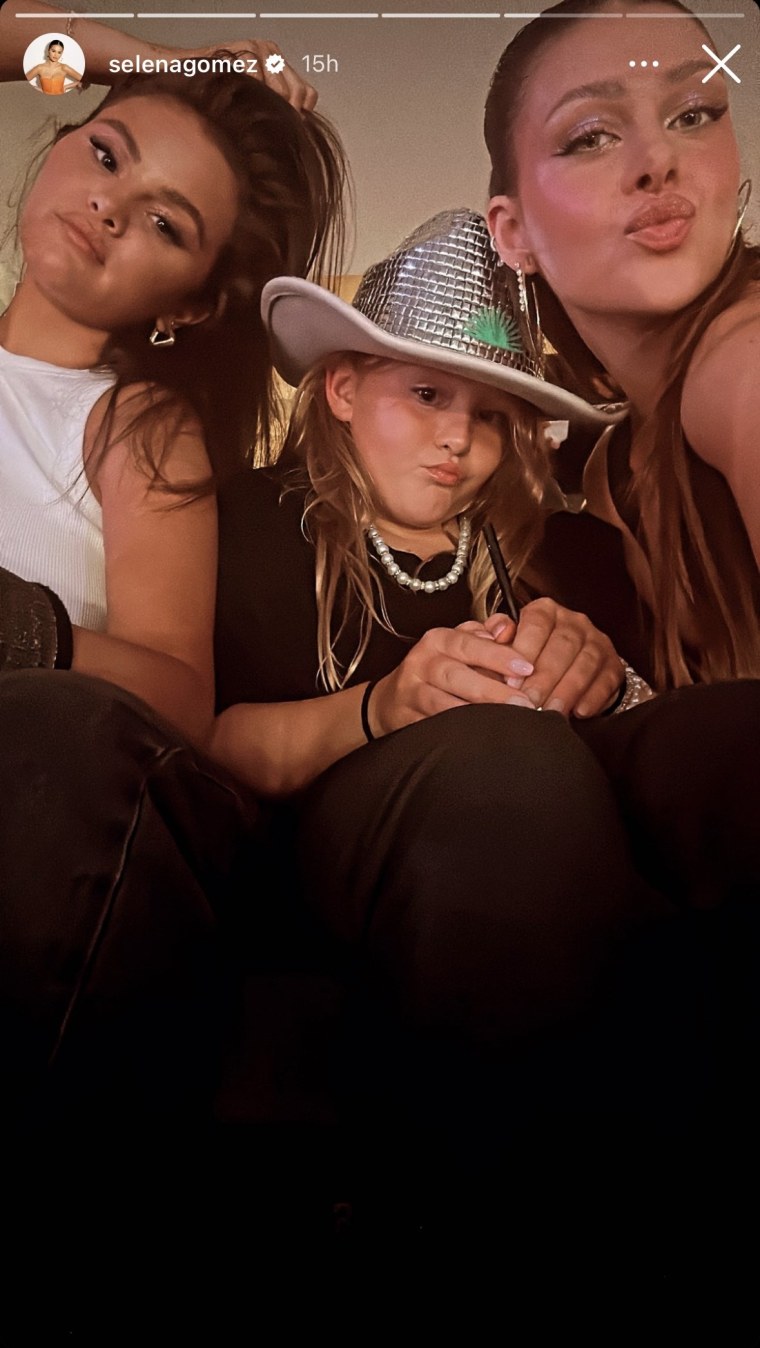 The 10-year-old followed the silver theme and donned a glittery cowboy hat. Meanwhile, Gomez simply wore a white t-shirt and Peltz sported an all-black ensemble with silver eyeshadow.
In her final Instagram story from the night, Gomez smiled while watching Gracie, Beckham and Peltz sing "Love On Top."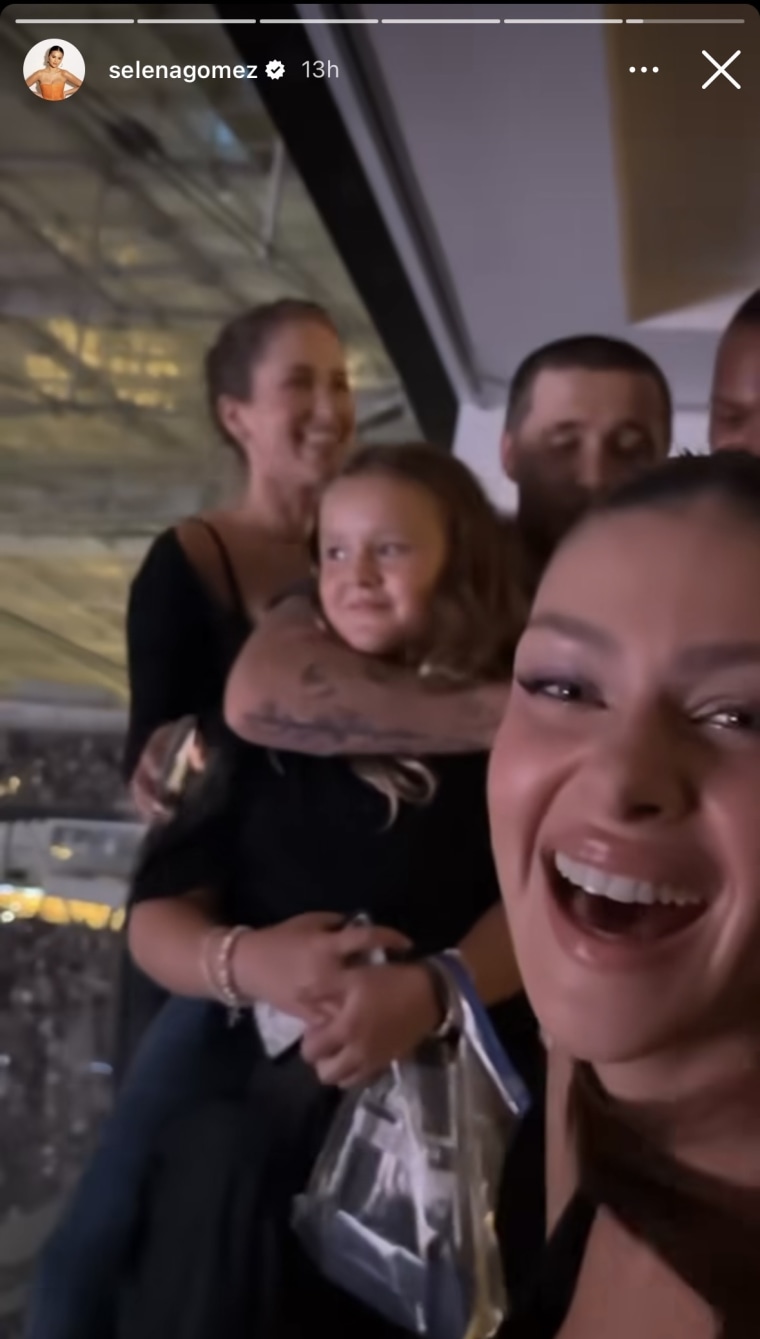 Sterling K. Brown
Sterling K. Brown and wife and actor Ryan Michelle Bathé were fashionably late to the show, but they made it just in time to see Queen Bey take the stage.
The "This Is Us" star shared a selfie on Instagram of the couple after they made their way to their seats. Bathé wore a sparkly silver camisole and matching hoops in the snap.
"Did we miss the opening act…? Yes! But did we make it? Hell yeah?! Is we outchea?! You best believe it! Is we 'bout to get turnt?! #NoDoubt AboutIt!!!" he captioned the photo. He also added the hashtag "#BeyTime."
Ben Platt
Ben Platt and fiancé Noah Galvin complemented each other by both rocking metallic cowboy hats and silver eye makeup in a photo uploaded to the "Theater Camp" star's Instagram story.
"Round 1 @Beyonce," Platt wrote above the photo.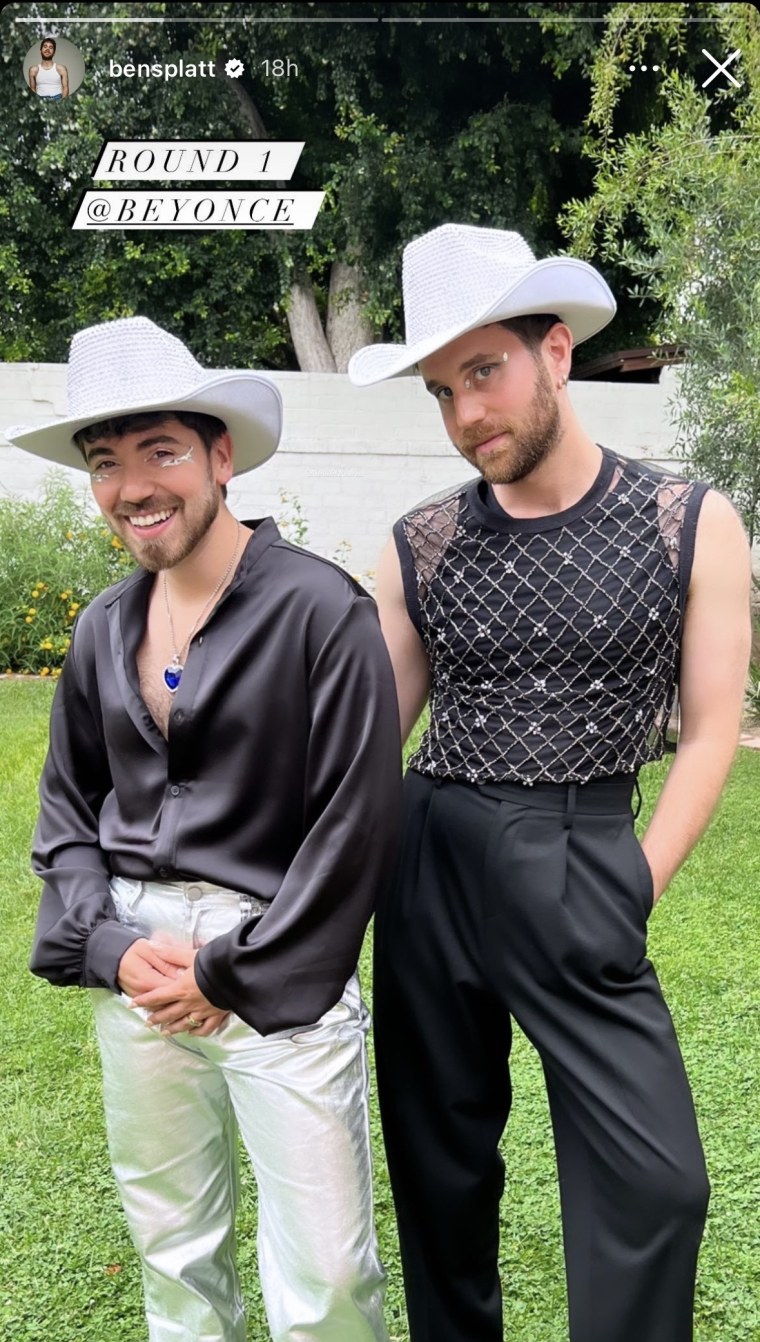 In a second post, he captured Beyoncé performing "Break My Soul" and praised her for being the "greatest alive."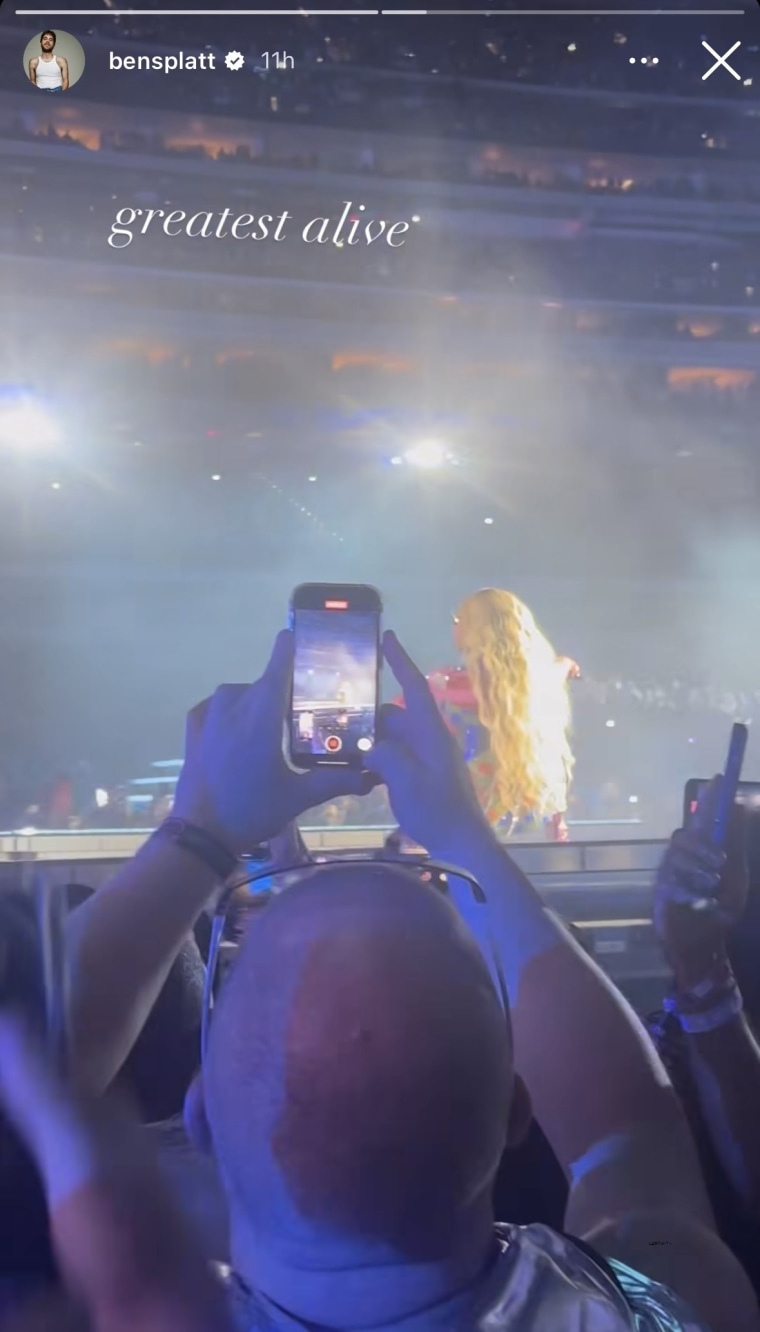 Madison Bailey
Madison Bailey sparkled like a disco ball in the crowd. She posted photos to Instagram of her wearing a strapless, shimmery top, silver hoop earrings and sunglasses as the rest of the concert-goers filled the stadium.
"Yonce yonce," the "Outer Banks" star captioned the slideshow.
Ariana DeBose
Ariana DeBose shared a glimpse of her outfit before the concert began on her Instagram story and asked fans to guess where she was headed. She sang along to "Heated" and tossed her head back and forth as the tassels on her silver hat swayed from side to side.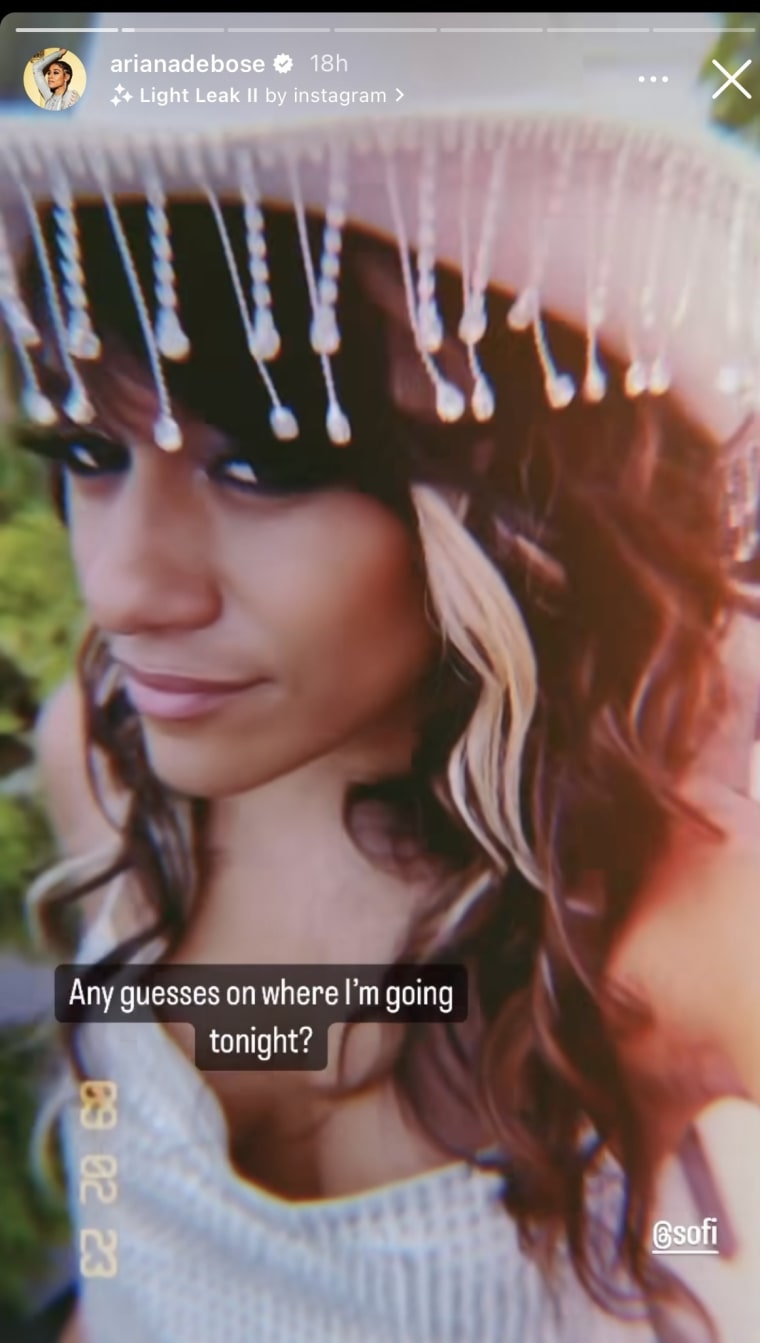 In another snap, the Oscar-winner posed with a hand on top of her hat, revealing her bedazzled tank top. She looked entranced watching Beyoncé make her grand entrance.
For her final post, DeBose danced and mouthed the words to "Energy." "She did not disappoint!" she wrote beneath the clip.