Yes, those are Margot Robbie's feet in the "Barbie" trailer.
Robbie told the inside story of the perfectly arched foot, which went viral for looking so much like the doll's, when speaking to TIME in a story published June 27.
"I really don't like it when someone else does my hands or feet in an insert shot," the 32-year-old actor said of using her own limbs instead of models,' which would've come in handy (pun intended) for this movie.
Robbie, who plays the titular doll, said the shot took eight takes and she had to hold onto a bar to keep her sole arched.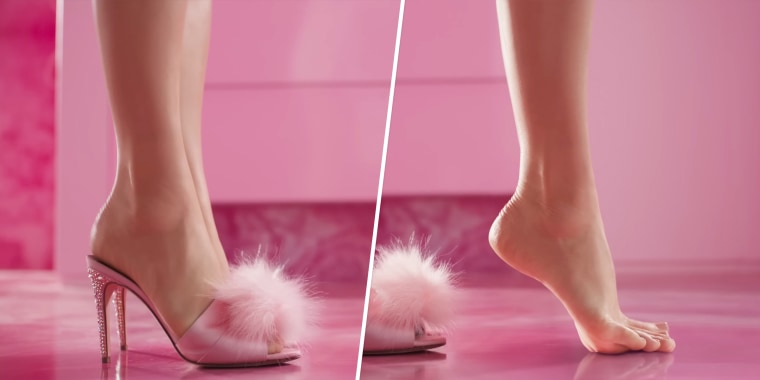 The first trailer for the Greta Gerwig directed film came out on April 4. Fans immediately focused on how the movie portrayed Barbie's trademark arched feet, which the doll has had since its inception in 1959.
The moment happens seven seconds into the clip. Robbie steps out of her bedazzled pink heels and stays perched on her tiptoes, just like the plastic doll.
"I haven't gasped in astonishment at a single shot like this from any superhero movie since 2004," one tweet read at the time.
Chrissy Teigen tweeted all the questions she had at the time, writting, "I need to know everything about this shot. How many takes, if she held onto something, was she harnessed, is the landing mark sticky, are they her feet, who did the pedicure, really just a documentary on this shot."
The first full trailer released in May and shows Barbie losing her arch as she begins to awaken to the artifice of Barbie World.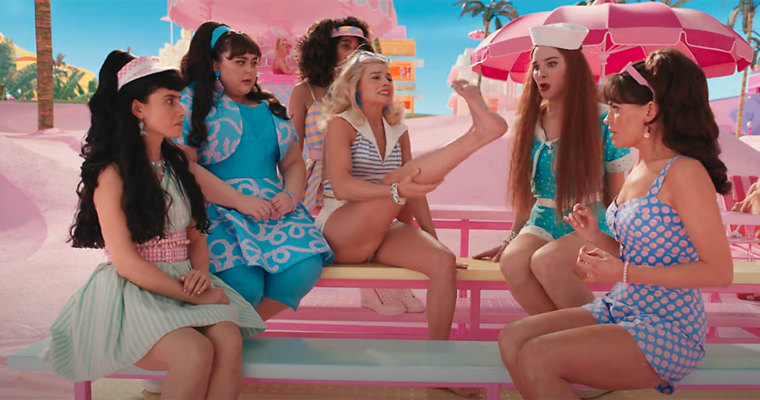 Now that Robbie has answered the tale of the feet, questions now move to her hands, which are in a similarly fixed position.
Gerwig said in the same TIME interview as Robbie that Barbie's hands became particularly important for one specific movie scene.
Ruth Handler, creator of the original Barbie doll, reaches out her hand and touches Barbie's in a move resembling an analogous scene in Michelangelo's "The Creation of Adam." The scene draws a connection between God and Ruth Handler, each of whom creates a perfect being and brings them to life.
"It's on the same trajectory and angle as the Sistine Chapel," she clarified. "Nobody is going to notice that so I have to say it."
"Barbie" opens in theaters July 21.