Come on, Barbie? You don't need to tell us twice. The first official trailer raised the hype — and the first full one, out May 25, raised it even higher, all while answering a few major questions about the anticipated movie.
We have intel about the cast and the soundtrack — which will, according to the trailer, include Aqua's "Barbie Girl." The trailer finally shed light on the Greta Gerwig-directed movie's plot.
"Barbie," according to the trailer, is a fish-out-of-water comedy, as Barbie leaves her world for ours.
The trailer shows Barbie questioning her saccharine, doll-like reality and pondering unseemly topics like ... death. "Do you guys ever think about dying?" Margot Robbie, as Barbie, says on the dance floor, disrupting a line dance with other Barbies.
With intrusive thoughts like these, Barbie's sense of reality is crumbling and her world, along with it. One shocking change? Her permanently arched feet, a talking point from the last trailer, have gone flat, eliciting screams from the other dolls.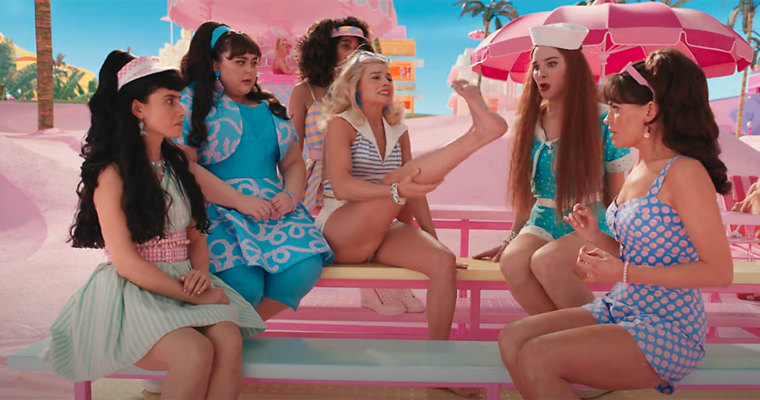 Barbie has a chance to leave the box of Barbieworld and learn more about what else is out there. Instead of being forced to choose between red pill and blue pill a la "The Matrix," Weird Barbie (played by Kate McKinnon in a bob) gives Barbie the choice of heels or Birkenstocks. Off she goes, with Ken (Ryan Gosling) along for the ride.
Once in the real world, Barbie finds she's been left behind by pop culture. "We haven't played with Barbies since we were like, 5 years old," a group of school girls tells her in a scene.
"Oh," Robbie's Barbie says, disappointed.
When it comes to social mores, she's out of her depths. Barbie and Ken go inline skating in neon outfits (explaining those behind-the-scenes pics) and are stunned by the attention they're drawing.
"What's going on? Why are these men looking at me?" Barbie says, confused.
Still, she can take care of herself. When one passerby slaps her rear end, Barbie punches him in the face. She and an oblivious Ken end up in jail.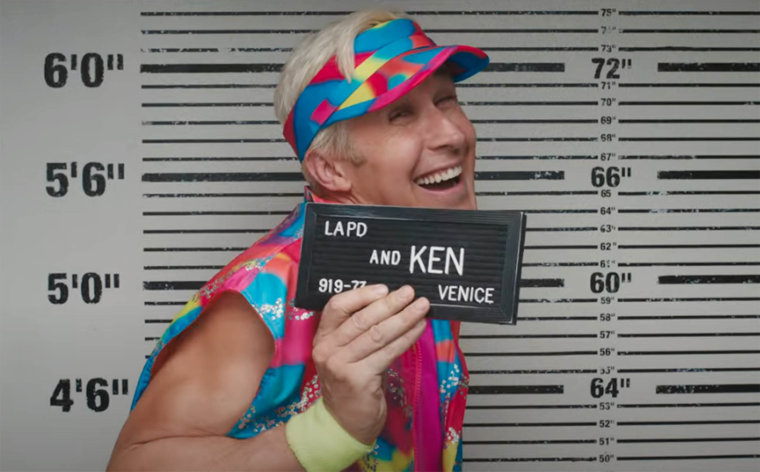 Barbie's journey of self discovery seems to be posing problems for the owners of the toy company — and potentially the human race. Will Ferrell's character says the repercussions could be "catastrophic," saying, "If this got out, it could mean extremely weird things for our world."
"Barbie in the real world. That's impossible," America Ferrera, who plays a human in the film, says.
The trailer was largely met with excitement. One YouTube commenter wrote, "I think I'm not kidding when I say that this trailer has raised the hype for the film by a lot."
Another said, "I found myself smiling through the whole trailer. I think my inner little girl is really excited."
And a third added, "The trailer looks promising enough for me. I'm also getting 2000s vibes by this movie. Raise your hand if you are a Barbie girl in a Barbie world!️"
The Barbie movie is set to hit theaters on July 21.