'N Sync puts the "Band" in "Trolls Band Together."
The recently reunited group attended the Nov. 15 premiere of the new movie "Trolls Band Together" in Los Angeles, the first time the hitmakers could promote the film in the wake of the actors strike coming to an end.
'N Sync, of course, released the song "Better Place" for the movie, which comes out Nov. 17. That track came out after the band created a whirlwind of excitement when reuniting at the MTV Video Music Awards in September — an event that flummoxed even the queen of pop music herself, Taylor Swift.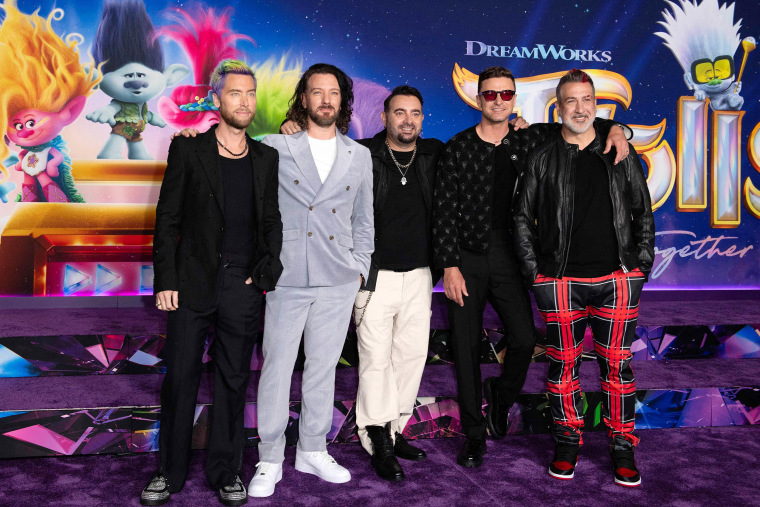 Most notably, Justin Timberlake was the at the film's premiere, sporting an all-black ensemble, along with tinted sunglasses. Timberlake, who was accompanied by wife Jessica Biel, plays Branch in the "Trolls" series.
The premiere was one of the few public appearances for the "Cry Me a River" singer since the release of former girlfriend Britney Spears' memoir, "The Woman in Me."
In her book, she wrote about their relationship, admitting she was smitten with him, but that they did have problems, including infidelity on both of their parts and her decision to have an abortion after she became pregnant with his baby.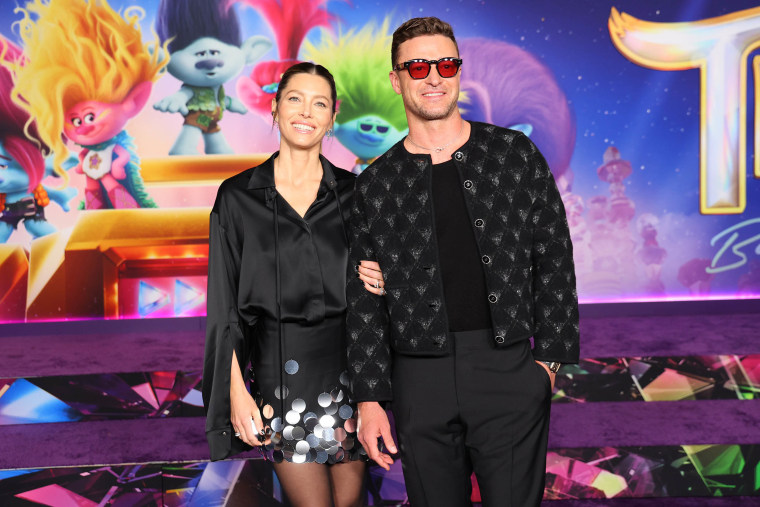 "It was a surprise, but for me it wasn't a tragedy,'" she wrote. "I loved Justin so much. I always expected us to have a family together one day. This would just be much earlier than I'd anticipated. Besides, what was done was done."
Spears said Timberlake was none too pleased to learn she was carrying his baby.
"But Justin definitely wasn't happy about the pregnancy," she wrote. "He said we weren't ready to have a baby in our lives, that we were way too young. I could understand. I mean, I kind of understood. If he didn't want to become a father, I didn't feel like I had much of a choice. I wouldn't want to push him into something he didn't want. Our relationship was too important to me."
Timberlake did not respond to multiple requests for comment from TODAY.com and NBC News on the contents of Spears' memoir.
Timberlake, however, did apologize to Spears in 2021 following the release of the documentary "Framing Britney Spears."
"The industry is flawed. It sets men, especially white men, up for success," he wrote on Instagram, in part. "As a man in a privileged position I have to be vocal about this. Because of my ignorance, I didn't recognize it for all that it was while it was happening in my own life but I do not want to ever benefit from others being pulled down again."