Meghan Trainor was clearly in the pink on Tuesday, kicking off the Citi Summer Concert Series in front of a cheering audience that packed the TODAY plaza.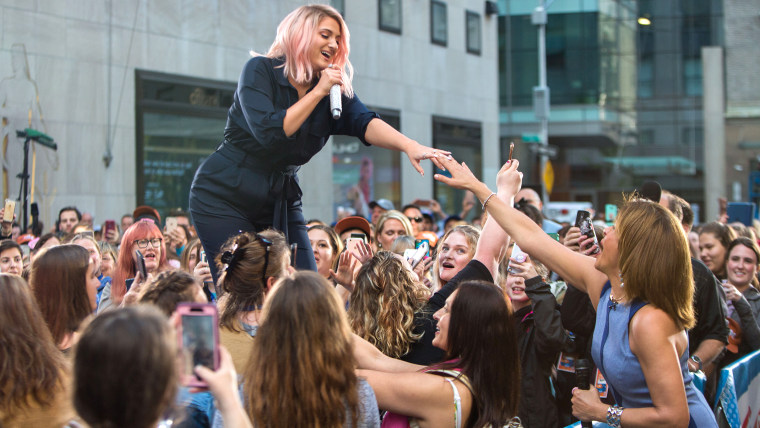 Crowned by a lovely pastel pink head of hair, Trainor got everybody grooving with songs like her 2014 hit "All About That Bass," plus "No Excuses," "Let You Be Right" and "Like I'm Gonna Lose You."
Trainor has been keeping busy lately: Not only has she been working on her third album, she's also been appearing on Fox's singing competition "The Four" as a judge. That's impressive no matter what, but considering she's been recovering from a vocal cord hemorrhage in 2016 that required multiple surgeries, we are doubly wowed.
Visiting TODAY, she pointed out her fiancé, "Spy Kids" actor Daryl Sabara on the plaza, noting, "I'm so in love." While they haven't set a date for the wedding, she added, "I'm locking it down."
We also learned how the little ditty Trainor wrote to help Hoda Kotb and Kathie Lee Gifford celebrate their 10th show anniversary together in April arrived: in a flash!
"My Kathie Lee and Hoda song came at 6 a.m one morning," she explained. "I'm like, 'I got it!' And wrote it down on my phone."
Inspiration comes from all corners, and we are inspired by Trainor. Be sure to check out all of the videos from her appearance!
Follow Randee Dawn on Twitter.