It's hard to imagine there was ever a time Kathie Lee Gifford and Hoda Kotb weren't teaming up to make mornings brighter.
But everything has a beginning, and for these two, it all started 10 years ago — and that's something to celebrate!
In honor of KLG and Hoda's big anniversary, the ladies are looking back at some of their most memorable moments, welcoming a couple of special guests with something to sing about and enjoying it all with a little wine.
And, knowing them, maybe a little more later.
"I cannot believe it's been 10," Hoda said as they got the party started. "I honestly cannot believe it. ... Kath always said, 'Oh wait, we got the Egyptian journalist and post-menopausal has-been? How do those two things work?'"
Perfectly.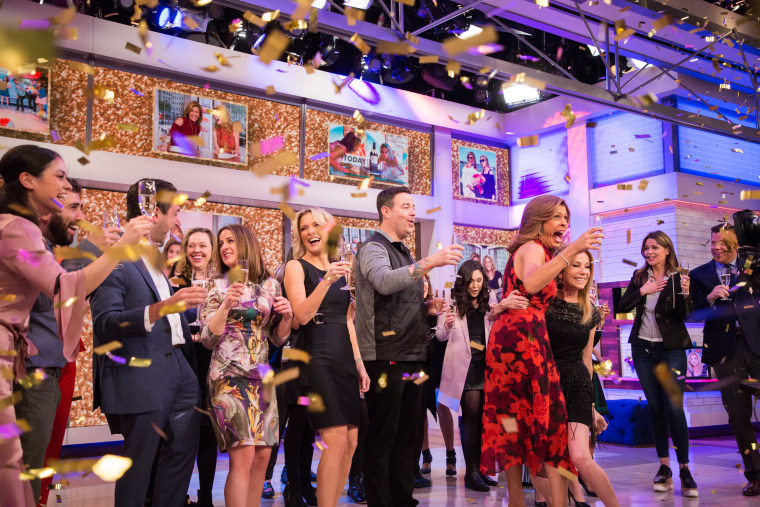 "I fell in love with an Egyptian goddess," Kathie Lee responded with the benefit of hindsight. "What are you gonna do? You fall in love; it changes your life."
"We fell in love," her pal shot back.
In fact, for Hoda, that came as no surprise. "I told her on the day we met, you and I are going to be lifetime friends. She's the best friend you can have."
That friendship has seen them through life's biggest events — on-air and off — from navigating grief when Kathie Lee's husband, Frank Gifford, passed away to celebrating joy with the arrival of Hoda's daughter.
"She was there for me, every step of the way," KLG recalled. "I had shared my mantra with her many years ago, and we quote it to each other often: 'My joy is non-negotiable.' So then she names her child Haley Joy."
Forging a bond like that over the course of a decade is great reason to raise a glass — or a cake (see above).
So it was only fitting when friend Jimmy Fallon recorded a taped spot and told the anchors he had two "blinged out" wine glasses for them to mark the occasion.
He planned to hand them over the next time he stopped by ... which was just moments away!
That's when Fallon took the stage and presented the duo with his real gift — a spot-on impersonation of Kenny Rogers, as he belted out the oh-so-apt ballad "Through the Years."
It was beautiful music to score their "Toast to 10," but it wasn't the only song of the day.
Meghan Trainor followed Fallon with a treat they could dance to — and keep dancing to as long as they'd like: a brand new theme song for the fourth hour.
Here's to the next 10 years!
Related: These are our top 10 'Favorite Things' to celebrate 10 years of Kathie Lee and Hoda