Travis Kelce was already well known as one of the greatest tight ends in NFL history — but the fame that comes with (reportedly) dating Taylor Swift is a whole new ballgame, his brother says.
"It's certainly been weird, the level that it is now," Philadelphia Eagles center Jason Kelce, 35, told NBC Sports' Peter King on Oct. 22.
"On one hand, I'm happy for my brother that he seems to be in a relationship that he's excited about, that he is genuine about," he continued. "But there's another end of it where it's like, 'Man, this is a lot.' There's paparazzi talking about him fueling his car before the game today and I'm like, 'Is that really necessary information to share?'"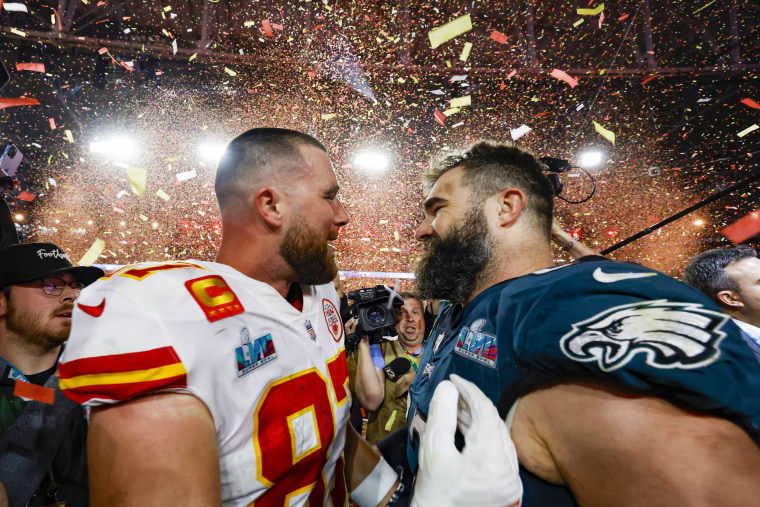 Travis Kelce, 34, and Swift, 33, have been linked since July, when he attended one of Swift's "Eras Tour" shows and tried — and failed — to give the "Midnights" singer a friendship bracelet.
Swift has since attended multiple Kansas City Chiefs games, watching her rumored beau play and hanging out with the NFL player's mom, Donna Kelce.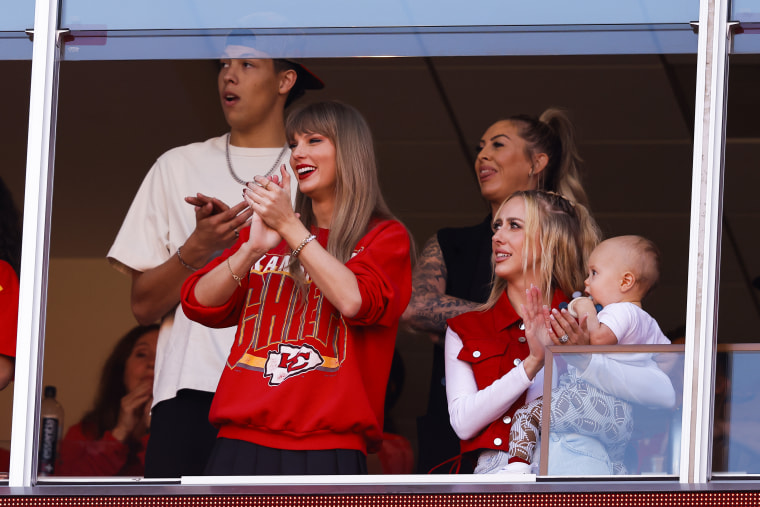 While the entire Kelce family has remained pretty tight-lipped about the rumored romance, Jason Kelce says the media speculation around his brother's supposed link to the pop superstar has been a big adjustment.
"This is another level of stardom that typically football players don't deal with," he said. "And so on one hand, really, really happy for my brother and where he's at in his current situation with Taylor but on the other hand, there's some, I think, alarms sometimes with how you know, over-in-pursuit people can be. 
"Overall, he can deal with some of this," he added. "As long as it's not, you know, becoming a threat to his safety and things like that." 
Swift attended her fourth Chiefs game on Oct. 22, as the Chiefs beat the Los Angeles Chargers 31-17 at Arrowhead Stadium in Kansas City, Missouri. The Chiefs have won all four games she's attended.
Neither Swift nor Kelce have officially confirmed whether they are an item, but Kelce has opened up about how he's dealing with all the media attention stemming from their rumored relationship.
"We're learning with the paparazzi just taking photos from all over the place. But at the same time, it comes with it," he said in an Oct. 6 press conference.
"You got a lot of people that care about Taylor for good reason. You just got to keep living and learning and enjoying the moments," he continued. "At the end of the day, I've always been pretty good at compartmentalizing and being able to stay focused in this building."