Are they or aren't they?
Following the Philadelphia Eagles 34-28 victory over the Minnesota Vikings on Sept. 14, Eagles star center Jason Kelce was asked about the chatter that his brother, Kansas City Chiefs tight end Travis Kelce, may be dating Taylor Swift.
Analyst and retired NFL star Tony Gonzalez broached the subject during the postgame show on Prime Video, mentioning how his 15-year-old daughter is "a fan of a certain pop star," without mentioning Swift by name.
"I've been hearing rumors ... Can you comment on this?" Gonzalez asked.
"I've seen these rumors. I cannot comment," Kelce replied.
He then said people have been caught up with brother's romantic escapades since he starred on the E! reality show "Catching Kelce" in 2016.
"Ever since 'Catching Kelce,' everybody's been infatuated with Travis' love life, so I don't really know what's going on there," he said. "I know Trav is having fun and we'll see what happens with whoever he ends up with."
Travis Kelce was the one who ignited the initial conversation about him and Swift as a potential couple. In July, he revealed on his "New Heights" podcast that he had tried to give the "Anti-Hero" singer his number when he saw her on her "Eras Tour" at Arrowhead Stadium in Kansas City.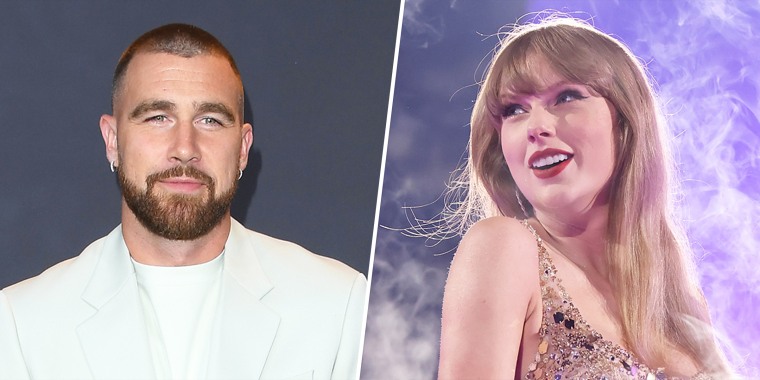 "I was disappointed that she doesn't talk before or after her shows because she has to save her voice for the 44 songs that she sings. So I was a little butthurt I didn't get to hand her one of the bracelets I made for her," he said on the July 26 episode of his "New Heights" podcast that he co-hosts with his brother.
"If you're up on Taylor Swift concerts, there are friendship bracelets and I received a bunch of them being there, but I wanted to give Taylor Swift one with my number on it," he added, alluding to the bracelets that have become omnipresent at Swift's shows.
Even though he didn't get any face time with the singer, Kelce said he had a blast at the concert.
"She doesn't meet anybody or at least she didn't want to meet me, so I took it personal. But it was an unbelievable show," he said.