Taylor Lautner brought out his best moves during an appearance at Taylor Swift's Eras Tour.
Lautner joined Swift onstage during the first night of the singer's Eras Tour stop in Kansas City July 7, which coincided with the re-release of her third studio album, "Speak Now (Taylor's Version)."
The "Twilight" actor appeared alongside Joey King and Presley Cash, who all starred in the brand new music video for Swift's track, "I Can See You (Taylor's Version) (From The Vault)."
In a video shared on Twitter, the 31-year-old actor waved to fans as he stepped on the stage at Arrowhead Stadium in Kansas City, Missouri. Lautner initially walked down the catwalk before deciding to pull out some gymnastics moves, completing a roundoff into a backflip, before joining Swift, King and Cash centerstage.
Lautner admitted in his speech onstage that he "didn't plan the flip," adding that "it felt right."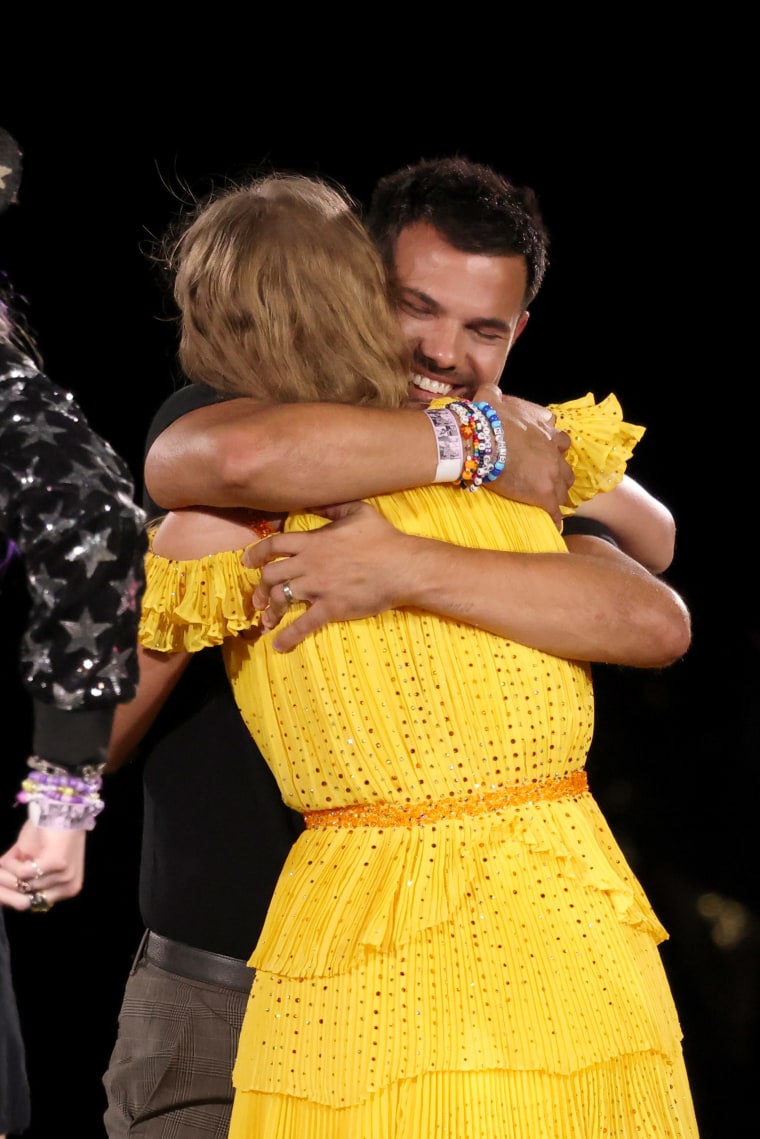 On Twitter, fans shared their hilarious reactions to Lautner's entrance, with one fan writing on Twitter, "taylor lautner doing a backflip on taylor swift's stage was not on my 2023 bingo card."
One Twitter user pointed out the similarity between Lautner's flips on stage to a moment from the 2010 movie "Valentine's Day," which starred both Lautner and Swift as high school students in a relationship. In the clip, Lautner shows off his athletic skills for a TV camera by doing a roundoff into a twisting backflip.
"TAYLOR LAUTNER DOING A FLIP FOR TAYLOR SWIFT IN 2010 AND 2023 ITS SO UNSERIOUS ACTUALLY," the fan wrote alongside clips of both flips.
Several fans also pointed out the similarity between Lautner's flip and another iconic moment in pop culture history — Fergie's back-to-back one-handed cartwheels during a performance on TODAY in 2008.
"taylor lautner at the eras tour," a fan tweeted alongside a video of Fergie executing her cartwheels.
At the concert, Swift also performed her new track "When Emma Falls in Love (Taylor's Version)," which many fans think was written about actor Emma Stone, as one of the surprise songs of the night.
Lautner and Swift previously dated for a brief period in the 2000s. After their split, it was rumored that Swift's song "Back to December" was inspired by their relationship. 
Less than two months before of the re-release of "Speak Now," Lautner spoke to TODAY.com and addressed how he was feeling ahead of the album coming out, saying, "I think it's a great album. Yeah, I feel safe."
"Praying for John," he added, referring to John Mayer, who is reportedly the inspiration behind track five on the album, "Dear John," which Swift described as her "most scathing" song.
In Swift's newest music video, Lautner, King, and Cash join forces to help Swift escape from a vault and steal back her 2010 album. The music video includes a massive fight scene, wherein Lautner gets to break out some stunt choreography, which Swift said he performed without a stunt double.
On social media, fans shared that the choreography was reminiscent of Lautner's role in 2005's "The Adventures of Sharkboy and Lavagirl" as well as his 2009 "Saturday Night Live" monologue.
In the monologue, he acted out a series of stunts, including in-air kicks and staff swings, to show what he wished he would had done at the 2009 Video Music Awards to defend his then-girlfriend after Kanye West interrupted her acceptance speech onstage.