Chrissy Teigen and John Legend are celebrating love this weekend as they enjoy their 10th wedding anniversary in Lake Como, Italy.
The 37-year-old model posted a series of glamorous photos donning a shimmery blue and silver embroidered corset dress while standing in front of an open window that had beautiful mountains and a lake in the backdrop.
"We came to this place for magic!!!" she captioned the post, quoting Nicole Kidman in the 2021 AMC Theatres commercial.
In the photo carousel, the TV personality also included a screenshot of a text conversation between her and model Brooklyn Decker in which Teigen explained that her and Legend didn't necessarily want a vow renewal.
"But that's what it's sounding like isn't it LOL," Teigen's message read to which Decker responded, "It's a 100% a vow renewal."
In her Instagram stories on Friday, Sept. 15, Teigen gave a behind-the-scenes look at their trip, including a breathtaking shot of the mountains and lake and a backyard that appears to be decorated with twinkling lights, flowers, tables, chairs and games.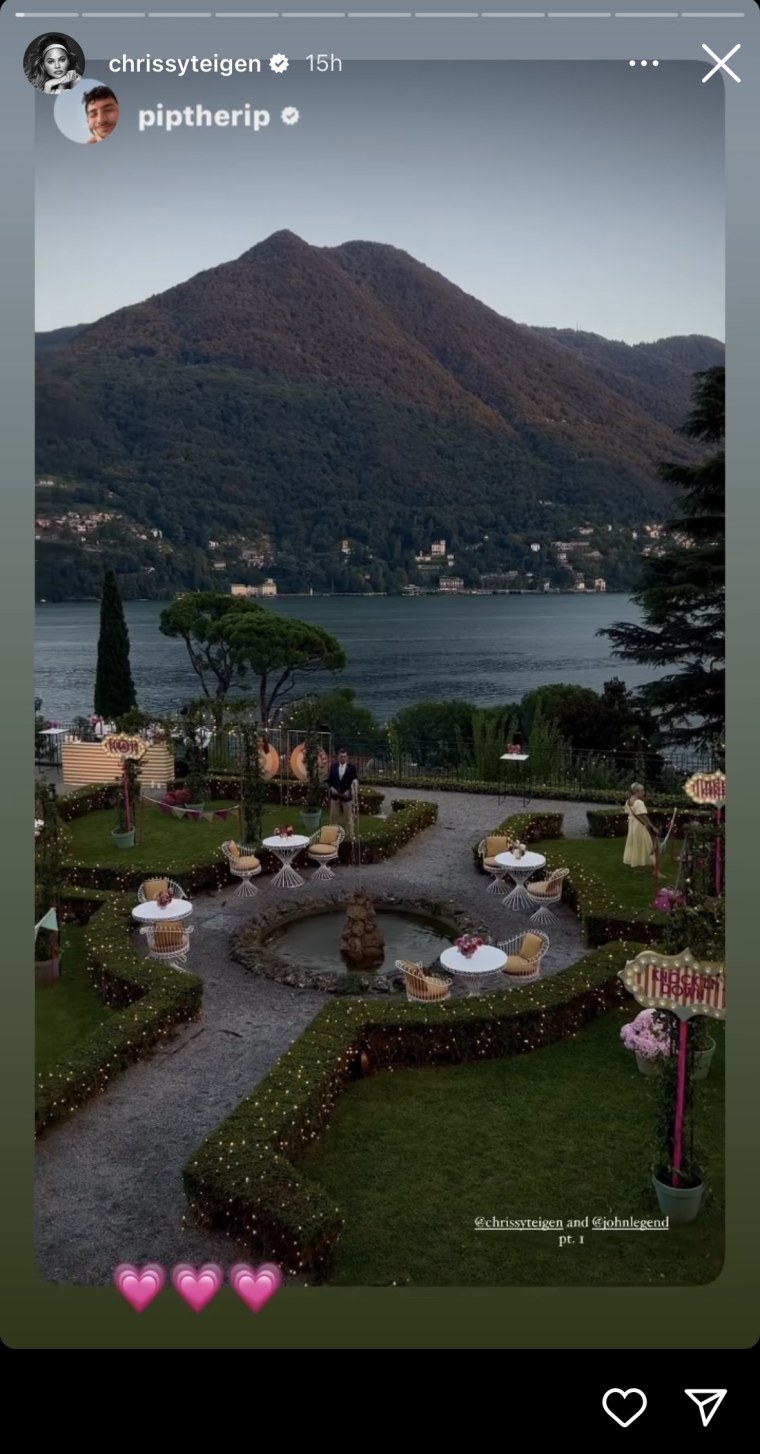 A subsequent video, reposted from Phil Riportella's account, gives an up-close view of one of the games that guests played in which Teigen and Legend's faces appear to be targets.
Teigen wrote over the video, "did you get the socks!? hot ticket item!!"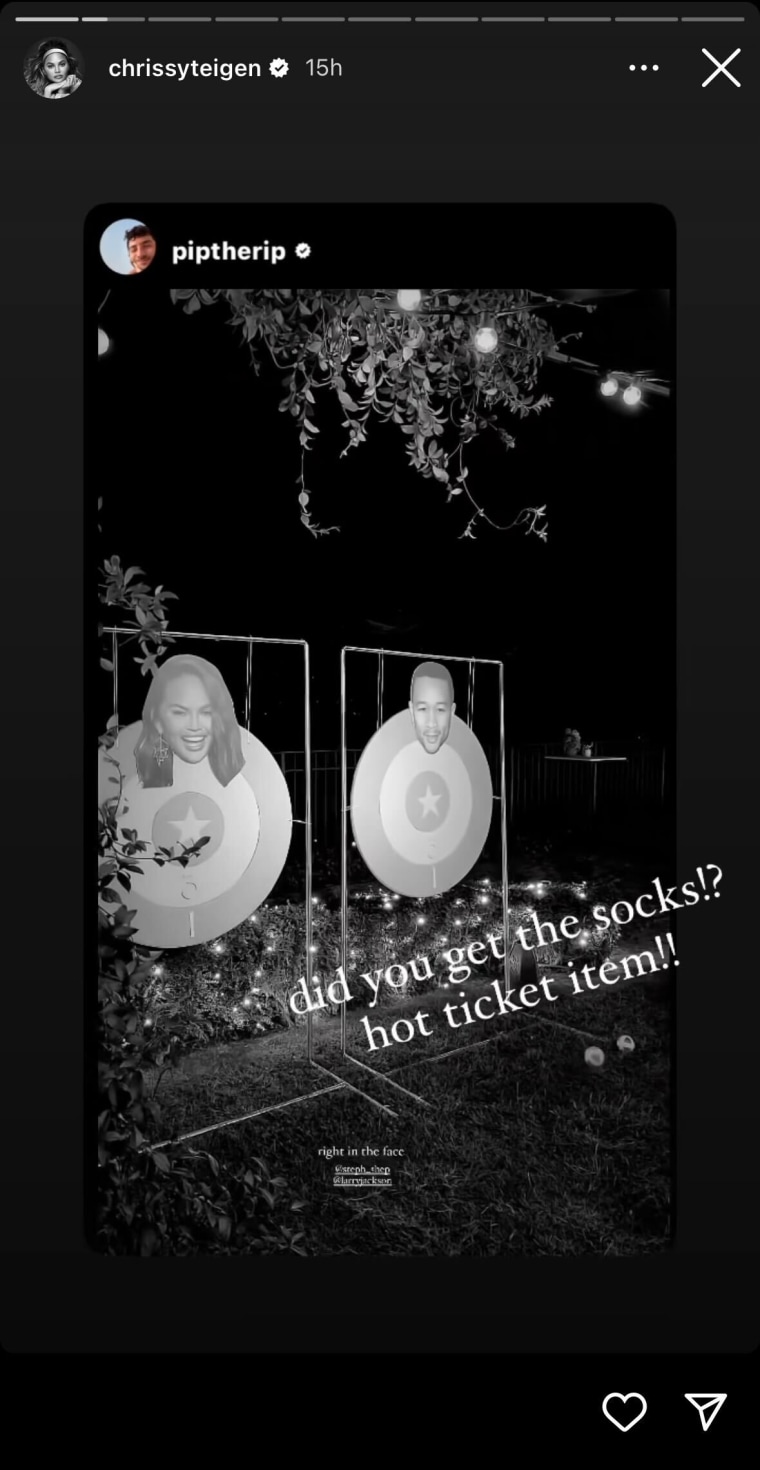 The "Cravings" author also took a moment to clear the air about a paparazzi photo that apparently made it look like she was holding a cigarette by the pool.
"There is a pap pic of me in the pool with my kids looking like I'm holding a cigarette but please look at all the pics because it is a paintbrush and I, ADMITTEDLY, ODDLY, was painting by the pool!" she wrote in an Instagram story. "if this were a lie it would be the dumbest lie, I think smoking makes more sense than painting by the pool."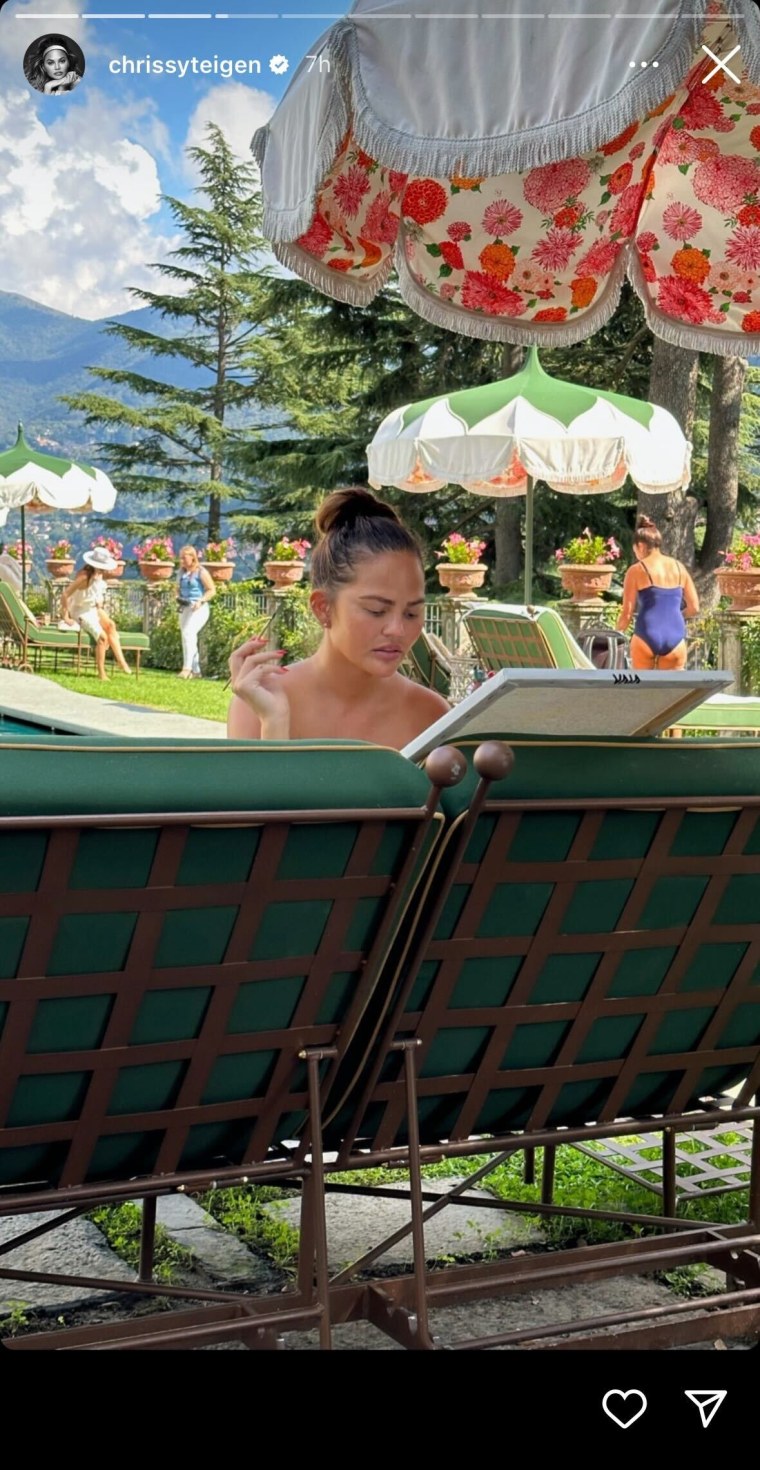 In following stories, shared on Saturday, Sept. 16, Teigen reposted her and Legend smiling with friends with the hashtag #johnxchrissy.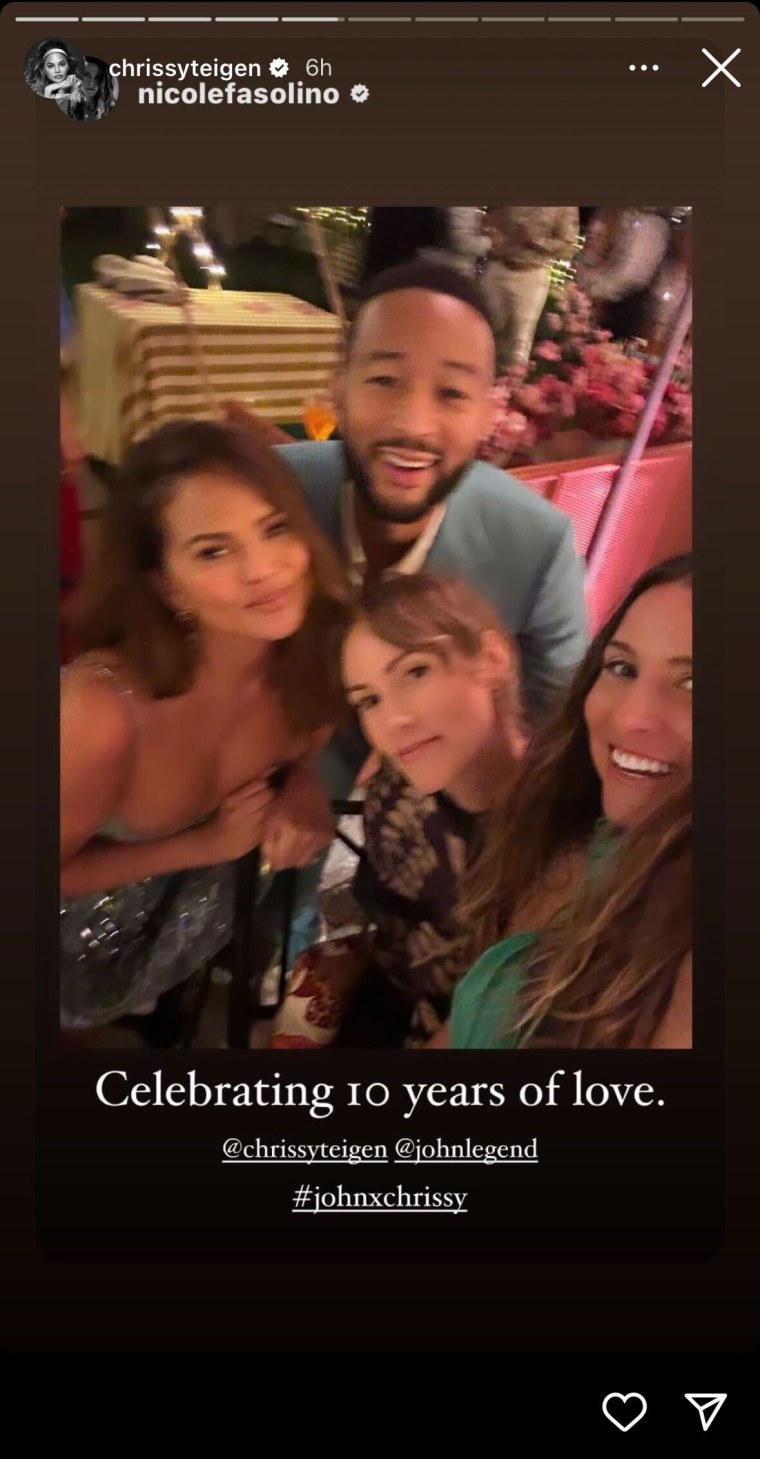 The model and mommy of four also shared a brief clip of 3-month-old baby Wren getting his hair styled. The baby coos, squirms and smiles while getting his hair parted. Teigen added a sweet crying emoji over the video.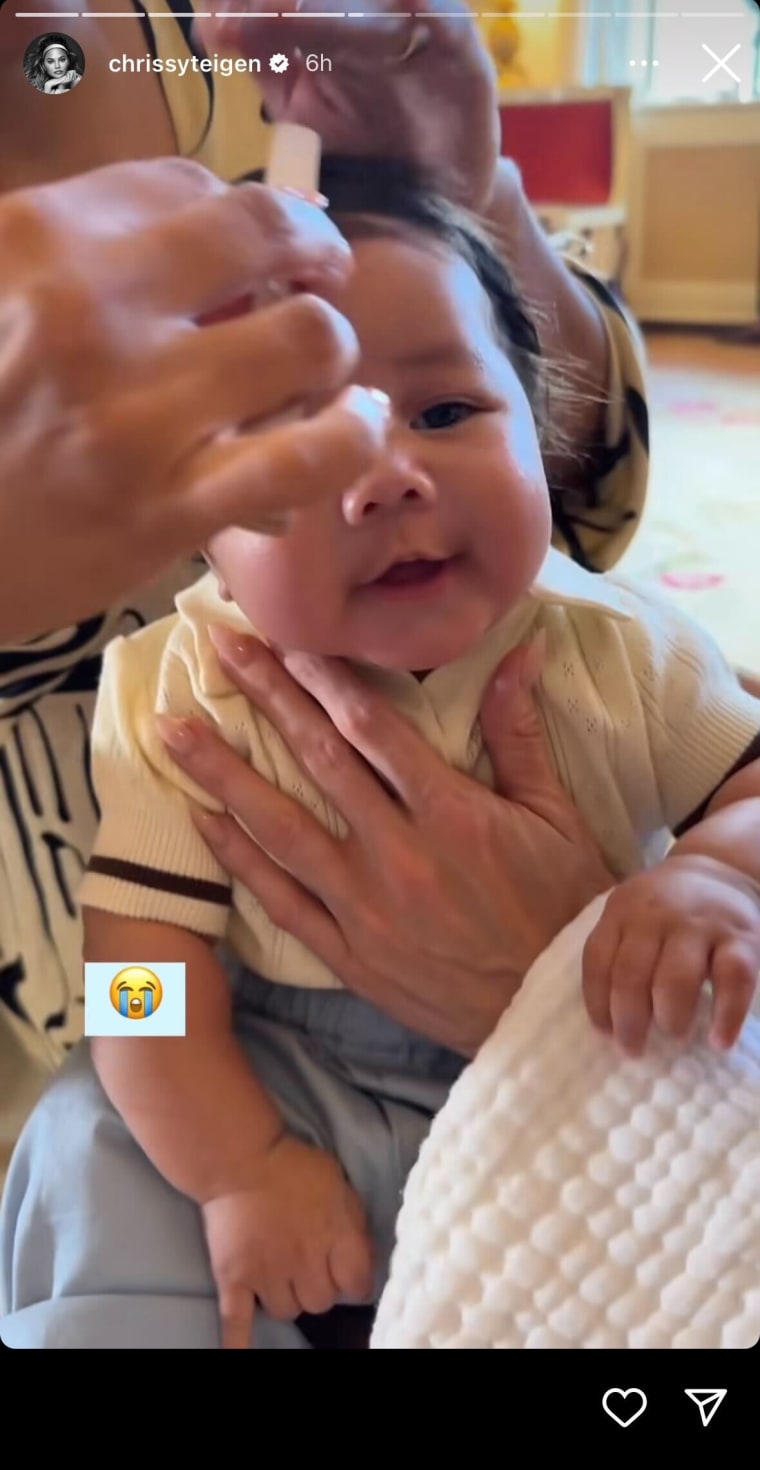 Teigen and Legend officially tied the knot in September 2013 and have four children together: Luna, 7, Miles, 5, Esti, 8 months and Wren. In September 2020, Teigen shared the tragic loss of the couple's unborn baby Jack 20 weeks into her pregnancy.
"i didn't get to take care of you but you came and went to get me to love myself and take care of myself because our bodies are precious and life is a miracle," she wrote in part in a tribute to him. "they told me it would get easier but yeah, that hasn't started yet. mom and dad love you forever."