Bonnie Raitt cleaned up at the 65th annual Grammy Awards — and no one seemed more surprised than her.
On Feb. 5, the 73-year-old took home one of the biggest awards of the night after her track "Just Like That," off her 18th album, was named song of the year.
Raitt looked stunned when First Lady Jill Biden called her name, despite the trophy being her third win of the evening. She appeared to mouth, "Are you serious?"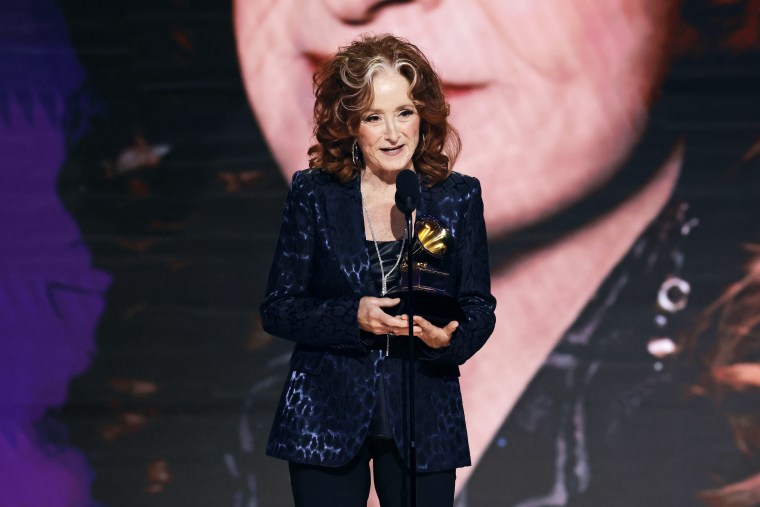 "I'm so surprised I don't know what to say. This is just an unreal moment," the singer began.
Raitt went on to explain that "Just Like That" was based on a true story about an organ donor.
"I was so inspired for this song by the incredible story of the love and the grace and the generosity of someone that donates their beloved's organs to help another person live," Raitt said. "And this story, it was so simple and so beautiful for these times."
She went into further detail during an interview with American Songwriter. Raitt saw a segment in the news about a woman going to meet the man who had received her late son's heart, and was deeply moved. "Every time I hear about a family donating organs when their child has been killed, or there's some sort of sudden death—as if you're not in grief and shock enough—to have the view and the compassion and the love to be able to pay it forward like that is so incredible," Raitt said, "and the kindness of the recipient, and what that must feel like for them."
During her Grammys speech, Raitt also said the song was inspired by her relationship with the late songwriter John Prine.
"People have been responding to the song partly because of how much I love and we all love John Prine. And that was the inspiration for the music, for this song and telling a story from the inside," she said.
Prine, who died in April 2020 at the age of 73 from complications related to COVID-19, and Raitt were longtime collaborators and friends. Prine wrote the song "Angel From Montgomery" in 1971, which Raitt covered to acclaim in 1974.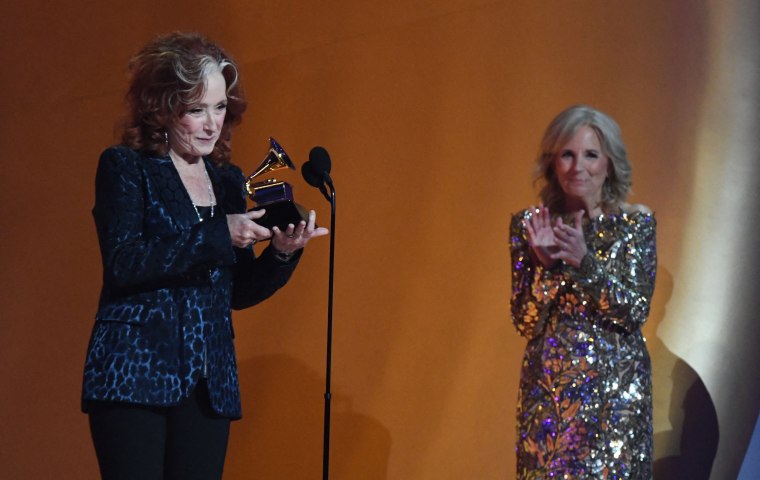 The singer added, "I don't write a lot of songs but I'm so proud that you appreciate this one and what this means for me and for the rest of the songwriters, who I would not be up here tonight if it wasn't for the art of the great soul-digging, hardworking people that put these songs and ideas to music."
She concluded, "I'm just totally humbled. I really appreciate it."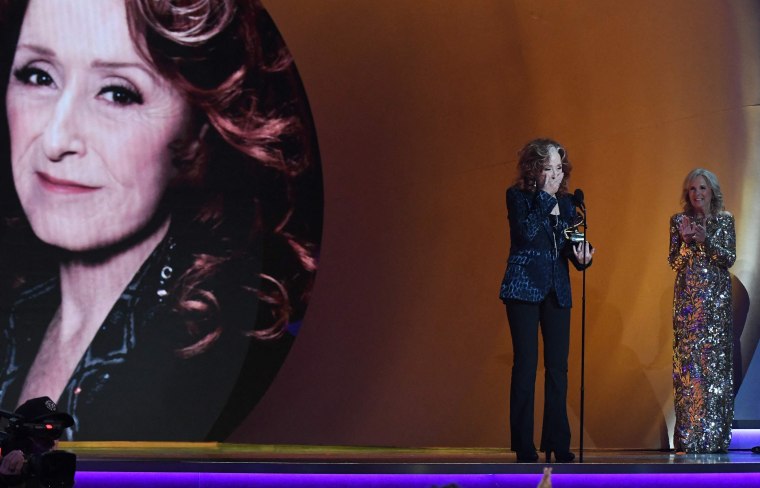 Raitt beat Gayle's "ABCDEFU," Lizzo," About Damn Time," Taylor Swift's "All Too Well (10 Minute Version)," Harry Styles's "As It Was," Steve Lacy's "Bad Habit," Beyoncé's "Break My Soul," Adele's Easy on Me," DJ Khaled's "God Did" (featuring Rick Ross, Lil Wayne, Jay-Z, John Legend and Fridayy) and Kendrick Lamar's "The Heart Part 5."
Fans on Twitter pointed out how honored Raitt looked when her name was read.
During music's biggest night, Raitt also won best Americana performance for "Made Up Mind" and best American roots song for "Just Like That," bringing her to 13 total wins throughout her career.
Hosted by comedian and former "Daily Show" host Trevor Noah, the 2023 Grammys are broadcast live from the Crypto.com Arena in Los Angeles at 8 p.m. ET/5 p.m. PT. They are available to watch on CBS and various streaming platforms.
Beyoncé leads the list of nominees with nine nominations, with stars like Harry Styles, Adele, Bad Bunny and more also up for awards. Performers include Styles, Lizzo, Bad Bunny and more.
Follow TODAY.com for complete Grammys coverage, including this year's winners, unexpected moments, and can't-miss performances from the biggest names in music. (edited)