Former professional soccer player Ashlyn Harris is clearing the air surrounding cheating rumors amid her divorce from former teammate Ali Krieger, and is pleading for an end to online hate.
The 38-year-old shared a six-part statement to Instagram Nov. 18, addressing backlash in response to her ongoing divorce, saying the hate has been one of the "most personally devastating experiences of (her) life."
"Several weeks ago, a process that had been ongoing privately for some time became public. Ending a relationship after almost 13 years of friendship, teammate-ship, marriage, and co-parenting (many of them good years) is a decision that was not made lightly," she began.
Harris continued, saying that she and Krieger, 39, agreed to keep their children at the forefront of this process while continuing therapy and moving forward. "Two happy families are always better than one unhappy one," she added.
Harris revealed that she and her former United States national women's team teammate had initially planned to keep information surrounding the divorce private until a "leak (a betrayal of our deepest confidence)" happened.
Though Harris said she understands that responding to "online gossip" isn't always best practice, the backlash has "devastated" her mental health, adding, "This has been brutal."
"Words matter," she said, before denying rumors of infidelity. "The cheering on abuse, the people clamoring to encourage me to commit suicide, and the cruel words spoken about my children and who I am as a mother? Those words matter."
Harris said said her children and "being a good co-parent to them with Ali" are her priorities right now. In her final words, Harris reminded that bullying causes pain and asked readers to treat her and her family "with some humanity."
Here's a breakdown of Harris and Krieger's relationship and separation.
Ashlyn Harris and Ali Krieger met on the U.S. Women's National Team in 2010
Harris and Krieger met as teammates on the USWNT in 2010. Nine years later, in March 2019, they announced their engagement.
"We became really close friends, and we just hung out, we clicked, and we had so much in common," Harris told People after their engagement. "We always sat next to each other on the bus and on flights, and we kind of just talked about our dreams and our hopes and what we wanted to do one day when we grew up. Because at the time, we were kids."
After nine years together, Harris proposed to Krieger during a getaway to Clearwater, Florida. At the time both played for the Orlando Pride, a National Women's Soccer League franchise.
"The rest has kind of been history," she continued. "Here we are nine years later, and we're going to be getting married this year."
Ashlyn Harris and Ali Krieger were married in December 2019
Harris and Krieger married in December 2019 in what they originally planned to be a small, private ceremony but turned into a bash.
"Originally, we just wanted to have a private ceremony," Krieger told Allure in 2020. "We were like, 'Let's save our money and worry about our future kids' education.' And it ended up being like, 'Listen, let's share our love with the world. We can make this an event for our community.'
Their wedding included a reading from Obergefell v. Hodges, the 2015 Supreme Court ruling that legalized same-sex marriage nationwide. The couple's reception, where tables were named for gay rights icons, also included a rainbow cake.
Megan Rapinoe, who was also a fellow teammate on the USNWT, served as a best woman at their wedding ceremony.
"This was the most magical day of my life surrounded by the most incredible people. Thank you to everyone who made this special! @alikrieger I love you with all of my heart," Harris wrote on Instagram after their wedding.
Krieger wrote on Instagram that it was "the best day of muh life" and added that the wedding made her "dream day a reality." She also shared a video of the couple's big day on YouTube.
Ashlyn Harris and Ali Krieger adopt baby Sloane in February 2021
The couple announcing to fans on Instagram they adopted a baby girl named Sloane Phillips, who was born Feb. 12, 2021.
"Welcome to our family, Sloane Phillips ... we are so in love with you already! This has been one of the most beautiful yet stressful processes I've ever experienced with you," Krieger wrote in the Feb. 14 post.
Speaking to TODAY.com in 2021, Krieger encouraged other same-sex couples to start a family.
"Go for it," Krieger said, a few months after they adopted Sloane.
"Try to just ask as many questions as you can because, you know, we obviously don't know everything ... accept the help and guidance of other people who have been through the process or other agencies that can kind of give you all the tools that you need to go through this process," she continued.
Krieger also gushed about Harris as her partner in parenting their new little one.
"I knew she was going to be an incredible mom from the very beginning right when we met," Krieger said about Harris. "She's just so loving. She has such a hard shell on the outside, but on the inside, she's super loving and caring and emotional. And seeing her with Sloane that way has been so incredible because it kind of has just opened up this whole, this whole other layer."
Ashlyn Harris and Ali Krieger adopt baby Ocean in August 2022
The couple took to Instagram in August 2022 to announce that they'd adopted a baby boy named Ocean Maeve Krieger-Harris.
"Our hearts are full during this time and we are so grateful for the love and support our family, friends and club have shown," Harris captioned the announcement post.
Krieger also shared three sweet photos of little Ocean, writing, "We are so thrilled for our growing family and couldn't be more excited to have two beautiful babies to share life with! Baby Boy, you are so loved and adored already and I'm so proud to be your Mommy," with a blue heart emoji.
Ashlyn Harris files for divorce from Ali Krieger in the fall of 2023
According to a petition filed in October in Florida's Seminole County Clerk's Office obtained by NBC News, Harris filed for divorce from Krieger, with news breaking in mid-October.
Though records of the divorce were only then made public, Harris commented in a Nov. 18 Instagram post that "none of this happened on a whim."
"We spent the entire summer working to tackle the separation and divorce steps outlined for us by our therapists, lawyers, and shared agency," Harris wrote.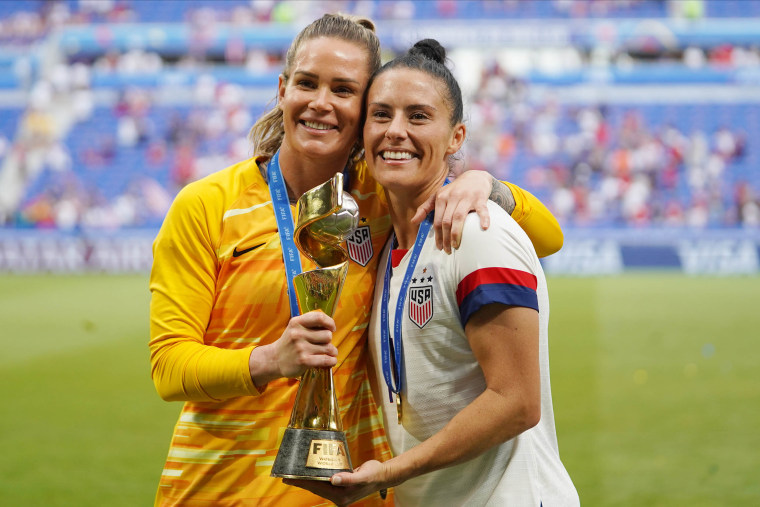 Ali Krieger posts about a 'Lemonade Era' in October 2013
Krieger referenced Beyoncé's infidelity-themed album "Lemonade" in an Instagram post that went up amid her divorce.
"Preparing for playoffs while in my Beyoncé lemonade era," Ali Krieger wrote next to pics of her kicking a soccer ball on a field.
Ashlyn Harris denies cheating rumors in a November 2023 Instagram post
While breaking silence around the divorce in a six-slide Instagram post, Harris addressed the "unbearably painful" narrative of infidelity.
"Let me be clear: I did not step out of my marriage. I was always faithful in my marriage, if not always totally happy," she wrote. "Like in many partnerships, there was work and therapy and processing done. None of this happened on a whim. We spent the entire summer working to tackle this separation and divorce steps outlines for us by our therapists, lawyers, and our shared agency."
Harris said that one of the most painful elements of her "complex and difficult experience," is that her own community seems to have turned on her.
"Right now, it feels like the entire community has poured gasoline on me and lit the matches. So many of you, including advocates, have cheered this on like bloodsport," she said. "As though a family in transition is on opposing teams. Like a divorce is a battle one person stands to win. I want to be clear that pushing someone to the edge? That isn't a win. No one 'wins' here."