Soccer star Ashlyn Harris has filed for divorce from her wife and former United States national women's team teammate Ali Krieger, according to a petition filed in Florida's Seminole County Clerk's Office obtained by NBC News.
TODAY.com has reached out to Harris and Krieger for comment.
Learn more about their relationship below.
When did Ali Krieger and Ashlyn Harris get married?
Harris, 37, and Krieger, 39, married in December 2019 and have two kids, daughter Sloane, 2, and son Ocean, 1.
"This was the most magical day of my life surrounded by the most incredible people. Thank you to everyone who made this special! @alikrieger I love you with all of my heart," Harris wrote on Instagram after their wedding.
Krieger wrote on Instagram that it was "the best day of muh life" and added that the wedding made her "dream day a reality." She also shared a video of the couple's big day on YouTube.
When did Ali Krieger and Ashlyn Harris meet?
Harris and Krieger met as USWNT teammates in 2010 and announced their engagement in March 2019.
"We became really close friends, and we just hung out, we clicked, and we had so much in common," Harris told People after their engagement about when they first met. "We always sat next to each other on the bus and on flights, and we kind of just talked about our dreams and our hopes and what we wanted to do one day when we grew up. Because at the time, we were kids."
"The rest has kind of been history," she added. "Here we are nine years later, and we're going to be getting married this year."
They adopted both of their kids and have also tried to help other same-sex couples looking to start a family.
"Go for it," Krieger told TODAY.com in 2021, a few months after they adopted Sloane.
"Try to just ask as many questions as you can because, you know, we obviously don't know everything and to kind of accept the help and guidance of other people who have been through the process or other agencies that can kind of give you all the tools that you need to go through this process."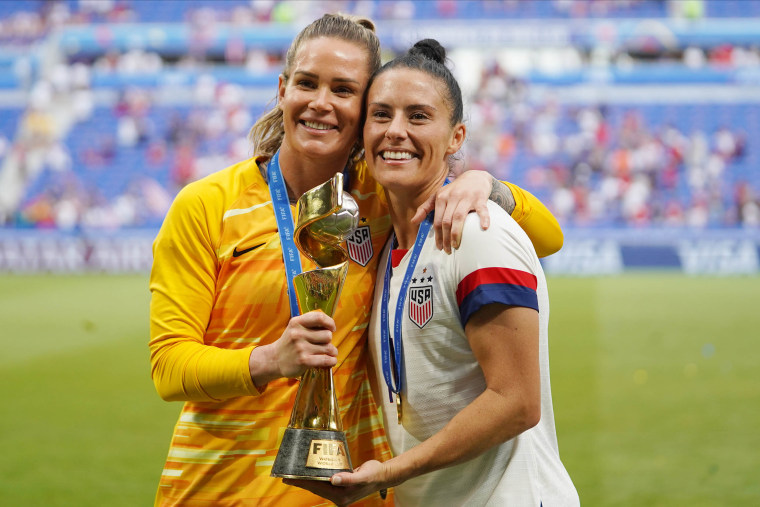 The pair also gushed about each other while talking about their new lives as parents.
"I knew she was going to be an incredible mom from the very beginning right when we met," Krieger said about Harris. "She's just so loving. She has such a hard shell on the outside, but on the inside, she's super loving and caring and emotional. And seeing her with Sloane that way has been so incredible because it kind of has just opened up this whole, this whole other layer."
Harris also raved about Krieger's knack for keeping things moving, even if she doesn't sleep much.
"You know how they always say moms have superpowers — they're superheroes? I totally get it now. ... I'm just in awe of what she's capable of and how she holds the fort down and how much patience she has on such little sleep."