It's no secret that Queen Elizabeth was a big fan of corgis.
Throughout her life, the late queen bred many of the short-legged pooches that descended from her first corgi, Susan, whom she got for her 18th birthday.
After Queen Elizabeth's death in September 2022, she left behind four dogs, including two corgis, one dorgi, which is a mix of a corgi and dachshund, and one cocker spaniel.
Days after her death, a source close to Prince Andrew, the queen's third child, confirmed that her two corgis would move to his home in Windsor.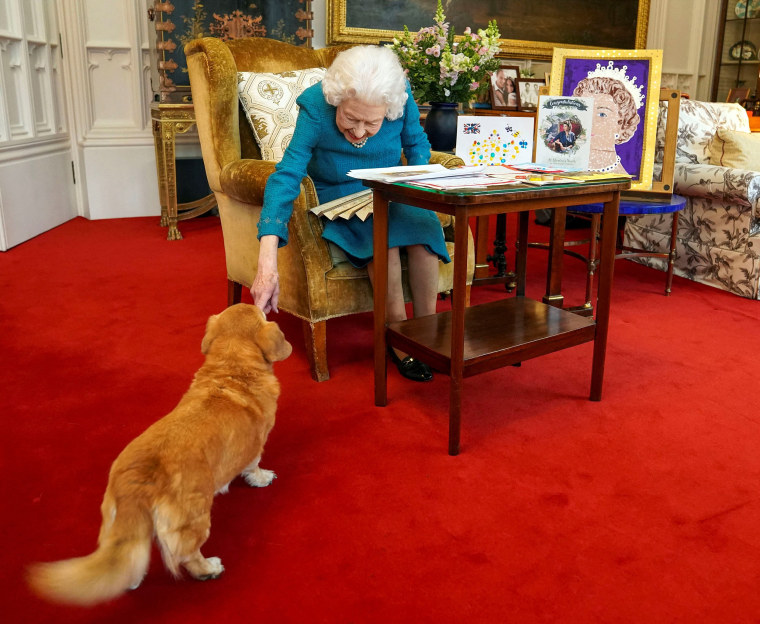 In January 2022, Prince Andrew had his patronages and military affiliations removed after he was accused of sexual abuse by Virginia Giuffre, a woman who alleges she was trafficked to Andrew by convicted sex offender Jeffrey Epstein. Giuffre alleged she was 17 at the time. Guiffre and the prince settled their civil suit in Feb. 2022. 
As it turns out, Prince Andrew's ex-wife, Sarah, Duchess of York, was very fond of the animals. According to the source, she "bonded with the queen over dog walking and riding horses."
In 1996, Ferguson and Andrew got a divorce. But even after they parted ways, she remained in contact with him and "would continue her great friendship with the Queen by walking the dogs in Frogmore and chatting," the source continued.
On Sept. 8, which marks the one-year anniversary of Queen Elizabeth's death, the duchess gave an update on the Queen's beloved corgis, who go by the names Muick (pronounced "Mick") and Sandy, when she shared a cute Instagram photo of her interacting with the pets outside.
She captioned it, "As we mourn a year on, we also celebrate the wonderful times we shared with Her Late Majesty the Queen. She entrusted me with the care of her corgis Sandy and Muick and I am delighted to say they are thriving."
In October 2022, Ferguson shared a now-deleted Instagram picture of herself laying down in the grass with the two corgis.
"The presents that keep giving.." she captioned the post, which she shared the same day as her 63rd birthday.
That same month, Ferguson told The Telegraph it was "a big honor" to bring the corgis into her home, which she still shares with her ex-husband at Windsor.
She also called the corgis "national treasures" who have "been taught well." 
There has been no word on where Queen Elizabeth's other two dogs have been relocated.
In September 2022, Prince William assured royal fans that the dogs were being taken care of following his grandmother's death.
In a video captured by Sky News, it shows William telling a woman in the crowd, "I saw them the other day, that got me quite sad."
"They are going to be looked after fine," he added.