Seth Meyers recognizes the irony in trying to teach kids not to be scared.
"You basically try to tell them that things are going to be OK," the "Late Night with Seth Meyers" host told TODAY. "But also the parents, especially a first time parent, you're terrified that you're doing things that are going to fundamentally damage your kids, you know, into their adulthood."
Meyers' new picture book, "I'm Not Scared, You're Scared!" is a funny book for kids with a message about fear and anxiety: For one thing, it's not all bad.
Bear is scared of his own reflection (so much so, he avoids brushing his teeth). Bear's friend Rabbit is fearless. Together, they have a (lightly) scary adventure that helps them come to grips with when it might be OK to admit you're scared.
When Meyers had kids with wife Alexi Ashe, he said he still hadn't fully grappled with his own fears. (Our two cents: One rational fear might be having a baby in your lobby.)
"And then all of a sudden, you have to explain it to your kids. And they have fears that can strike you as irrational at times," he said, adding that one of his kids is afraid of dogs, another wary of strangers. "And other times, you want them to be afraid of things, like going to the top of the jungle gym by yourself."
He hopes his book will help kids think about times when kids should face their fears, and times when fears are "actually, you know, being pretty instructive."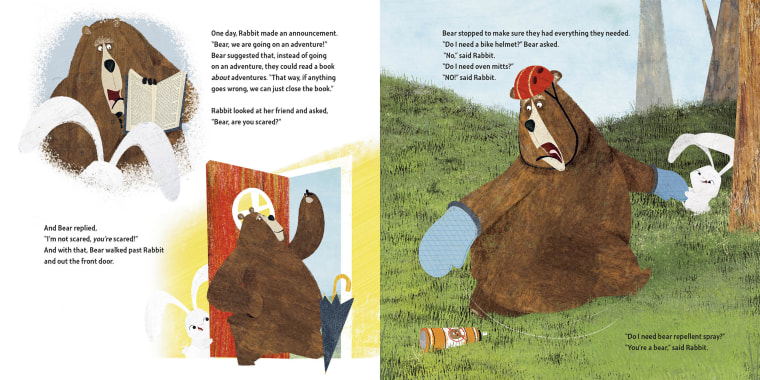 Sons Ashe, 5 and Axel, 3, and daughter Addie, 5 months, made Meyers want to write for children. His SNL training helped him build in a catch phrase that will be fun for parents to read.
"I encourage parents to read it as sassily as possible," he said.
Ashe and Axel helped by hearing early drafts that turned out to be a little too scary, showing where he could tone things down.
"I don't want anyone to be scared while they're reading it. I want them to think about fear, but not actually, you know, conquer it," Meyers said.
Meyers wrote the book alone, "even though I have a writing staff that I could have enslaved to help," he jokes. (In truth, Meyers reportedly paid his staff from his own pocket during early days of the pandemic.)
But he gives credit for much of the storytelling to illustrator Rob Sayegh, Jr., who added Meyers' family dog, Frisbee, to the book as a bus driver.
Sayegh didn't know who he would be working with when his agent suggested drawing a scared bear for a picture book by a celebrity. When he found out it was Meyers, he said, "I was floored." The pair met via zoom and worked together throughout the illustration process.
"He's the most genuine person," Sayegh said. "He's just like he is on TV. And it's really nice. So it was really just a pleasure of an experience from the minute I got the project."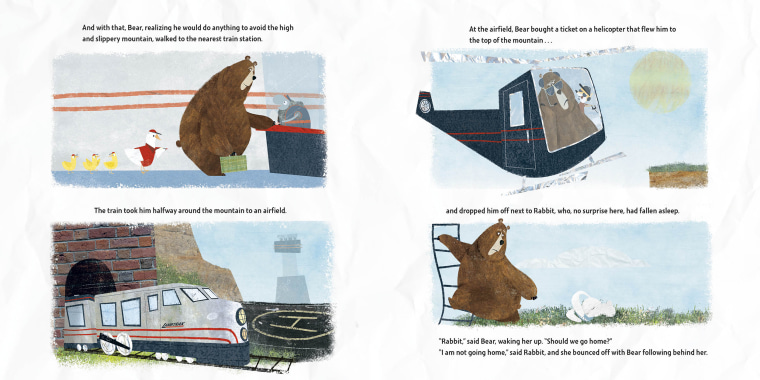 For Meyers, writing for children didn't feel different from writing for adults. He thought at first he might need to rhyme, but with his editor, Margaret Anastas, vice president and publisher of Flamingo Books, decided against it.
"You try to write it in a way that the adult won't hate you for how many questions the kids have about what's happening in the book. So if you can lay it out in a way that you're answering the questions they would otherwise ask, I think you're doing a good job," Meyers said.
And as for the parents reading to kids? The book might have a message for them, too.
"I think the thing you learn is that if you don't want your kids to be anxious about everything, you as a parent have to find a way to not be anxious about everything," he said.
Related: