Travis Kelce says his mom, Donna Kelce, kept him on a leash as a child after he got lost during one too many family vacations.
The Kansas City Chiefs tight end, 34, recalled that as a little boy, his mom decided to restrain him in a "harness" after he wandered off during a trip to an amusement park.
"She eventually got pissed and sick of us getting lost, and she put me in a leash," the athlete shared on the Oct. 18 episode of the "New Heights" podcast he hosts with his brother, Philadelphia Eagles center Jason Kelce.
"I was a leash kid," Travis Kelce added, laughing. "Just dragging my parents across the entire amusement park."
Hearing about the leash surprised his brother.
"I don't remember that," Jason Kelce, 35, said. "I missed out on the leash."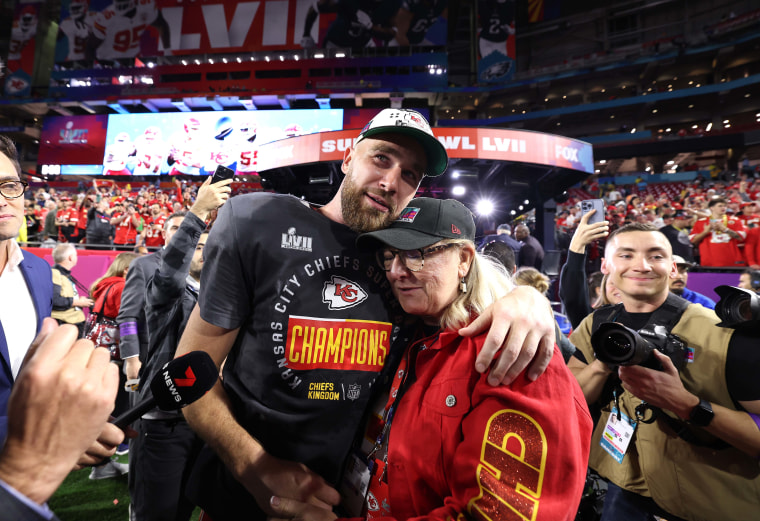 On their podcast, the two NFL stars have been candid about the shenanigans they got into as rambunctious little boys.
During the Season Two premiere of "New Heights" in September, they revisited some of their childhood memories while chatting with Jason Kelce's wife, Kylie.
During the trio's conversation, Travis Kelce asked his sister-in-law if his brother had taught their daughters, Wyatt, Elliotte and Bennett, how to fight "the Kelce way."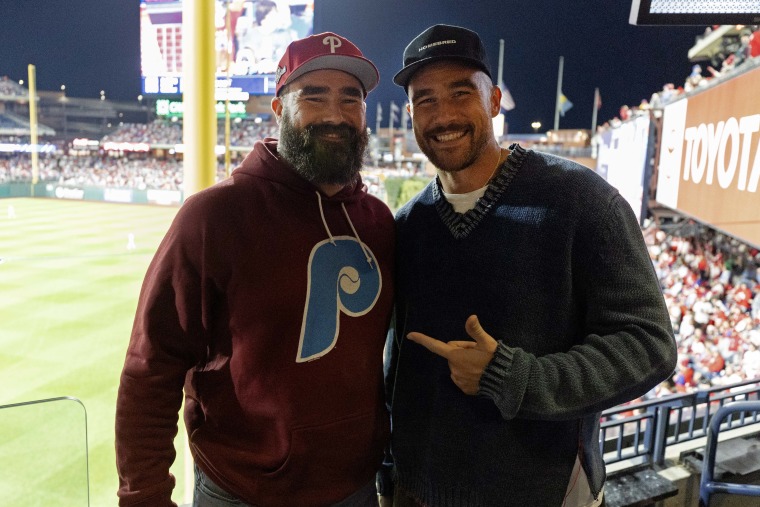 While the brothers provided no details about what the "Kelce way" entails, they opened up about how they were both expelled from preschool.
It turns out, Travis Kelce got kicked out of preschool after he hurled his chair at a teacher who told him he had to share his checkers.
"I kept winning and the teacher told me, you know 'Travis, you have to share,' and I was like, 'That's not how it rolls,'" he said.
Despite being the older brother, Jason Kelce didn't behave much better. He said he got expelled for stabbing a classmate with a plastic spork.
"For some reason, we were stabbing each other with sporks and I hit him hard enough right in the forehead," he recalled. "I just remember the next day his dad had him under his arm, and he had four little spork dots."
When Kylie Kelce reacted with alarm at the brothers' childhood misadventures, Travis Kelce jokingly shrugged off her concern. "It was the '90s, you know?" he said.
Her husband, on the other hand, acknowledged the Kelce family tradition of naughty behavior, telling her, "This is what you married into."
While raising a young Travis was likely a handful for mom Donna Kelce, she says he still shows his love the same way he did as a kid.
After she texted him ahead of his birthday Oct. 5, he responded, "as always," with "Love you, mommy."
"He still says that," she told TODAY.com in October. "Jason has changed to 'mom,' but Travis — he doesn't care. He does it for a laugh, mostly."