It's official: Claire Danes and her husband, Hugh Dancy, are expecting another child.
On the 3rd Hour of TODAY, Dancy confirmed his wife of 14 years, Danes, is pregnant with what will be their third child.
"Since we last saw you — you and your wife Claire Danes already have two boys— you got a little baby news?" 3rd Hour co-host Al Roker asked. "You're expecting baby number three?"
"That's correct," Dancy said, all smiles. "Thank you."
Danes and Dancy are already "mom" and "dad" to two boys, ages 10 and 4. Dancy shared what his sons think about adding another sibling to the fold.
"They — how do I put it? — I'd say they have mixed feelings," Dancy explained. "They're excited about 'our baby,' so that's good."
Still, Dancy made it clear that his 4-year-old son has some non-negotiable stipulations as an older sibling.
"He is going to help, but he draws the line at helping with diapers," the proud dad added. "I would also, if I had the option, draw that line."
"Yes, set boundaries," Al, a father himself, said in total agreement.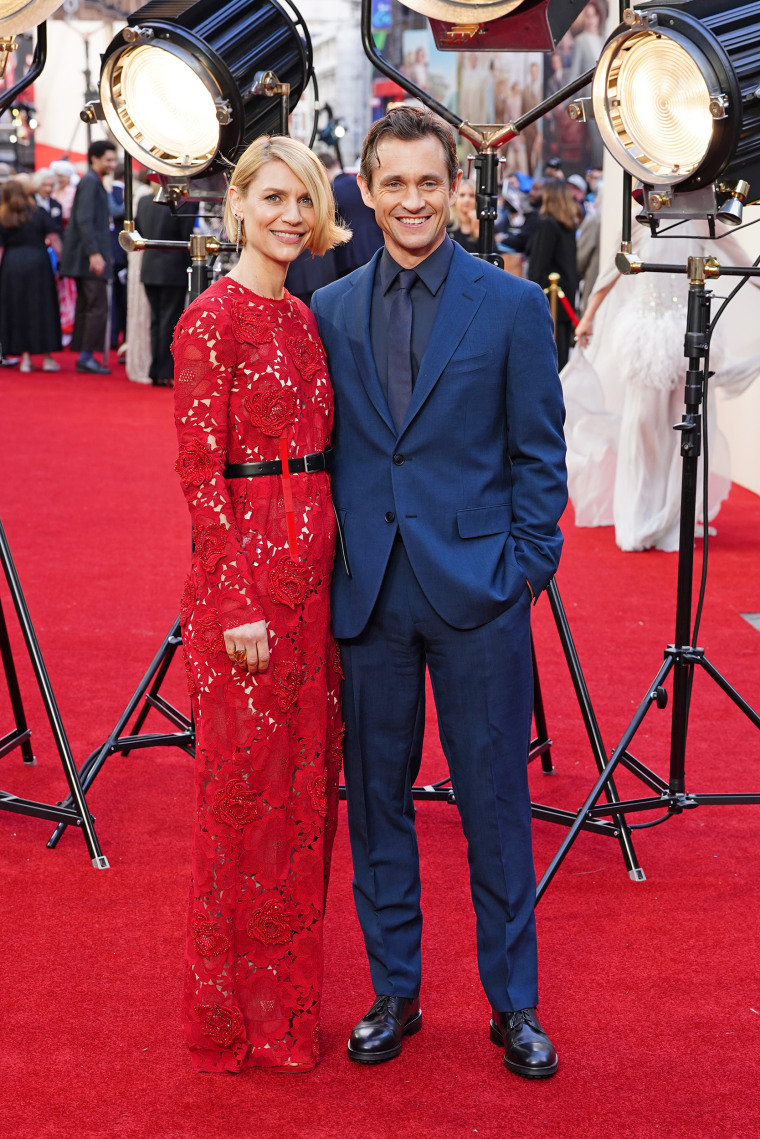 Danes and Dancy announced that they were expecting their first child, Cyrus Michael Christopher Dancy, in July, 2012. She gave birth to Cyrus later that year, on December 17.
During a 2018 appearance on "Jimmy Kimmel Live," Danes shared what she described as the most "masochistic" thing she could have possibly done while in labor for the first time.
While enduring contractions and in "acute pain," Danes said she decided to go online and read what fans thought about the season-two finale of her Showtime hit, "Homeland." 
"You know, at 3 in the morning or something, when you're looking for feedback, what you mean is, 'Who hates me and how much?'" she told Jimmy Kimmel at the time. "So it didn't take long for me to find the worst possible reviews available on the internet."
At that moment Danes said she realized that being in labor and reading unrelenting criticism at the same time was perhaps not the best idea, and she put down her phone.
"I don't think it gets more masochistic than that," she added.
Later that same year, in April, Danes announced she was pregnant with baby number two. She gave birth to the pair's second son, Rowan Dancy, on August 27, 2018.
Dancy, 47, met Danes, 43, on set while filming the 2006 film "Evening." After playing fictional love interests, they wed in 2009.
During a visit to Studio 1A in 2022, Dancy reacted to a clip of his wife appearing on the long-running NBC hit "Law & Order" in 1992. Danes depicted murderous Tracy Brandt.
"Oh, my good Lord," Dancy said at the time, after seeing the 1992 version of Danes.
"She's guilty as sin, clearly."
Related video: