It's not every day we hear William and Kate open up about their home life, but the Duke and Duchess of Cambridge did just that when they popped into BBC Radio One on Friday.
The royal couple were there to surprise BBC deejay Adele Roberts — who's running the London Marathon for the royals' Heads Together mental health initiative on Sunday — and ended up participating in a freewheeling chat filled with plenty of laughs.
William, 34, and Kate, 35, answered questions about everything from their favorite TV shows to their kids, George, 3, and Charlotte 1.
Some highlights:
The last concert the couple caught: "We saw Coldplay at Wembley, said William. "That was amazing."
The prince lamented that the pair don't get out to more concerts, but, he joked, "I've got enough trouble for my dancing recently so it's probably best to keep away from that."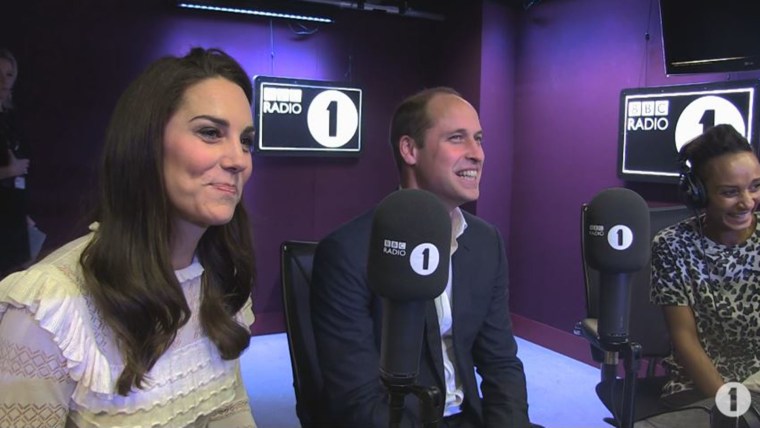 Favorite TV shows: "We're both actually quite keen on box sets. We're a bit box setty," said William, who said their favorites shows include "Homeland" and "Game of Thrones."
On watching kids' programs with little George: "You have to pretend you're really interested in it," William said, "because George gets very upset if you're not showing due diligence to the characters."
Favorite takeout food: "Curry, definitely" said Kate. (William explained that because of safety precautions, they don't have the food delivered directly to Kensington Palace.)
RELATED: Prince William admits he and Prince Harry should've talked about Diana's death
Kate, on why her brother-in-law Harry calls her "Kath" in interviews: "I'm not sure," she said laughing. "I'm not that familiar with it, I have to say, but I'll answer to most things."
William, on whether he or Harry would win in a fight: "Me, because I'm bigger."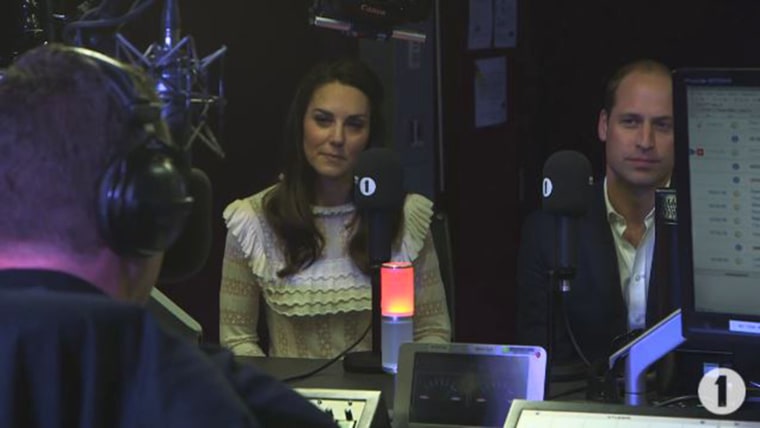 William, on not giving his grandmother Elizabeth a birthday gift on Friday: "It's quite hard to know what to get the Queen for her 91st birthday," he said, laughing.
The royal couple even deejayed the show's pop music countdown themselves — and they nailed it!
Watch the entire hilarious interview in the video above.