A popular children's book illustrator was arrested in Juneau, Alaska after allegedly passing out anti-trans notes threatening violence against children in businesses and public spaces.
On Friday, March 31 — also the International Transgender Day of Visibility — the Juneau Police Department received a report of a "note being found in the store that indicated a possible general threat against children," according to a press release issued by the Juneau Police.
The notes reportedly depicted an assault rifle displayed over the transgender flag, along with the words: "Feeling Cute Might Shoot Some Children," according to court documents.
Similar notes were located at State Office Building, which prompted authorities to notify the Juneau School District and led to an increase in police presence on school campuses.
After authorities were notified that additional notes were found at a third business, they arrested Mitchell Thomas Watley on Sunday, April 2, for one count of Terroristic Threatening in the 2nd degree — a class C felony offense.
The notes were found just days after the deadly shooting at The Covenant School in Nashville, Tennessee, where a 28-year-old former student shot and killed three 9-year-olds and three adults. Officials said the suspect "identifies as trans," which led to a lot of confusion about the suspect's gender identity and motivation.
There has been no confirmation about whether or not the shooter identified as transgender. Still, in the wake of the tragedy, a baseless claim that there is a "rise in transgender or nonbinary shooters" emerged and was regurgitated by political pundits, including the former president of the United States.
According to court documents reviewed by TODAY.com, Watley referenced the Nashville school shooting suspect after his arrest.
"Officers spoke to Mitchell, who said (in essence) that he was in fear of the recent transgender school shooter and took it upon himself to print out and distribute these leaflets," the criminal complaint said.
Juneau Police Department Special Operations Lieutenant Krag Campbell tells TODAY.com via email that there is "no more information to release" on the matter, as it is "still an ongoing investigation."
Currently, there is no lawyer representing Watley listed in online court documents.
According to The Violence Project, a nonpartisan research group that tracks U.S. mass shooting data, 98% of U.S. mass shootings have been carried out by cisgender men.
Watley's $10,000 bond was paid in cash by his wife, Sarah Asper-Smith, according to online court documents. He will have a preliminary hearing on April 11 in Juneau, Alaska.
Watley is best known for his illustrations in the children's books "I Would Tuck You In" and "You Are Home With Me," which feature animals snuggling their children. The animals make their young feel safe and loved with affirmations like "wherever you may be, you will always have a home with me."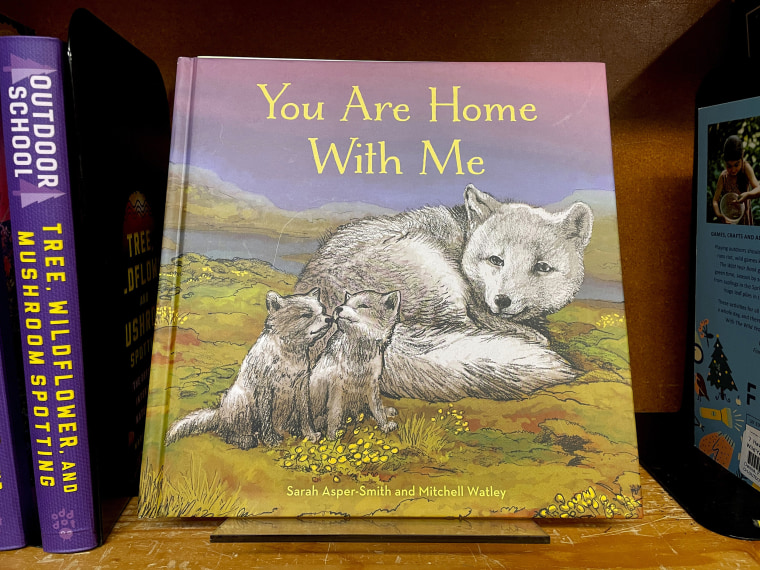 On Wednesday, April 5, Watley was dropped from his publisher, Penguin Random House, as reported by the Associated Press. His author page is now empty on the Penguin Random House website.
TODAY.com reached out to Penguin Random House for comment, but did not hear back.
Local bookstores have also pulled Watley's books from their shelves. In a Facebook post, the owner of one such bookstore, Kindred Post, said the notes allegedly left by Watley are "terrifying," "transphobic" and "a violent threat against children and valuable members of a marginalized community." The owner announced that staff would be "removing all books illustrated by Mitchell Watley from our collection" immediately.
"At Kindred Post, we say that everyone is welcome, but some behaviors are not," the post read. "We have little patience for acts of disrespect, and we have no tolerance for hatred against marginalized groups. Members of the trans community are *our community*."
The anti-trans notes were also found at a time when anti-trans rhetoric has hit a fever pitch across the country, and as state lawmakers have introduced a record 238 bills limiting the rights of LGBTQ+ people, many targeting transgender people specifically. 
Transgender people are over four times more likely to experience violence — including rape, sexual assault, and aggravated or simple assault — than their cisgender peers, according to one 2021 study by the Williams Institute at UCLA School of Law. 
Juneau business owners are making it clear that violent speech will not be tolerated. "We see you, we love you, and you deserve to feel safe," the owner of Kindred Post continued on Facebook. "What we would never want is for you to walk into our store and see work made by an artist who so cruelly and laboriously and publicly threatened you."
Related video: