Hoda Kotb has opened up about the anxiety of getting older as a parent and imagining being there for her daughters when they reach milestones like marriage or children themselves.
Hoda, 58, spoke with reality star and entrepreneur Bethenny Frankel on her "Just B" podcast about how she approaches thinking about the future as a parent of young girls.
She was a college student at Virginia Tech when she lost her father, Abdel Kotb, who died of a heart attack in his 50s.
Frankel asked if getting older gives Hoda anxiety as she imagines being there for daughters Haley, 6, and Hope, 4, when they are adults.
"I do have it sometimes," Hoda said. "My dad died when he was 54, 55. I always think that the foundation he laid down was good for me. It helped me in my life."
Hoda became a mother for the first time in her early 50s when she adopted Haley. While she lost her father at a young age, she has had the support of her mother, Sami, who is a beloved grandmother to her two daughters.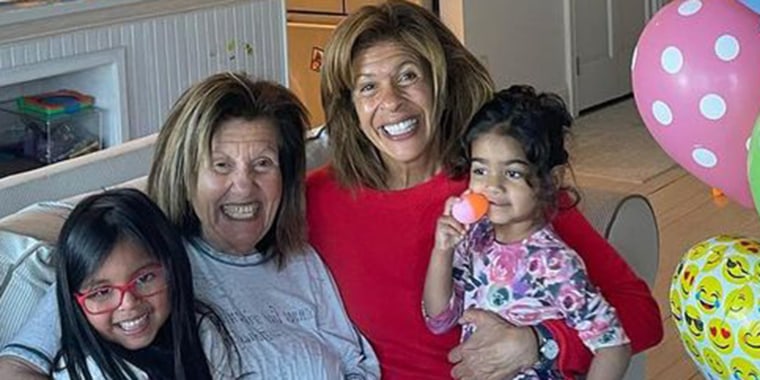 "And sometimes I do the math," she said. "I look at my mom, who's 86, and I think to myself, 'OK, what's the difference here between me and her? Thirty (years). OK, that's kind of good, so let's see, 30 years.' So I add 30 to Haley and I add 30 to Hope. And I think to myself, won't that be spectacular? I can do that.
"Wouldn't that be amazing? Do I get to see them get married? Maybe. That would be really good. Or do I get to see them have a child? Maybe. That would be really good."
While thoughts of the distant future do pop up for Hoda, she doesn't look at them in a negative way.
"I think about it, but I don't think about it on the end of, 'Oh, no, I won't be able to ...'" she said. "I would be delighted if all those things were possible, and I think that would be special."
She said that she wrote her mother's age minus her age on the glass in the shower one day.
"And I looked at the number and I was like (claps hands)," she said. "What if you get that many years? That's more than I got with my dad."
Frankel, 52, said she has had similar thoughts about aging as a parent of a 13-year-old daughter, Bryn. Her daughter occasionally does the math of how old Frankel will be when Bryn is at an adult age.
"I watch her make the connection and then I watch her get distracted because it's anxiety for her," she said. "We're very close. It just keeps getting better, it's so beautiful."