Looks like Taylor Swift's dad, Scott Swift, is also a Travis Kelce fan.
The senior Swift cheered right alongside Kelce when his daughter changed lyrics to her hit song "Karma" to reference her new relationship with the Kansas City Chiefs tight end during a concert she had in Buenos Aires, Argentina on Nov. 11.
Instead of singing, "Karma is the guy on the screen / Coming straight home to me," she said, "Karma is the guy on the Chiefs / Coming straight home to me," making Scott immediately turn to Kelce to give him a high-five.
However, in a video that a fan posted online, it looks like Kelce doesn't appear to notice the high-five that Scott was trying to give him as he's too busy celebrating the moment.
When asked about the missed high-five on his "New Heights" podcast, Kelce said he did leave Scott hanging, but not on purpose.
"Yeah, Mr. Swift, I apologize big guy and I missed that," he said. "I never miss a high-five too. Big high-five guy. It's the most electric thing you can do at an event, so sorry, Mr. Swift."
Read on to learn more about Taylor Swift's parents.
Who are Scott and Andrea Swift?
It's safe to say that Scott Swift and his wife Andrea, aka Taylor's mom, were the first ever Swifties.
The two also welcomed Taylor's brother, Austin, in 1992.
"Mama Swift," as Swifties know her, is frequently seen with her daughter and her fans. 
Andrea shows up in support of her daughter to multiple events, appearing at many of the "Eras Tour" shows and even being her daughter's plus-one at award shows. 
Andrea is the daughter of American opera singer Marjorie Finlay. 
Taylor Swift frequently alludes to her maternal grandmother, who passed away in 2003, and her impact on her singing career, dedicating her track "marjorie" to her grandmother on her album "evermore."
The pop star's relationship with her mother is shown in a heartwarming compilation of pictures and videos from her childhood in the music video for her song "The Best Day (Taylor's Version)."
She shows a rare glimpse of family photos, touching on her relationship with her mother from the age of 5 until her young adult years.
"You're the prettiest lady in the whole wide world," she sings. "I love you for giving me your eyes."
She also mentions her father, Scott Swift, in the song.
"I have an excellent father," she sings. "His strength is making me stronger."
After her Santa Clara "Eras Tour" show on July 28, she posted a video of him riding a Segway on Tik Tok.
The financial advisor worked at Merrill Lynch, and later established Swift Group.
Andrea and Scott Swift tied the knot in 1988, about a year before their daughter was born in 1989.
They moved from Pennsylvania to Tennessee
Andrea and Scott Swift moved to Tennessee in 2003.
Another one of her videos showing a compilation of memories with her family, "Christmas Tree Farm," came out in 2019.
She alludes to the Christmas tree farm where she was raised.
Their kids were born in Reading, Pennsylvania, and Taylor Swift briefly mentions Pennsylvania in her songs, one example being "seven" on her album "folklore."
In 2003, they moved to Nashville to support their daughter's singing career.
"At 13, I was offered a development deal by a major record label," Swift told TIME in 2014.
"My parents gave in and we moved from Pennsylvania (to Nashville)."
Swift announced the release of "Speak Now (Taylor's Version)" in Nashville during "The Eras Tour" on May 5.
In an Instagram post, she wrote about how she felt when first writing the album.
"I first made Speak Now, completely self-written, between the ages of 18 and 20," she wrote in the caption.
At the time, she lived in Nashville.
"The songs that came from this time in my life were marked by their brutal honesty, unfiltered diaristic confessions and wild wistfulness."
Scott and Andrea Swift's cancer journeys
Both Andrea and Scott Swift have battled cancer, Taylor Swift revealed in a 2019 essay for Elle.
"I've had to learn how to handle serious illness in my family," she wrote. "Both of my parents have had cancer, and my mom is now fighting her battle with it again."
Taylor Swift revealed that her mother was battling cancer in 2015, then again in 2019, though she did not share the type of the cancer.
Her daughter shared her distress over her mom's diagnosis in her music.
"Who am I supposed to talk to? What am I supposed to do if there's no you," she sang in her 2019 track "Soon You'll Get Better."
"You'll get better soon, 'cause you have to."
In a 2019 interview with CBS News, she said she "can't even listen to" the song.
"I don't think I have written a song quite like that before," she said. "It's just not something we deal with until we have to. Writing about it was really emotional."
She performed the song live for the first time in August 2019.
In 2020, Taylor shared that her mother was diagnosed with a brain tumor.
She told Variety that her mother was diagnosed with the tumor while undergoing chemotherapy treatments for cancer.
Scott Swift's political disagreements with his daughter
The 2020 Netflix documentary "Miss Americana" showed Taylor Swift and her father having political disagreements.
Taylor Swift decided to voice her political opinions on social media, a choice her father didn't agree with at the time. In 2018, she released a lengthy statement on Instagram.
She said she does not support Marsha Blackburn running for Senate in the state of Tennessee, saying she "votes against equal pay for women," and the "Violence Against Women Act."
"These are not MY Tennessee values," she wrote.
The documentary shows her father saying he was "terrified" about Taylor sharing her political views.
Taylor Swift went through with the post.
"I need to do this," she told her father. "Dad, I need you to forgive me for doing this, because I'm doing it."
Andrea and Scott Swift at "The Eras Tour"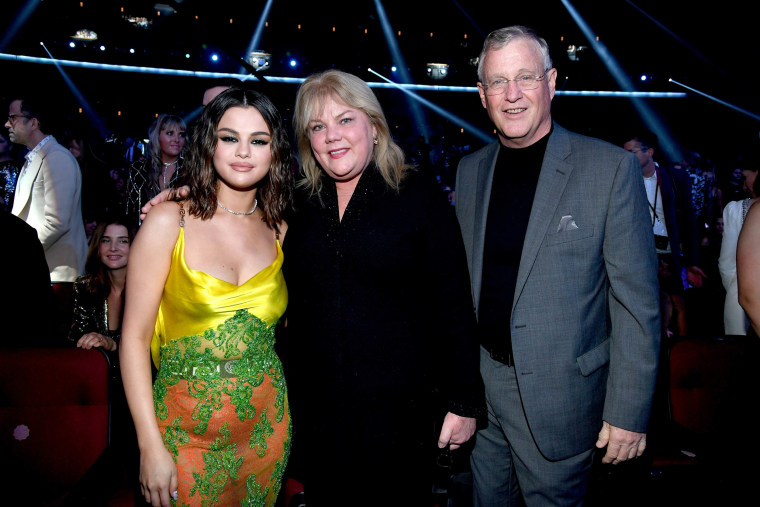 To this day, the star's parents publicly support her career.
On the North American leg of "The Eras Tour," Andrea and Scott Swift attended many of the shows.
One Tik Tok user posted a video in May which shows the two at her Philadelphia show.
The two are walking into the venue together and fans are giving them friendship bracelets.
Another Tik Tok video, posted in July, shows them inside the VIP tent at their daughter's Seattle show.
They're singing along as their daughter performs her track "You Belong With Me," and Scott Swift takes out his phone to record his daughter's performance.
CORRECTION (Oct. 19, 9:10 a.m. ET): A previous version of this article stated Andrea Swift battled breast cancer. It has been updated to reflect that the type of cancer she was diagnosed with has not been publicly disclosed. This story also incorrectly stated Scott and Andrea Swift had reportedly ended their marriage in 2011, and the story has been updated.