Taylor Swift and her younger brother, Austin Swift, are a supportive sibling duo.
Taylor, 33, and Austin, 31, grew up together on a Christmas tree farm in Reading, Pennsylvania, to parents Scott Swift and Andrea Swift. He was born in March 1992.
In Taylor Swift's heartwarming song "The Best Day," a gentle track fans believe is about the superstar's upbringing, she describes moments with her family.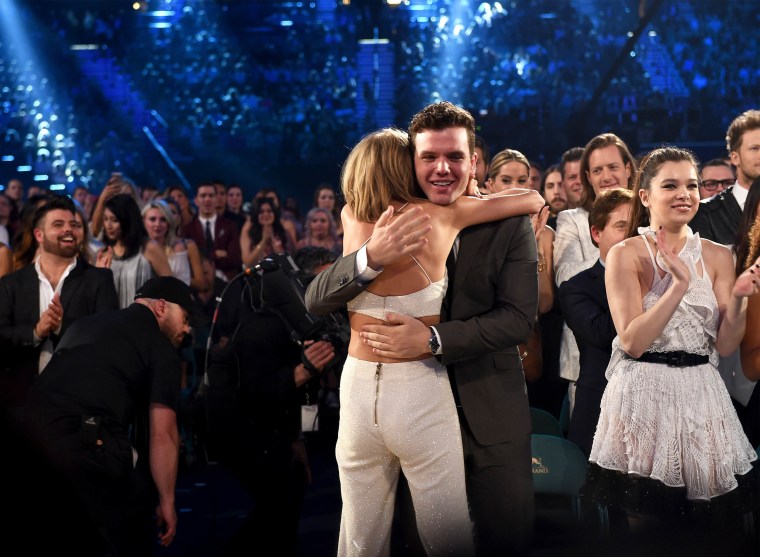 "God smiles on my little brother, inside and out, he's better than I am," she sings.
In the song's lyric video, Swift shared footage from her family's old home videos featuring her and her brother as children.
The compilation of clips shows the siblings reading beside one another, laughing together, being pushed on swings, climbing on their backyard jungle gym and goofing around at the dinner table.
Here's everything to know about Austin Swift and his relationship to his sister.
Austin went to the University of Notre Dame
Austin Swift studied film at the University of Notre Dame in the school's College of Arts and Letters, which helped him get his start in acting.
He landed a lead role in a campus production of "Six Characters in Search of an Author" in November 2014.
That same month, Austin Swift shared a picture of himself onstage, writing, "Finished the play run, what an amazing experience, major thanks to cast, crew, and everyone that came out to see us."
Taylor Swift visited Notre Dame to see her brother in the show, according to WTHR, an NBC-owned station in Indianapolis.
His senior year, Austin Swift was also in the play "Dead Man's Cell Phone Call," from he shared a picture on Twitter.
Austin is now an actor and producer
Before hitting Hollywood to try his hand at acting, Austin Swift developed a passion for film in high school.
In a 2017 interview with Vanity Fair, Austin Swift revealed that he often found comfort at the movie theater, saying that he "didn't have a lot of friends."
"I would go to the movies, and Daniel Craig was my friend, and Christian Bale was my friend, and Clive Owen was my friend, and Viggo Mortensen was my friend," he said.
He told People in 2018 that his favorite movies include "Top Gun," "GoldenEye" and "Star Wars Episode V: The Empire Strikes Back," noting that he is drawn toward science fiction. He noted, however, that he didn't expect to see himself as an actor.
"I'm pretty reserved in most circumstances, so it never seemed like it would be a good fit," he said. "But I kind of got thrust into it and realized that it could be an opportunity to be creative."
Austin Swift's first acting credit was for the 2016 drama "I.T.," which stars Pierce Brosnan and Jason Barry. That same year, he appeared in Ben Affleck's crime film "Live by Night," according to his IMDb page.
He acquired his first lead role in 2018, playing Kirk in "Cover Versions," which also featured Drake Bell, Katie Cassidy, Jerry Trainor and Debby Ryan.
Since then, the actor appeared in "We Summon the Darkness," which he co-produced, and "Braking for Whales." He also helped produce Taylor Swift's "Folklore: The Long Pond Studio Sessions" and her music video for "I Bet You Think About Me (Taylor's Version)," that Blake Lively directed.
He was nominated for an American Country Music Award
As a co-producer of Taylor Swift's music video "I Bet You Think About Me (Taylor's Version)," Austin Swift was nominated for video of the year at the American Country Music Awards in 2022.
According to Deadline, this was the first nomination for both Austin Swift and Blake Lively, who co-produced and directed the video.
On Instagram, the "Cover Stars" actor shared his gratitude, writing, "I was so lucky to get to work with Blake, Taylor, and the entire amazing team behind the video for 'I Bet You Think About Me' and now I am so proud and thankful that we've been nominated for the ACM award for video of the year! (I am also thankful for the cake nom I had after wrap)."
The award went to the team behind "Drunk (And I Don't Wanna Go Home)," sung by Elle King and Miranda Lambert.
Austin is into photography and jiu-jitsu
Taking one glance at Austin Swift's Instagram page, fans will notice the actor has a myriad of stunning landscapes and unique shots of everyday moments.
In a 2017 Instagram post, he shared a photo of himself holding a camera pointed upward and wrote, "Tbt: The photo days," with "2009" in parenthesis.
Aside from taking his camera out, Austin Swift told People in a 2018 interview that he likes reading graphic novels and had been getting into jiu-jitsu.
"I had always wanted to try it and I finally started this year," he said of the martial arts practice. "It's very immediate. You never have to wonder how you're doing and yet it can be intellectual in its own way."
Austin has said that his sister's success inspires him
Austin Swift has spoken nothing but words of admiration about Taylor Swift's success.
Speaking to Vanity Fair, he described what it was like finding his way beside her.
"She found singing, and I knew from very early on that that was her direction. She was never going to quit; that was her thing, that was her life ... and I was always a little bit, you know, doing this, doing that," he explained.
Instead of feeling in his sister's shadow, Austin Swift said she helped inspire him artistically.
"Something I learned myself, and learned through watching her, is respect," he said. "You just respect everyone's time, everyone that you're working with. They're all there, it's all their lives, and you need to put the work in to be worth that."
Austin hangs out with Taylor's friends
For his first picture on his Instagram grid in May 2015, Austin Swift posted a trio of film photos which feature him standing with a legendary celebrity group, including his sister, Calvin Harris, Ed Sheeran, Niall Horan and Louis Tomlinson.
"Last night was a wild ride," he captioned the post.
The siblings are each others' fans
With her new albums, tours, award wins and birthdays, Austin Swift has shared in the joy with his sister, celebrating her wins.
With her release of album "Evermore" in 2020, Austin Swift shared the album cover, which shows the "Willow" singer from behind dressed in a wool flannel and a long braid standing in the woods.
"As a brother and friend I couldn't be more proud, as a lifelong fan I am thrilled beyond words, as a human being I am simply dumbfounded at this level of artistry and depth of insight into what it is to love and to lose and to simply exist," he wrote.
In one last burst of excitement, Austin Swift added: "Now please stop reading this and go listen to evermore by @taylorswift !!!!!"
In April 2020, Taylor Swift shared a fun photo on Instagram with her brother for National Siblings Day, calling Austin Swift "one of my best pals."
"It's National Siblings Day! My brother @austinkingsleyswift is one of my best pals, and I'm really proud of him because he's in a film that came out today called We Summon The Darkness (which he also co-produced). Photo by Gigi," she wrote, likely referring to her friend and model Gigi Hadid. "My facial expression by 3 glasses of wine."
After the release of her brother's movie "Cover Versions" in 2018, Taylor Swift tweeted the trailer and wrote, "It's National Siblings Day! Check out Austin's movie."
For Taylor Swift's birthdays, her brother has shared some precious throwback pictures of them, as well as sweet reflections, once calling her "the best sister anyone could ask for."
"It is a singularly beautiful thing to see magic right in front of your eyes. After nearly three decades of that happening time and time again, the effect hasn't worn off. I have always had a best friend, a role model, and a caring, tireless, dedicated champion in my corner," Austin Swift wrote of his sister Dec. 13, 2018.
He continued: "You have pulled me out of fires and carried me up mountains. The gift of getting to witness you become the wonderful person you are today has been the greatest privilege and honor of my life. Happy 29th Birthday @taylorswift."
For Taylor Swift's 27th birthday, Austin Swift shared a similar sentiment, this time featuring the bleach blond duo in bright red sweaters as kids.
"I can't believe you've been riding ponies, making music, playing with cats, and telling stories for almost three decades now," he wrote. "You've always been there for your family and friends no matter what and you're always finding unique and beautiful ways to show us how much you care."
Austin Swift has also poked fun at his sister, tweeting in 2014, "I leave NY for one week and @taylorswift13 is all like," accompanied by a photo of Taylor Swift hunched over on a bench with headphones in.
Austin's nickname for Taylor is Teffy
In several posts on social media, Austin Swift has revealed his nickname for his big sis: Teffy.
For Taylor Swift's 25th birthday in 2014, he tweeted the iconic "errmahgerd" meme on X with the text, "errmahgerd Teffy is 25."
In the tweet, Austin Swift wished Taylor Swift a happy birthday and once again called her "the best sister anyone could ask for."
In a 2015 Instagram post, the actor shared a screenshot listening to a rendition by Ryan Adams of Taylor Swift's hit "Blank Space" off 1989 album.
The caption also referred to her by the nickname, reading, "Wow wow wow wow. Ryan Adams and Teffy, This is one of the better things that exists."