Jasmine Cephas Jones has broken her silence after the death of her father, Ron Cephas Jones.
The "This Is Us" actor died at age 66 after a long-standing pulmonary issue, his manager, Dan Spilo, confirmed to NBC News on Aug. 19.
Jasmine Cephas Jones posted a slideshow on her Instagram on Aug. 30, filled with throwback photos and videos of her and her dad.
"Grief. This one is a battle," she began her emotional post. "I keep looking at my phone wanting to call you and wanting to hear your voice. You listened… you REALLY listened to me."
She continued writing how her father valued her opinion and never judged her. "We all know you were a great actor but my god you were a d--- good father," she wrote, adding that the best gift she received from him as a dad "was giving me a safe space to just be me. Not afraid of my womanhood and all the pain and awkwardness and social anxiety and tough burdens that society can put on us."
Jasmine Cephas Jones wrote: "You understood that. You led me. Mentored me. Gut laughed with me. Cried with me. Sang with me. Celebrated me. Studied with me. Cared for me… and loved me."
The actor noted that there's so much to say, but doesn't have many words at the moment. "I just love you so much. I miss you beyond words. I still feel you here with me and I will carry you in my heart forever," he concluded, signing it off "Your Bird" and adding a white heart emoji and a dove.
Jasmine Cephas Jones previously shared an uncaptioned photo tribute to her father on her Instagram story on Aug. 21.
Following her dad's death, his "This Is Us" family members shared several tributes on social media, calling him "pure magic as a human and an artist."
Prior to her latest statement, the "Hamilton" actor's last post with Ron Cephas Jones was a black-and-white image of him lounging with a sweet looking pup. She captioned the May picture, "Nala and Papa."
Jasmine Cephas Jones, who has made a name for herself both on stage and on the big screen, takes after her late father.
Here's what to know about Ron Cephas Jones' daughter and their relationship.
How many children does Ron Cephas Jones have?
Ron Cephas Jones had one daughter, Jasmine Cephas Jones, who is best known for originating the roles of Peggy Schuyler and Maria Reynolds in the Broadway musical "Hamilton."
In 2020, the two actors collectively made history at the 72nd Emmy Awards as the first father-daughter duo to garner major wins in the same year, which was also Jasmine Cephas Jones' first time taking home an Emmy.
How close was Ron Cephas Jones with his daughter?
After their mutual Emmy wins in 2020 — the "This Is Us" actor for outstanding guest actor in a drama series and Jasmine Cephas Jones for outstanding actress in a short form comedy series for Quibi's "#FreeRayshawn" — Ron Cephas Jones couldn't stop raving about his daughter.
"As a parent, that's the most fulfilled I could ever feel," he told reporters at the time. "Winning another Emmy is icing on the cake, but to see my daughter move into this place where she's earned an Emmy… it's beyond words."
"I tear up every time I think about it," he continued. "The highlight of this whole journey is to see my daughter become happy, successful and healthy. That's a parent's dream. As a parent, nothing could be finer. Nothing. Out of all (my) Emmys, (my daughter) winning is everything. My heart explodes when I think about the success she is having."
In 2022, Ron Cephas Jones took to Instagram to wish his daughter a happy birthday on July 31, sharing a series of photos — some throwback shots and one black and white image of her with her Emmy.
"HAPPY BIRTHDAY TO MY PRIDE AND JOY!!!!!! Jasmine Cephas Jones/aka BIRD!!!! Celebrating You!! Love you Forever-Ever Forever-Ever," he wrote, signing the caption, "xoxo Dad."
Jasmine Cephas Jones hasn't been shy in showing her dad lots of love, either.
In a 2019 Instagram post, she shared a sweet picture of her with her father while on a couch, explaining that they booked two different jobs that happened to both be filming in Louisiana at the same time.
"Both of us in an unknown place doing what we love as artists. Thankfully our filming schedules allow us to get some quality time to watch Game Of Thrones together... life can come full circle sometimes," she wrote. "And that my friends, is a beautiful thang."
Similar to the way that her dad has shown support for her career, Jasmine Cephas Jones shared on Instagram in November 2021 that she paid a visit to see her dad onstage in the Broadway play "Clyde's."
"I wept the whole entire time," she captioned the series of photos and a video. "Go see @clydesbroadway."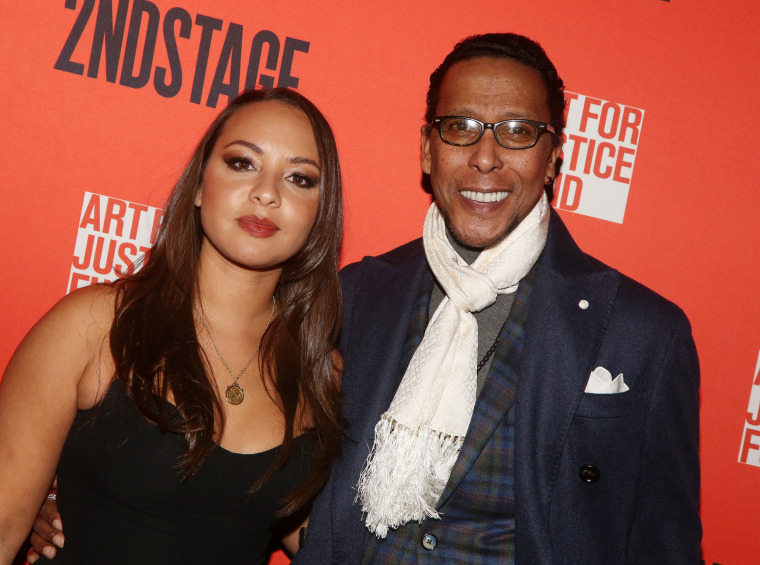 Days after his death, Jasmine Cephas Jones paid tribute to her father with a post on her Instagram story that captured just how close they were.
On Aug. 21, she posted a black and white photo that showed her and the late actor on her Instagram story.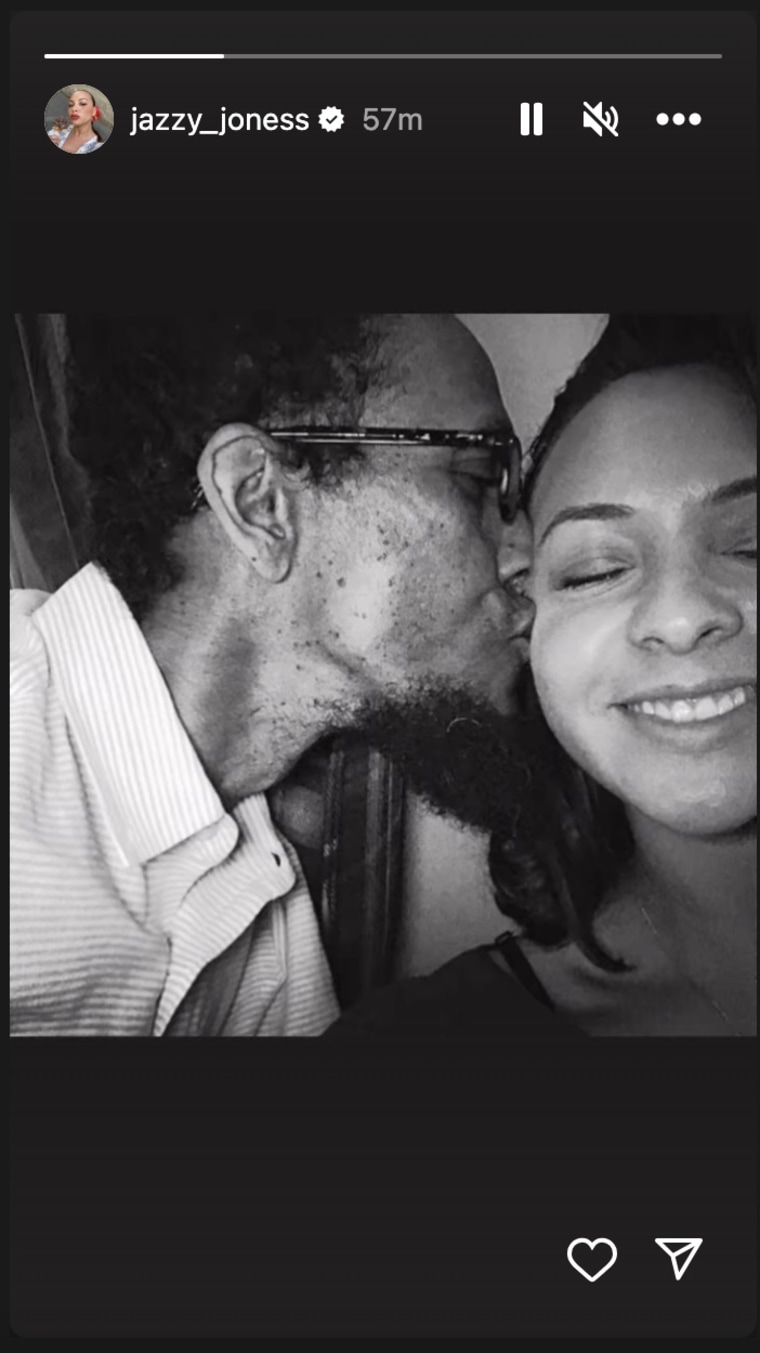 The simple post featured no caption but showed Jasmine Cephas Jones smiling brightly with her eyes closed as he leans in and presses a kiss to her cheek.
Who is Jasmine Cephas Jones' mother?
Jasmine Cephas Jones' mother is British-born jazz singer Rev. Kim Lesley, who appears to currently work at Ananda Ashram-Yoga Society of New York, based on her social media.
The singer still seems to get her music fix, as well, performing with churches around New York City. Lesley also shares house listings on Instagram, noting that she's a licensed real estate broker with Our House Real Estate Group.
In an interview with Essence, Ron Cephas Jones revealed that he and Lesley were separated when their daughter was growing up, but that they worked to maintain healthy co-parenting.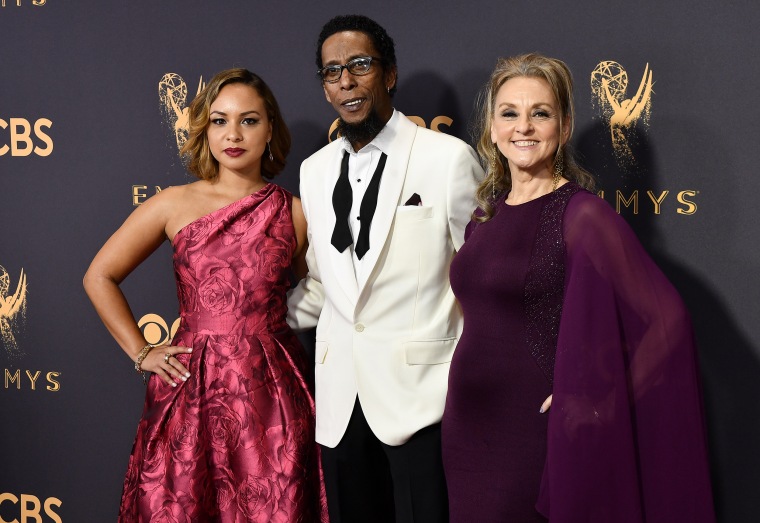 "It took sacrifices on both sides and … therapy," he said. "We were separate parents but we were committed to being parents. We're proud of her success, but more than anything, she's happy and she's healthy. And that's really all a parent can ask for."
Despite not being together, Ron Cephas Jones and Lesley appear to have been on good terms over the years, often sharing celebratory posts for one another on social media.
In January, Lesley shared an Instagram post of her standing beside the actor, writing, "Happy Birthday Ron," with several cake and flower emoji.
She added, "Love you soooo much."
In May 2022, Ron Cephas Jones shared a sweet post for Mother's Day, featuring a throwback shot of the family of three, as well as more a recent picture of the group dressed to the nines.
"HAPPY MOTHERS DAY KIM!!!! (One) LoveandLight Always Family.Blessed with infinite unconditional LOVE!" he captioned the post.
Jasmine Cephas Jones has also vocalized her love for her mom on social media, posting a series of photos and videos for her birthday in November 2022.
The heartwarming carousel included several clips of her mom being interviewed and performing, as well as throwback shots of the jazz singer with seemingly different members of her family. Some pictures also included Ron Cephas Jones and the last were a couple solo shots of Lesley.
"Happy Birthday mama bear. I love you," she wrote, with two little pink hearts.
Why is Jasmine Cephas Jones famous?
Aside from "Hamilton," Jasmine Cephas Jones has been seen on television shows such as "Blindspotting," "#Freerayshawn," "Mrs. Fletcher," "Midnight, Texas" and "Girls," according to IMDb.
She's also been in films "Honest Thief," "The Photograph," "Dog Days" and "Monsters and Men."
Along with her Emmy win in 2020, Jasmine Cephas Jones' performance in "Blindspotting" has earned her Black Reel Award, Film Independent Spirit Award, Hollywood Critics Association Television Award and Women's Image Network Award nominations.
In 2019, she was nominated for Imagen Foundation Award's best actress in a feature film for her role in "Monsters and Men."
The album for "Hamilton," for which she sang as Schuyler and Reynolds, won a Grammy Award for best musical theater album in 2016.
Fans also followed Jasmine Cephas Jones' relationship with "Hamilton" co-star Anthony Ramos, who played John Laurens and Philip Hamilton.
In November 2021, however, the couple split after being together for over six years and being previously engaged, according to E! News.