New parents Todd Wilson and Kristen Yanow may be the most popular neighbors on the block. Or at least they're trying.
On January 19, 2023, the New York City couple welcomed their first child, a son named Quint.
"We weren't quite aware of how loud and how often newborns cry," Wilson, 42, tells TODAY.com.
The couple lives in a one-bedroom apartment in NYC's Lower East Side neighborhood.
"We have three or four neighbors on our floor and our walls are kind of thin," Wilson says. "I didn't want to terrify anybody."
The couple decided to get ahead of little Quint's vocal range and place a sign on their door to give their neighbors a heads up.
Yanow suggested putting wine bottles outside their door, but Wilson, a former bartender, had a better idea.
"We have a newborn. He is loud," the sign Wilson created reads. "He's cute as f-ck, but very noisy. Bear with us. Thanks for your patience."
But that wasn't all.
"Take a nip or 2 at your leisure," the sign finished, accompanied by a bucket of Jameson and tequila mini bottles.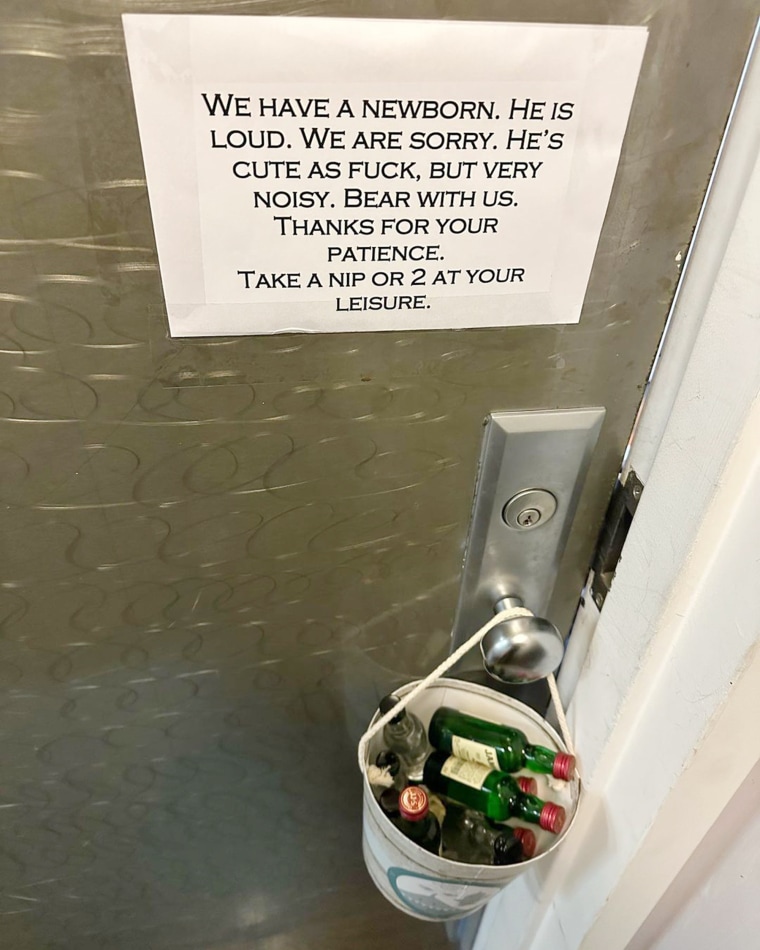 Wilson tells TODAY.com the couple had a bucket from a shark robe that was gifted to Quint — the shark hunter in "Jaws" has the same name —and attached it to their door.
"I thought it was hilarious," Wilson says.
But the couple weren't the only ones laughing. Viral Instagram account "What Is New York," an Instagram account that features snapshots around the city taken by fellow New Yorkers, shared the sign to their following of 1.5 million.
More than 130,000 people liked the sign and nearly 1,100 commenters weighed in.
One of them was Wilson's neighbor.
"They texted me," Wilson tells TODAY.com, laughing. "They said, 'I saw the sign from our hallway on 'What is New York.' Are you famous?'"
Wilson says the sign has also worked as a great announcement for neighbors.
"A couple neighbors have taken a few nips and said 'Can we see Quint?" the new dad says.
As for Wilson and Yanow, they are grateful their son is finding his voice.
"Quint was actually in the NICU for about five days when he was born," Wilson says. "He looked normal, but he didn't cry."
Quint suffered from transient tachypnea, a respiratory problem in babies where the amniotic fluid is not entirely pulled from the lungs.
"About twenty nurses and doctors ran into the room and every alarm in the hospital went off," Wilson says. "Kristen and I didn't think we were leaving with a child for a hot minute."
After careful observation and monitoring, Quint was sent home.
"There are no long term side effects," Wilson says of transient tachypnea. "Quint is a tough little guy. He's doing great."
Related video: