Motherhood may be a beautiful and rewarding experience, but it's not an easy one.
Last week, actress Hilary Duff got real about having a baby on the way, announcing, "Pregnancy is hard." One day later, rapper Cardi B called off her upcoming tour dates because, after giving birth to her first child, she realized she "underestimated this whole mommy thing."
And now former "Bachelorette" star Ali Fedotowsky is here to assure everyone that things don't get any easier with the arrival of baby No. 2.
"My husband and I have not slept in the same bed in two months," Fedotowsky confessed in an interview with Entertainment Tonight.
But before fans start worrying that she and Kevin Manno are on the outs, the reality TV star-turned-host explained their current arrangement is due to a reason that any parent of a newborn can understand. Since the arrival of son Riley in May, they've had to get creative in order to get any sleep.
"(Kevin) does a morning radio show really early and I need him to get a good sleep," Fedotowsky said. "Even on weekends, when he's not doing the show, I need him to get a good sleep so he can wake up with (2-year-old daughter) Molly, so I can get a few extra hours of sleep."
And so their decision to sleep in separate beds — for now — is a relatable one. But it still takes a toll.
"It's a lot," she said of the sleep arrangement and the other demands of motherhood. "Our relationship suffers. I'd love to say, 'Oh yeah, me and my husband are passionately making out on the side with our two kids,' but I'm not even sure I've made out with my husband in a really long time."
While the 33-year-old isn't thrilled about that, she and Manno realize that, with a baby and a toddler to care for, the kids have to come first.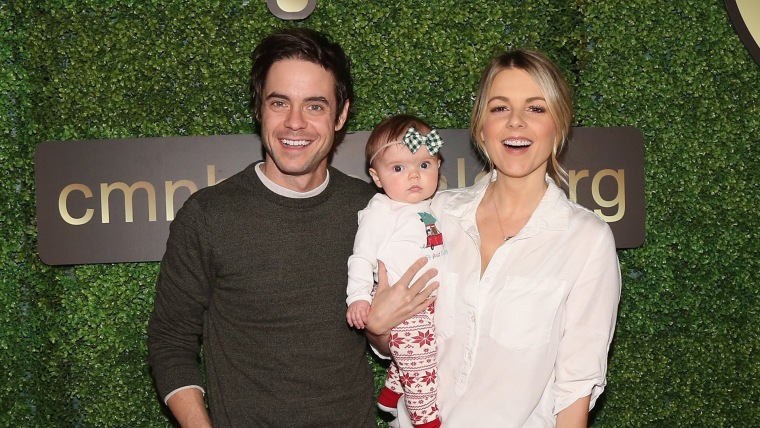 "Eventually we're going to make out passionately and have an amazing time, but it's just hard right now," Fedotowsky added.
Of course, she knew prior to Riley's arrival that a growing family would mean growing responsibilities — she didn't, however, realize just how much more demanding it would be.
"It's a weird balance because I don't want to be like, 'OMG, being a mom is so hard, blah blah blah,' but I also don't want to be like, 'Being a mom is great! Motherhood is pure bliss!'" she said. "It's a juggling act for sure and I wish someone told me how much harder two was because maybe I would have waited a little longer."