Novak Djokovic reflected on his close relationship with Kobe Bryant as he celebrated his U.S. Open victory.
"Him and I were close," Djokovic, 36, said Sept. 11 on TODAY. "He was extremely supportive and very kind and generous to me when I was down and had to undergo a surgery about six years ago, and trying to work my way up, I had a lot of doubts, mental challenges, and he was there for me."
Djokovic won the U.S. Open men's singles final Sept. 10, marking his 24th Grand Slam singles title. 
Following his win, he pulled on a "Mamba Forever" T-shirt with a photo of him and Bryant printed on the front, and the number "24" printed on the back, a tribute to the late basketball legend's jersey number.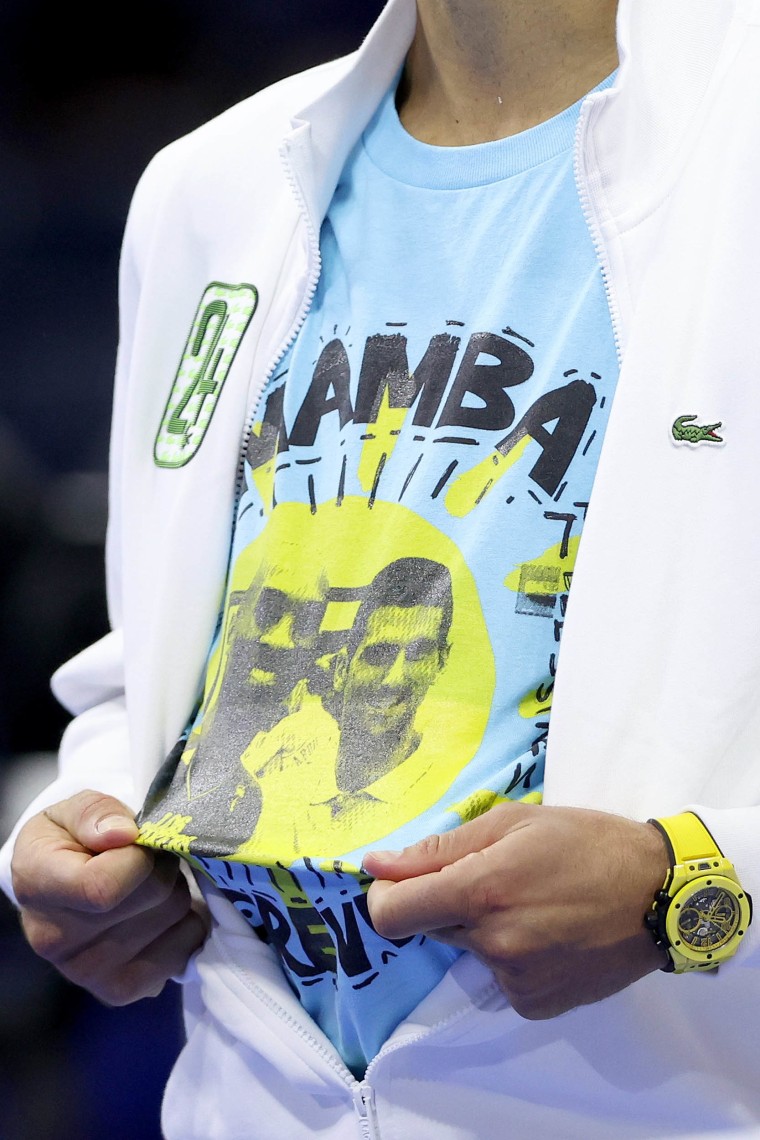 "His spirit was there last night," Djokovic said on TODAY. "I felt it, and 24 is the jersey that he wore when he became a legend … and I felt it was appropriate to pay tribute to him with the 24th Slam."
Djokovic also said he and Bryant had "numerous conversations" about "mentality."
"He was guiding me through the process and I couldn't be more thankful to him and everything that he has done for me, but also for athletes around the world," Djokovic said on TODAY. "His legacy lives forever."
This isn't the first time Djokovic has publicly honored his friend, who died in a helicopter crash in 2020. Bryant's 13-year-old daughter, Gianna, was also killed in the crash, along with seven other people.
In January 2020, a few days after Bryant's death, Djokovic offered a tearful tribute to Bryant as he marked his quarterfinal win at the Australian Open.
"I don't know what we can say, you know? It really caught us by surprise. He was one of the greatest athletes of all time," Djokovic said, in a video shared by ESPN. "He inspired myself and many, many other people around the world. 
"I had the fortune to have a personal relationship with him over the last 10 years, and when I needed some advice and some support, he was there for me," he continued. "He was my mentor, my friend, and it's just heartbreaking to see and to hear what has happened to him and his daughter."
Djokovic's T-shirt tribute to Bryant at the U.S. Open caught the attention of the basketball legend's widow, Vanessa Bryant.
She shared photos and videos of Djokovic's T-shirt on Instagram and congratulated him on his victory.
"Real recognize Real," she wrote in the caption.