Tennis phenom Coco Gauff shared what was going through her mind when she dropped to her knees in prayer as the U.S. Open crowd roared its approval following her thrilling championship victory on Sept. 9.
"I was just saying thank you, and I understood all the tough times were just to make that moment even sweeter," Gauff told Hoda Kotb and Savannah Guthrie in an exclusive interview on TODAY Monday.
"I think if it came easy, I wouldn't feel as appreciative as I did in that moment, clearly."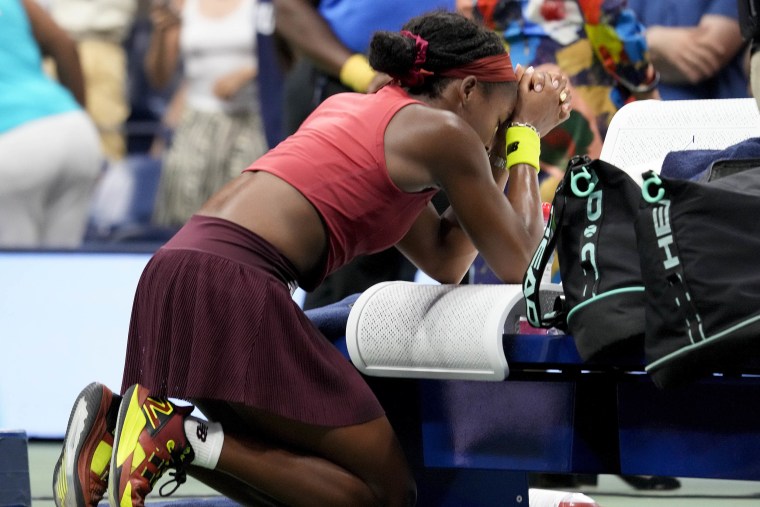 The 19-year-old star reflected on breaking through to win her first Grand Slam title. She beat the No. 2 player in the world, Aryna Sabalenka of Belarus, 2-6, 6-3, 6-2 in front of a packed crowd in Queens. On Sept. 11, Sabalenka rose to No. 1 in the rankings while Gauff moved up to No. 3 in the world.
"Obviously when you're losing, you're like, 'Why is it happening now?''' she said. "But I was like, 'It couldn't have been any more perfect than this moment,' and doing it in the U.S., in New York City, is just incredible."
Gauff admittedly had some butterflies the night before. She stayed up to 1 a.m. talking to her boyfriend on the phone.
"He asked if I wanted to talk about it, and I was like, 'No,'" she said. "Everything except that. I was like, 'OK, it's 1, so I have to go to sleep if I actually want to be productive tomorrow. I went to sleep.
"My last time I was in a Grand Slam final I couldn't sleep the whole night, but talking to him helped me go to sleep."
Gauff added that her victory still "doesn't feel real at all" after she became the youngest U.S. Open champion since her idol Serena Williams won the tournament at 17 in 1999.
Her parents, Candi and Corey Gauff, were overcome with emotion in the stands at Arthur Ashe Stadium when she achieved her dream.
"And my mom in that video as you can see went absolutely insane," Gauff said before laughing. "I've been laughing at that video all night. She caught the Holy Ghost."
Corey Gauff could be seen shedding tears of joy.
"You know, my friends are really tough on me about that," he said on TODAY while laughing. "So I have to deny and say I was just sweating. It was hot."
The proud parents joined their daughter during the interview with Savannah and Hoda, reflecting on what it took for their child to reach the top of the tennis world.
"Coco is a very dedicated, self-disciplined person," Candi Gauff said. "She was gifted as a child, she always strived to do her best, and it comes from within her."
During the finals, Corey Gauff wore a shirt with the word "imagine" on it that he purchased early in the tournament with the hope of being able to wear it to see his daughter play in the championship match.
"I think just imagine that your dreams can come true, and you've just got to keep working for it," Coco Gauff said.