Coco Gauff has reached a defining moment in her tennis career, and she says she has her parents to thank.
The 19-year-old won the U.S. Open's final match Sept. 9, defeating Aryna Sabalenka and making her the youngest American player to reach the final of the tournament since 1999, when Serena Williams won her first of 23 major singles titles at age 17.
Saturday's victory marked the first major title win of her career, in addition to her five World Tennis Association singles titles. She also had some serious support from her parents.
Her father, Corey Gauff, sported a shirt during the title match that said "Imagine."
"For me, he just said he bought it at the beginning of the tournament, and he said that he had an image that I was going to go make it to the final and he was going to wear that shirt if I did," Gauff told TODAY on Sept. 11.
"And I think just imagine, just imagine, that your dreams can come true. And you just got to keep working for it."
"I'm so proud of her," Corey Gauff told TODAY when he and his wife, Candi Gauff, joined their daughter during the interview.
And while her father may have had a shirt for good luck, Candi Gauff attributes their daughter's victory to something else.
"Self-discipline," she said. "Coco is a very dedicated, self-disciplined person. She was gifted as a child. She always strived to do her best and it comes from within her."
After her win, Coco Gauff fell onto the court, and her family jumped up and down in celebration.
Her mom, Candi Gauff, burst out of her seat, furiously waved her arms in the air and screamed in excitement for her daughter — a moment that's going viral.
"This is when I cried," one person said on X (formerly Twitter) in reaction to the clip.
Coco Gauff later ran into the stands to hug her parents.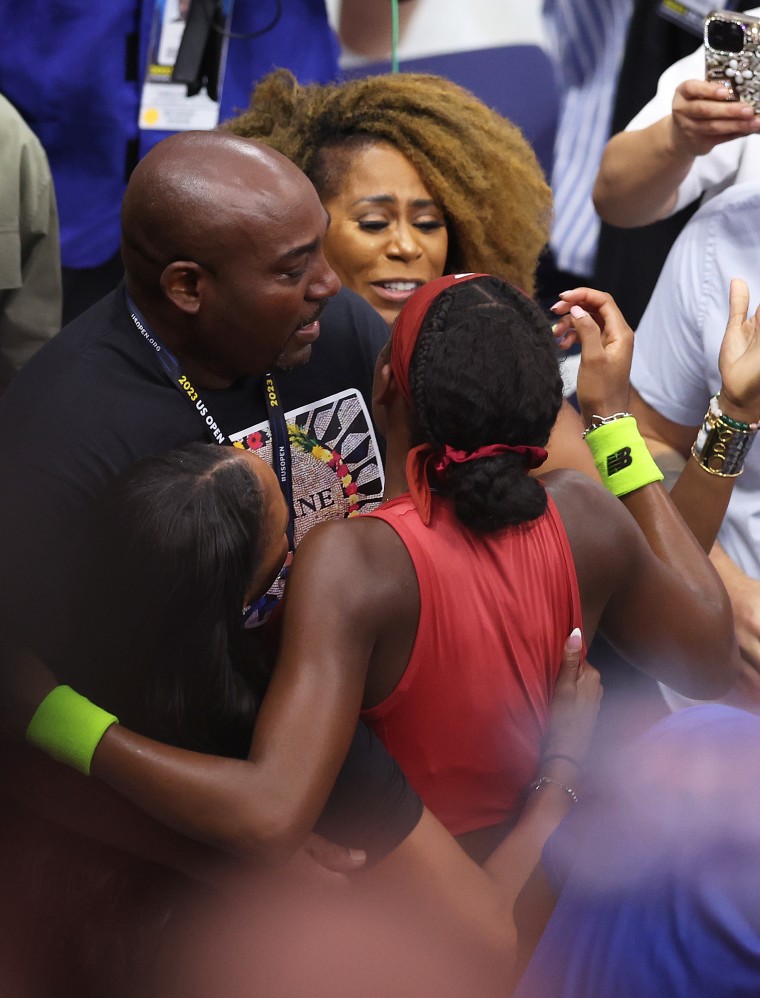 In an interview on the court, she first thanked her mom and dad for their support to help her get to that point.
"Today was the first time I've ever seen my dad cry," Coco Gauff said. "Thank you guys, you believed in me from the beginning."
Read on for everything to know about Corey and Candi Gauff, the parents of Coco Gauff, Cody Gauff and Cameron Gauff.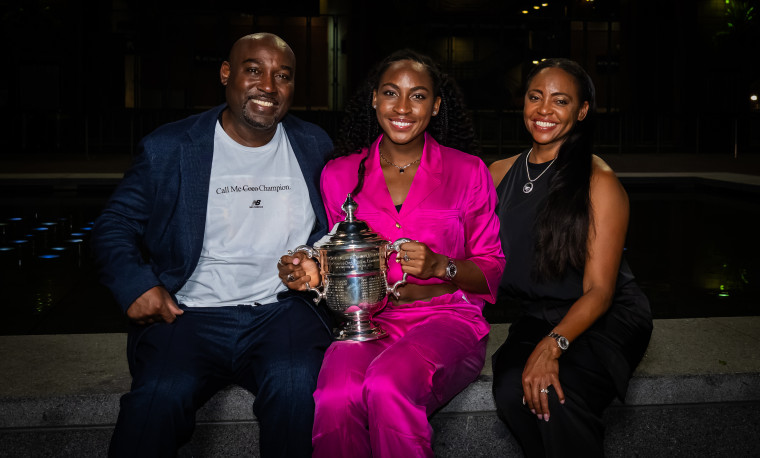 Corey Gauff
Corey Gauff played basketball at Georgia State University, and he exposed his daughter to a variety of sports as she was growing up, including basketball and the church praise dance team, according to NBC News.
Corey Gauff helped his daughter develop her tennis skills and was her first coach when he and his wife realized her gift for the sport.
During her epic 2019 run at Wimbledon, the parents of the then-15 year old embodied positive sports parenting by, for example, teaching her the importance of uplifting body language on the court.
"Cheer yourself on and have good body language," Corey Gauff said he taught his daughter in training. "When you're frustrated with yourself, you can't perform. Not just in sports, but in life. If you're always frustrated, you can't be at your best."
Her father's training and words of wisdom paid off. Coco Gauff defeated Venus Williams at the 2019 tournament, and in a post-match press conference, she said her dad is why she knows she can be great.
"I've said this before; I want to be the greatest. My dad told me I could do this when I was 8, and obviously, you never believe it. I'm still not 100 percent confident, but you have to say things and believe in them and see what happens," she said.
She said what he told her influences how she approaches matches.
"I mean, if I went into this match just saying, 'Let's see how many games I can get against her,' then I most definitely wouldn't have won," she explained. "My goal was just to play my best, and my dream was to win. And that's what happened."
Flash forward to her stunning 2023 U.S. Open run, and Coco Gauff said her dad continues to play an active role in her match preparation. At the same, he's also just dad.
"My dad is still sending me scouting reports for every match," she said at a press conference following her quarterfinal win. "But my mom is more so just being mom, and my dad just being dad — other than the scouting report part."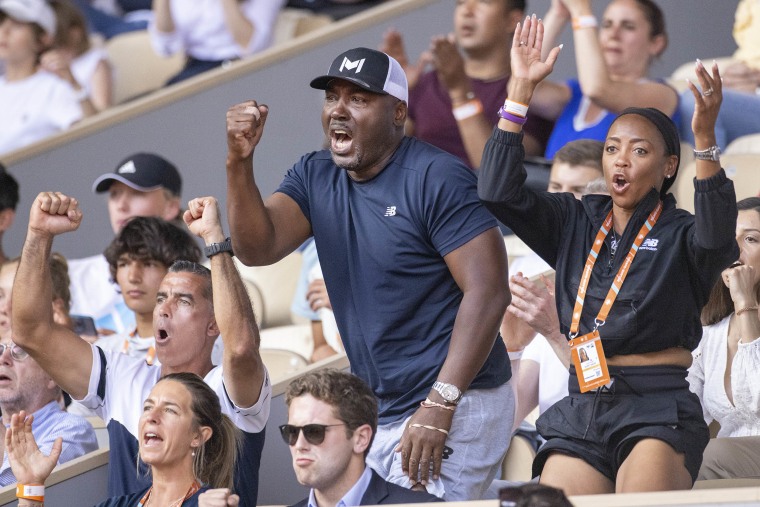 Candi Gauff
Like her family, Candi Gauff also has an athletic background and competed as a hurdler and heptathlete at Florida State University, according to the New York Times.
But when it comes to her daughter, Candi Gauff told the newspaper that she purposely doesn't help with training or coaching because she wants to be an oasis available outside of that.
"I try to back away on the court because too many voices can be a crowd," she said in 2019. "I let my husband be the coach, and I'm the supportive mom, the one if she hurts or is crying that she can communicate with."
She's also the one who helped the 15-year-old Coco Gauff "compartmentalize" sports and school to have as normal of a life as possible.
"Keeping school and her tennis life separate was important to us," Candi Gauff told CNN in 2019.
During her daughter's breakout performance at Wimbledon, Candi Gauff went viral for her celebratory dance moves. At the time, Coco Gauff said she was so excited to retweet the clip and help her mom reach meme status.
The mom of three later told NBC News that Coco Gauff asked her one critical question after her victory against Venus Williams.
"We gave her a hug and she said 'Mom, really, did you think I could win? Come on, tell me!'" Candi Gauff said. "And I was like 'Yeah, I really thought you could win!'"