In a #MeToo message posted to Twitter on Monday, Simone Biles claimed she was sexually abused by a former USA Gymnastics team doctor.
She is the latest athlete to claim she was abused by team physician Larry Nassar, who faces a sentencing hearing this week after pleading guilty in November to sexually assaulting seven girls.
Fellow gymnasts McKayla Maroney, Aly Raisman and Gabby Douglas have made similar accusations in recent months.
"Most of you know me as a happy, giggly, and energetic girl," Biles, 20, began her message. "But lately … I've felt a bit broken and the more I try to shut off the voice in my head the louder it screams. I am not afraid to tell my story anymore. I too am one of the many survivors that was sexually abused by Larry Nassar."
Biles wrote that his behavior was completely unacceptable, disgusting and abusive, especially from someone she was told to trust.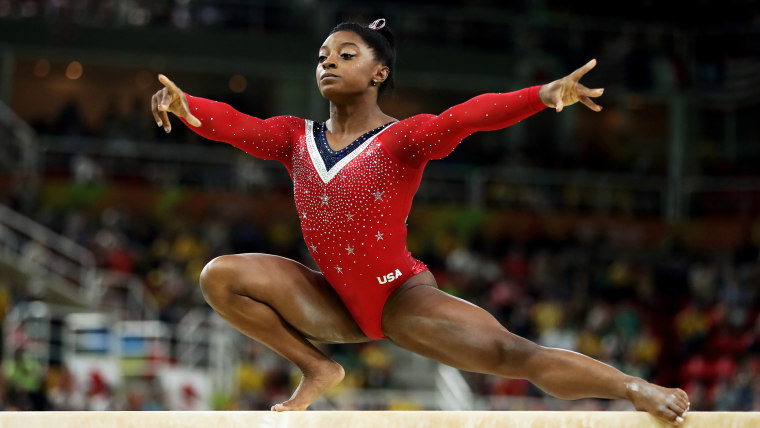 "For too long I have asked myself, 'Was I too naive? Was it my fault?' I now know the answers to those questions. No. No, it was not my fault. No, I will not and should not carry the guilt that belongs to Larry Nassar, USAG (USA Gymnastics), and others.
"It is impossibly difficult to relive these experiences and it breaks my heart even more to think that as I work towards my dream of competing in Tokyo 2020, I will have to continually return to the same training facility where I was abused," the Olympic gold medalist continued.
Biles added that the experience will not define who she is, and that she has promised herself her "story will be much greater than this."
After Biles tweeted her message, Raisman offered her support, writing, "I am so proud of you. You are incredible Simone. I stand with you. I am shaking reading your post. I know we will all get through this together."
Raisman discussed her own allegations against Nassar in an interview with TODAY in November. "He was such a master manipulator," she said. "And I think that's what's important for people to understand is that these monsters are so good at manipulating you. You're so brainwashed to think, I thought he was so nice."