Olympic gold medalist Gabby Douglas has become the latest in a growing list of athletes to claim she was sexually abused by the former USA Gymnastics team doctor.
Douglas raised her allegations in an Instagram post Tuesday, joining her 2012 "Fierce Five" teammates McKayla Maroney and Aly Raisman who have said they were molested by team physician Larry Nassar.
The post comes days after Douglas, 21, apologized for appearing to place the burden on women to avoid sexual harassment by dressing modestly. On Tuesday, she apologized again for her comments in a lengthy Instagram post.
"I know that no matter what you wear, it NEVER gives anyone the right to harass or abuse you," she said. "It would be like saying that because of the leotards we wore, it was our fault that we were abused by Larry Nassar."
A publicist for Douglas later confirmed that the gymnast's post was confirmation that she was a victim of Nassar.
Nassar is currently in a Michigan jail after pleading guilty to child pornography charges. He also faces numerous sexual assault charges stemming from his time working at Michigan State University.
Douglas, a three-time Olympic gold medalist, said she didn't disclose his abuse earlier because "for years we were conditioned to stay silent and honestly some things were very painful."
In addition to being part of the 2012 Olympic women's gymnastics team known as the "Fierce Five," Douglas also was a member of the 2016 "Final Five" that competed in the Rio de Janeiro.
Her allegations follow similar revelations last week by teammate Raisman, who called Nassar "a monster" who molested her under the guise of giving her medical treatment.
Both claims come a month after Maroney revealed she endured years of abuse by Nassar, starting from age 13 until she left the sport.
Last week, Douglas drew widespread criticism to a response she made to a tweet posted by Raisman, who said that men do not have a right to shame or sexually abuse women who choose to wear sexy outfits.
"It is our responsibility as women to dress modestly and be classy. Dressing in a provocative/sexual way entices the wrong crowd," Douglas wrote in a tweet that she later deleted.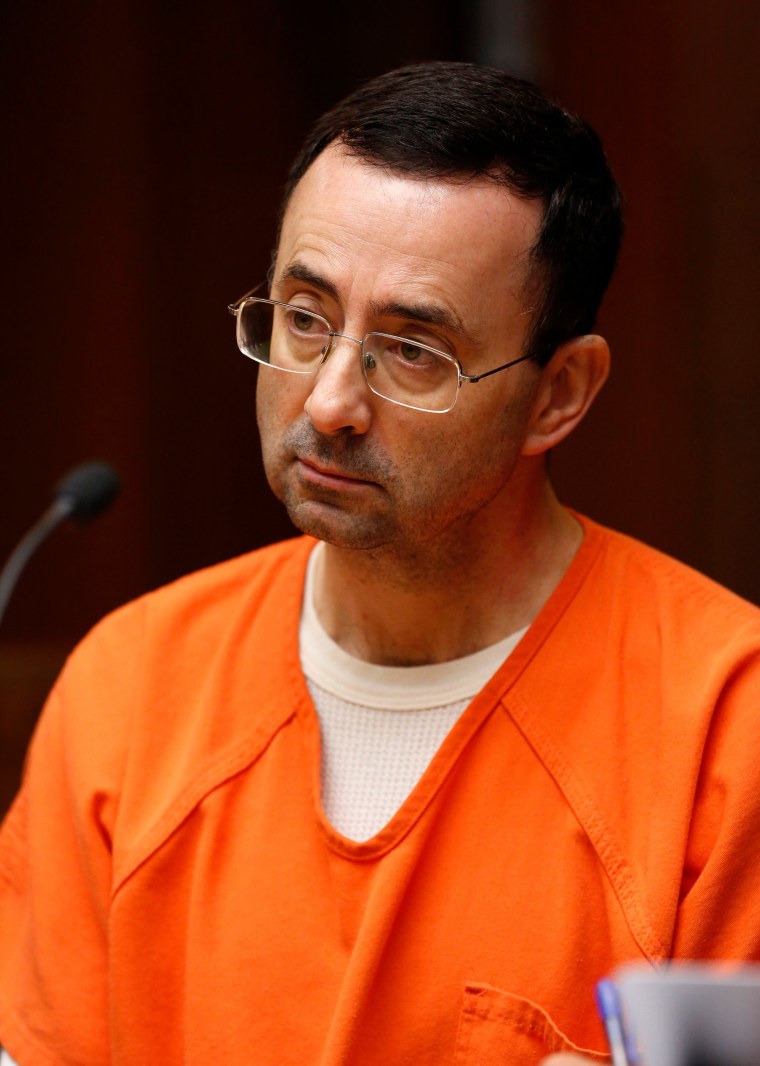 The post drew ire from her 2016 teammate Simone Biles, who captured the tweet in a screenshot.
"Shocks me that I'm seeing this but it doesn't surprise me," she wrote. "I support you Aly & all the other women out there! STAY STRONG."
Douglas in a separate tweet later apologized for "coming off like I don't stand alongside my teammates. Regardless of what you wear, abuse under any circumstance is never acceptable. i am WITH you. #metoo."
USA Gymnastics released a statement expressing admiration for Douglas and her teammates "in speaking out publicly to hold a predator accountable." The organization called Nassar's conduct " appalling and we are very sorry that any athlete has been harmed during her or his gymnastics career."
Nassar is charged with 22 counts of sexual assault charges stemming from his time working as Michigan State University's gymnastics doctor. The Detroit News reported that he is expected to plead guilty to first-degree criminal sexual conduct charges he assaulted girls during treatment.