Olympic gold medal gymnast Aly Raisman said her recent revelation about being sexually abused by the team's doctor "is just the beginning" of her effort to force change to prevent other athletes from being abused.
The six-time Olympic medalist spoke out Monday about how Dr. Larry Nassar, now in jail facing facing separate sexual assault charges, molested her under the guise of giving her medical treatment.
"I just thought he was weird. I want people to know, that I really didn't know what was happening to me. He was a doctor and he told me that his treatment would heal all of my injuries," she told TODAY's Hoda Kotb in an interview Monday. "I was so young. I had never really worked with another doctor or trainer before, and everyone said that he was the best."
Raisman, who originally raised the allegations in an interview with "60 Minutes," said USA Gymnastics leaders assured her that Nassar only had her best intentions in mind. She said the doctor also made numerous efforts to win her over.
"He would give me gifts so I really thought he was my friend, and he always seemed he had my back," she said. "He was such a master manipulator. And I think that's what's important for people to understand is that these monsters are so good at manipulating you. You're so brainwashed to think, I thought he was so nice."
Raisman's revelation comes just a month after her 2012 "Fierce Five" teammate McKayla Maroney first alleged that she had been abused for years by Dr. Larry Nassar, beginning when she was 13.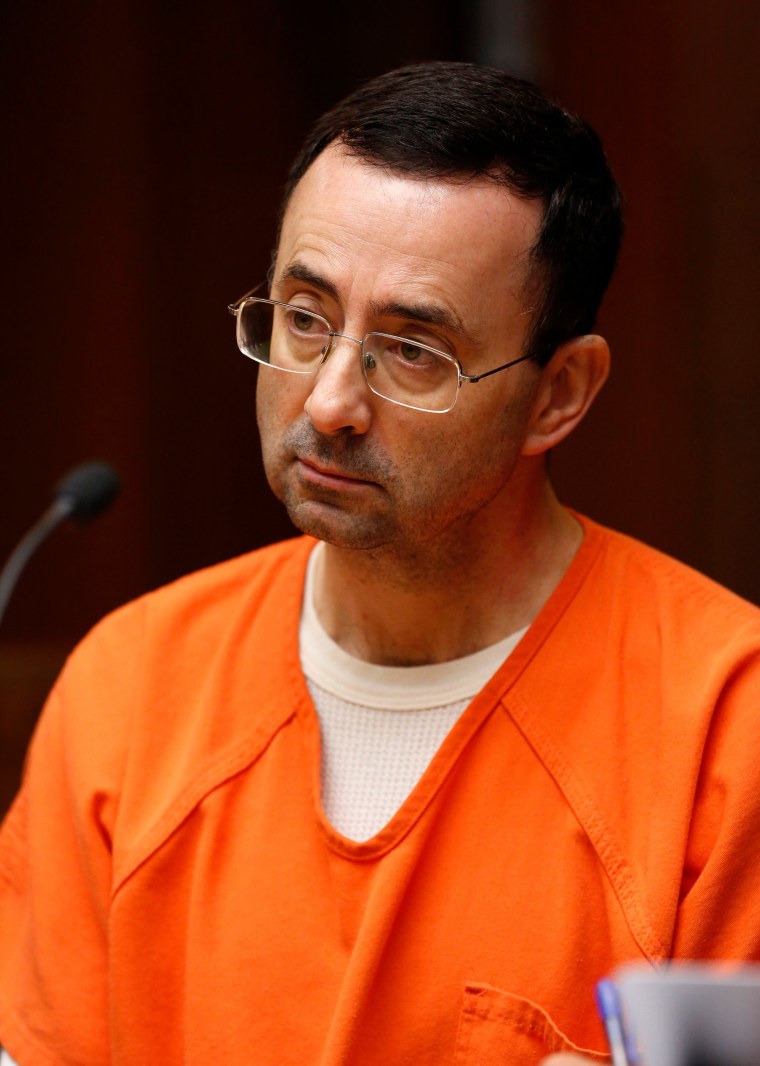 Nassar is currently in jail after pleading guilty to child pornography charges. He also is awaiting trial on sexual assault charges after being accused by dozens of athletes who say the doctor abused them while pretending to give them medical treatments.
"I think he's a monster," Raisman said. "It is so disturbing to me what he did to me and so many other people. This is so much bigger than just me. It's such a horrific thing to happen."
Raisman, 23, who says she was first treated by Nassar when she was 15, also details Nassar's abuse in her new book, "Fierce."
Raisman said when she was interviewed about Nassar in 2015 by a private investigator for USA Gymnastics, she made it clear that the doctor touched her inappropriately and made her feel uncomfortable. But she said she initially made excuses for him because "that's often what people do when they're manipulated."
When she realized the depth of what the doctor had been doing, Raisman said she asked to meet with the investigator again but her request was rejected by USA Gymnastics.
"After I had time to process it, I realized, this is really bad, and I was basically told just to kind of keep it quiet, and they were handling it. And they so they didn't let me help. I want to help. I want to do more," she said.
Raisman has been a vocal critic of the way both USA Gymnastics and the U.S. Olympic Committee has responded to allegations about Nassar as well as other allegations of sexual abuse by athletes.
USA Gymnastics released a statement saying it recently adopted a new "safe sport policy" that requires mandatory reporting"of suspicions of sexual abuse. But Raisman said the organization has failed to do enough, saying they've been responding with similar statements they've made in the past.
That prompted her to come forward and speak out.
"If I can help one person, then that's totally what it's all about," she said. "This is just the beginning. I'm just getting started, and I'm not going to stop until I get what I want, which is change."