Throughout their 83-year rivalry, there has been no love lost between fans of the New York Giants and Philadelphia Eagles.
But what happens when the fan of the enemy is in your own family?
As part of TODAY's "Share Kindness" series, Sheinelle Jones caught up with a pair of families who have managed to find common ground even though they are split between the green and white and the blue and red.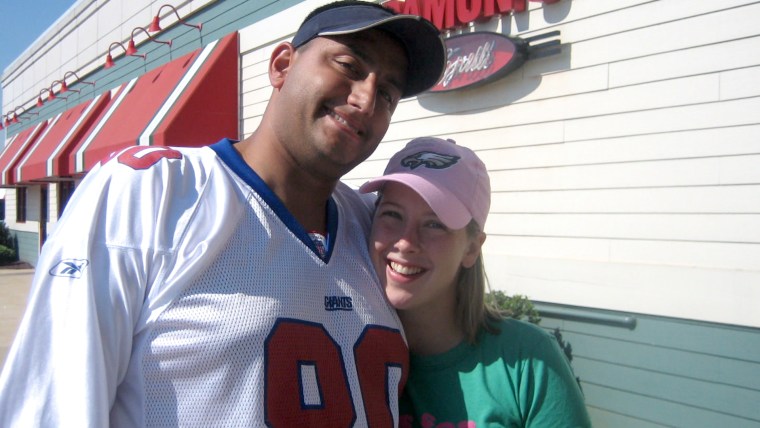 Ian Sikdar bleeds blue for the Giants, while his wife, Beth, is a diehard Eagles fan. Before the latest installment of the rivalry in Philadelphia on Thursday night, they came together for a "kindness tailgate" with fans of both sides at the XFINITY Live! sports complex, a partner of Comcast, which owns NBC Universal.
"Like I said, nobody's perfect,'' Ian joked about his wife's fandom. "So, I fell in love in spite of (it)."
The two met in college, flirting over their mutual hatred for the other one's favorite team.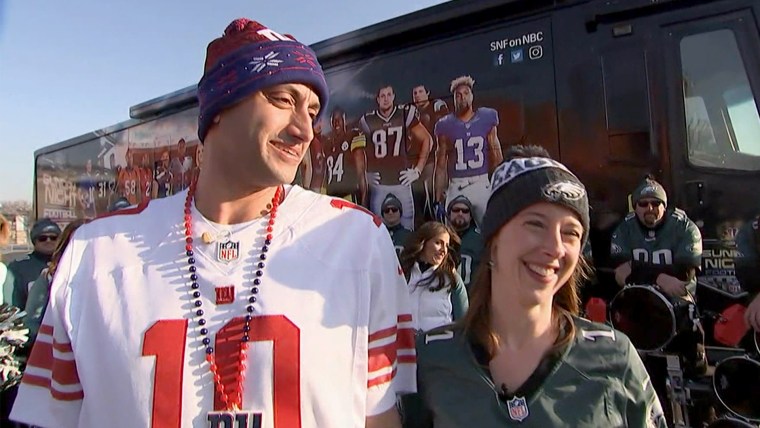 "Why not?" Ian said. "There's lots of wonderful things about football days, and so (there was the) opportunity that we got to hang out together."
RELATED: 'My hero is her': Watch these kids describe their real-life superheroes
The couple has been married for 10 years and have a daughter, Cecilia, 3, whose football allegiance is still undecided.
"She loves football,'' Beth said. "We've been getting her involved since she was born."
The Eagles-Giants rivalry also has gotten between fathers and sons.
Jeremy Shubach was born in the Bronx into a diehard Giants fan family, but when he was a year old, the family moved right near Veterans' Stadium, the Eagles' former home in Philadelphia. He has bled green ever since.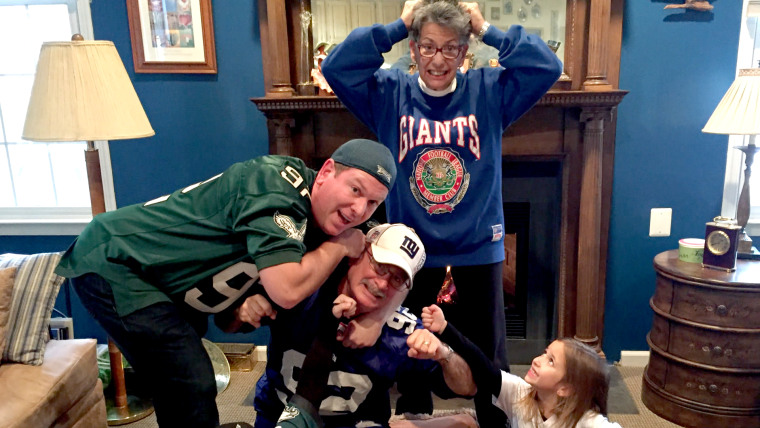 "I love my parents dearly, but they had to accept the fact that I grew up 15 minutes outside of Philly,'' Jeremy said.
RELATED: Window-washing Santa and elves make spirits bright at children's hospital
That hasn't stopped Jeremy's father, Jeff, from trying to convert his grandchildren into fans of Big Blue.
"What do you say?" Jeremy said. "I love you grandpa, but..."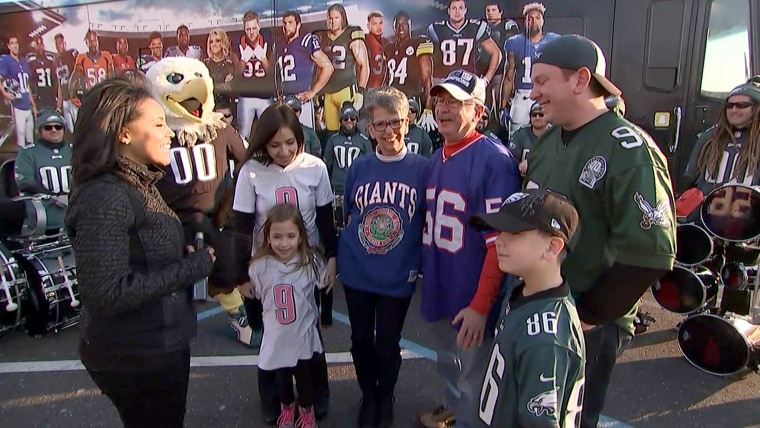 The latest installment of the rivalry that dates back to 1933 concluded with a 24-19 victory by Philadelphia on Thursday night that prevented the Giants from securing a playoff berth, at least for a couple days.
While there was plenty of good-natured ribbing between families like the Shubachs and the Sikdars, there was one thing they all shared — spending time together.
This story is part of NBCU's Share Kindness. Follow the series on Facebook, Twitter and Instagram. #ShareKindness