Grimace may be a vaguely bear-like creature of unknown genus, but he's certainly not hibernating this season.
On Nov. 13, McDonald's and Crocs announced a collaboration that takes the nostalgic characters of McDonaldland and immortalizes them onto Crocs footwear with a full line of shoes, socks and Jibbitz charms.
The line, which the brands say will "elevate any look" become available beginning Nov. 14. The line is McDonald's first-ever collaboration with Crocs, joining Taco Bell and KFC in the collection of fast-food-themed foam footwear to hit the market in recent years.
The brands matched Crocs' Classic Clogs and Cozzzy Sandals (yes, that's with three Zs) with McDonald's characters Grimace, Birdie the Early Bird and the Hamburglar, as well as the chain's color scheme, to create a limited-edition collection designed to give fast-food lovers a way to step into the literal shoes of their favorite mascots.
The shoe line is now live on the Crocs website, at Crocs retail locations and select wholesale partners, while supplies last.
The shoes — complete with Jibbitz charms — cost about $70 to $75 a pair, and the socks are going for $20 each. Here's the full lineup:
Grimace x Crocs Cozzzy Sandal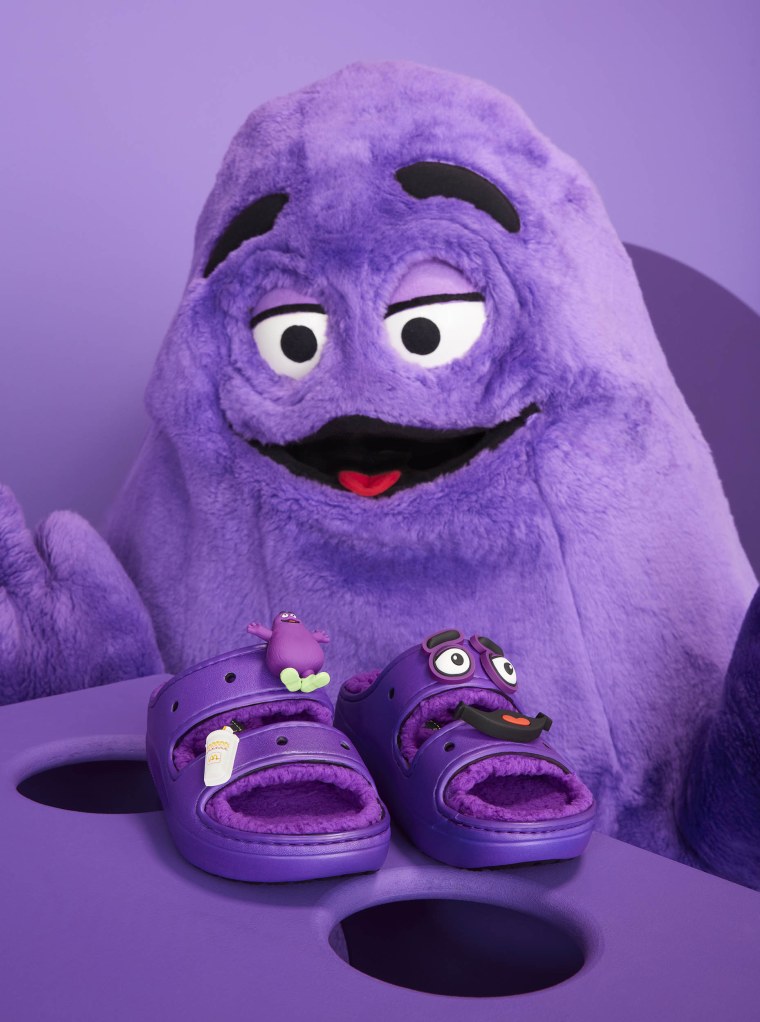 This shoe is inspired by Grimace, the possible taste bud and this summer's viral sensation. These sandals are lined in faux fur the brands say will "have you feeling like you're walking a day in Grimace's shoes."
Featuring his magnetic visage on the straps, the Grimace Cozzzy Sandal comes with a Jibbitz charm to represent his Birthday Shake, which inspired memes for months and cemented his status as the internet's bestie. It also can be paired with matching socks (which seem to be sold out as of publication).
Birdie x Crocs Classic Clog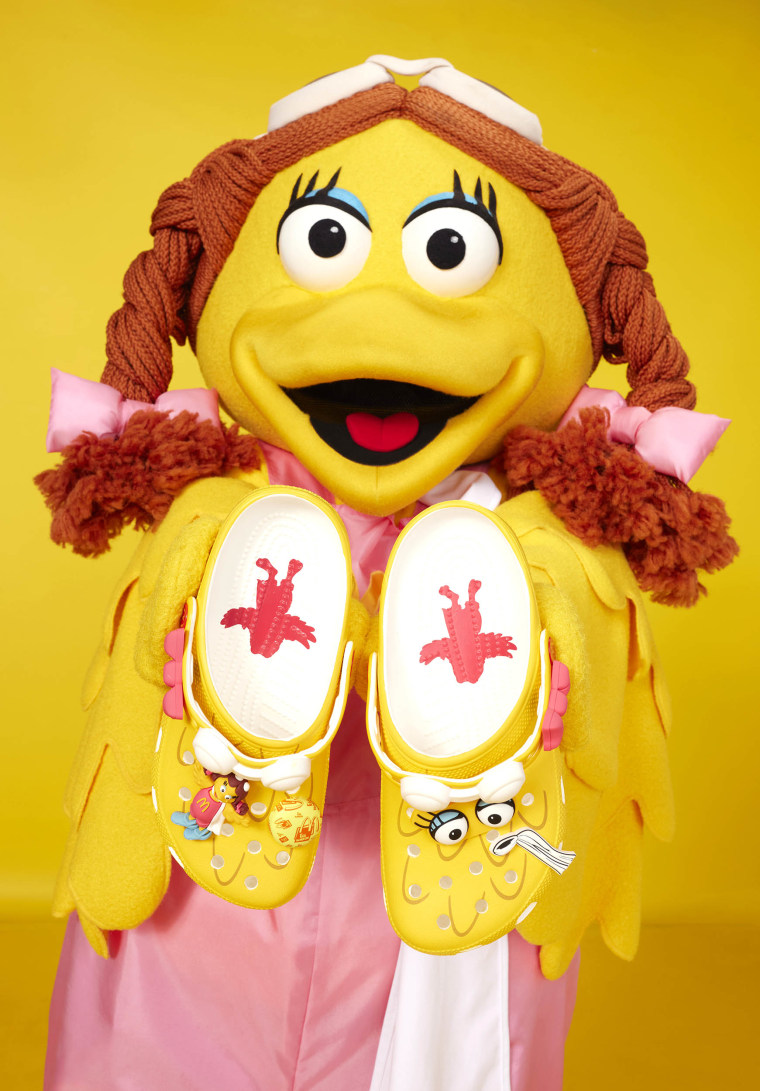 Birdie the Early Bird's Classic Clogs come in the character's signature yellow and pink, with Jibbitz that represent her origins as the chain's breakfast mascot.
In addition to her eyes, scarf and figure as Jibbitz on the shoes, her "favorite menu item," a McDonald's Egg McMuffin, also is included in Jibbitz form. The clogs can also be paired with Birdie-themed winged pink socks (which also seem to be sold out).
Hamburglar x Crocs Classic Clog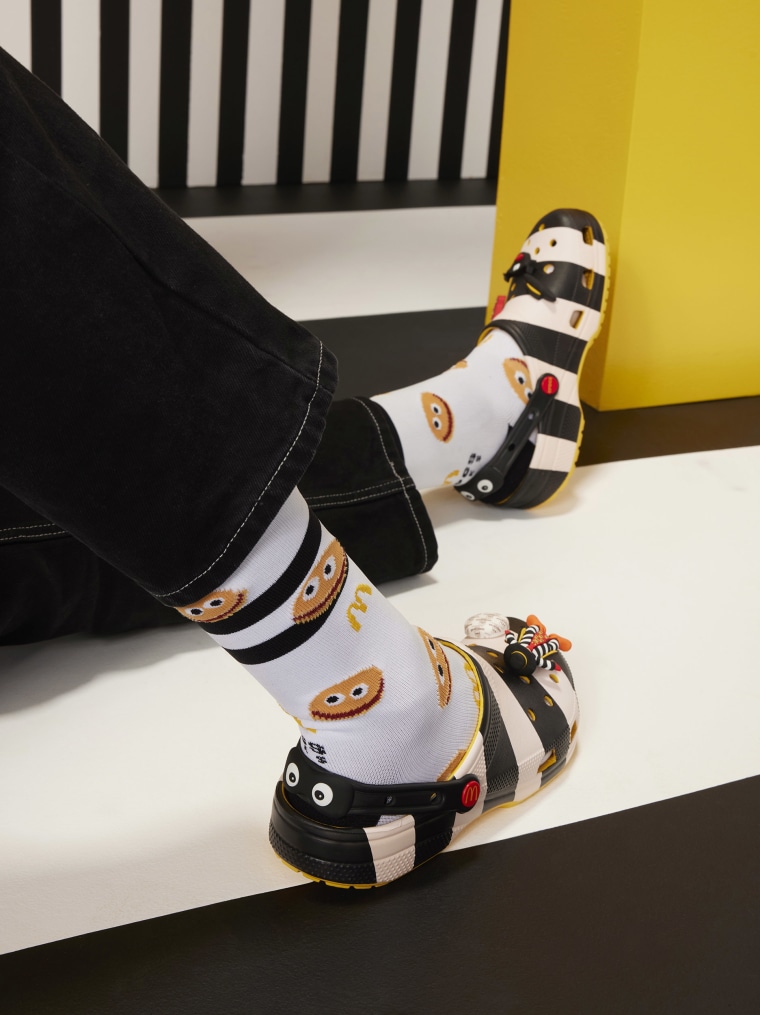 Everyone's favorite beef patty larcenist is immortalized with a pair of Classic Crocs decorated in Hamburglar's iconic black and white stripes. His Jibbitz charms include his hat, smile, tie and wouldn't be complete without the object of his affection: a hamburger. A set of matching socks are also available to pair with the look (though they also look to be out of stock).
McDonald's x Crocs Classic Clog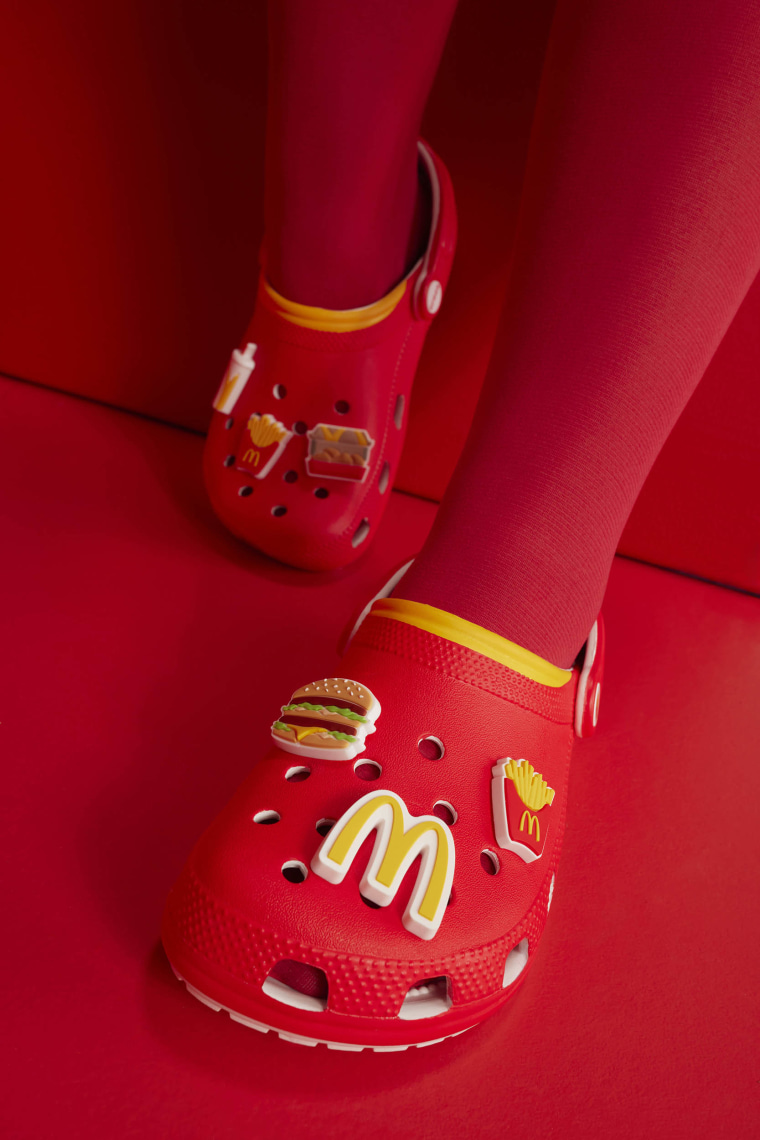 Folks who want to show their love for the brand as a whole can sport the McDonald's x Crocs Classic Clog. The shoes come with Chicken McNuggets, World Famous Fries, Big Mac, drink and logo Jibbitz charms. You can also buy these five charms on their own for $20.
McDonald's says that this marks its first global shoe partnership. So, in honor of the Crocs partnership, McDonald's will donate a portion of the proceeds to Ronald McDonald House Charities.