The chicken sandwich wars have a contender returning to the ring, and this one is thinking outside the bun.
Taco Bell has revived a menu item — now available nationwide for a limited time — that has been missing from its menu for some time: the Crispy Chicken Taco.
Originally introduced in 2021 under the name Crispy Chicken Sandwich Taco, its fillings were served in a taco-shaped puffy bread. The new version ditches the bread for a soft tortilla.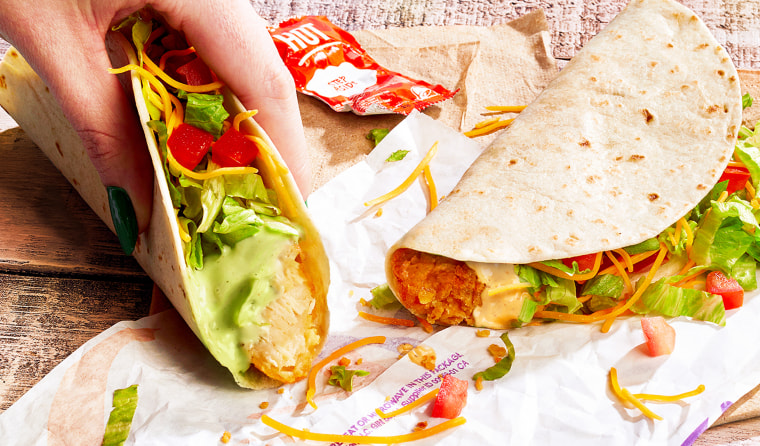 Selling for $2.49 a pop, the new Crispy Chicken Taco is a warm tortilla filled with a crispy chicken strip, lettuce, tomatoes, cheddar cheese and the customer's choice of two sauces: Creamy Chipotle or Avocado Ranch.
Both soft tacos can be made Supreme with sour cream and diced tomatoes for 90 cents, or Fresco with diced tomatoes replacing either sauce, gratis.
Additionally, particularly ravenous Taco Bell customers can order a Crispy Chicken Taco Deluxe Box for $9.49, which includes a medium drink, one of either of the Crispy Chicken Tacos, any of four types of Chalupa Supreme, a Beefy 5-Layer Burrito and Cinnamon Twists or Chips and Nacho Cheese Sauce.
Reaction to the news of the Crispy Chicken Taco's return has been almost universally positive, at least on social media.
"Taco bell brought back the crispy chicken taco in an effort to save my life," tweeted one person.
"Thrilled!!! already had them once this week and will probably have them again sometime this weekend," commented one Reddit user.
"The grimace shake may be gone, but Taco Bell brought back the crispy chicken soft taco so I'm thriving," wrote another Twitter user.
Many fans made the comparison between the Taco Bell menu item and McDonald's discontinued (but beloved) Snack Wrap.
"Honestly, McDonald's doesn't need to bring back the snack wraps because the crispy chicken tacos at Taco Bell have fully satisfied my need," tweeted one person.
"alerting all snack wrap heads!!! The Taco Bell crispy chicken taco tastes VERY similar to a McDonald's snack wrap," wrote another Twitter user.
"Taco Bell got this crispy chicken taco now & that mf hit better than the snack wraps folks been begging McDonald's for," tweeted someone else.