There might not be real food or drinks in Barbie World, but the real world is cooking up plenty of treats to celebrate the upcoming release of "Barbie."
On July 21, we will fully welcome "Barbie" into our hearts, and in the lead-up to such a perfectly plastic occasion, the marketing geniuses behind the flick have decided to inundate the public with pink, pink and even more pink.
There are tons of non-food-related "Barbie" collaborations out there to choose from: Aldo footwear, a whole Zara collection and even a $2,169 Dreamhouse-inspired sofa, littering the consumer landscape like little Barbie shoes scattered across the living room carpet after a playdate.
But none of those are edible. Luckily, for fans with appetites, there are just as many "Barbie" food-and-bev partnerships, from pink burgers to
Check out all the ways you can add Barbie to your menu below.
Burger King's Brazil's BK Barbie Combo
Burger King Brazil set the internet ablaze when it announced its limited-time BK Barbie Combo available on July 12.
Along with "Ken's potatoes" — just french fries in an attractive container — comes the main attraction, the Pink Burger, which includes a burger patty topped with a slice of melted cheddar cheese, an "incredible smokey pink sauce" and crispy diced bacon, between brioche buns.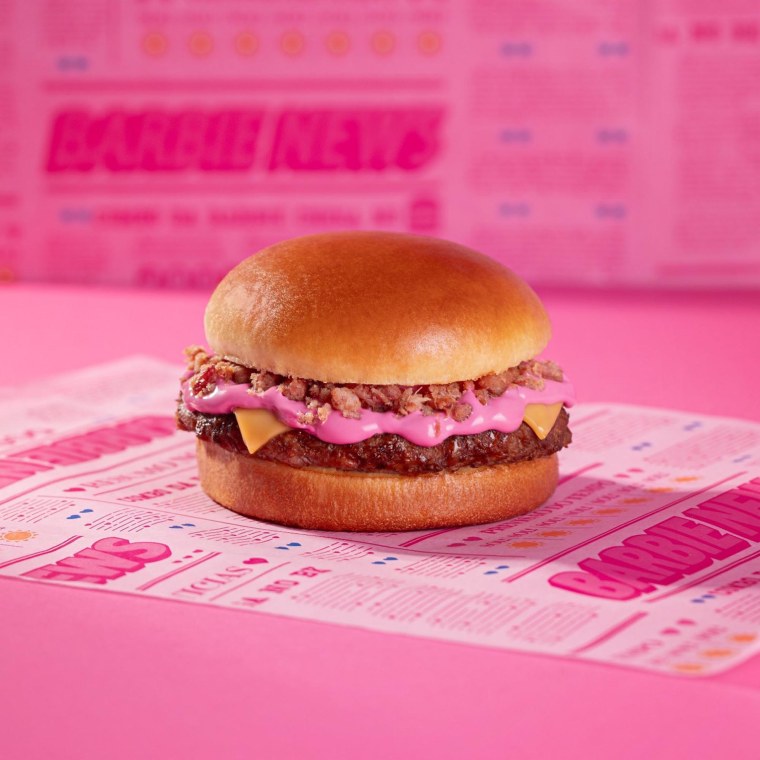 For dessert, the Barbie Donut Shake consists of vanilla ice cream and strawberry Nesquik blended into a millennial pink drink before being topped with a pink doughnut.
Cold Stone Creamery's All That Glitters is Pink Creation
Cold Stone Creamery has partnered with Warner Bros. Pictures and Mattel to introduce a new Barbie-inspired flavor: Pink Cotton Candy. The new flavor is now available in-store and online on its own or in cake form for a limited time, while supplies last.
First, the "All That Glitters is Pink Creation" combines Pink Cotton Candy Ice Cream with graham cracker pie crust, "Dance Party Sprinkles" and completes the dessert with whipped topping.
The ice cream "captures the very essence of the iconic character with its sweet, dazzling flavors and attention grabbing looks," according to Cold Stone. This can all come in a limited-edition "Barbie" movie-themed cup.
TikTokers are using the new pink ice cream to order what they're calling the "Barbie shake" and participate in a trend where men take a sip and turn into, well, Barbie, of course.
And no "Barbie" premiere party is complete without Cold Stone's "Best Cake Ever."
"Drawing inspiration from the film's Best Day Ever themes, this statement cake is made with layers of moist Yellow Cake and Pink Cotton Candy Ice Cream with Dance Party Sprinkles wrapped in fluffy White Frosting," reads a press release.
If those sweet treats weren't enough, guests can enter the Barbie The Movie Sweepstakes for a chance to win themed prize packages, including movie tickets via Fandango, Cold Stone Creamery gift cards and a grand prize that includes a Barbie Dreamhouse.
To enter, visit the contest's website between June 28 and Aug. 8, when Cold Stone's "Barbie" collab officially concludes, for your chance to win big.
Pastifica Di Martino's Barbie Pennette Rigate
Surprisingly, not everything on this list is sweet — there are some savory foods in the mix, too. Whole Foods Market brought a pop of pink to the table by launching a new suite of Barbie pastas from Pastifica Di Martino.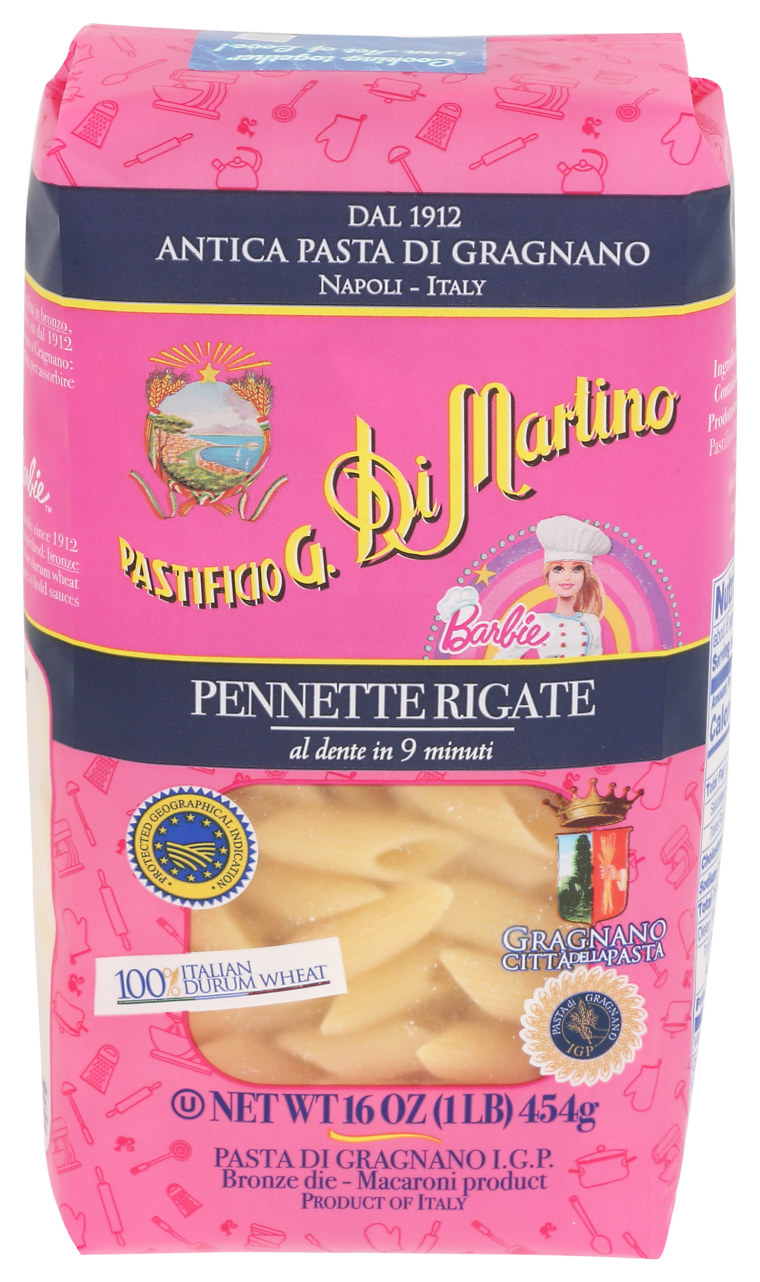 The Barbie Pennette Rigate (tiny cut penne) in Barbie pink packaging is rolled out across all Whole Foods locations starting in late June. While the pasta isn't pink, the pasta company suggests pairing it with a Barbie-approved "pink sauce" like a vodka sauce or creamy beet sauce.
Additionally, on the Pastifica Di Martino website, there's a whole collection of Barbie pasta shapes to choose from, including spaghetti, macaroni, alphabeto, orzo, farfalle and lumachine. There are also specialty "Barbie" tin boxes, which include multiple packs of pasta, a Barbie chef doll and a recipe book.
Pinkberry's Barbie Land Berry Pink Frozen Yogurt
With a name like Pinkberry, a "Barbie" collab was only natural.
In celebration of the movie, the Kahala Brands-owned chain created the Barbie Land Berry Pink frozen yogurt. The flavor consists of a blend of Strawberry and Dragon Fruit-flavored frozen yogurt topped with "Dream Sprinkles" (pink and white sprinkles, silver sugar and star shapes).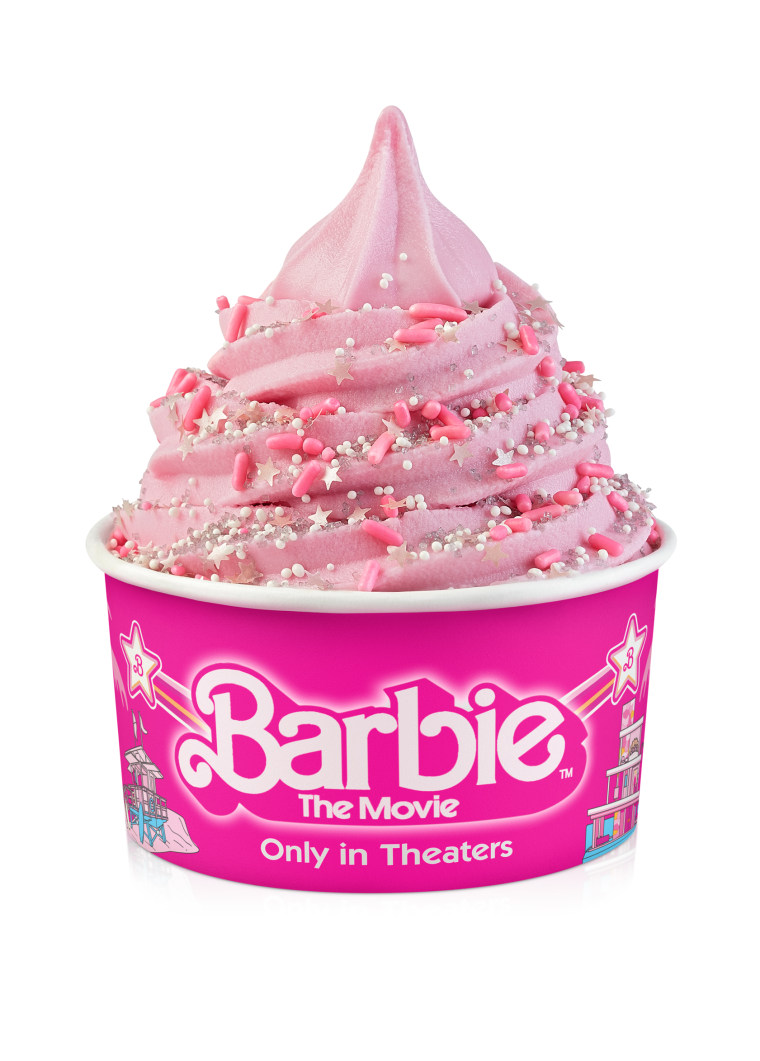 "We are thrilled Warner Bros. chose to partner with Pinkberry for their playful and empowering BARBIE," said Melissa Hubbell, vice president of marketing for Kahala Brands, in a press release. "The brand is a natural fit for this epic summer movie! The perfectly pink hues of the Barbie Land Berry Pink frozen yogurt echo Barbie's iconic character's fun yet bold personality. We know our guests will love this new swirl topped with Dream Sprinkles that is made for the spotlight!" 
Pinkberry is also running a contest that could score winners free merch, gift cards and more. Go to the contest website to enter by Aug. 11.
Krispy Kreme Philippines' Barbie Doughnuts and Cotton Candy Chiller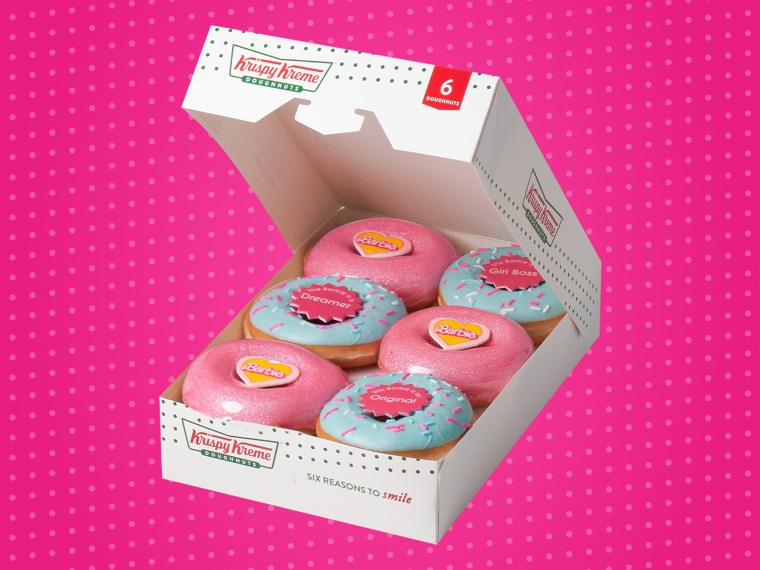 Krispy Kreme Philippines is offering a bite of pink perfection with two Barbie-themed doughnuts and a drink to wash 'em down with.
The first doughnut, the Original, has blue icing and pink and blue sprinkles, and the sparkly "Girl Boss" doughnut is pink with a glittery glaze.
KK Philippines's Cotton Candy Chiller is made with a combo of "kreme" base, cotton candy flavor and pink "glittergelli," which, upon closer inspection, literally appears to be literally jelly full of glitter. The drink is then finished with a topping of whipped cream, sprinkles and a Barbie candy topper.
Swoon's Barbie Pink Lemonade
The Barbie x Swoon Pink Lemonade is a very pink beverage from the zero-sugar drink company. The sugar-free beverage combines the flavors of strawberry and lemon and is made with 100% natural lemon juice concentrate.
"Barbie is an iconic brand that continues to reflect the women of today. Together Swoon and Barbie are committed to celebrate and evolve the classics to create a better future," reads Swoon's Instagram post.
The drink also is paleo-friendly, gluten-free and keto.
W Hotel Osaka's Barbie The Movie Café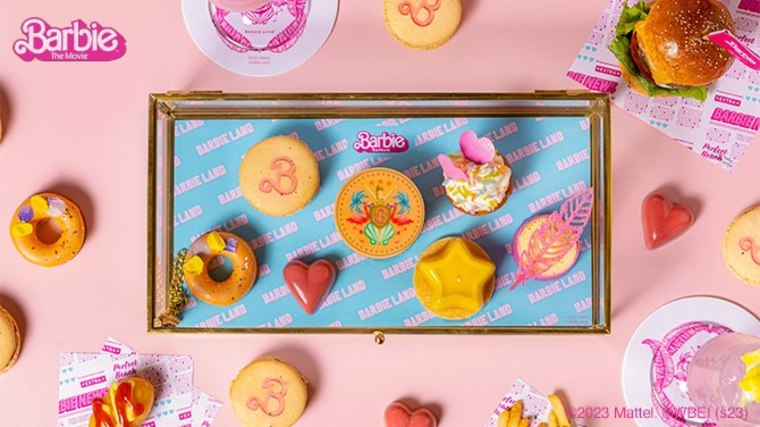 In celebration of the movie premiere all the way over in Japan, the W Osaka opened for a limited time the Barbie The Movie Café, which is reminiscent of the Malibu Barbie Cafe in NYC and Chicago (which is, to be clear, not an official "Barbie" movie collab).
On the menu are several Barbie-themed treats and sweets, including an assortment of parfaits, macarons, tarts, cupcakes, cheesecake and mini doughnuts, as well as savory items like a mini corn dog and french fries.