Ingredients
3

ounces roasted beets (about 2 small beets; measured after roasting)
Olive oil, for drizzling

1

pound fettuccine

2

tablespoons olive oil

1

large onion, chopped

4

cloves garlic, minced

3/4

cup raw cashews
2

cups water

1

tablespoon lemon juice

2½

teaspoons sea salt
Lemon-Chive Ricotta (see below)
Fresh basil, cut into chiffonade for garnish
Freshly ground black pepper
Lemon-Chive Ricotta (Makes about 3 cups)
1

tablespoon olive oil

1

large onion, roughly chopped

3

cloves garlic

1

(14-ounce) package extra-firm tofu, drained
2

tablespoons lemon juice

2

teaspoons sea salt

1

teaspoon freshly ground black pepper

1/2

cup chopped chives
Chef notes
*If you are not using a high-powered blender, such as a Vita-mix, soak cashews or almonds overnight or boil for 10 minutes and drain. This will soften them and ensure a silky smooth cream.
The Lemon-Chive Ricotta can be made the day before and stored in the refrigerator. 
Preparation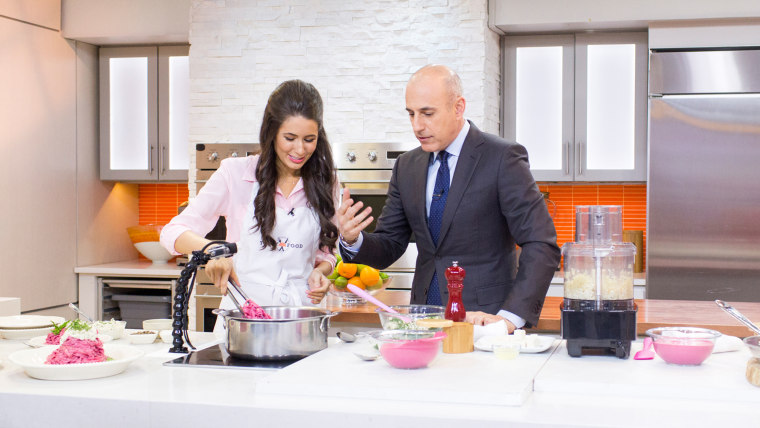 For the Beet Fettuccine Alfredo:
Preheat the oven to 425°. Wash and scrub beets and pierce a few times with a fork. Drizzle with olive oil and wrap loosely in foil. Bake for about 1½ hours, or until fork tender. Let cool completely, trim and peel skin, then measure 3 ounces of beet flesh to set aside.
Bring a large pot of heavily salted water to a boil. Add pasta and cook according to package directions. Drain and return to pot.
Meanwhile, heat 2 tablespoons olive oil in a medium skillet over medium-high heat. Add onions and let cook until soft. Add garlic and cook 1 more minute. Remove from heat. In a blender, combine the onions, garlic, cashews, water, lemon juice, salt and the reserved 3 ounces of roasted beets. Process on high until very smooth, about 2 minutes. Add the remaining beets and blend again until smooth. Set aside.
Heat a small skillet with olive oil and add one serving of pasta with as much sauce as desired. Adjust seasoning to taste. Garnish with parsley and black pepper and serve immediately with a dollop of the Lemon-Chive Ricotta. Repeat with remaining pasta.
For the Lemon-Chive Ricotta:
In a large skillet, heat the oil over medium heat and sauté the onion until soft. Remove from the heat.
In a food processor, combine the onions, garlic, tofu, lemon juice, salt and pepper. Process until smooth. Adjust seasoning to taste and stir in chives.