It's beginning to look a lot like Halloween at Starbucks.
Just weeks after the return of the Pumpkin Spice Latte and a new BOGO deal for fall drinks, the coffee chain has unveiled its new line of festive drinkware for the spookiest season of the year.
The new collection features several styles, ranging from mugs and tumblers to cold cups, and you won't have to wait long to take them home. The limited-edition drinkware will be popping up in participating U.S. stores this month and will be available while supplies last.
Dying to get a first look at the collection? Get ready to behold the creepy cups in all their glory below.
Calavera Skull Mug (14 oz.)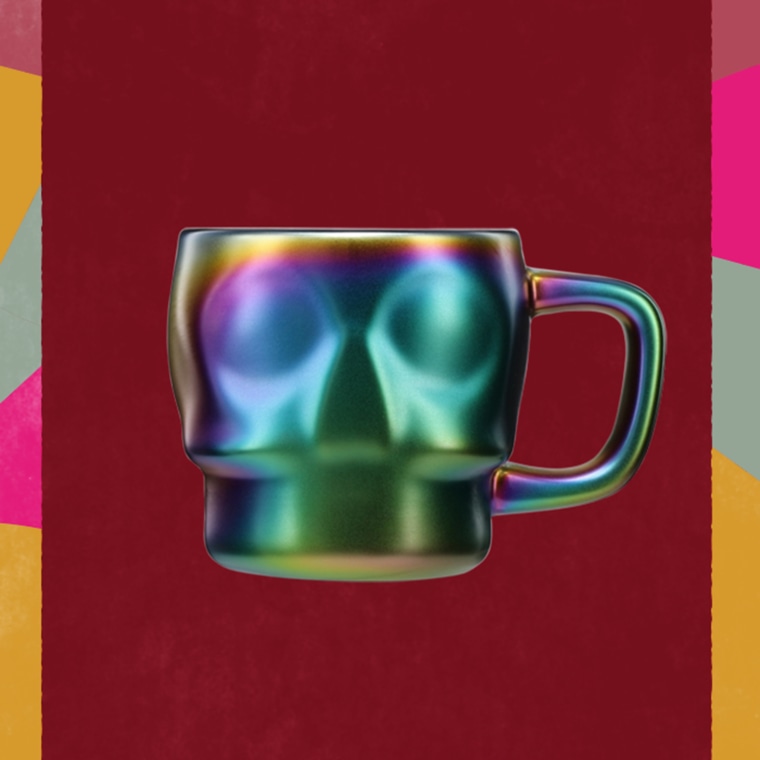 This iridescent mug costs $16.95 and puts a colorful spin on a highly popular piece of Halloween décor — skulls. You'll only find it in Starbucks restaurants that are located inside Target stores.
Pink Pumpkin Mug (12 oz.)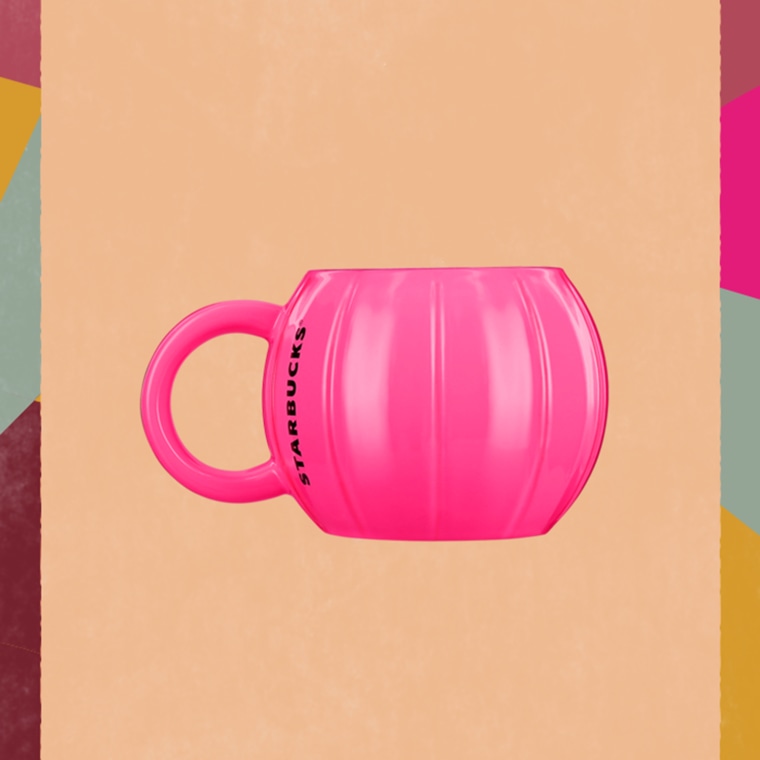 We can't help but wonder if the Barbiecore trend inspired this pretty pink pumpkin mug that retails for $14.95. Either way, we're here for it!
Green Drip Cold Cup (24 oz.)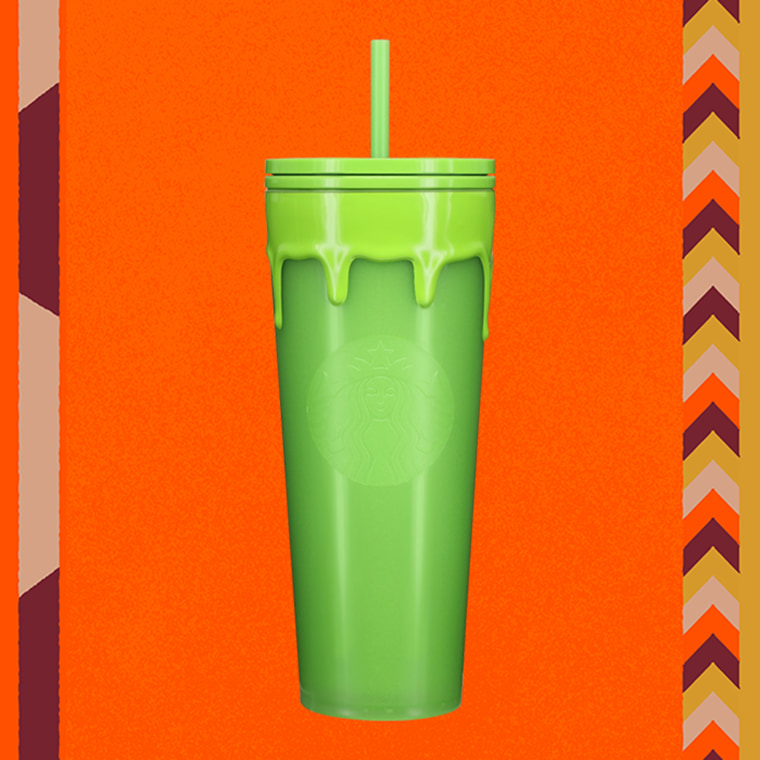 This tall green straw cup simply oozes Halloween spirit. Sold for $29.95, it glows in the dark and features green slime detailing along the lid.
Black Bling Cold Cups (16 oz. and 24 oz.) and Keychain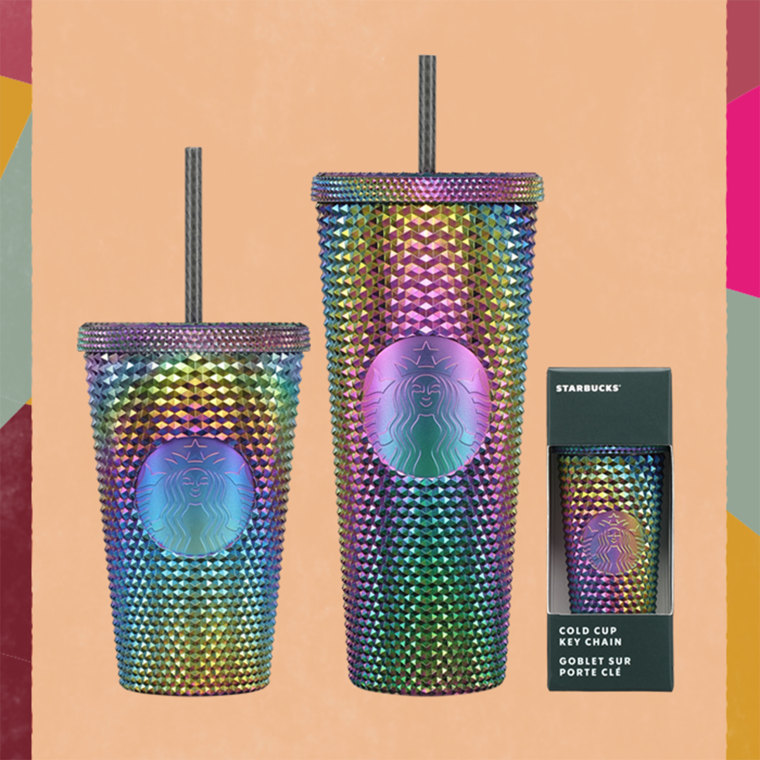 This one's giving mermaid vibes, if you ask us. The multicolored cups come in two sizes: 24 ounces for $29.95 and 16 ounces for $25.95. If you fall hard for the design, it's also available as a keychain ($15.95).
Green Pumpkin Tumbler (12 oz.)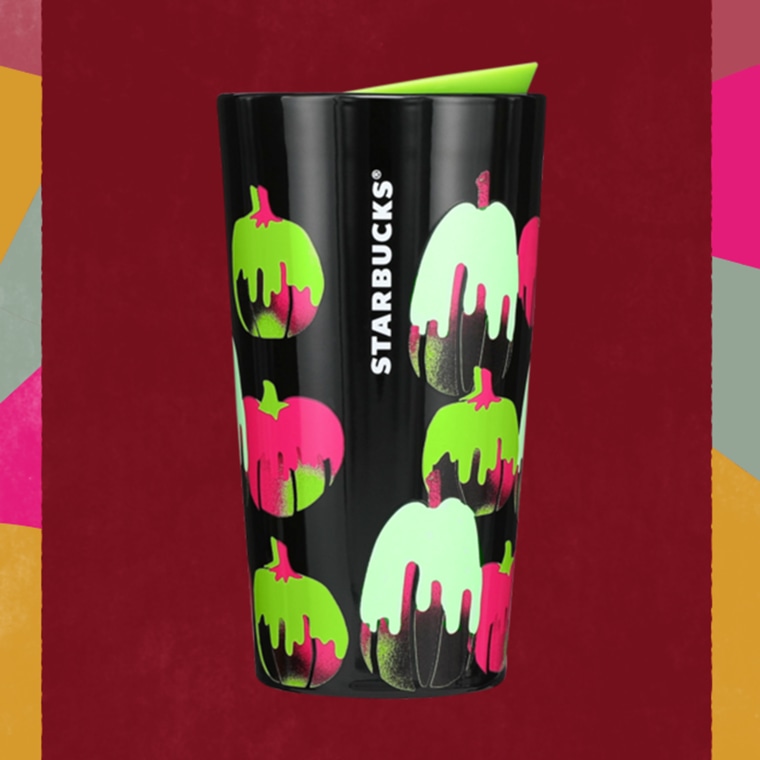 Hey pumpkin! This tumbler retails for $19.95 and is decorated with "haunted pumpkins" that come in multiple colors.
Brown Pumpkin Tumbler (16 oz.)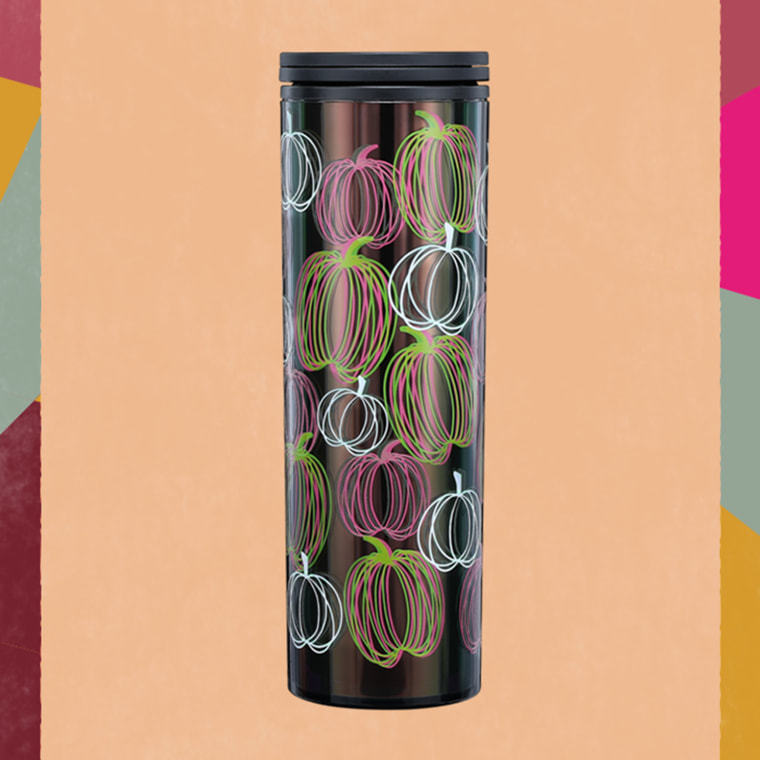 When pumpkin-flavored drinks are life, you need a portable cup that fully shows off your devotion. This tumbler is decorated with sketches of pumpkins and costs $14.95.
Halloween Reusable Hot Cup 6 Pack (16 oz.)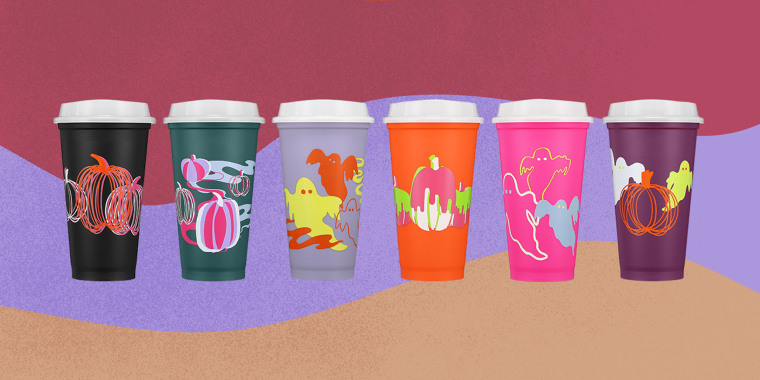 Ghosts and pumpkins and coffee, oh my! This set comes with six reusable hot cups covered in festive designs and retails for $19.95.
Multicolor Cold Cup (24 oz.)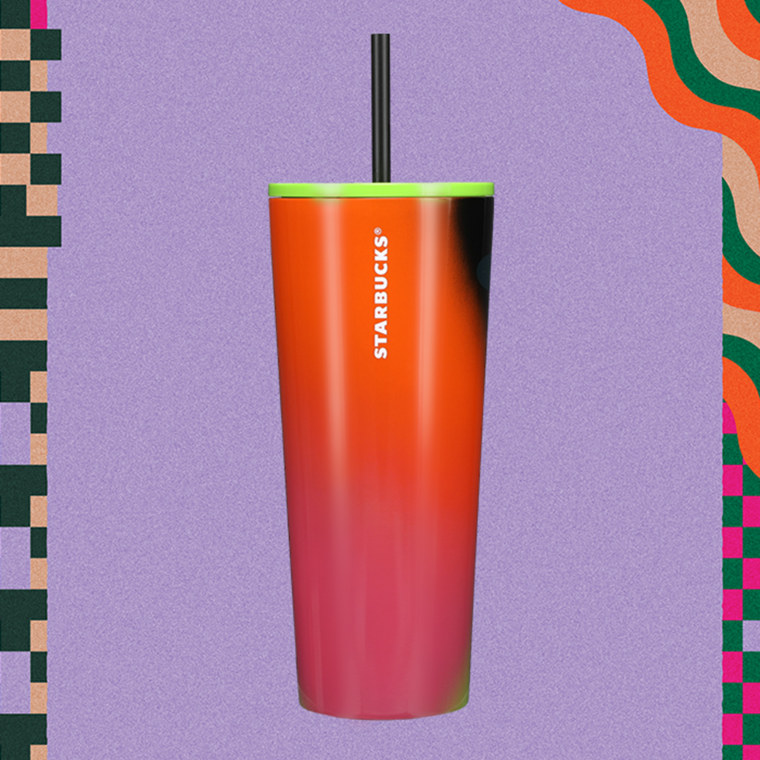 Prefer a more muted approach to Halloween? This ombré cold cup features notes of orange, black, pink and green and is available for $29.95 in Starbucks shops that are located within Target stores.
Multicolor Drip Cold Cup (16 oz.)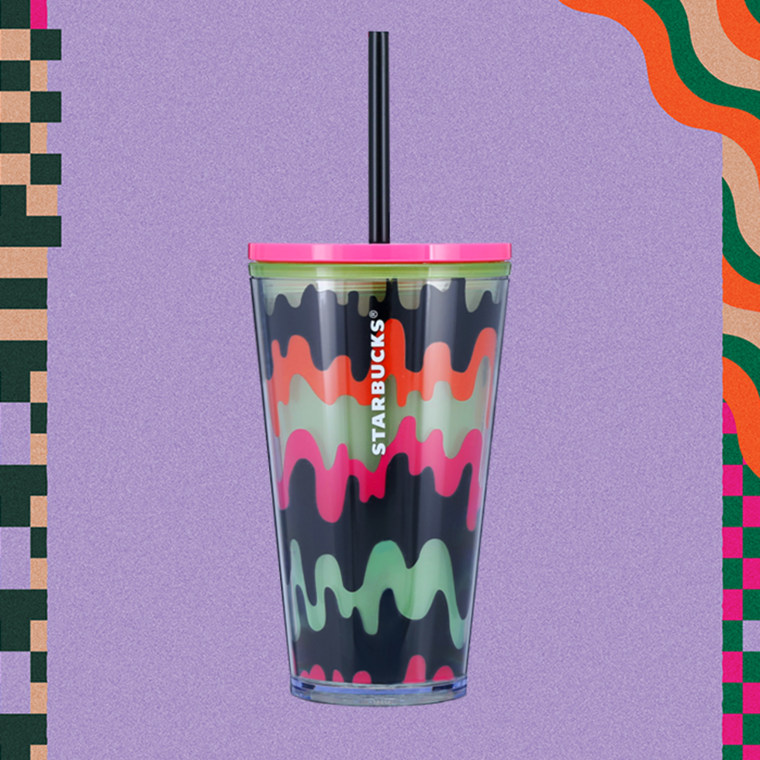 Equal parts spooky and cool, this ghoulishly groovy cold cup has plenty of visual appeal and retails for $16.95.
Pumpkin Fog Cold Cup (24 oz.)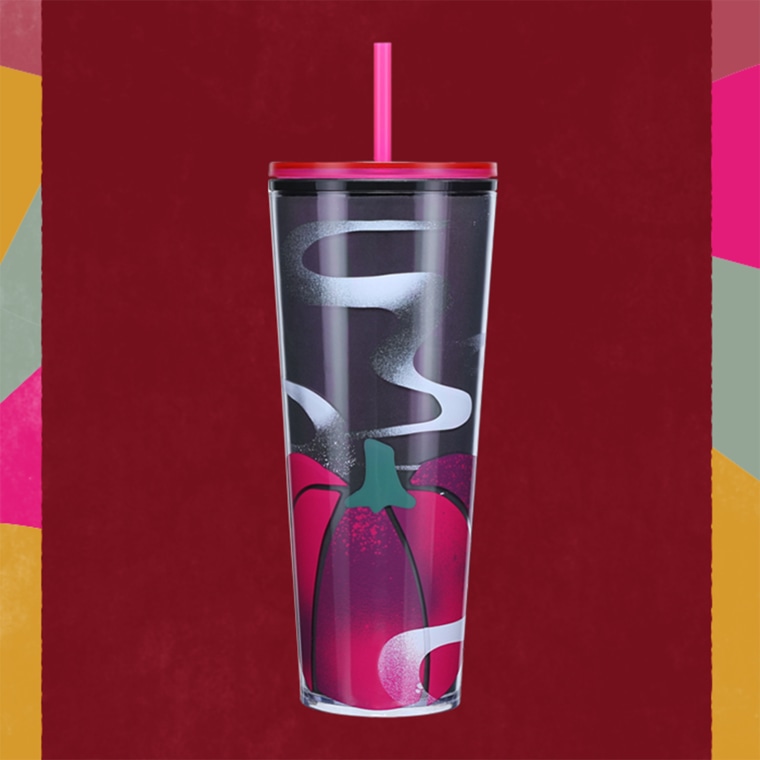 Featuring eerie fog, a prominent pumpkin and a pink straw, this cold cup sells for $22.95.