If you've ever shopped at T.J. Maxx, you know it can be an, ahem, interesting experience.
That's not to say that killer deals can't be found there. But if you want to bargain shop without spiraling into existential panic and rage ... you had better go in with no set shopping list, and you had better allow plenty of time to dig through 65 million baffling and/or broken items to find five gems.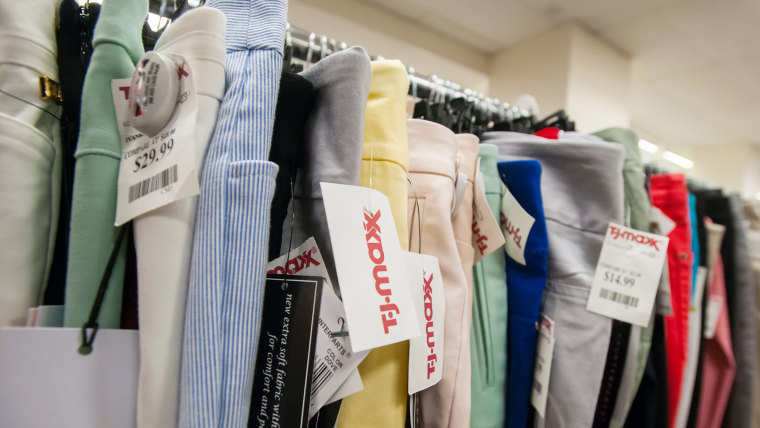 But if Taylor Swift has taught us anything, it's that there are a lot of things that we can forgive in the face of self-awareness ... which is why this Onion article that nails the experience of shopping at T.J. Maxx has us crying tears of laughter, not existential panic and rage. (Mostly.)
The Onion article is angled as a faux announcement of a new website designed to simulate the undertaking of visiting a T.J. Maxx store.
"When you visit TJMaxx.com, you'll immediately be presented with an assortment of surplus clothing available exclusively in sizes that don't fit you," the article "quoted" company CEO Ernie Herrman as saying. "Select 'shoes' from the drop-down menu, and you'll see scores of the same pair of Dolce Vita pumps, a variety of sneaker styles for which only the left shoe is available, some Tupperware without lids, and the occasional ceramic owl."
But wait! There's more! The Onion "reports" there's even a "completely redesigned maternity wear section, which when clicked upon appears to consist of nothing but a single pig-shaped charcuterie board."
(We wonder what finds their new wedding shop holds!)
"If you're a regular at our stores, you'll find exactly what you've come to expect from T.J. Maxx when you visit our website: girls' bathing suits located right next to the salad spinners in the kitchen section, and stud-loop leather belts pretty much everywhere," Herrman "said." "And if you've never been to a T.J. Maxx before, then log on and stock up on everything from throw pillows embroidered with inspirational messages to copies of 'Goodnight Moon' with the cover torn off."
Oh, and since we wouldn't want to miss out on those impulse buys in the checkout lane, The Onion notes: "The site automatically redirects users through several pages of off-brand multicolored iPhone chargers and dusty caramel corn tins before they reach checkout, at which point they reportedly may complete their transaction, paying a price entirely different from what was listed."
Genius.
Read the full article for a laugh (or a cry). And then let us know where we can actually buy a pig-shaped charcuterie board. We've got a theme party coming up.