A dream that took a few years in the making finally came true Friday for Kyle Otte and Jordon Taylor.
The couple tied the knot in a live ceremony on TODAY before their family and friends — and a studio audience that included Kathie Lee Gifford and Hoda Kotb, who oversaw their selection as winners of the "Say I Do" wedding contest. Our sponsor Zola, a new company for the wedding planning and registry process, helped us give them this magical day. Comcast, our parent company, is an investor in Zola.
Actor and professional wrestler John Cena officiated the ceremony.
"You are a couple of adventurers — and you are just crazy enough to share your special day with us," he told the couple before they recited their vows.
TODAY viewers got to pick every element of the wedding, including Kyle's wedding dress, a vintage-inspired sheath gown covered with scrolling lace and floral appliques.
They also picked the couple's Blue Nile wedding rings and five-layer champagne-flavored cake.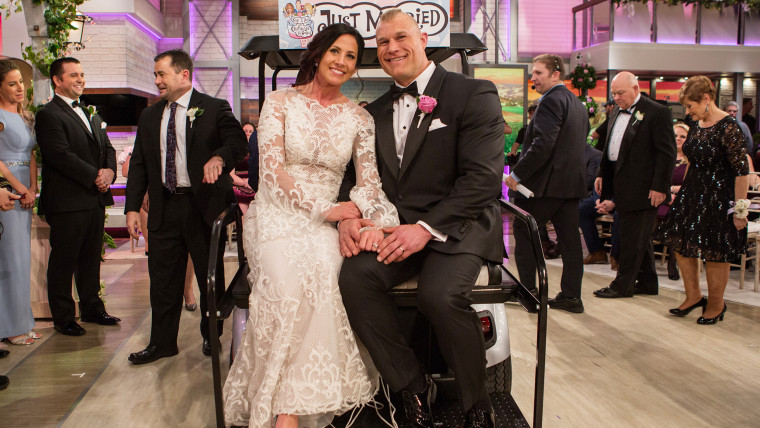 The couple's honeymoon spot — Italy — also got selected by TODAY viewers. The destination was announced following the ceremony, again with help from Cena, who unveiled the news after riding into the studio in a purple scooter.
The couple's ceremony was short, sweet and had a humor as unique as the wedding.
Kyle pledged she would never cheer against the Baltimore Ravens "unless they play against the (Philadelphia) Eagles." She also made one more promise: "I will always support your He-Man obsession."
But in all seriousness, Kyle declared herself "so blessed" to share her life with Jordon, who in return expressed his joy at marrying his best friend "in front of the world."
"Every day you make me a better man. Thank you for being such an amazing person inside and out, accepting me, flaws and all, and sharing this crazy, crazy journey with me," he said.
The couple met on an online dating site three years ago. Jordon said he had just joined the site when he met Kyle, leading him to cancel his membership shortly afterward.
After Jordon proposed, the couple planned to get married in Las Vegas and had booked their flights when Kyle's health started to decline because of her ongoing battle with endometriosis. The condition led her to have six previous surgeries, but doctors scheduled another one a week before their Las Vegas wedding.
While Kyle recovered from her hysterectomy last fall, she began tuning in to TODAY's Fourth Hour to watch Kathie Lee and Hoda.
"They were my support system in a way to get me through my days," she said.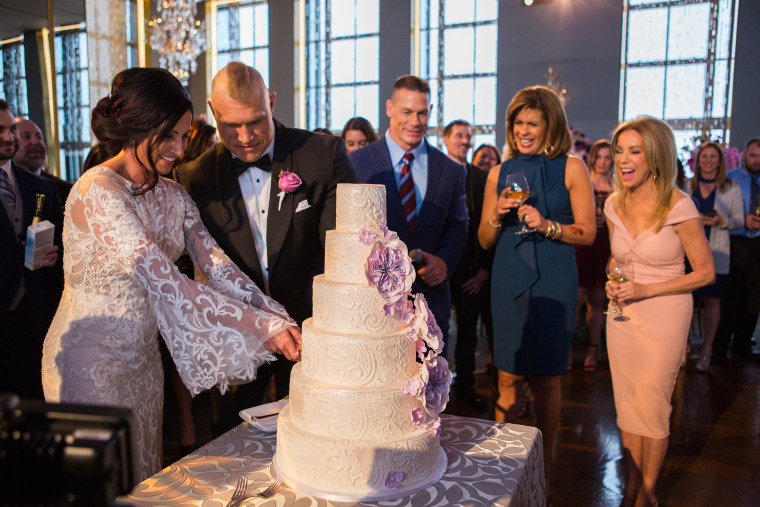 When she saw they were giving away a dream wedding, one that involved John Cena, she knew she and Jordon had to apply.
"I'm a Kathie Lee and Hoda fan, and he's a John Cena fan," she said.
Following their ceremony, the couple received a tongue-in-cheek toast.
"We've all watched your journey with admiration and awe," Kathie Lee started before Hoda chimed in: "Now let's just hope John Cena's credentials hold up in a court of law."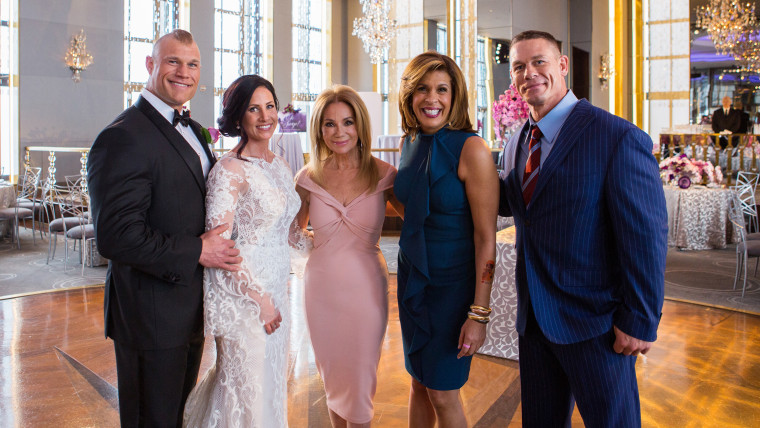 The couple then had their first dance while being serenaded by Hunter Hayes, who sang a rendition of his love song, "Wanted."
Congratulations, Kyle and Jordon!