We can't believe summer's almost over already. And this year's back-to-school fashions are almost too cool for school! Here's a look at some of the hottest trends in kids' style.
Cute Critters
It's all about embracing your spirit animal this year! Here we have two adorable models getting ready for nursery school and showing us one of the hottest trends: critters! Yes, you will find the entire zoo represented in back-to-school fashion this season with animals turning up everywhere.
For her:
Let's start with our gal model, who is proudly wearing an appliquéd fox tee from Lands' End. Foxes are among the more popular animals to grace clothing this season. We paired her tee with a festive pink tutu-style skirt from Hanna Andersson (because every school day should be a party) and glitter ballet flats from Gap, which come with helpful elastic straps to help keep feet in.
And don't forget the pompom headband! Hair accessories are a terrific and affordable way to get in on the pompom trend and sure add some pizzazz to any outfit.
Toddler Girls' Embellished Graphic Tee, $23, Lands' End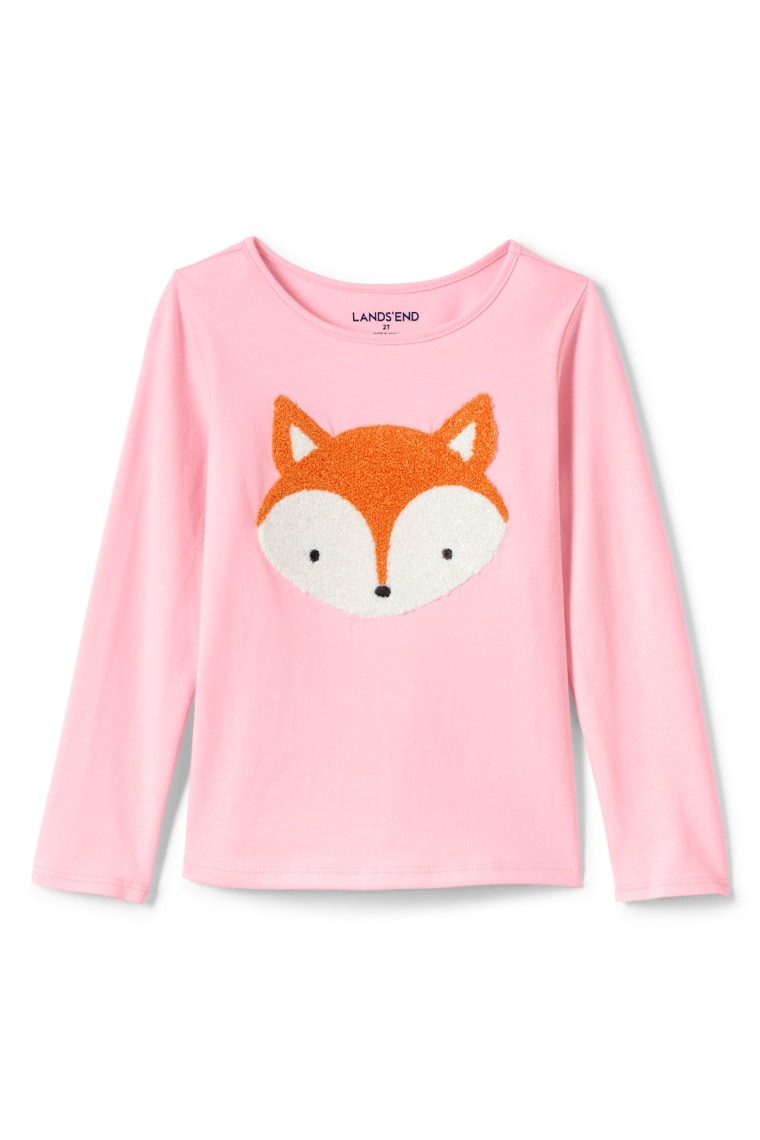 Girls' Faux Fur Pompom Headband, $12, Lands' End
Toddler Twirl Happy Tulle Skirt, $27, Hanna Andersson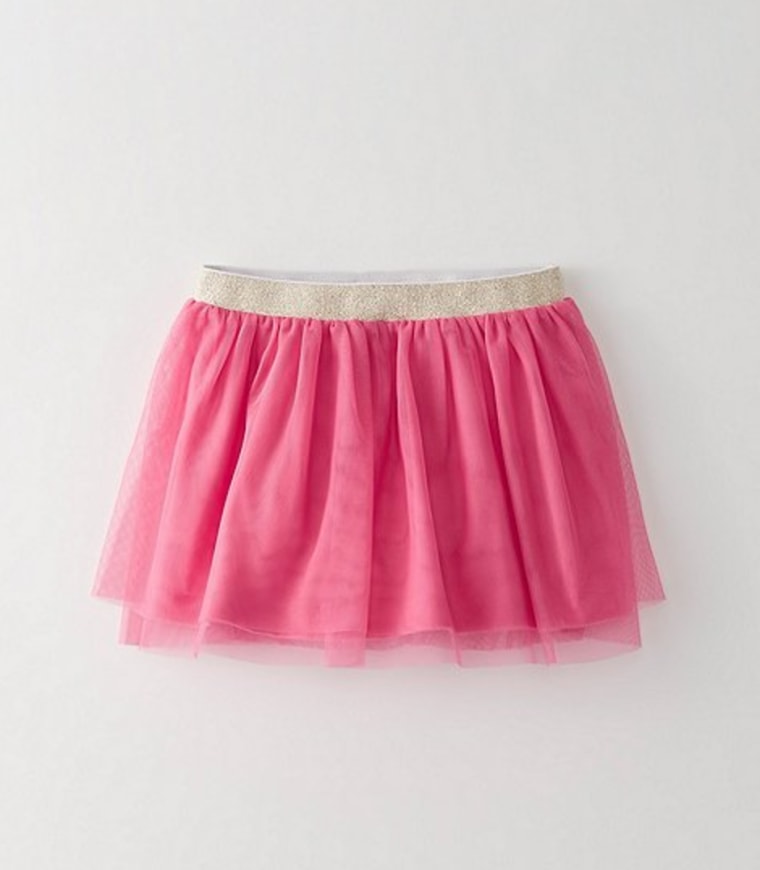 Glitter Mary Janes, $14, Gap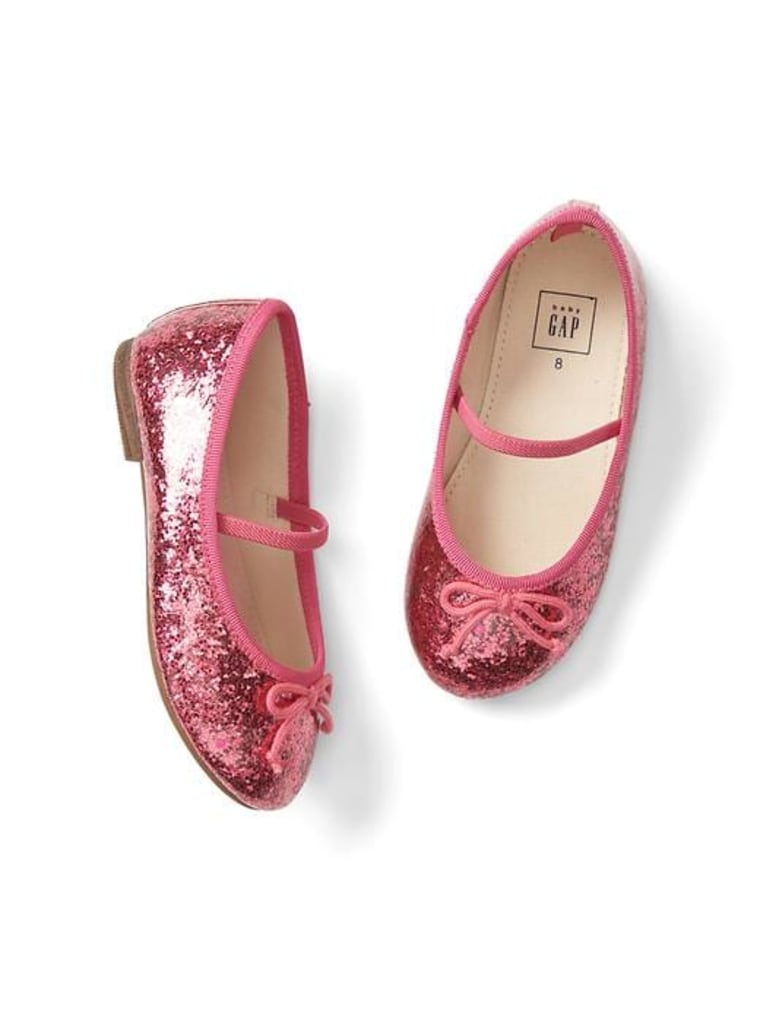 Skip Hop Zoo Lunchie Insulated Kids' Lunch Bag, $15, Skiphop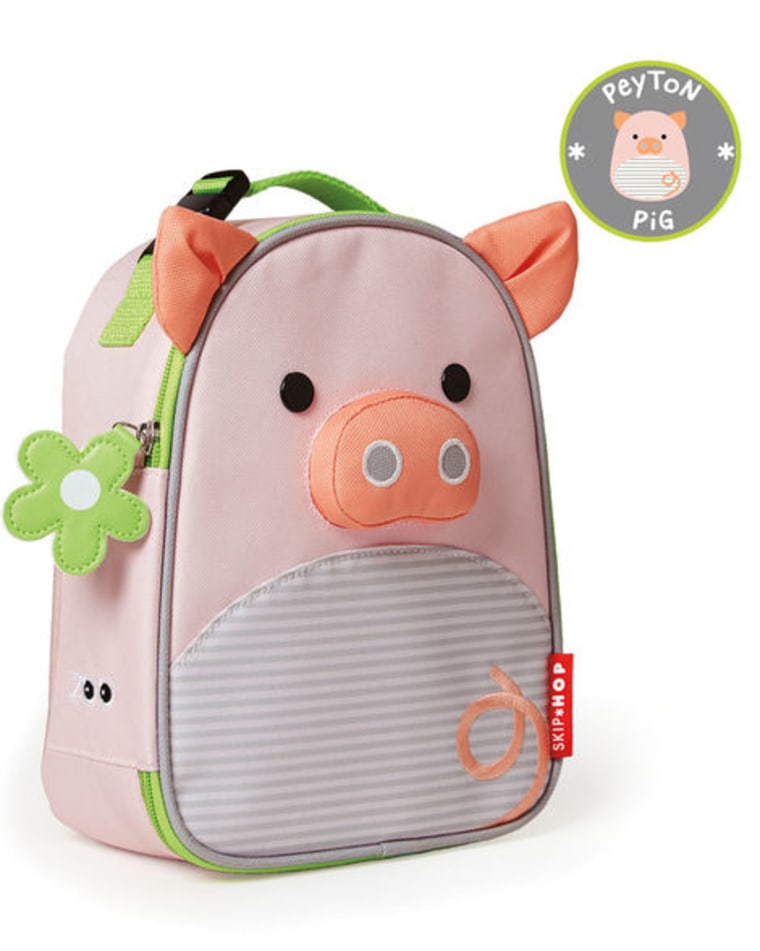 For him:
Our boy model is showing his spirit animal with a short-sleeved oxford shirt emblazoned with baby elephants, paired with some happy red shorts. We also love this festive little T-shirt featuring a frog sitting atop school books — quite fitting for the season. This shirt is appliqued as well, which gives it some texture and makes it feel a little more special.
Our model loves dinosaurs, so we thought a graphic striped dinosaur lunchbox from PB Kids and 3-D dino slip-ons from Gap would be a terrific finish to his outfit. Be on the lookout for your little one's favorite animal because we know it's out there — on a T-shirt, pant, short, you name it.
Big Applique T-Shirt, $27, Boden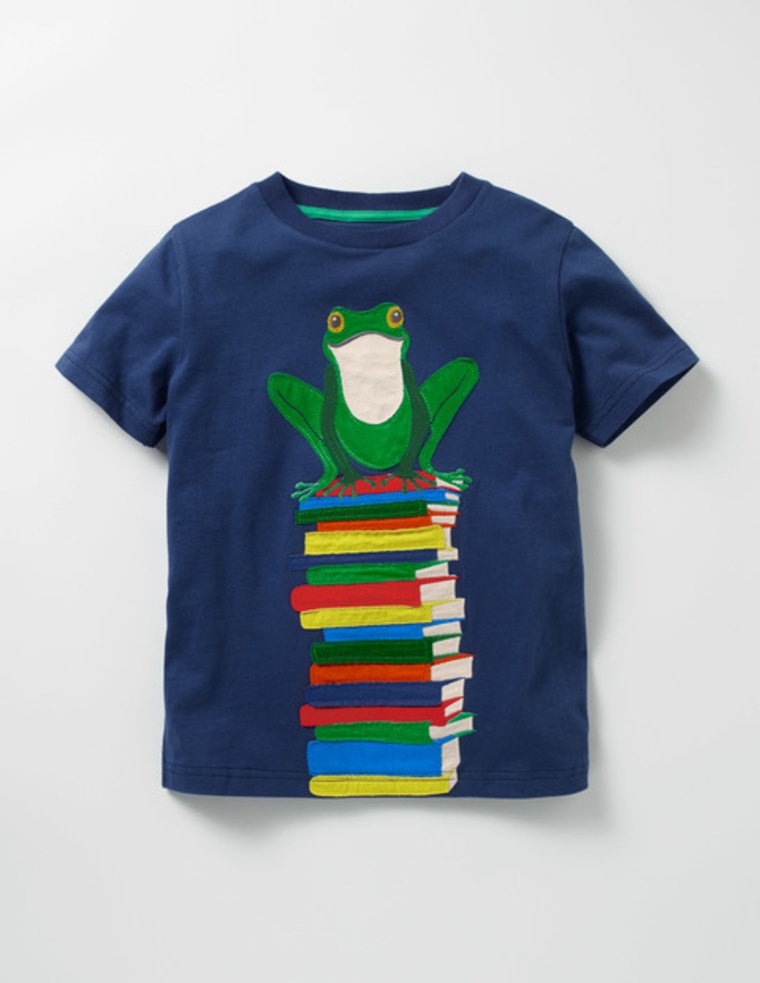 Hybrid Shorts for Toddler Boys, $8, Old Navy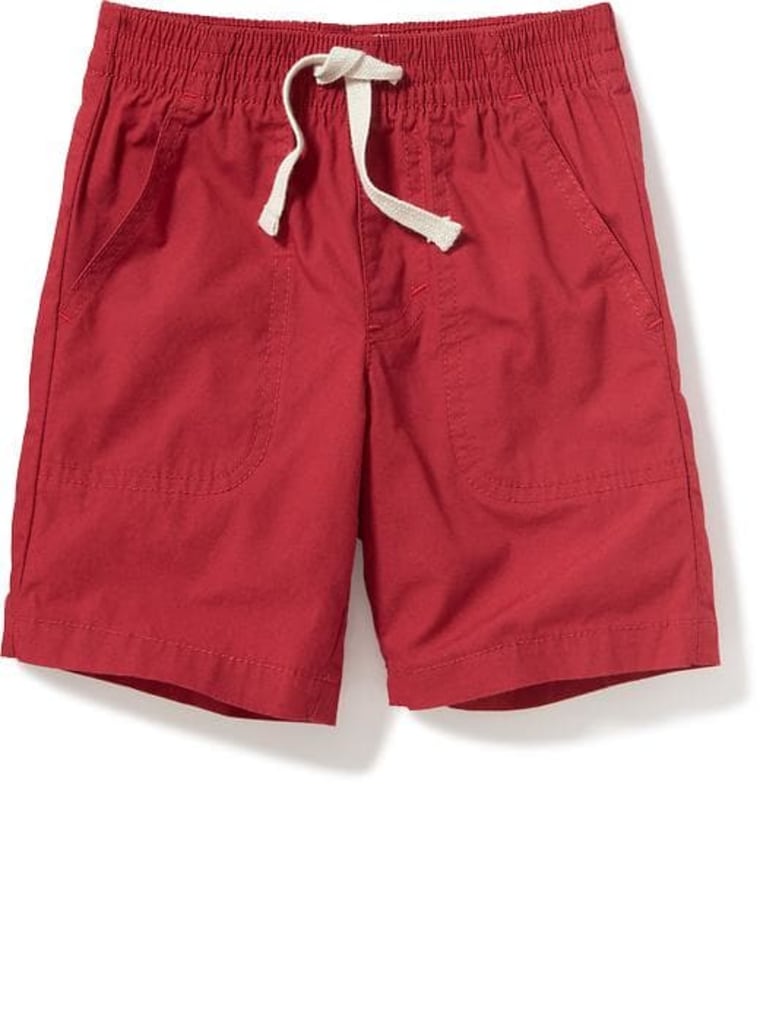 Dino slip-on sneakers, $15, Gap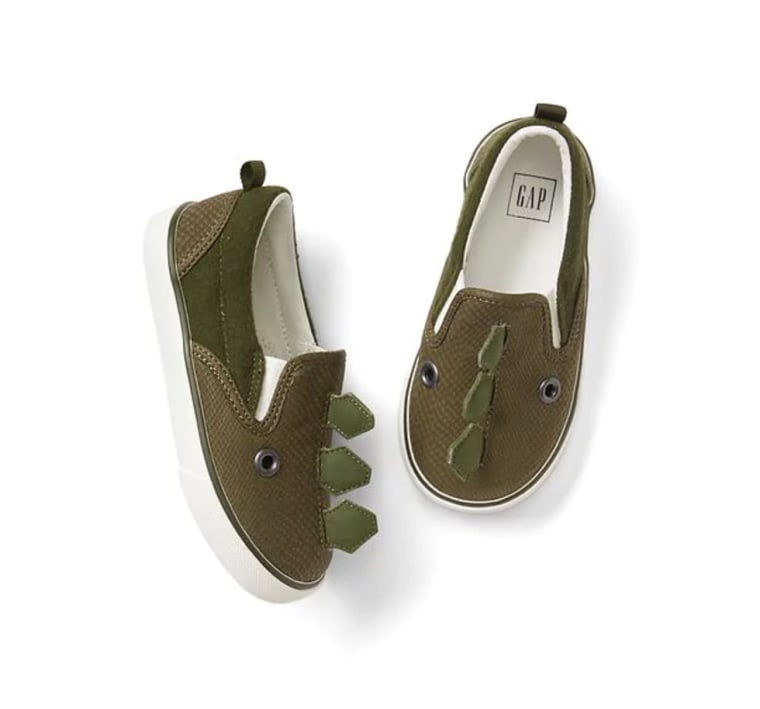 Striped Critter Dino Lunch Bag, $19, Pottery Barn Kids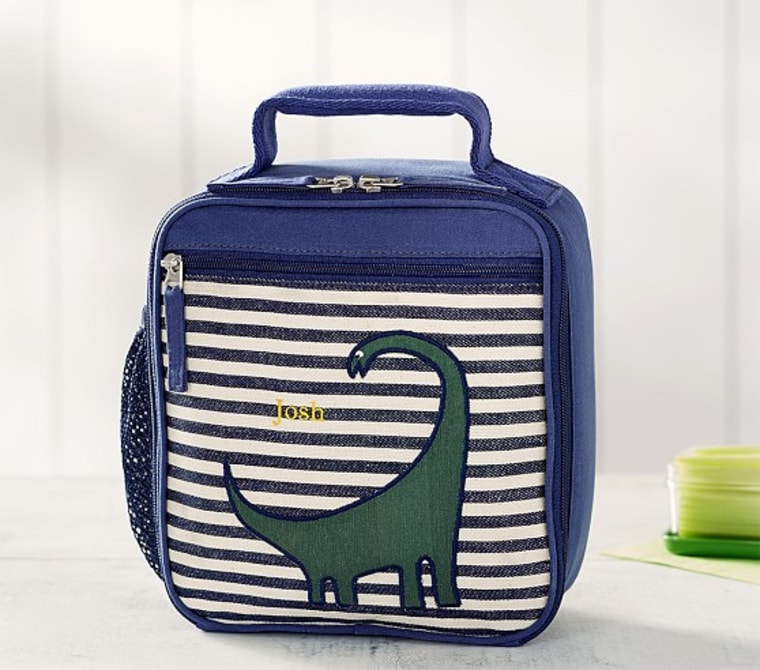 RELATED: 13 safe and stylish backpacks your kids will love
Patches and Graphics
Next up we have two cute elementary school-aged models showing us the patches and graphics trend. This trend is all about fun, food and superheroes.
For her:
First up we have our girl model in a jazzy pair of overall shorts festooned with foodie patches of ice cream, avocados, pretzels and more. Yes, food and snacks are the biggest embellishment of the season!
We paired her short-alls with a graphic pair of multicolored heart tights (graphics are anther major back-to-school trend) and fuchsia Mary Jane-style sneakers from Zappos.
Cat & Jack™ Girls' Denim Coverall Shortall with Patches, $23, Target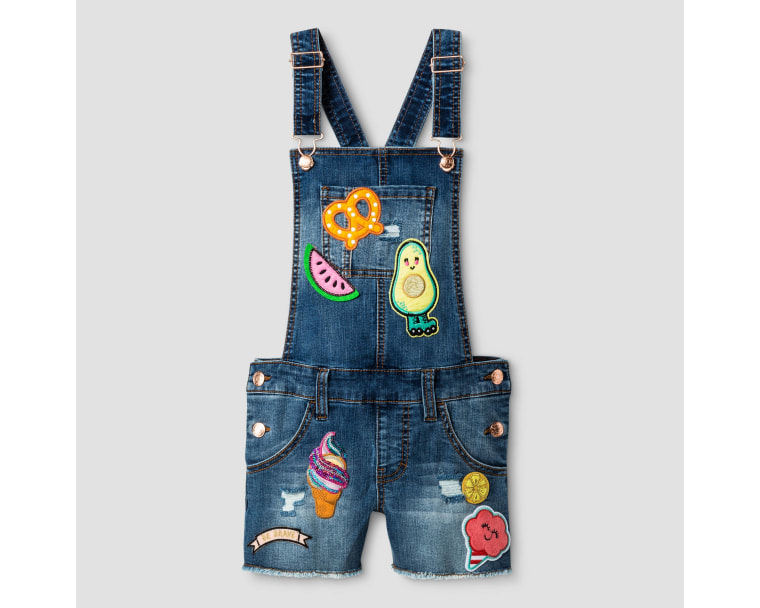 Cat & Jack™ Girls' Footed Tights, $5, Target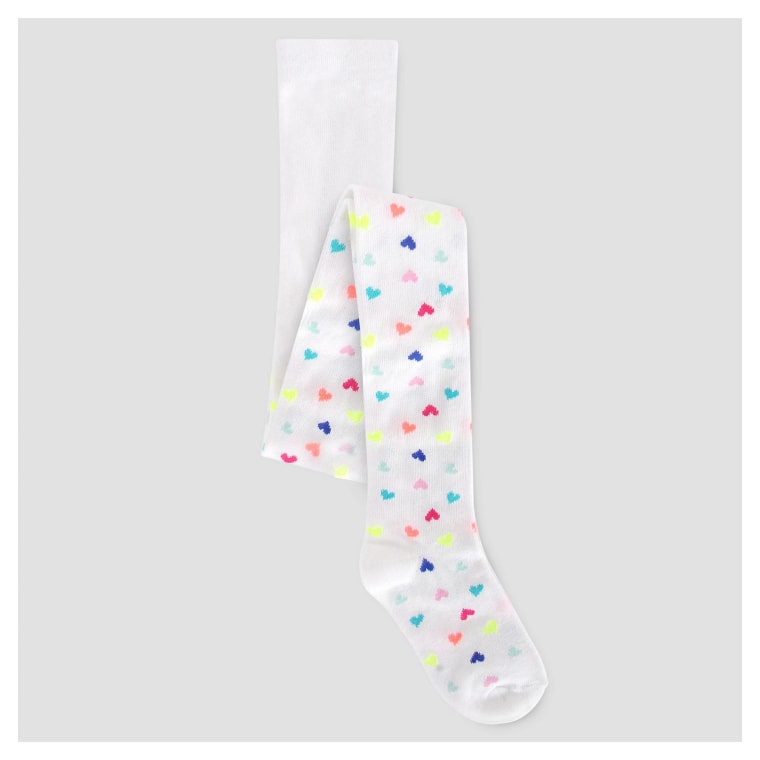 Cienta Kids Mary Jane Sneakers, $36, Zappos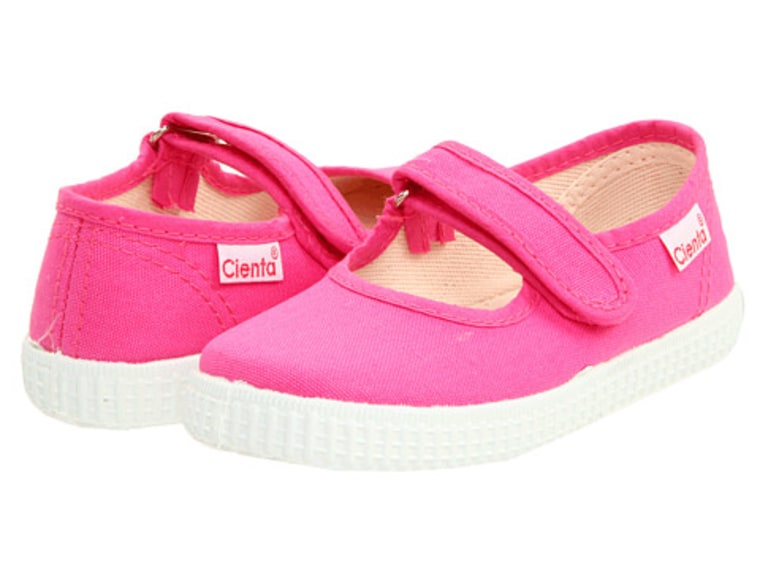 Max the Monster Lunch Box, $34, J. Crew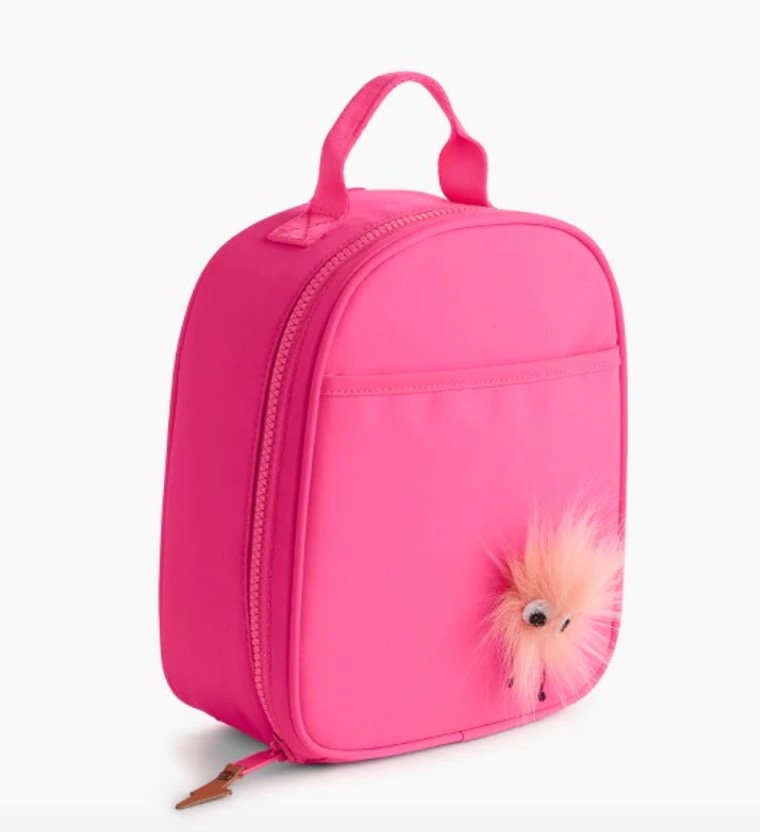 For him:
Our boy model is having just as much fun in a superhero-inspired denim jacket with DIY patches. We found these "POW," "WHAM" (and french fries) patches on Amazon for just a few dollars and ironed them on a denim jacket. We then layered our jacket over a graphic Marvel Captain America T-shirt from Kohl's.
To finish the look, we added a playful Monstar lunch bag from ZipIt and must-have camouflage sneakers from Plae.
Boys' Denim Jacket, $15, Levis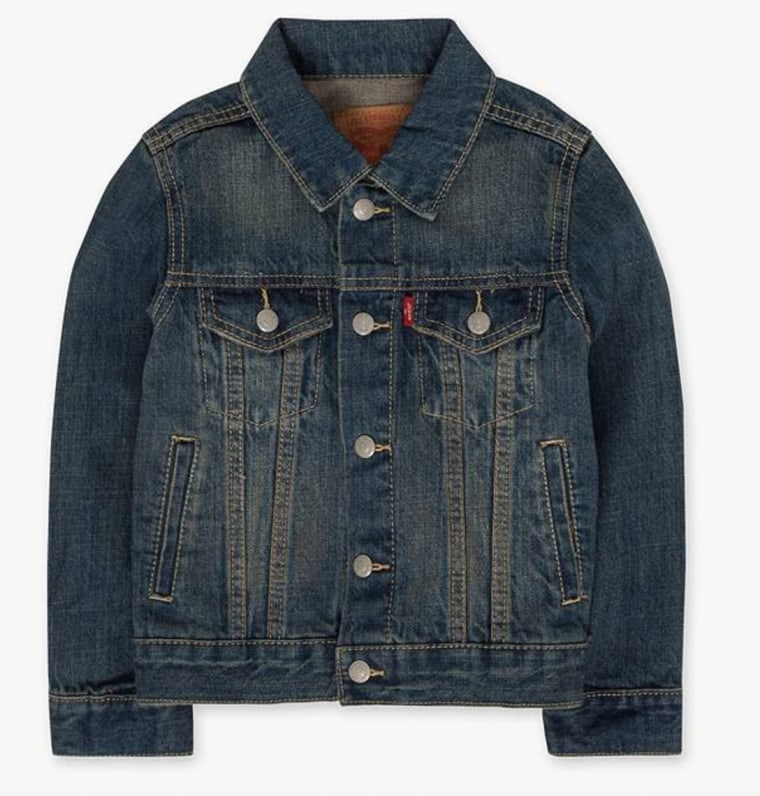 Superhero Comics Embroidered Iron-on Patches, $8, Amazon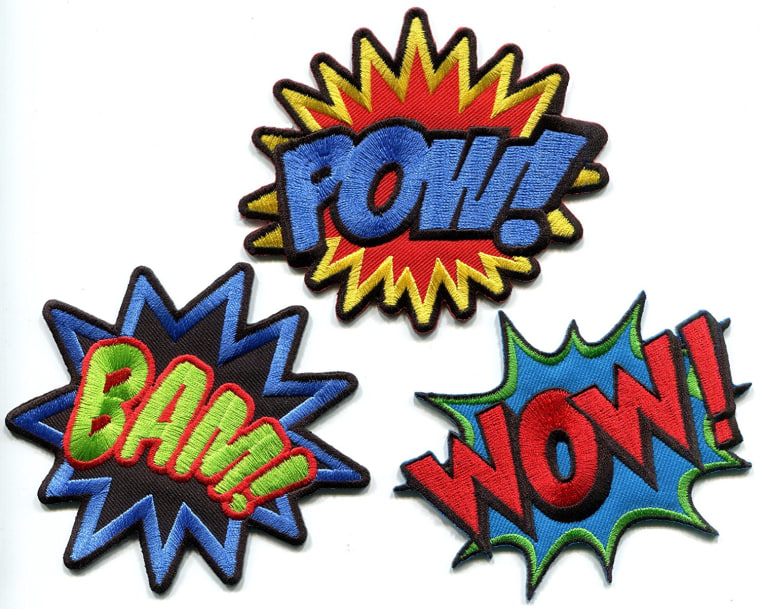 Boys Jumping Beans® Marvel Captain America Logo Graphic T-Shirt, $8, Kohl's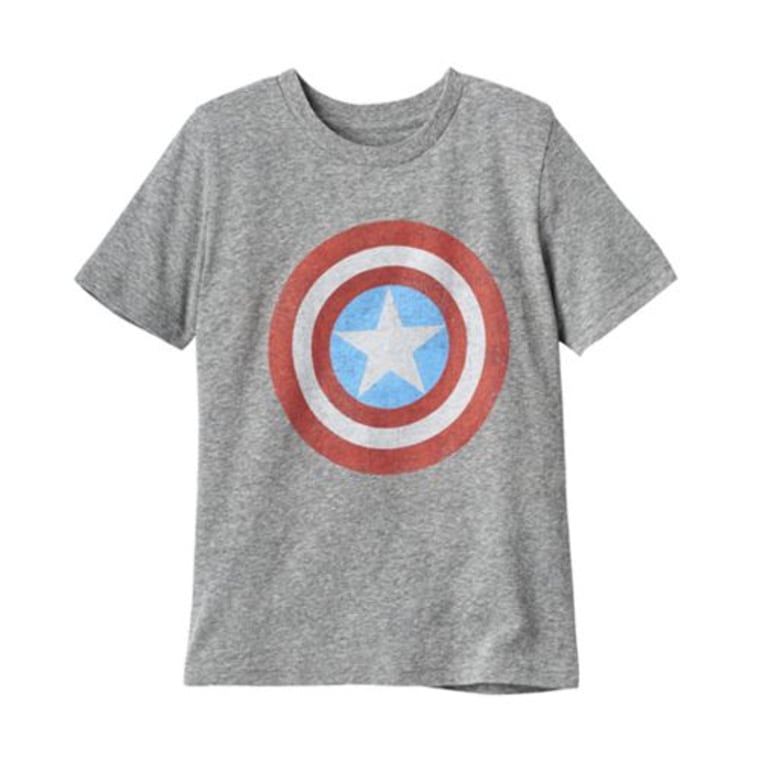 Twill Pants Regular Fit, $10, H&M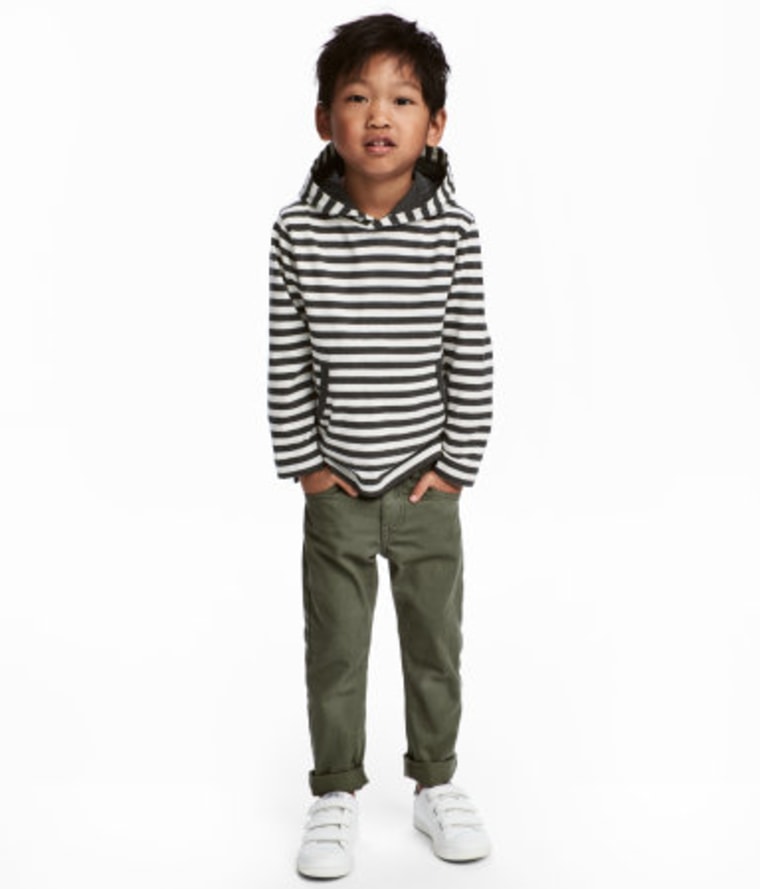 Ty Sneaker, $55, Plae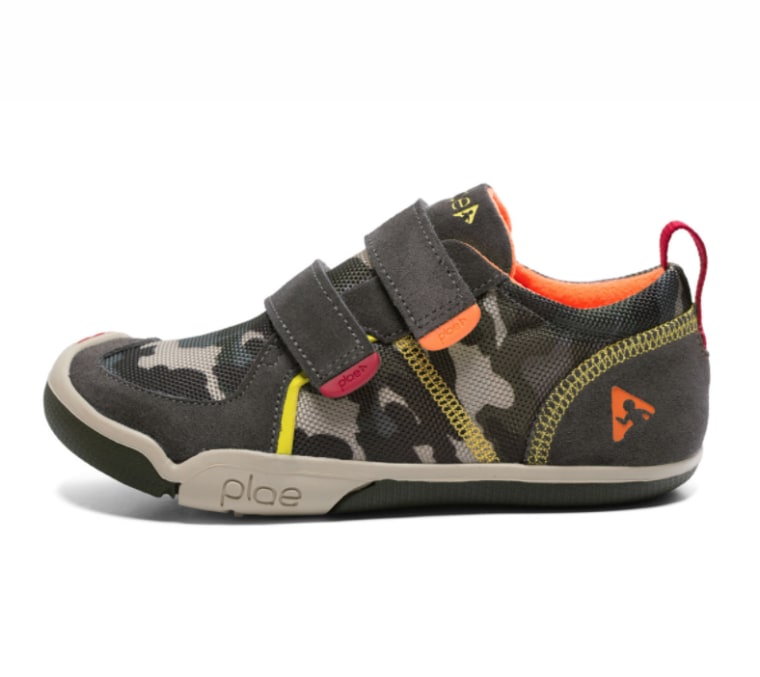 Monstar Lunch Bag, $13, Zipit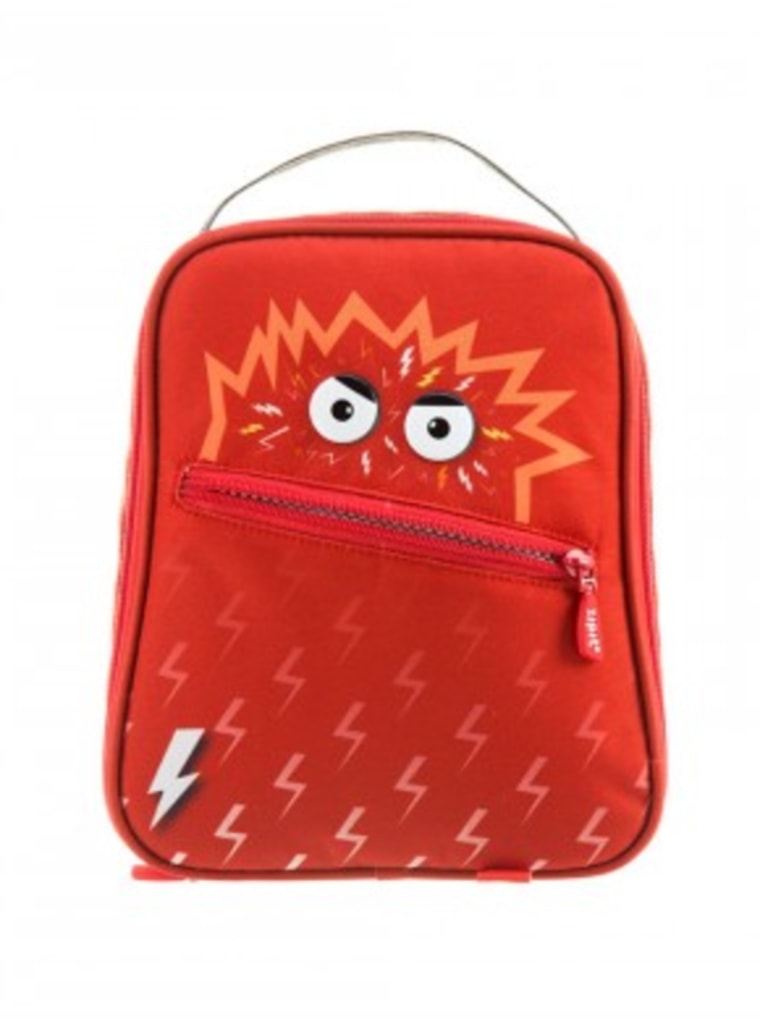 RELATED: Make school meals cool again with these 14 amazing lunch boxes
Super Sporty
Out next pair of gorgeous models is rocking the athleisure or sporty trend, which shows no sign of slowing down. We're loving the clever ways it's being interpreted for back-to-school gear.
For her:
First up, let's talk about our girl model and her fabulous floral joggers. They really take athleisure to the next level — especially when paired with a sweet ruffle top.
And her shoes! These sneakers are so stylish (yet comfy) and boast festive pompoms. This backpack from SoYoung feels really fresh and and new. It has a modern floral print on beautiful natural linen which, by the way, is also waterproof.
Frilled Top, $16, Zara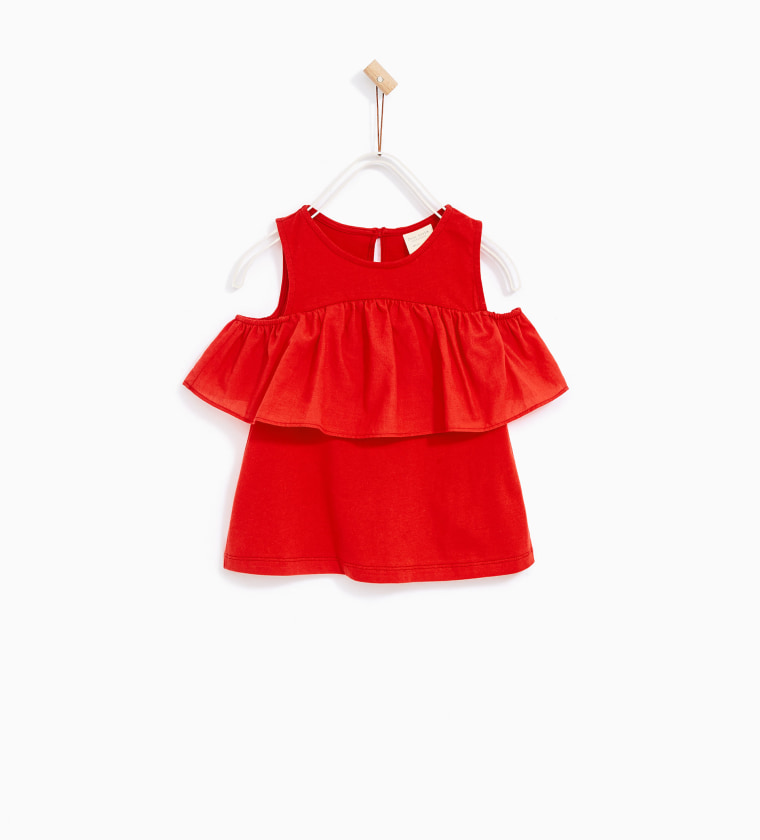 Basic Floral Print Plush Jersey Trousers, $16, Zara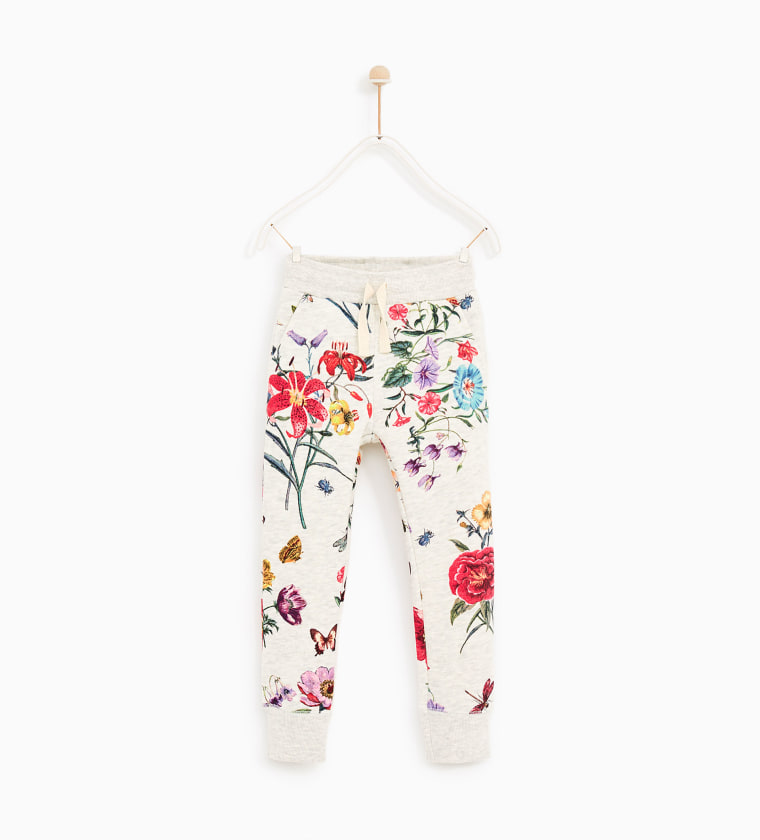 Metallic Sneakers With Pompoms, $36, Zara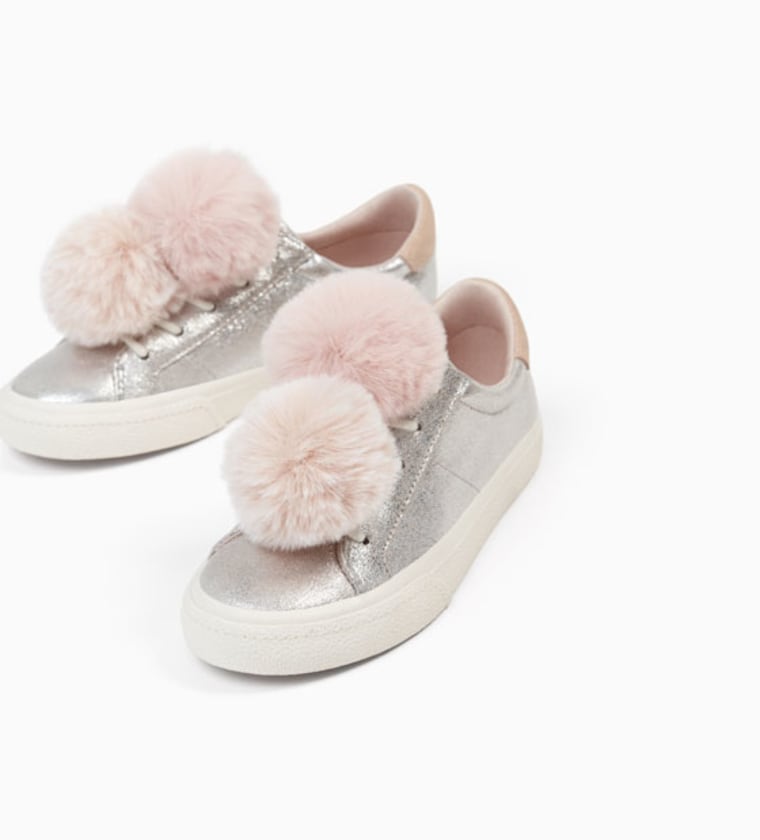 Raw Linen Purple Dandelion Grade School Backpack, $45, SoYoung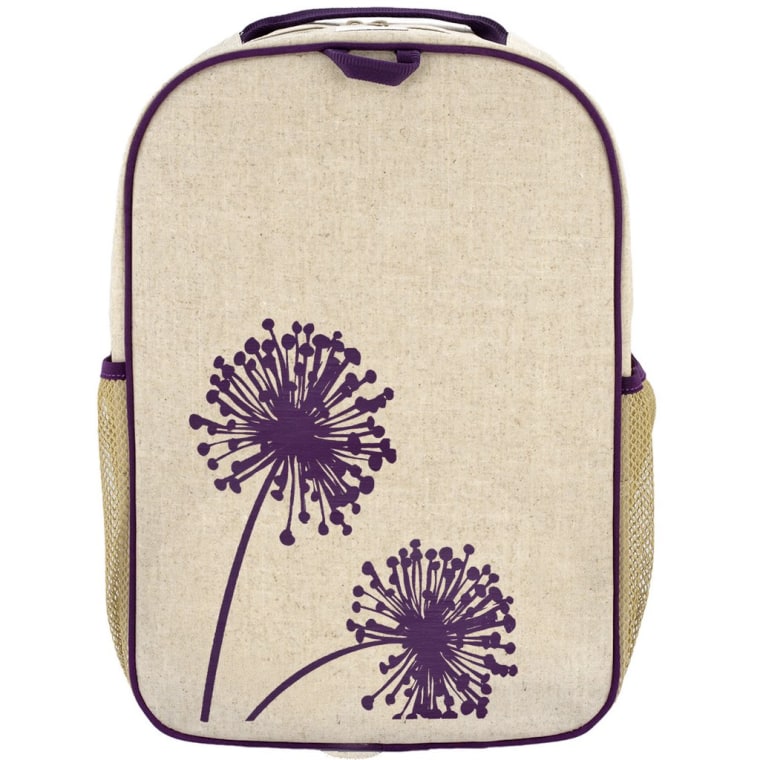 For him:
Our boy model is stepping out in a more literal take on athleisure with an outfit most boys we know would love to wear.
We started with a bold statement T-shirt that says "Let There Be Air" by Nike, and it packs quite a punch. We paired it with a packable jacket by Converse that folds into itself — an excellent transition piece for fall that can be stored easily in a backpack.
Our model is also wearing a versatile, slim pair of joggers that you can dress up or down. We like the marled texture and contrasting cuffs. And finally, we added a never-go-wrong classic, the Converse Chuck Taylor black high-top.
Converse Packable Jacket, $45, Converse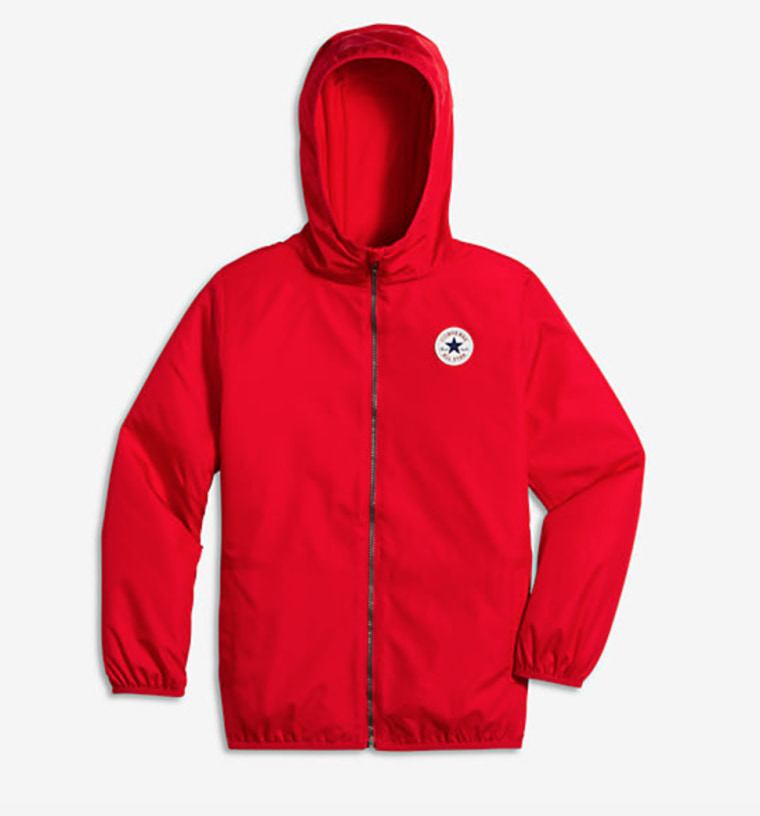 Nike "Let There Be Air" T-Shirt, $20, Nike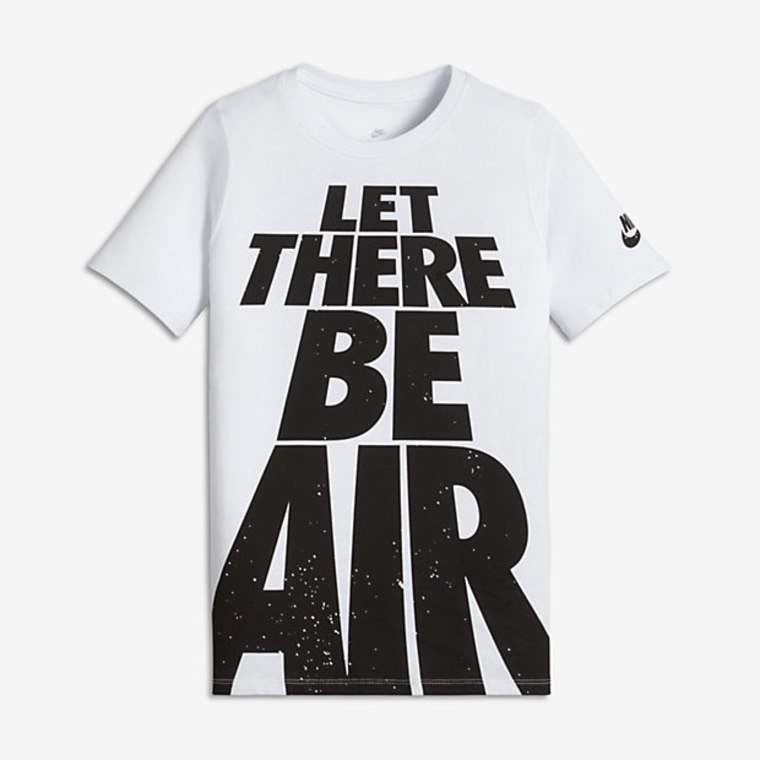 Melange Joggers, $20, H&M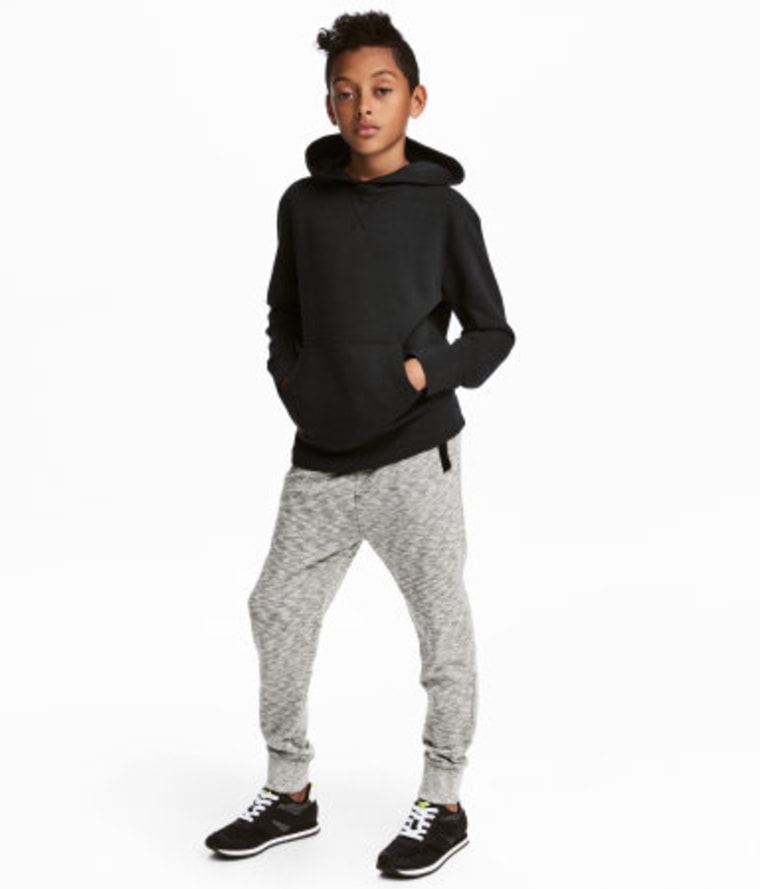 Converse Chuck Taylor All Star Syde Street Leather, $50, Converse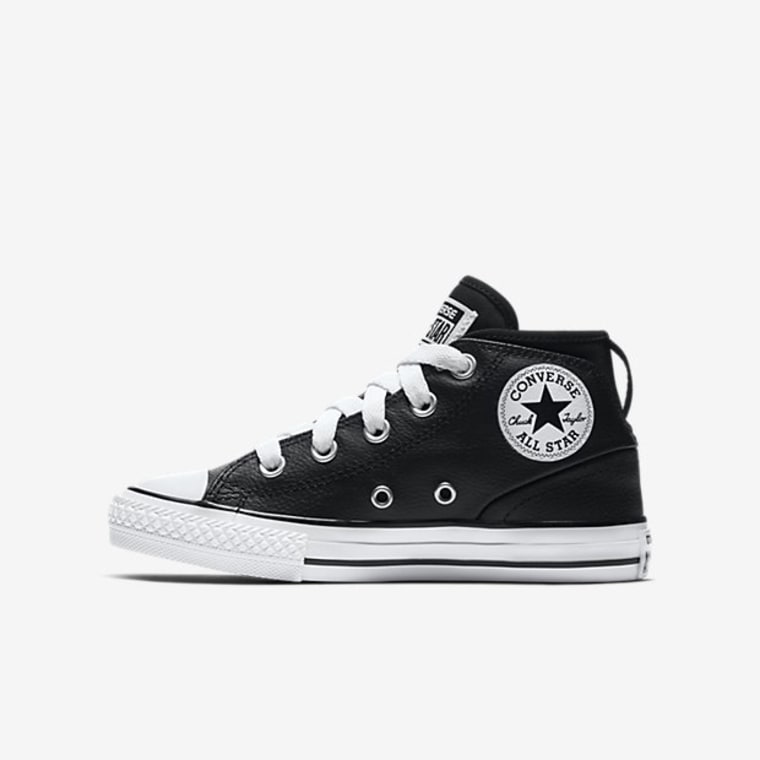 Nike Alpha Adapt Rise Graphic Laptop Backpack, $60, Kohl's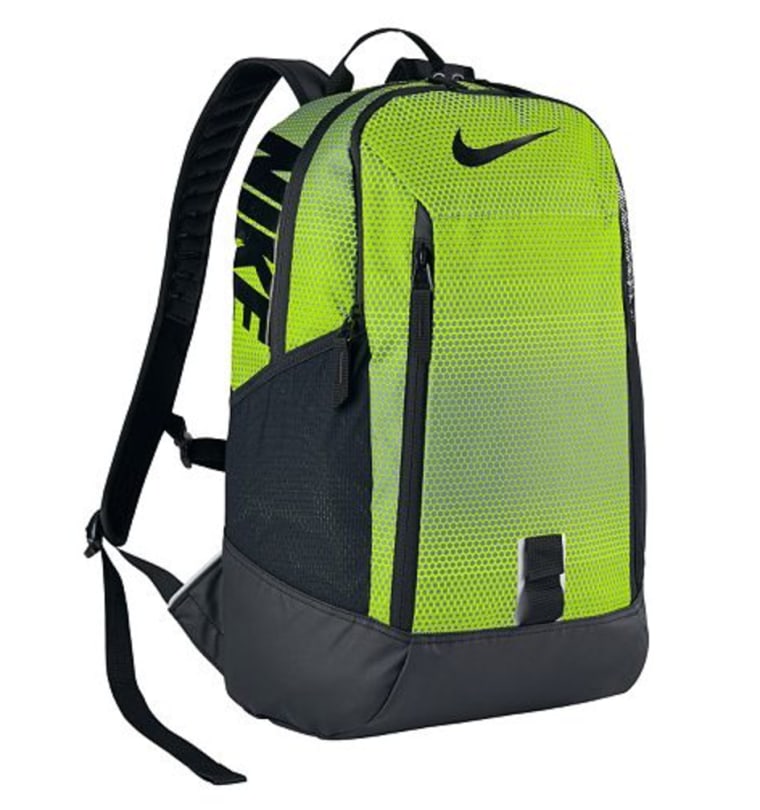 RELATED: 10 must-have gadgets to kick off a stress-free school year
Stripes and Brights
And last but not least, representing the tweens we have an adorable duo in the stripes and brights trend.
For her:
Yes, our tween gal is going French girl chic with her classic black-striped T-shirt with gold embellished heart from J. Crew. We layered it underneath a perfect faux leather moto jacket — a cool gal wardrobe staple — from Forever 21 Girl.
We then paired her Parisian stripes with a pair of bright, hot pink jeggings — yes, bright pants are another big back-to-school trend this season.
And because we love to mix patterns, we finished her look off with leopard ballet flats from Lands' End.
Girls' Bunny Bow Headband, $12, Lands' End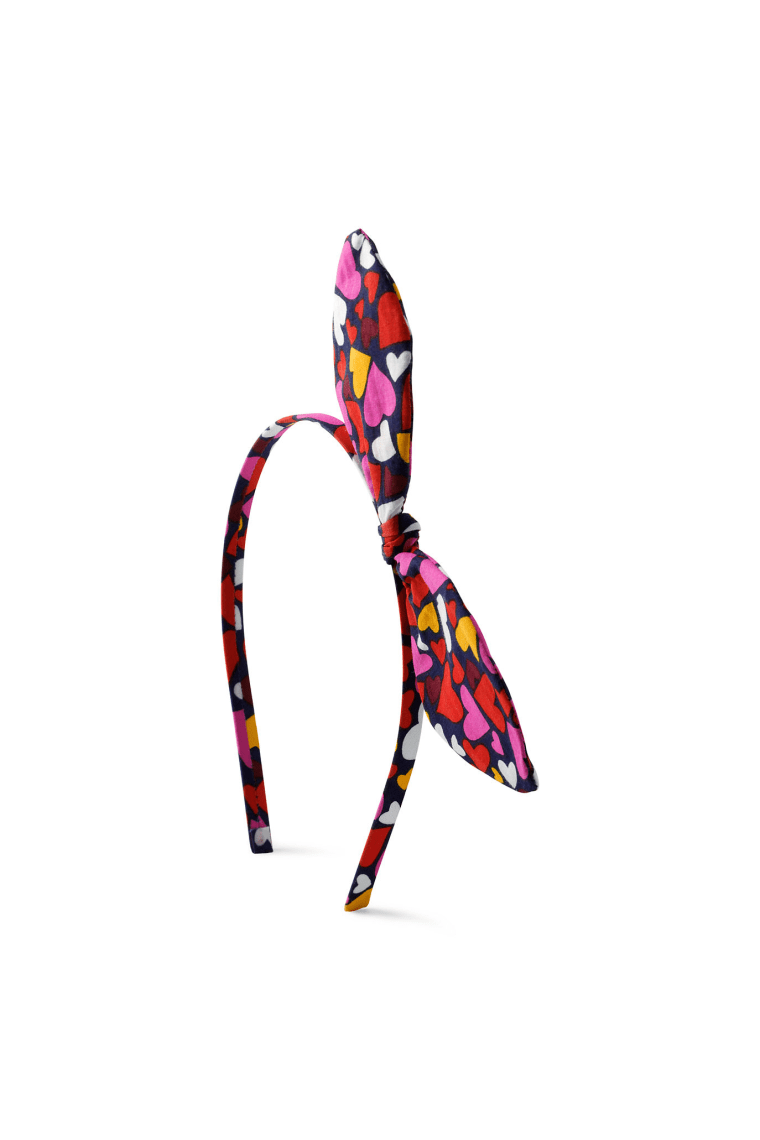 Girls' Gold Heart Striped T-shirt, $35, J. Crew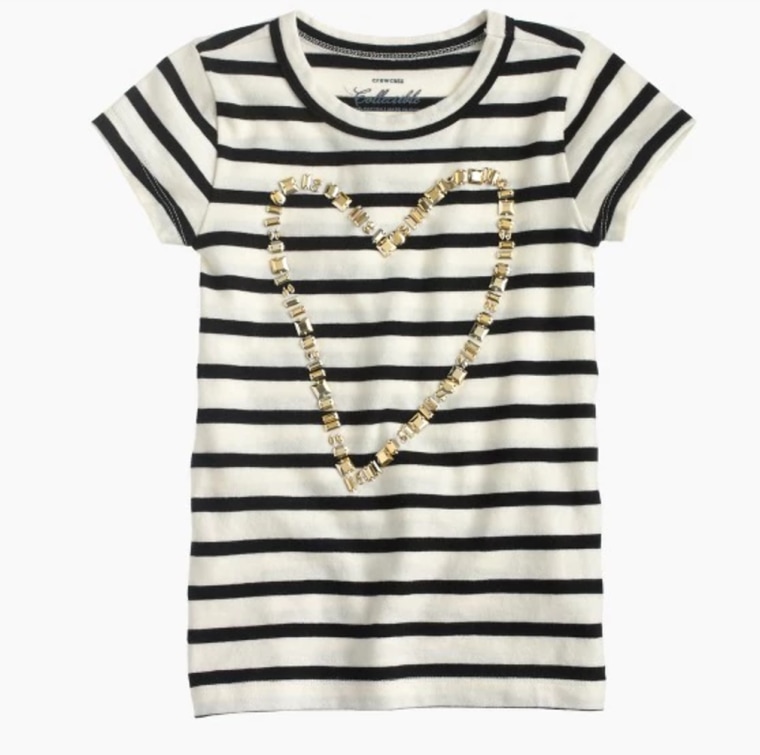 Girls' Moto Jacket (Kids), $25, Forever 21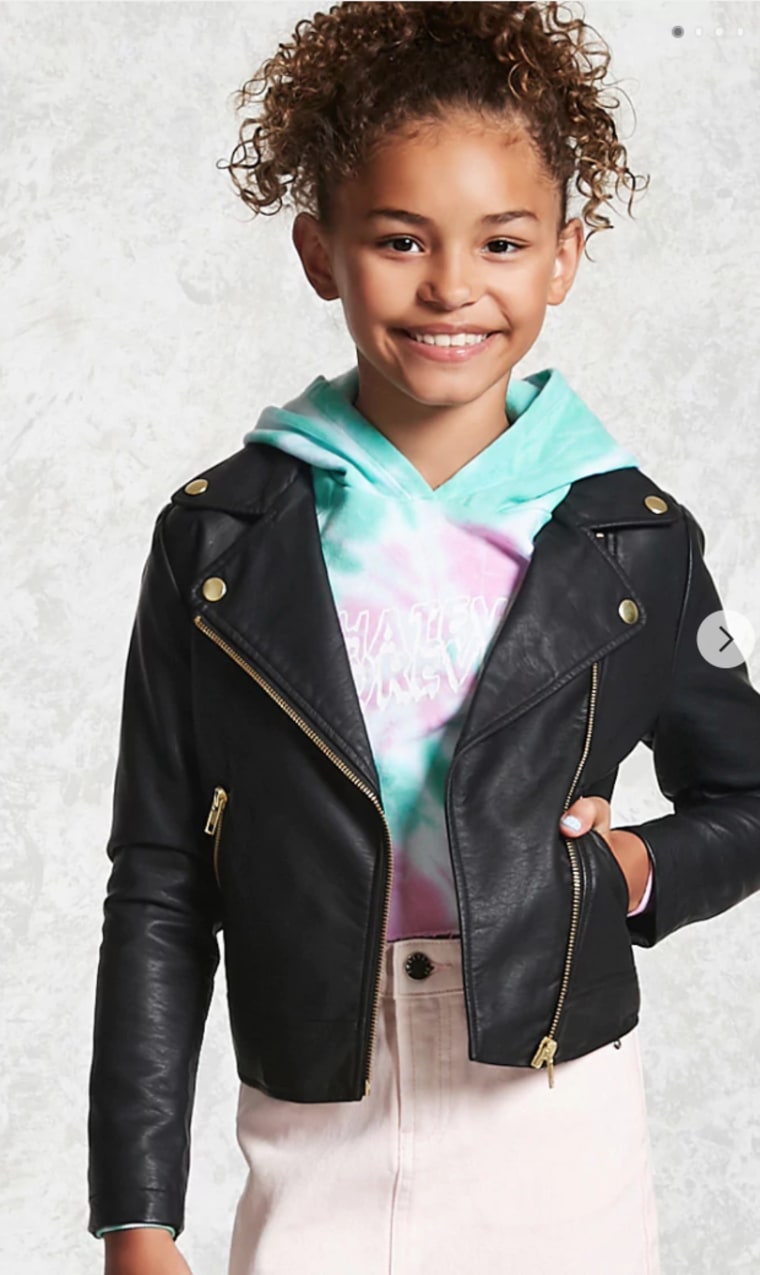 Frayed Jeggings, $20, Zara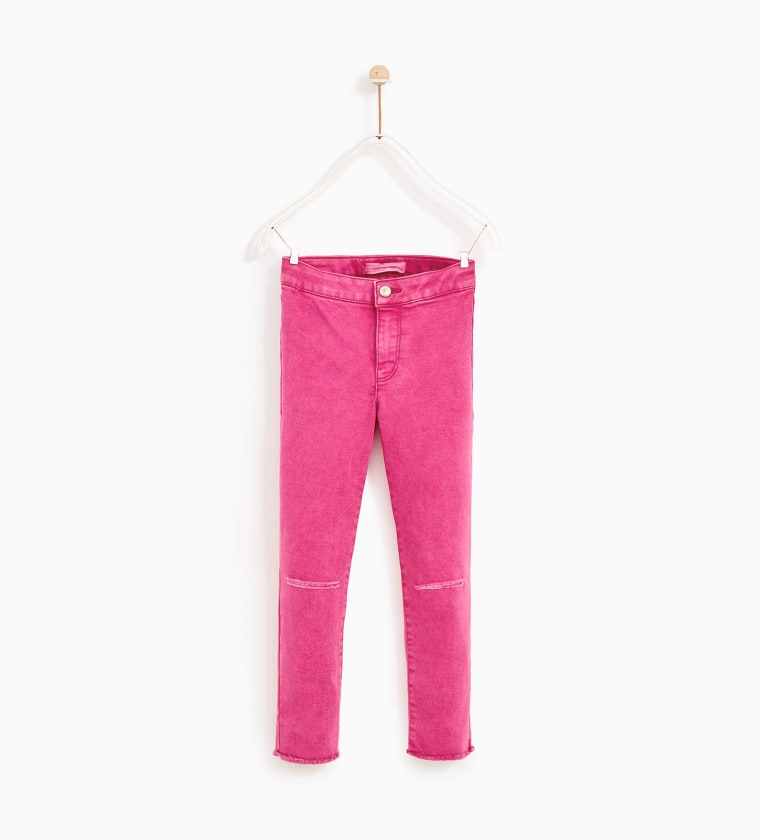 Girls' Scallop Ballet Flats, $35, Lands' End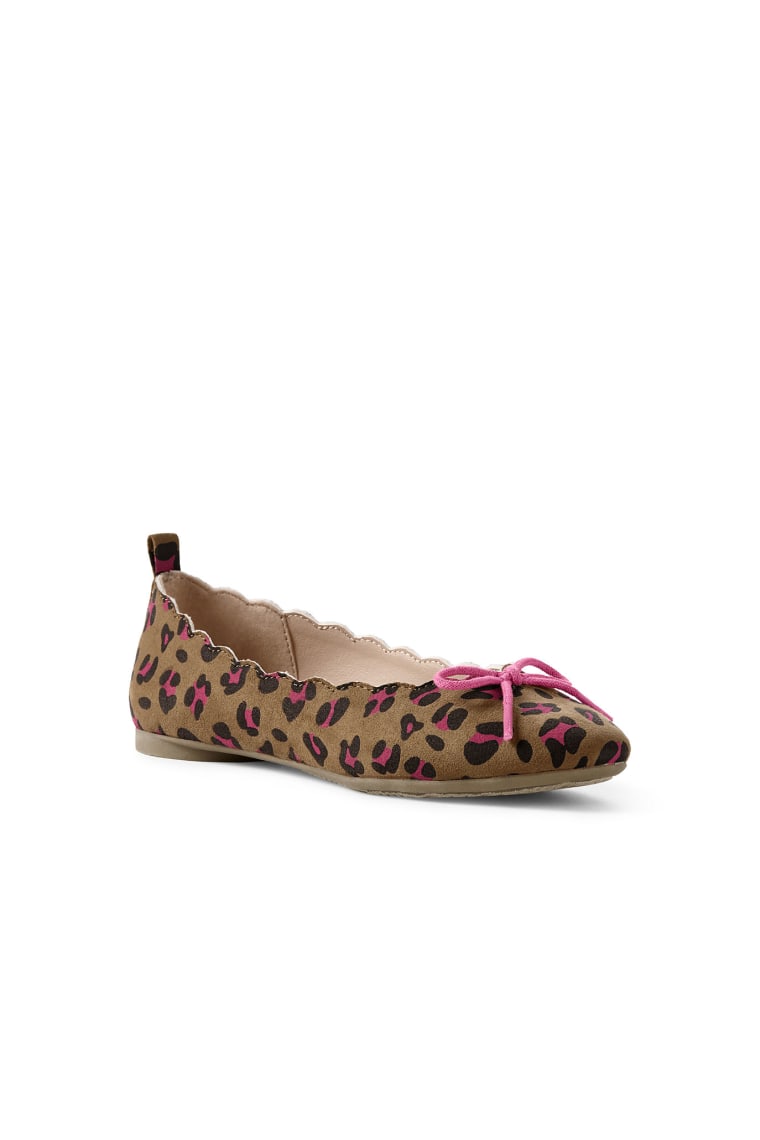 The Emily & Meritt Black/Gold Leopard Backpack, $55, PB Teen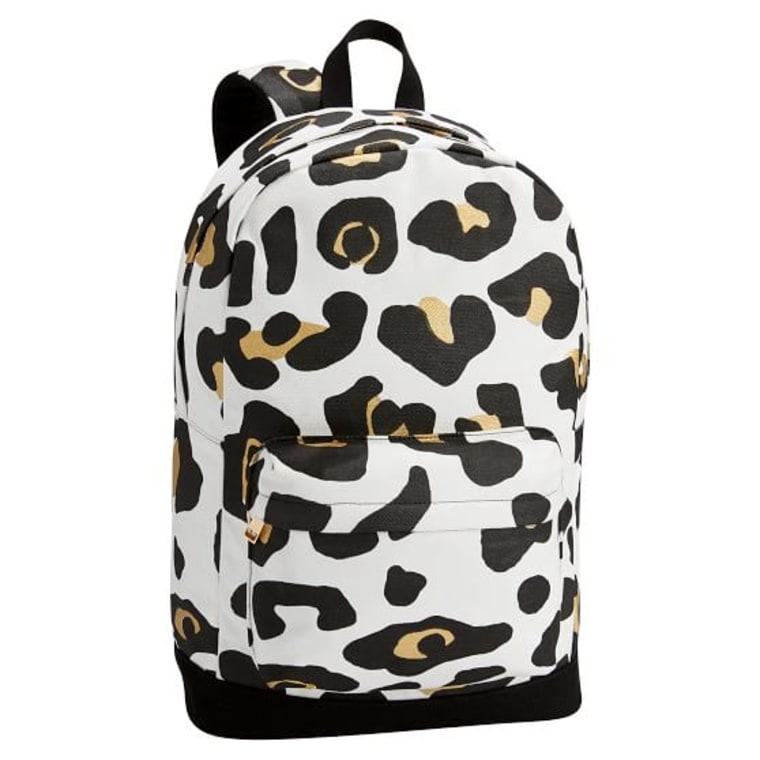 For him:
Our boy tween is giving us the masculine take on the stripes and brights trend. We love his bold and crisp technicolor stripe tee. It's high-octane, modern take really makes a statement.
To keep the highly saturated brights going strong, we paired his tee with a slim pair of electric blue chinos, which we cuffed for a little crop.
We completed his look with classic white velcro trainers and an orange and blue camouflage patterned backpack from PB Teen.
Chest Stripe Pocket Slub T-Shirt, $12, Gap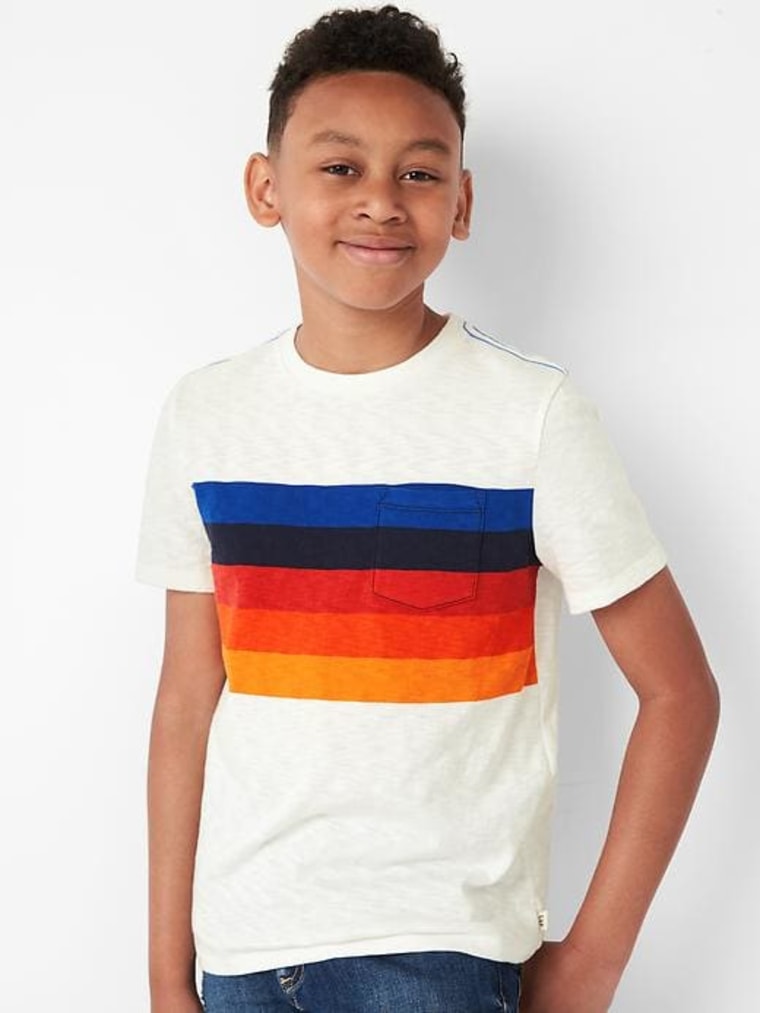 Solid Chinos, $28, Gap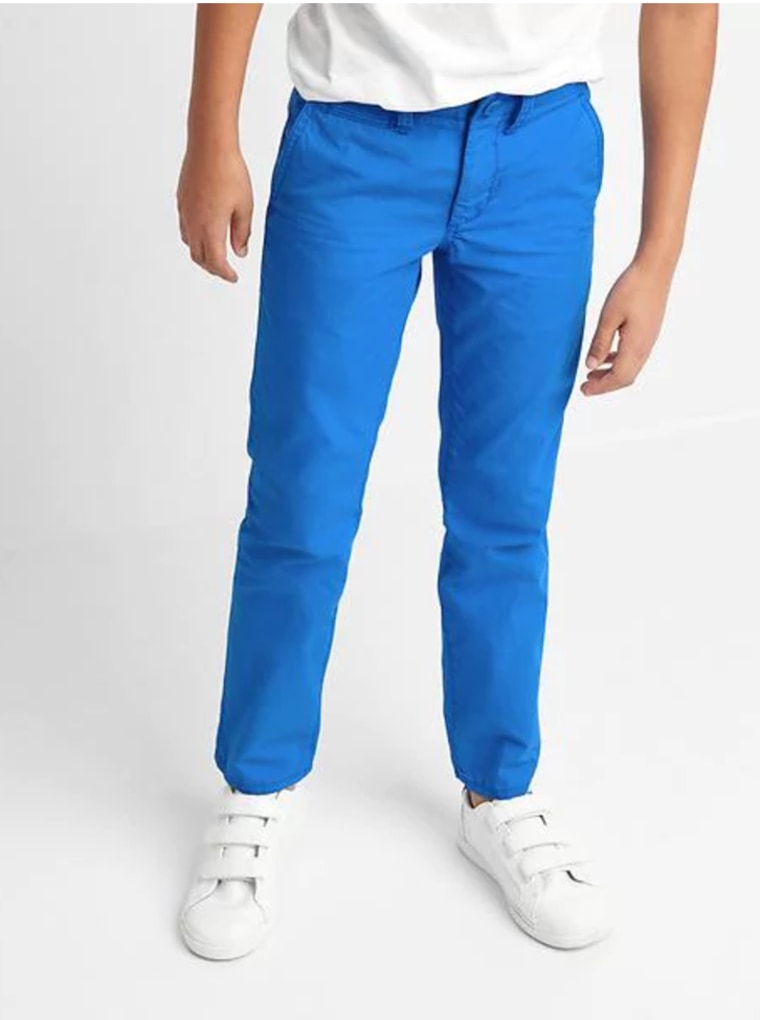 Classic Trainers, $32, Gap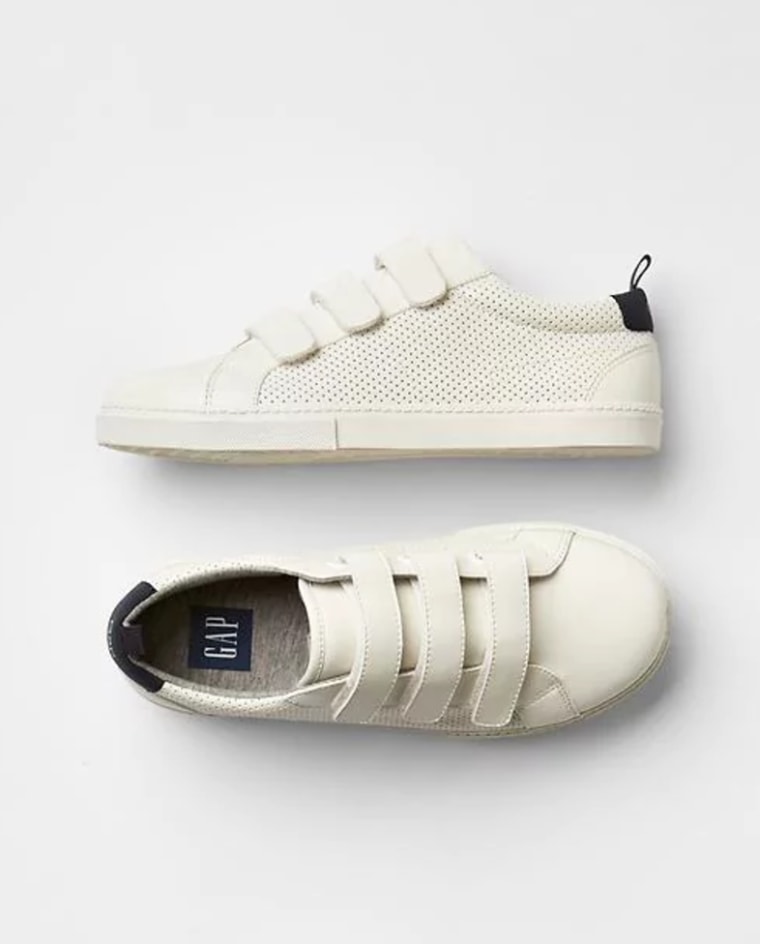 Gear-Up Blue Camo w/Orange Trim Backpack, $49, PB Teen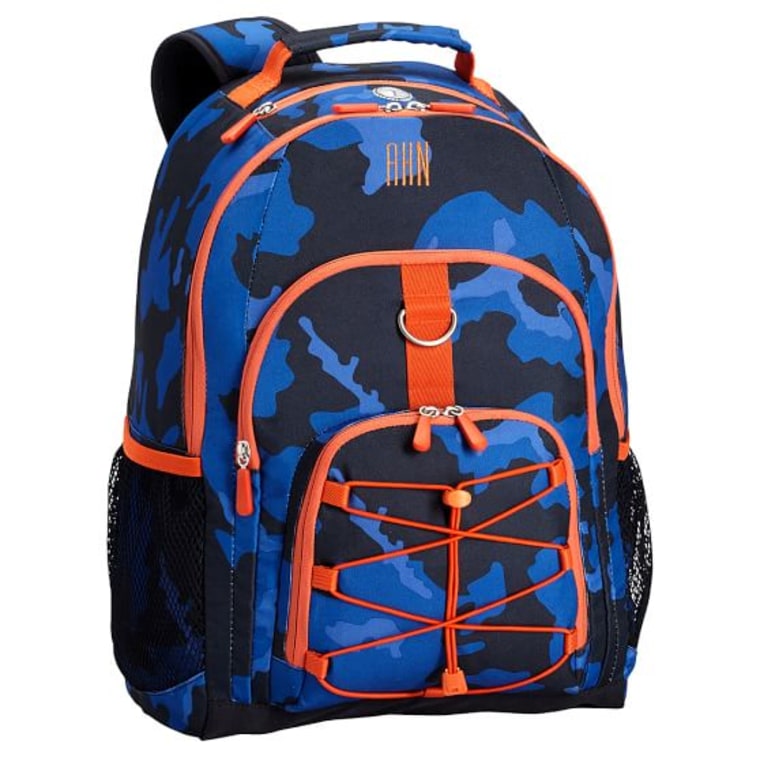 RELATED: The best back-to-school gadgets and tech for kids of all ages