Doing laundry has always been one of my least favorite chores. It's not just finding the energy to transfer weeks' worth of clothing into the washer (and then into the dryer, and then out of the dryer), but also finding the will to fold them afterward. Otherwise, they'd just sit on my desk chair for the rest of eternity — aka, until I notice them starting to wrinkle. Somehow, the worst part is the pile of socks and underwear that make all of my drawers look super messy. Even when folded, they still end up looking disorganized.
While I can't escape doing laundry forever, and my desk chair can't support my full wardrobe, I did find a great solution to keeping my socks and undies looking super neat — a $9 honeycomb organizer.
The organizer comes with several curved pieces that connect, or rather, snap together to create honeycomb-shaped cubbies. After I do my laundry, I fold up a couple pairs of underwear and socks and slip them into each cubbyhole, which creates a neat and organized space.
I've tried a number of clothing organizers in my life, hoping they would help me transform into the tidy person my Instagram and TikTok feeds want me to be, but it was hard to get into the habit of using any of them. Now they've been given away or are collecting dust at the back of my closet. Luckily, that hasn't been the case with this honeycomb hack. It took me less than five minutes to assemble, and I've been using it without any issues. Luckily, it's the exact right length for my underwear and sock drawer; in fact, it takes up the entire thing, so it's not like I can throw clothing on top of or behind it. (It's probably the neatest place in my closet because of that.) It's also customizable, so if I only wanted it to take up half the drawer, I could just snap some of the pieces off with ease.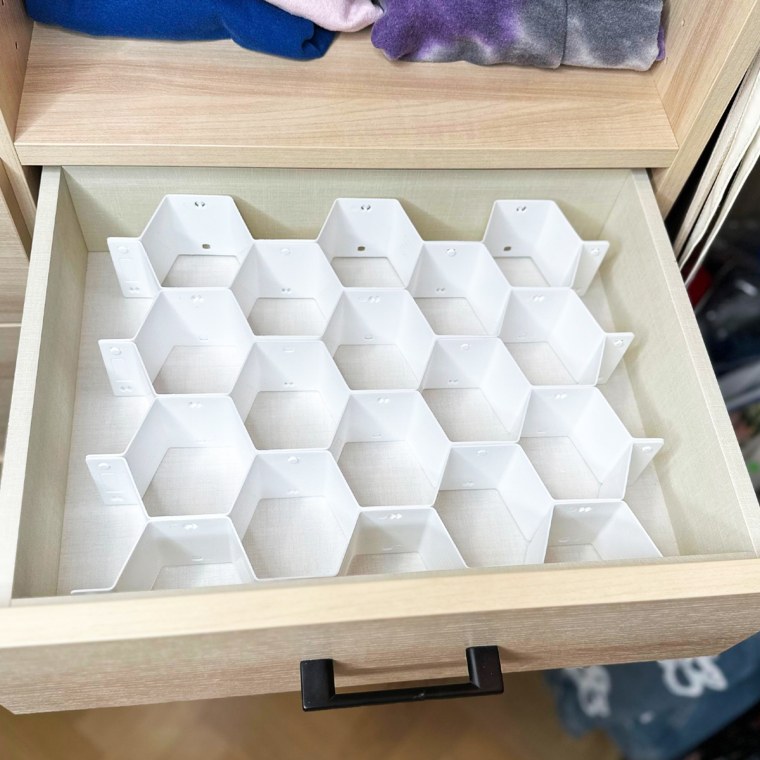 I love that I can see all my undergarments at a glance, so I can quickly pull out matching socks if I'm running late — which I usually am, if I'm being honest. I'm also a fan of the organizer's look (it's white, which happens to blend in with all of my drawers) and versatility. If I ever wanted to switch things up and organize jewelry, skin care products, or anything else relatively small, I'm sure these honeycomb pieces would accommodate those products as well.
The one drawback is that when snapped together, the organizer leaves half comb shapes on the sides of my drawer that aren't super useful unless I tightly ball up a pair of underwear or socks. Although it takes away a bit of the organized aesthetic, it's certainly not a dealbreaker. And at just over $9, that's a low price to pay for my organizational peace of mind.